Zerodha (India's top Discount Broker) spread its network not only for Indian but also for Non-residence Indians. So, there is a scope for NRI to invest in the Indian stock exchange with Zerodha. The main objective of the blog is to simplifying the NRI Account in Zerodha. The entire procedure, rules and regulations are given here.
NRI Account Opening Process in Zerodha
As the account opening process is for Non-residence Indian, for some obvious reason, the rules and regulations are different. In order to open an NRI account with Zerodha, certain steps should be followed:
Step #1 Open NRE or NRO Savings Bank Account in India
It is the first stage of making an entry in the Indian stock market, by opening a Non-resident external account (NRE) or Non-resident ordinary account (NRO). Through NRE bank account, both the principal and the interest can be repatriated. Conversion of dollar and rupee is possible between foreign and NRE account.
NRO account is almost the same as NRE, the only difference is NRO has the capacity of up to $1million repatriation per year (both principal and interest).
Step #2 Get RBI (Reserve Bank of India) Approval
Before opening a trading or demat account the next step is to get PIS (Portfolio Investment Scheme) permission letter from RBI. Now, the question is from where one can get PIS letter. The bank through one open the NRE or NRO account will take care of this. One just needs to submit the requisite documents for this.
Step #3 Open Trading and Demat Account
After NRE and PIS confirmation, NRI trading and demat account can be opened with Zerodha. Along with other documents, a copy of PIS has to be submitted. You can get the application form from Zerodha account. In case you have both NRE and NRO account, you have to specify one to be mapped to the trading account. By mapping NRE account, only equity trading is possible while through NRO account one can trade in both equity and derivative segments.
Step #4 Documents Required to Open Account
The last step of opening an account is to submit necessary documents like a Copy of PIS letter, a Copy of FEMA declaration (available in the Zerodha site), a Copy of PAN card, Overseas address proof, Indian address proof, passport size photograph, bank account proof etc. In case of an Indian passport, valid visa and Indian birth proof is mandatory. On the other side, in case of a foreign passport, a copy of valid passport and PIO (person on Indian origin)/OCI (overseas citizen of India) cards are required.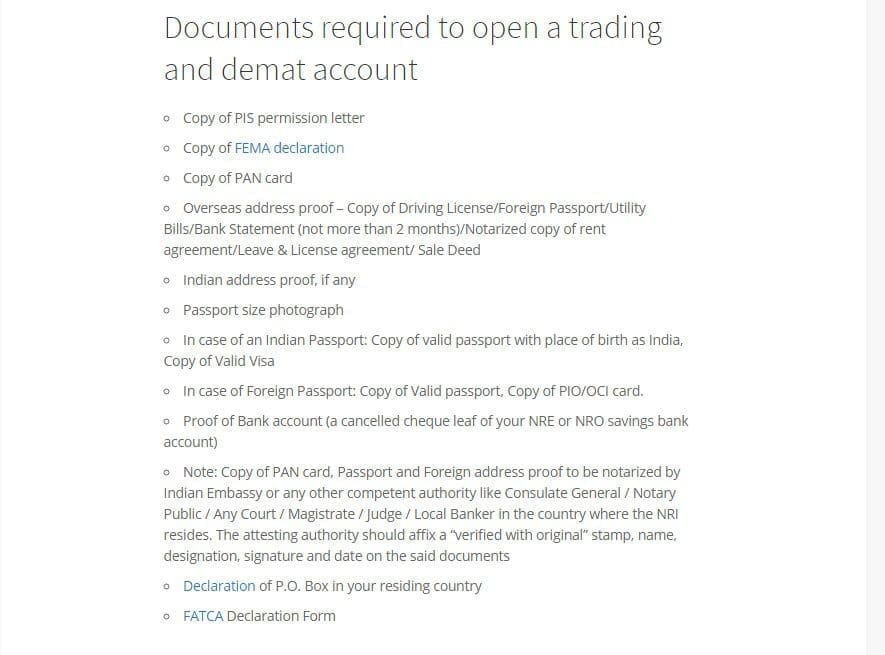 Other Aspects of NRI Account in Zerodha
Now, we will discuss the other aspects of the NRI account, such as charges, taxation, trading process etc.
The Charges for NRI Account
The account opening charges for NRI account is as same as the resident individual accounts, rs.300 for trading and DEMAT. The brokerage charges are as follows:
For F&O Rs.100 per order
0.01% or Rs.200/ executed order for equity (whichever is lower amount)
GST, STT, Transaction charges, SEBI charges are applicable as per the normal charges.
Stamp duty is chargeable as per the state.
Trading Process
In order to simplify the process, the steps are given below:
Allocate funds from the NRE or NRO bank account to PIS (Portfolio Investment Scheme).
After that, the particular bank informs the broker on fund allocation. It will be updated on the trading account.
When an NRI purchase a stock, at the end of the day, the broker sends the buy contract note to the bank. The bank, in turn, debits the PIS account to that extent and credits the broker.
Similarly in the selling process also, the broker sells a sell contract note to the bank at the end of the day and credits PIS bank account.
At the end of each day, two separate contract notes are sent for all buy-sell transactions. The net amount will be reflected on the contract note.
Taxation
NRI users must keep in mind Indian Finance rules and regulations:
In India, Financial year ends on March 31st
In India, the last date of filing IT returns is July 31st
Long term gains: Any gain from stocks, held for more than 1 year is exempt from any kind of taxes.
Short term gains: 15 percent on any gain made on stocks sold before 1 year.
Trading income from Futures and Options: Business income, taxes are applied as per the Income Tax slabs in India.
Other things to keep in mind
There are other things or restrictions which an NRI must keep in mind:
In any Indian listed company stock holding capacity of an NRI can't exceed 10%.
NRI can trade on in delivery trading, intraday (on equity) is not allowed.
NRI trading is limited in equity and equity F&O only, they can't make trading in commodity or currency.
NRI at Zerodha
At present, Zerodha is servicing only those clients who have PIS account with Axis, HDFC or Yes bank. Zerodha is in the process of tying up with more banks.
Conversion Process from Existing to NRI account
Clients are allowed to convert their existing account into an NRO trading and Demar account. Conversion to NRE trading and Demat account is not allowed. For the conversion process, some documents are required, one can check the entire document list from the Zerodha site.
So, these are some of the basic guidelines of NRI trading and Demat account in Zerodha. RBI and SEBI allow Non-residence Indians to work in the Indian stock market.