Index Fund is a particular type of mutual fund. As the name suggests, the index fund tracks or imitates a stock market index such as NSE Nifty, BSE Sensex, etc. Simply, the performance of the fund depends on the performance of an index. Index funds always can be a better option for making money and beating inflation quickly. So, choosing the best index fund is important. So, here in this post, I recommend some of the best Index Fund in India to invest in the year 2020. Let's begin with the common FAQs of the index fund.
FAQ on the Index Fund
Is index funds a good investment?
Yes, the index fund is a good investment if you choose the right ones at the right time. The fund tends to perform better over the long term compared to other actively managed funds. It is much ideal for SIP investment and for the people who are planning retirement. Moreover, fewer fees and lower taxes are also some good reasons behind the index fund investment.
How can I buy index funds in India?
If you want to buy or invest in an index fund in India, you can do it through index mutual fund. The fund investment process is as same as other mutual funds in India. The only difference is that your fund manager will create a portfolio that exactly replicates an index such as Nifty or Sensex.
Can you lose money in an index fund?
Generally, no one can ever lose all of its value in index funds. As the funds are low risk, investors will not make the large gain and also large loss here. So it basically provides low gains compared to the high-risk individual stocks.
Are Index Funds good in India?
SEBI recently re-categorize of mutual funds schemes. And the popularity of investing in index funds has been increasing in India. The funds have been popular in developed countries. Index funds are very low cost and also do not involve active fund management.
What are the Different Types of Index Funds?
There are a variety of index funds available. Here is the list:
Broad Market
Broad Market capture a wide range of the market. This large market index funds have basically small expenditure ratios. In the broad index, asset sales are really small and highly tax-efficient. If you want to get a basket with a variety of shares or bonds, a broad market index fund is suitable for you.
Market Capitalization
Investors who have long term investment horizon plans can get benefits from increased exposure of small and medium sizes enterprises.
Bond Based
This bond based index funds can help you to maintain a healthy combination of short, intermediate, and long-term bond maturities which generate steady revenues.
Earning Based
Index funds can also be earnings-based which means these funds work on the basis of the profits or earnings of a company. In a company, there can be two indices, growth index, and value index. The growth index generates quick profits in the market. And the value index consists of stocks.
When to Buy the Index Funds in India?
Like the equity market, there should be a proper entry time for the index funds also. Here, I place Nifty PE example for it. If you buy the Nifty index fund, then it is better to buy at the oversold zone and sell at the overbought zone. Now, have a look at the chart below: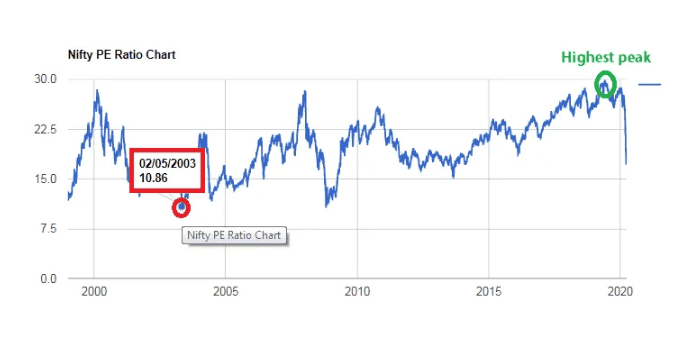 This is the Nifty PE Ratio Chart. Now, see Nifty PE has touched the oversold levels in these years 2001, 2003, 2004, and, 2008. Among these years, 2003 had the lowest PE. And as you see each time Nifty bounced back and rallied fast. Oppositely, 2000, 2008, 2010, 2019 overbought levels were there. And, 2019 had the highest PE. And from these overbought zones, the market dropped harshly. So by observing these examples, we could be sure that the market maintains a cycle. And if you are able to recognize the market at or near these important levels, you can be beneficial from it.
When the Nifty PE is 15, this is oversold. And the 10-12 range is an extremely oversold or undervalued zone.
At these oversold zones, you can buy index funds at a cheap price.
Reversely, if Nifty PE is 25, it is overbought. And 28-30 range is an extremely overbought or overvalued zone.
In this zone, you should sell all your index funds investments and hold this capital for the undervalued level of Nifty. So, at this time, you should not invest any further.
List of Best Index Fund in India to Invest in 2020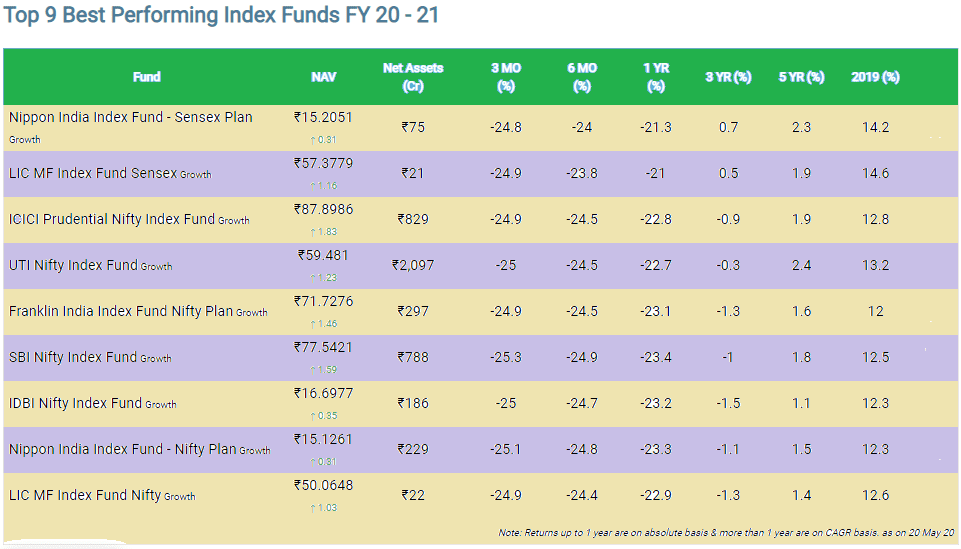 Nippon India (Sensex)
The basic investment purpose of the scheme is to replicate the composition of the Sensex, with a view to generating returns. It is related to the performance of the Sensex. As of May 20, its NAV value is 15.2051. The risk factor is moderately high.
LIC MF (Nifty, Sensex)
The main objective of the LIC MF fund is generating returns through the performance of Nifty/Sensex. The fund was launched in the year 2002. It is a moderately risk-based fund, provides CAGR/annualized returns of 11.1% since it launched. For 2019, the return was 14.6%.
ICICI Prudential Fund (Nifty)
The Nifty linked index fund was launched on 26th Feb 02. It gives CAGR/annualize return of 12.7%. 2019 return was 12.8%.
Besides the above, there are good index funds like UTI Nifty Index Fund, Franklin India Index Fund, SBI Index Fund, IDBI Fund, Nippon India index fund, LIC India Nifty Fund, etc.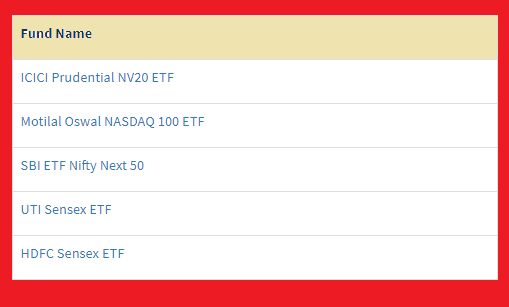 Here, are other top 5 index funds name, ICICI Prudential, Motilal Oswal, SBI, UTI, HDFC, etc.
How to Invest in the Index Fund in India through SIP or Lumpsum?
There are two types of investment options available for investors, one is SIP, a systematic investment plan and the other one is lumpsum. The main difference between SIP and lumpsum methods is the frequency of investment. The difference is SIP allows you to invest in a mutual fund periodically while lump sum is a one-time bulk investment.
If you are a small investor, you can choose the systematic investment plan. It is suitable for you. And lumpsum is for the high risk, big investors.
Conclusion
I hope, you get a clear idea of the index fund in India. If you want to know more about the funds, you may check their official account before investment. You may take advice from your mutual fund agent.