Are you an intraday trader OR a positional swing trader? Whatever kind of trader are you, it can't be denied that you need a good quality end of day data for technical analysis. I have seen that especially intraday traders do not use or look to the end of day charts. But its a completely wrong approach. You can be an intraday trader, you can trade for 5 minutes OR 15 minutes time frame but for a bigger analysis, you must consult the end of day chart. The main reason for consulting the end of the day chart is that trends do not develop all of a sudden on intraday. Rather intraday charts follow the end of day trends. For my readers, I am introducing Quandl – a FREE utility for the amibroker end of day data. Download Quandl plugin versions for Amibroker from below:
Once you download Quandl plugin for Amibroker just run the version suitable for your Amibroker and install the plugin in your system. The installation will place Quandl data plugin dll to your Amibroker's plugin folder.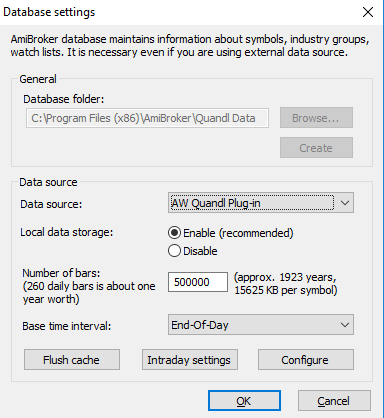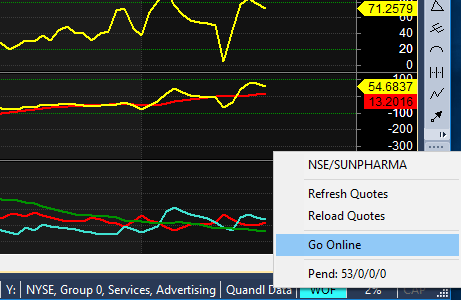 How To Create A Database For Amibroker End Of Day Data With Quandl Data Plugin For Amibroker?
Create a blank database using Quandl Plugin as the data source and click OK. This will create the Quandl database in your Amibroker.

Now add your symbols. For NSE I suggest using NSE database of Quandl. The link to the database is HERE. So you can add scrips and download data by taking the Quandl plugin online, Check the image below.

The general format for adding scrips in Quandl database in Amibroker is "NSE/SCRIPNAME". So the script name for Reliance Industries will be NSE/RELIANCE. Add your scrips:

Once you add symbols check whether your plugin is online. Now you can open charts of different scrips one by one and the data will be updated. You can update this Amibroker end of day data every night OR next morning. I have uploaded my split-adjusted Amibroker NSE database for you. You can download my Amibroker database from below.