Technical Analysis or TA is the study of past market behavior that is followed by a technical analyst. Essentially TA is the play of price and volumes. Plotted on a 2-dimensional scale we see a picture, and as they say "One look is worth a thousand words", technical analysts to get an intangible feel of price. Take a look at adjacent charts and I'm sure you will agree with me that a quick glance and you know how these asset classes play out in 2016.
What is Technical Analysis?
So far for its visual attributes, the study of technical analysis has evolved since the days of The Great Depression of the 1930s, through several schools of thought, simple mathematics and statistics, and technology. Today on our so-called "smartphones" we can quickly check the chart of almost any exchange-traded asset class on any time frame, such has been the boon of technology to the financial markets and technical analysis. Several technical analysis software has evolved which plot simple and very complex indicators at a click of your mouse. Old school technical traders probably will say that the feel of price, when you draw charts manually is missing in this software, but we cannot deny the benefits technology has provided to this school of market analysis.
The Difference of TA with Fundamental Analysis
Now, if you compare the important & conventional fundamental analysis, with technical analysis, many will say that the latter is for the short-term and is a good timing tool. For long term investments, fundamental analysis is the only option. I agree, but not completely. In fact, this is where I feel, comes the biggest strength of a technical analyst, irrespective of the time frame he or she wishes to trade. Let's take a look at these charts.
A Technical Analyst Follows Charts
Wonder which stocks or index or an asset class are these charts? Well, all these charts are of the same instrument – Nifty Spot. In a clock-wise order, it's the 5min, 60min, Daily and Month chart. I have shown only four, but in reality, technical analysts can literally play with time, when it comes to plotting charts. Say, for example, I am an intraday trader, then I will focus on shorter time frames like 5-15min charts and technical analysis provides that.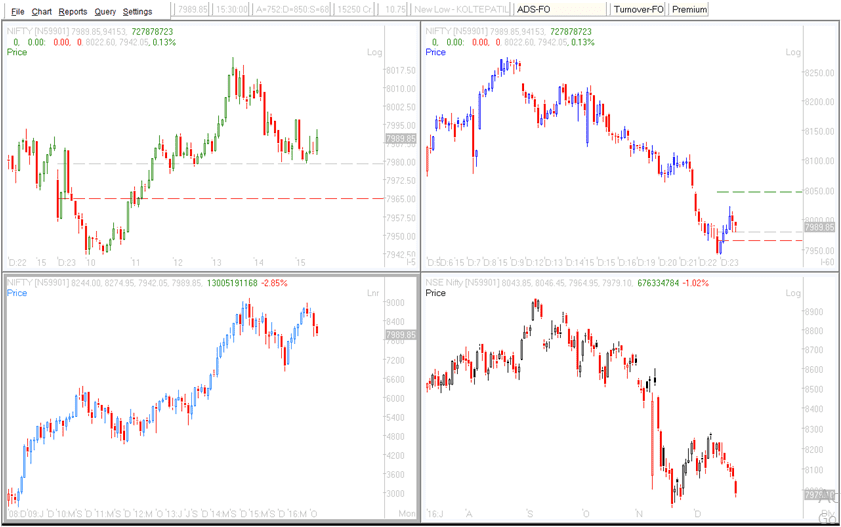 My good friend hates the emotional roller coaster that comes with intra-day trading, and so prefers swing trading, for which he will analyze charts within 30-90 mins and yes, technical analysis provides that as well. And finally, our very good common friend is a busy businessman and has limited time when it comes to trading and chooses medium-to-long term trades and investments. For him also technical analysis will provide Daily, Weekly and Monthly charts which will help him to passively trade his portfolio. And the cherry on top of this is the fact that all theories and concepts and strategies work equally well in almost all time frames.
Resources
So, if you've given enough time and effort to read and understand charts, you can trade any time frame. I guess the conventional method lacks. And this is the biggest strength of the technical analysis. As you read this and if you are amongst the new generation of technical traders who wish to "trade for a living", I suggest learn first before you focus on earn, and for that, there is an ocean of knowledge out there waiting. A good place to start online learning is Investopedia, which offers you a nice mix of elementary and advanced teachings in the subject.
How to Become a Technical Analyst?
After a little over dozen years in the Indian financial markets analyzing and trading through the lens of charts, I today see the chart as the WHOLE market itself – as if it is asking me, what do I seek from it. So, one simple word of advice, know thyself first in terms of which time frame(s) and strategies you wish to trade, and accordingly prepare yourself and take a calculated risk with the market. Trust me, like any successful professional, will tell you, in markets, the better you prepare, the luckier you get. Trade Well. Trade Wise.

This is a guest post by Mr. Abhijit Paul a veteran technical analyst and a good friend of mine. Mr. Abhijit Paul is a Knowledge Head at Elearnmarkets.com.