The Acceleration Bands trading system has been created by BidTrends and mainly invented by the founder of BigTrends Mr. Price Headley. It was basically created because many traders suffer from moving averages. Whenever a stock or a commodity breaks out they never retest major moving averages due to they are accelerating so furiously. So Mr. Price Headley created the acceleration bands to highlight this acceleration. big trends have also created a trading system out of the acceleration band.
To use the acceleration bands trading strategy you can either use the BigTrends Toolkit available on the Metastock platform OR download the acceleration bands AmiBroker formula given below this post. We will use the acceleration bands of 20 bars in the parameter. Now check the screenshot below how this trading system looks like in Metastock: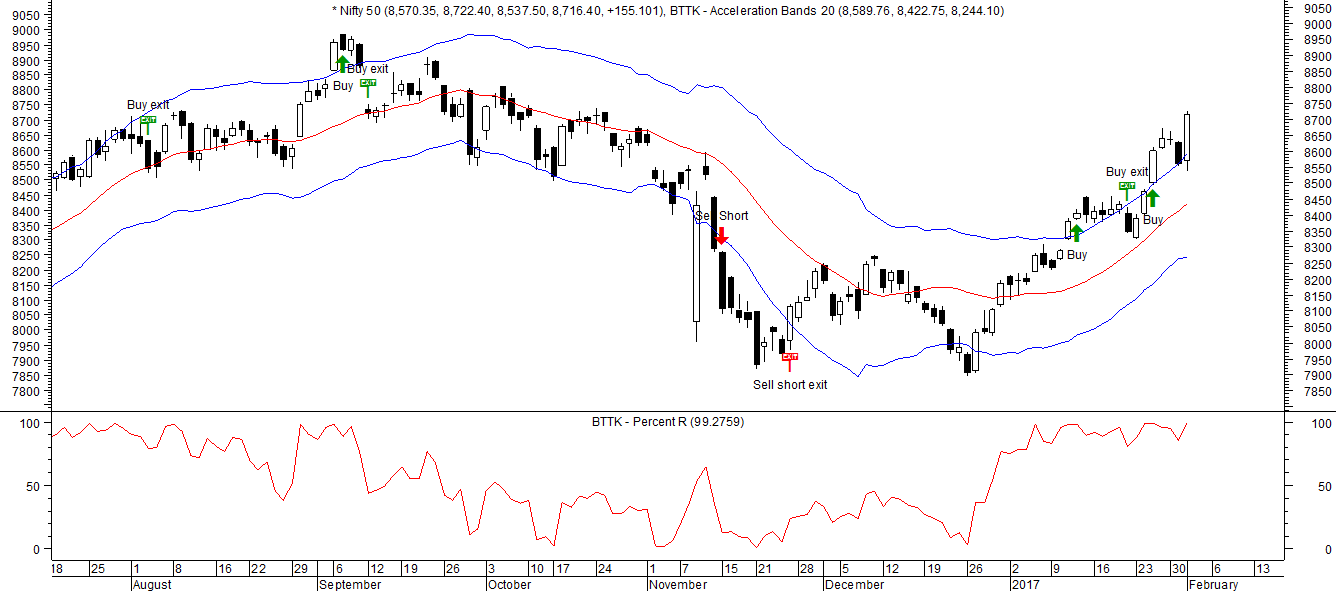 This is a daily chart of Nifty, so this is an acceleration band for 20-days. You can also add other indicators in this chart. Now, how to trade acceleration bands. We know that 95% of price actions will take place inside the acceleration bands. So, how to trade the remaining 5% of price actions? The remaining 5% of price actions are when the price really moves. Those are strong trends. That 5 % of times you want to trade as the stock is moving really fast.
Rule of Acceleration Bands Trading:
Two consecutive closes outside the acceleration bands.
Trade with a tight stop.
We have seen that the bands are specifically useful in trading options.
Today, when I am writing this post-Nifty, is trading +0.2% higher at 8734, and remember yesterday's budget day 2017 move on the upside. Was the up-move coincident? NO. Check the image above, Nifty BUY signal has been triggered on 25th January 2017 just a few days before the budget and zoom, Nifty has skyrocketed.
For Amibroker users I am giving a download link for Acceleration Band Amibroker AFL below. You can download the AFL and start acceleration bands trading with Amibroker too.