There is a quote from a famous personality Norman R. Augustine "If all the stock market experts were so expert, they would be buying stock, not selling advice". Though the statement is quite tricky, it carries a great message for investors. Following market analysts' advice blindly should not be the only task for investors. Before investing in the share market, one must have certain basic knowledge about his doings. Taking advisors' guidance is always good but along with this apply your own analysis. The combination of analysis not only lead you to profit maximization, but also minimize the risk factor. In this article, you will get guidance on the Facts To Consider Before Taking A Stock Buying Tips.
Without taking any more time, let's just step into the main topic. According to my views. there are few facts and factors to consider before taking a stock buying tips.
Facts To Consider Before Taking A Stock Buying Tips
As I have stated above that the following market analysts view is not the end of the story. You need to make your own analytical points before taking stock buying tips. Here are a few points you need to consider:
To analyze a market, generally, there are two ways, Fundamental and Technical. Fundamental analysis helps in analyzing a selected company's background, financial statements, balance sheet, cash flow, profit & loss, various ratios, etc. Technical analysis has nothing to do with the company's financial track records. It deals with price action and market position by applying charts, tools, indicators, etc.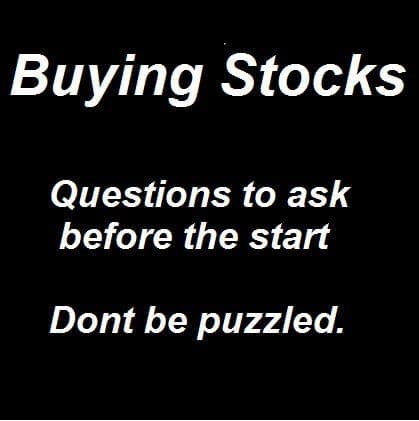 First, we will cover the fundamental factors, you must see before analyzing a stock.
Fundamental Factors Before Buying a Stock
In order to clarify the topic, I divide the fundamental factors into qualitative and quantitative factors.
Qualitative Factors:
Is the sector of the selected company profitable enough in the current market trend?
Who are the company's competitors? Sometimes, if a company have strong competitors, the risk factors become high.
The Management of the Company plays a vital role. The company's profit-loss directly or indirectly depends on the management group.
What is the ethical background of a company? The ethical management indirectly affects the growth of the company.
How innovative is a company? An innovative organization can work exceptionally in the market.
Check the investment ratio of QIB (Qualitative institutional buyers), FII (Foreign Institutional Investors)
Quantitative Factors:
Past 5 to 10 years financial Profit-Loss record
Dividends
Debt
Balance Sheet
Cash Flow
Technical Factors Before Buying a Stock
Technical analysis carries more significance in comparison to Fundamental. Most of the retail investors, HNI, analysts work with Technical tools to identify the current and future trend. You have to give more importance to this. The Fields of technical analysis consists of various tools, indicators, charts. The factors of analysis are given below:
Entry and Exit time- To invest in a share market entry and exit timings are the golden factors. Investors who are masters to identify the correct entry-exit point can rule the market.
Support and Resistance Level– Besides entry and exit time, identify the support-resistance level is also important.
Buy and Sell signal
Identify the current market trend
Analyze the upcoming market trend
Monitoring the price action
Don't ignore the importance of volume. Try to form a correlation between price and volume.
Must check the Target and Stop-loss of a stock
Therefore, these are the key points on which investors need to work out in order to find profitable stocks. Before taking stock buying tips, must consider these points.