As we all know that the last date to link Aadhaar with Demat account is 31st March 2018. If you do not link your Demat to Aadhaar card by that period your Demat account can be frozen and the trading or investing activity can be hampered. Hence, let me quickly guide you on how to link Aadhaar with the Demat account online.
As I have an account in Zerodha, I will guide you through the process of how to link Aadhaar with the Demat account online in Zerodha. But more or less the Aadhaar linking process in other brokers is almost the same, so you can follow this procedure. To link Aadhaar in Zerodha Demat account, open aadhaar.zerodha.com in your web browser.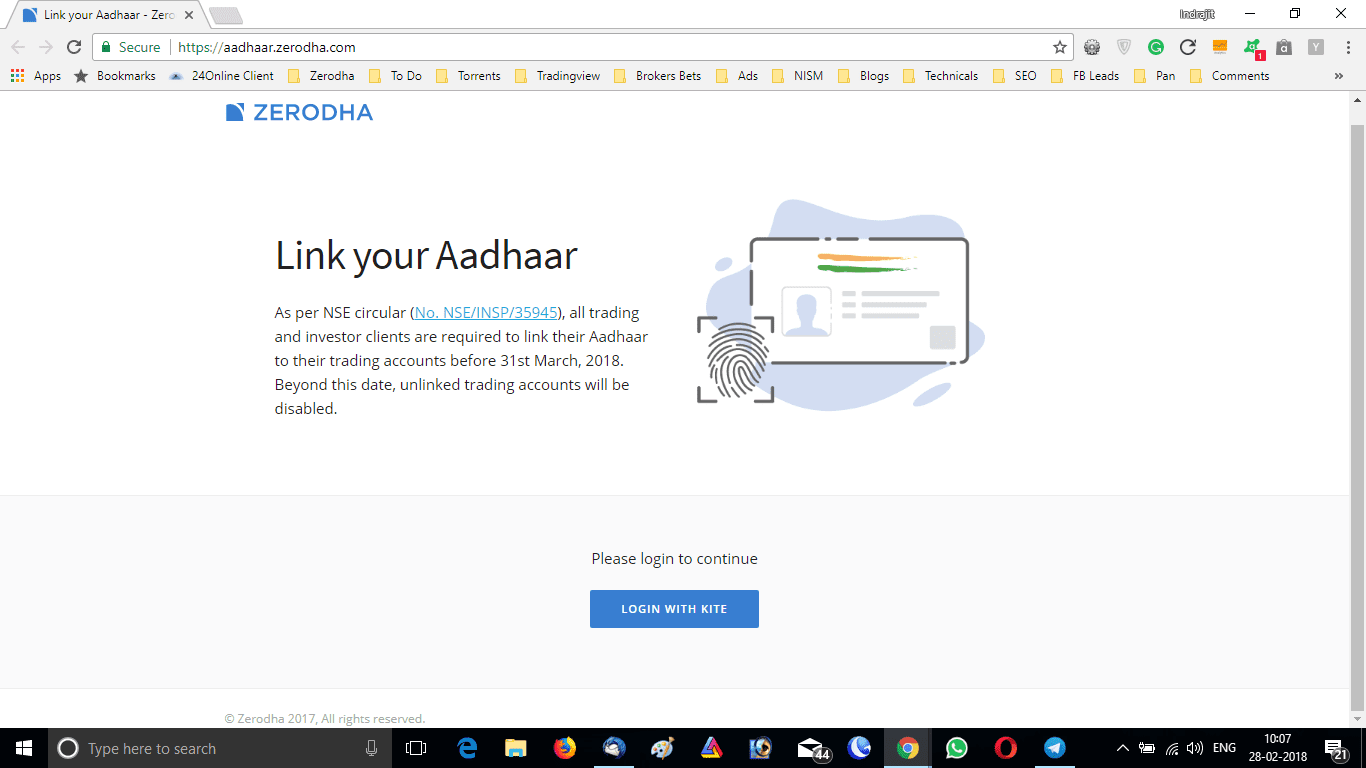 There is an option LOGIN WITH KITE, You can click that and login to the system with your Zerodha Kite user id and password. This will verify you as the user in the system. A new window will open, where you can see your name and your user id. There will be a place to input your Aadhaar number and date of birth.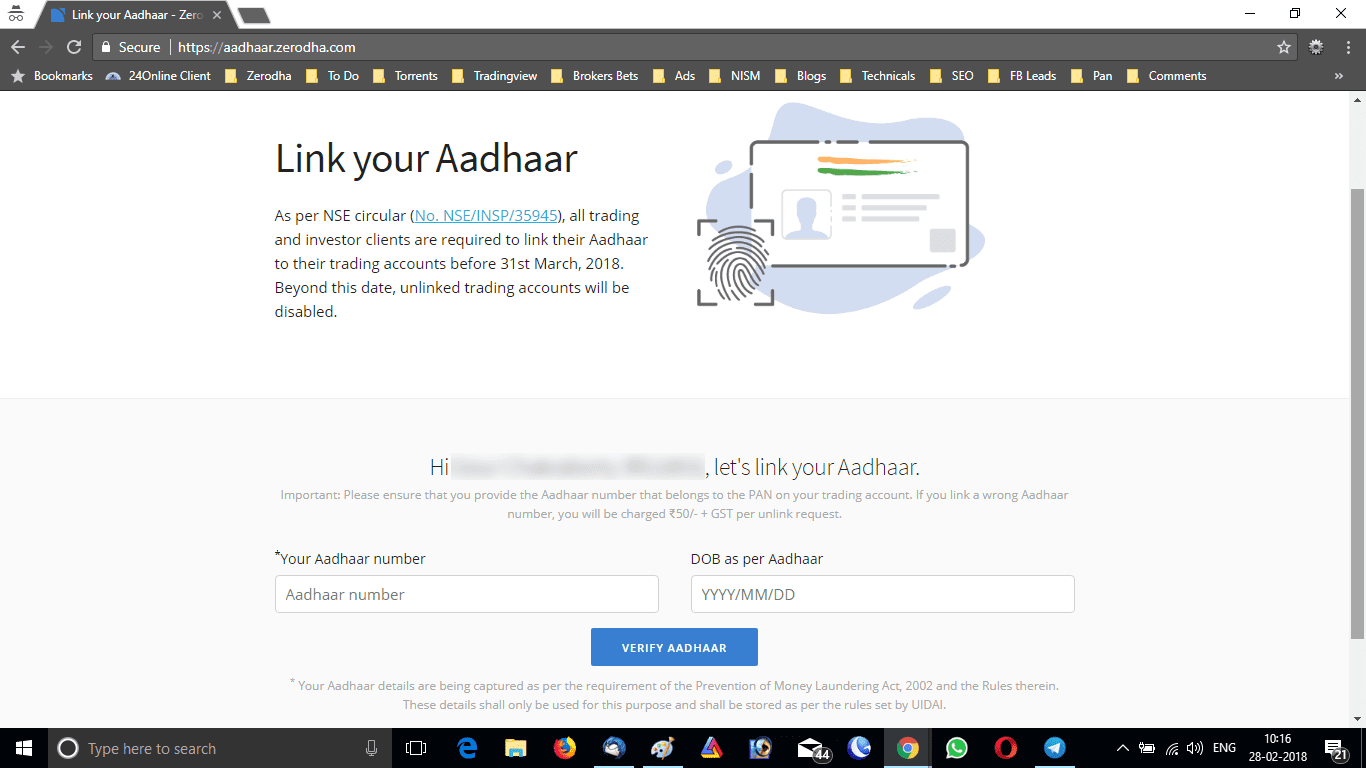 Now, just input your aadhaar number and date of birth in the respective fields and click on VERIFY AADHAAR BUTTON. This will take you to the official UIDAI website where it will ask you to enter an OTP. If your mobile is linked with your aadhaar card, an one-time password (OTP) will come to your aadhaar registered mobile number, just input the OTP in the field and click on SUBMIT.
This will redirect you to the broker's site and the page will now show that your aadhaar is verified successfully. If you want to change your KYC details like mobile number and email id you can do it in this page.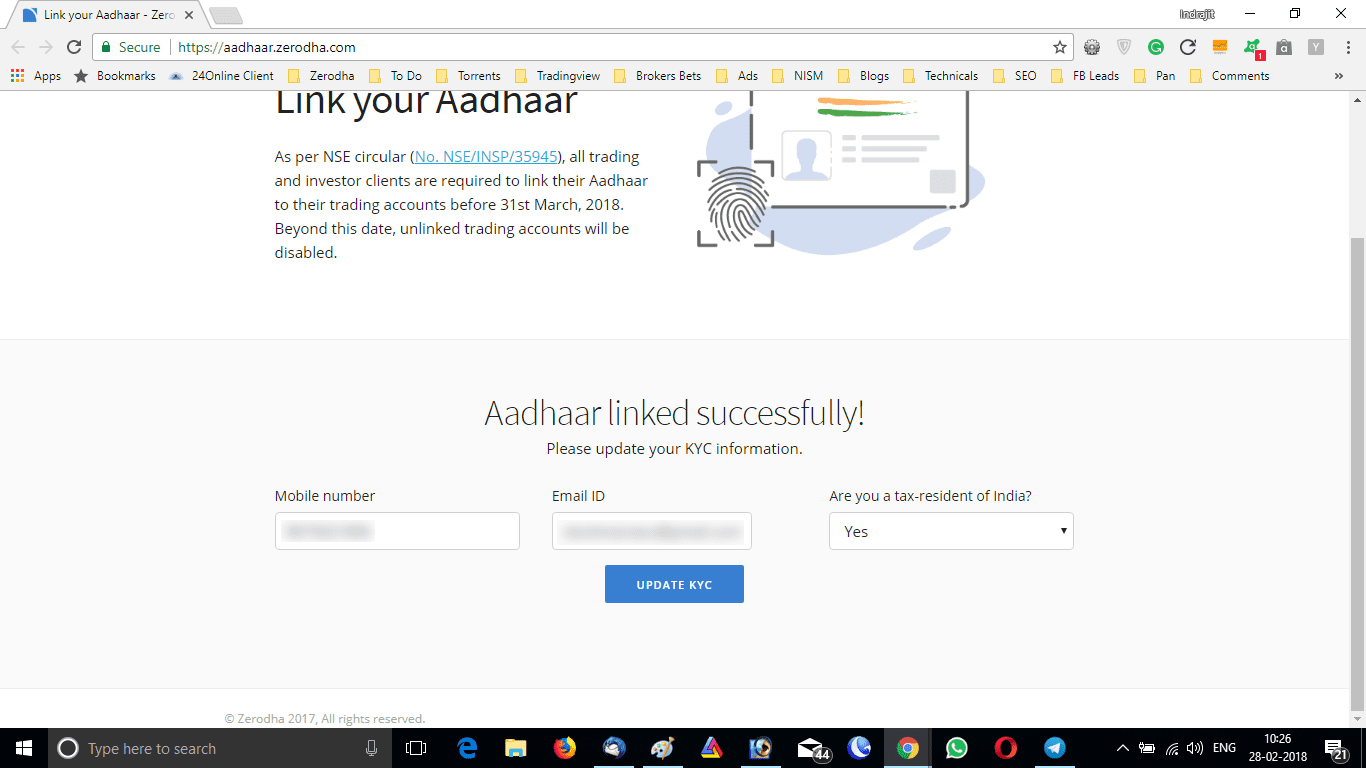 So you have understood the procedure of how to link Aadhaar with Demat account online. If you are trading with a broker other than Zerodha, almost the same type of procedure will be there too, but if you can figure out where to start, you can contact the helpline number of your broker.
Conclusion:
The whole process can take at the most 5 minutes to be completed. However, this procedure requires your Aadhaar card to be already linked with your mobile to receive an OTP. If your aAadhaar is not linked to your mobile, you can get it linked by visiting your nearest Aadhaar correction center. It generally takes 72 hours to link the mobile to the Aadhaar card. Once it's linked you can follow the above-mentioned procedure.