With the Nifty index surpassing 10000 marks, the market looking over-heated it becomes tough to pick good stocks for investment. These bull markets are a certain time when every Tom, Dick and Harry kind of shares starts performing and investors make a big mistake in holding the wrong share. In my stock market journey of the last 22 years, I have seen these phases 3-4 times. So its time to concentrate on stocks with solid long term fundamentals. In this post, I will discuss City Union Bank share price forecast and will check the prospects of investing in this scrip.
About the company – City Union Bank:
City Union Bank has started its journey in 1904 at Kumbakonam.
Shri R. Santhanam Iyer was the founder and first secretary.
The earlier name of the company was The Kumbakonam Bank Limited.
On 1945 it was added in the 2nd schedule of Reserve Bank of India Act.
Later it was named The Kumbakonam City Union Bank Limited.
In 100 years deposits have grown to Rs. 2317 crores
And in 100 years profits increased from Rs. 2450 to Rs. 33.37 crores.
Company Financials:
The company has performed exceedingly well in the last 10 years with solid financials in last 10 years and also with a very good long term growth prospect. Check the screenshot below to have an idea of last 10 years fundamental data.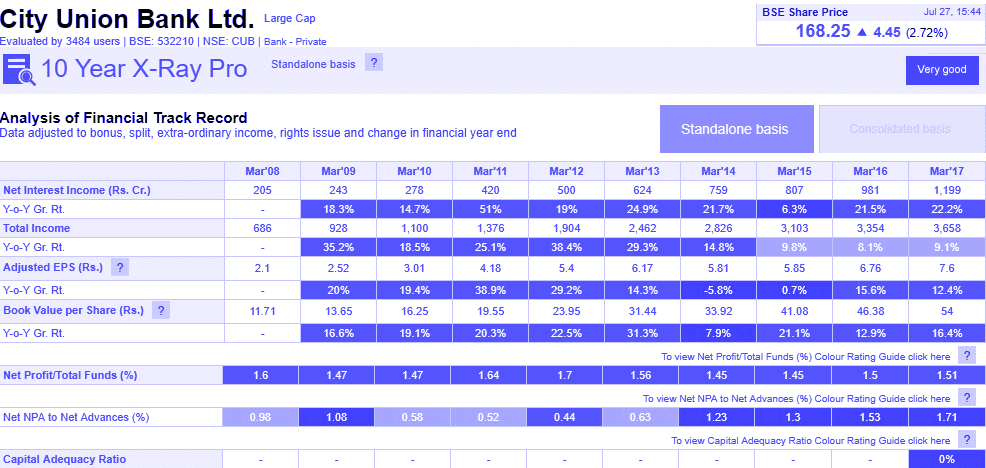 It has been seen that the company is managing its assets well in comparison to their peers. They also have a low exposure to beaten-down sectors like infrastructure and hence the same is being reflected in their books. The companies last 1-year net interest income is 22.2%, total income 9.1%, adjusted EPS 12.4% and book value per share is 16.4%.
Brokers like Angel Broking has done city union bank share price forecast and recommended a BUY rating on this stock. CMP Rs. 168.25 as on 27th July 2017. Interested investors can accumulate this stock between 165-168 for long to medium term.
You may download the research report by Angel Broking. You need to use any of the share buttons below to unlock your download link.