NCFM stands for NSE Certification in Financial Market (India). This certification is necessary to obtain for the people wanting to make their career as a dealer (one who punches the orders on behalf of the client) with a stockbroker. NSE offers a comprehensive range of modules to evaluate the level of expertise in different fields related to the stock market and finance. NCFM, after registration and payment of fees, allows to sit for the examinations applied for. After passing out one gets NCFM certificate. Details of these modules can be had in NCFM modules pdf format from NSE website.
NCFM currently takes tests in the following modules to test the level of expertise of the examinee.
NSE Academy's Certified Market Professional (NCMP)
NSE Academy's Capital Market Aptitude Test (NCMAT)
Proficiency Certificate
NCFM Module
Other programs
There are many NCFM modules. They are found in three categories. They are
Foundation Modules for beginners
Intermediate Modules
Advanced Modules
With a view to improving awareness on how to invest in the stock market, NSE started financial workshop and certification programs. They did it through NSE Academy.
To bring more and more retail investors in the network NSE also took up advertising in mass media. NSE Academy, a wholly-owned subsidiary of NSE, promote financial literacy. To promote financial literacy, NSE Academy has partnered with different state and central level school board to spread financial literacy among young Indians. In addition, they also started interactive programs, certification programs to introduce all interested person to the capital market with the view to create new professionals in this field.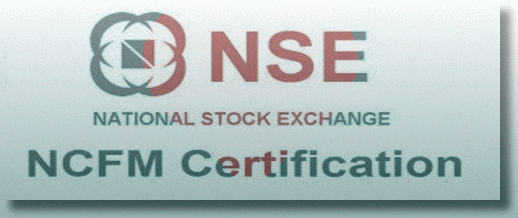 NCFM Certificate (NSE ACADEMY'S Certification in Financial Markets)
With a view to create a pool of human resources with the right kind of expertise in the financial market, NSE started NSE Academy Limited in 2016. Today NSE Academy professionally educate and give certificates to people who succeed in tests in different finance-related educational programs like financial services, banking, and financial literacy.
NCFM certificate or NSE Academy Certification in Financial Markets program provides a window for online testing and certification program. These programs are designed to comprehensively test the theoretical knowledge as well as financial skills and practical knowledge required to function in financial markets. The pass outs from these test get NCFM certificate against stipulated fees. The test is conducted online through NSE intranet at approved centers located at different places across India.
NCFM currently tests expertise in the following modules.
For online registration/payment/enrollment please click here. Interested students can also try the Chartered Market Technician (CMT) course to make a brilliant career in the stock market.