Volatility is one of the most common and important factors in the stock market. There are many investors who analyze the market only based on the volatility factor. Though when you are investing, it is one of the most misunderstood market concepts, there are many theories, calculations, models to assess and measure volatility. In simple words, it is a rate at which stock price increases or decreases over time. Here, we are going to list down the Top 50 High Volatile Stocks NSE.
Volatile Stocks Meaning?
A volatile stock simply means it moves. In simple terms, the stocks have a decent amount of swing in the intraday movement. These stocks fluctuate every now and then and are generally more fluctuating than the benchmark index as well as other stocks of the exchange.
Why We Should Look For Volatility?
If we trade a stagnant stock there is a chance of little or no profit. If the stock moves 0.25% per day, how much money can you make from it? But on the other hand, if the stock moves 3% to 5% per day, there is a high chance that a trader can pull our 2% from it. So make a list of volatile stocks and trade them, so that you can make serious money from intraday trading.
If you want to be a champion trader you should not do the same things that other traders are doing. We all know that champions don't do different things, rather they do the same thing differently. So if the other traders are wasting their time and money trading in stagnant stocks, you switch to our list of high volatile stocks NSE. You will have a volatility edge over other traders.
How to find High Volatile Stocks NSE?
NSE or National Stock Exchange is one of the leading exchanges in India. Here, we will try to find out some of the high beta or high volatile stocks. Based on the Beta values Weights of securities in the index are assigned.
What is Beta in the Stock Market?
Beta can be calculated using the regression analysis. This content will surely give you an analytical view regarding the top volatile stocks. By using it, investors can get a profitable return from the year 2019. However, in simple words, by calculating beta one can judge the volatility of a stock and its systematic risk. After multiplying the beta value of a stock with the expected movement of an index, one can determine the desired stock's amount.
How to find High Beta Stocks using a Stock Screener?
Let us use a stock screener to find high beta stocks. Let us go to a screening website called TickerTape. Once you visit their home page you can see Login option.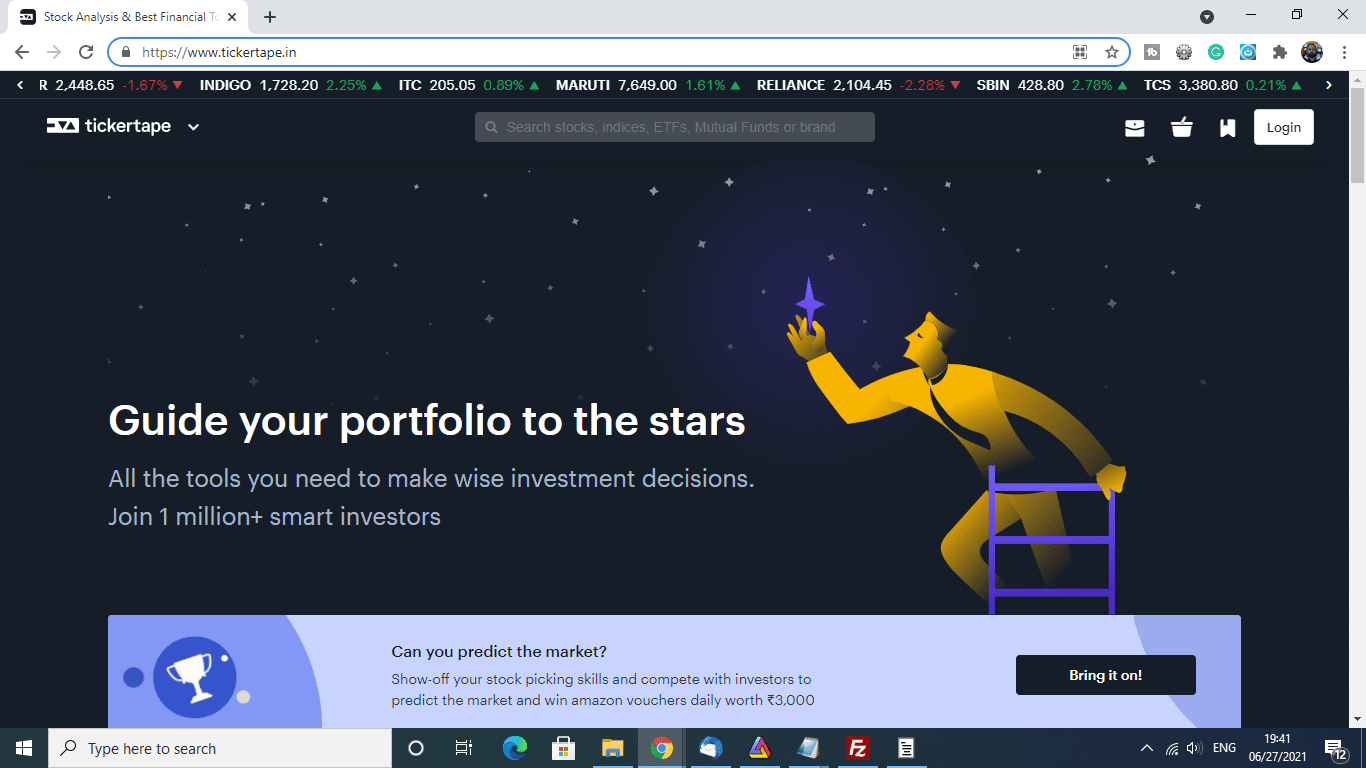 Just click the login option and you can see options to log in using Google, Facebook, and Email. You can also see login options with your favorite broker like Zerodha, Upstox, Angel Broking, 5Paisa, etc. You can choose your preferred way of logging in.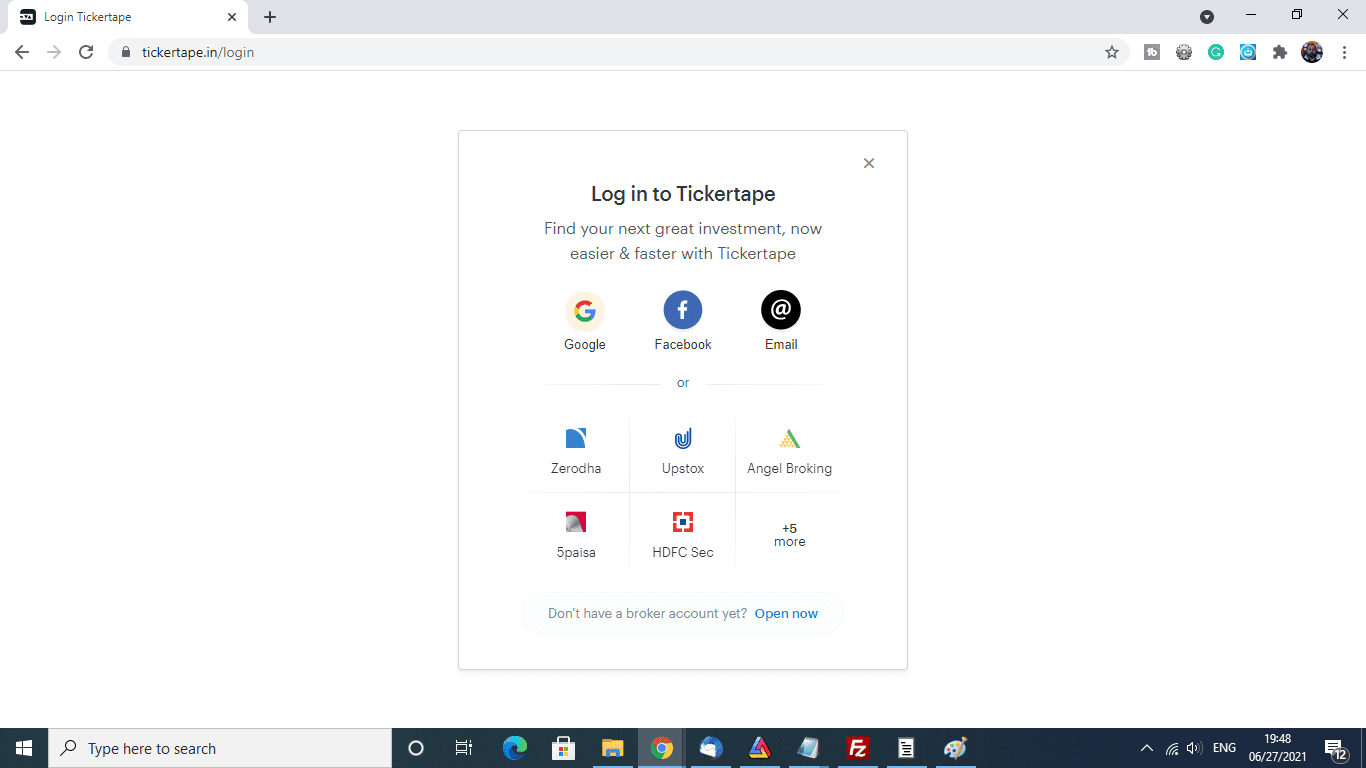 Once you login you can create a screener by clicking on the TickerTape dropdown and clicking Screener.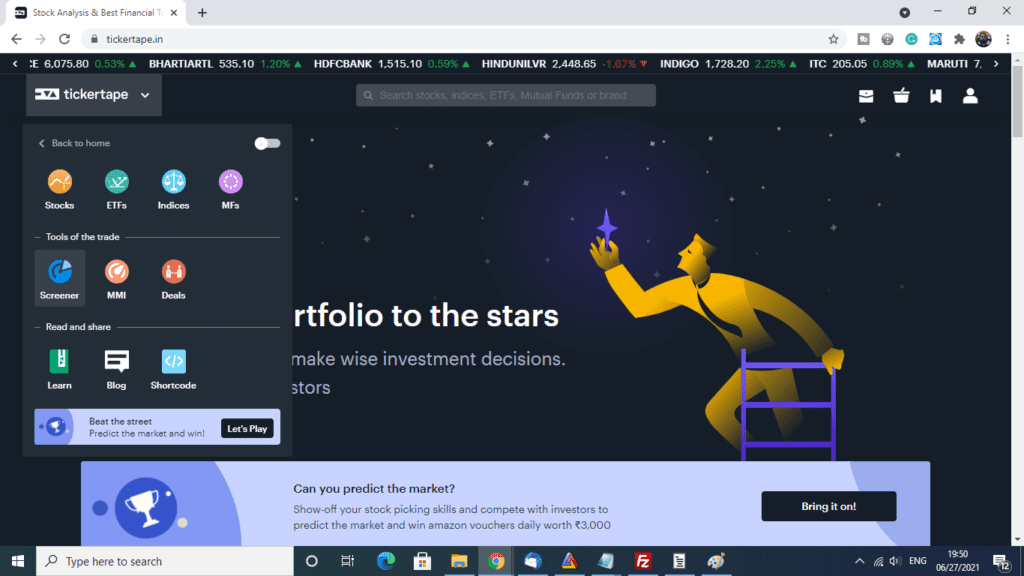 Now create a screener just as I have shown below. You can choose your stock universe – here I took Nifty 50. Keep everything as it is. Just remove the PE ratio that comes default in the screener. Now click on Add Filter and search for Beta in the filters. Select it.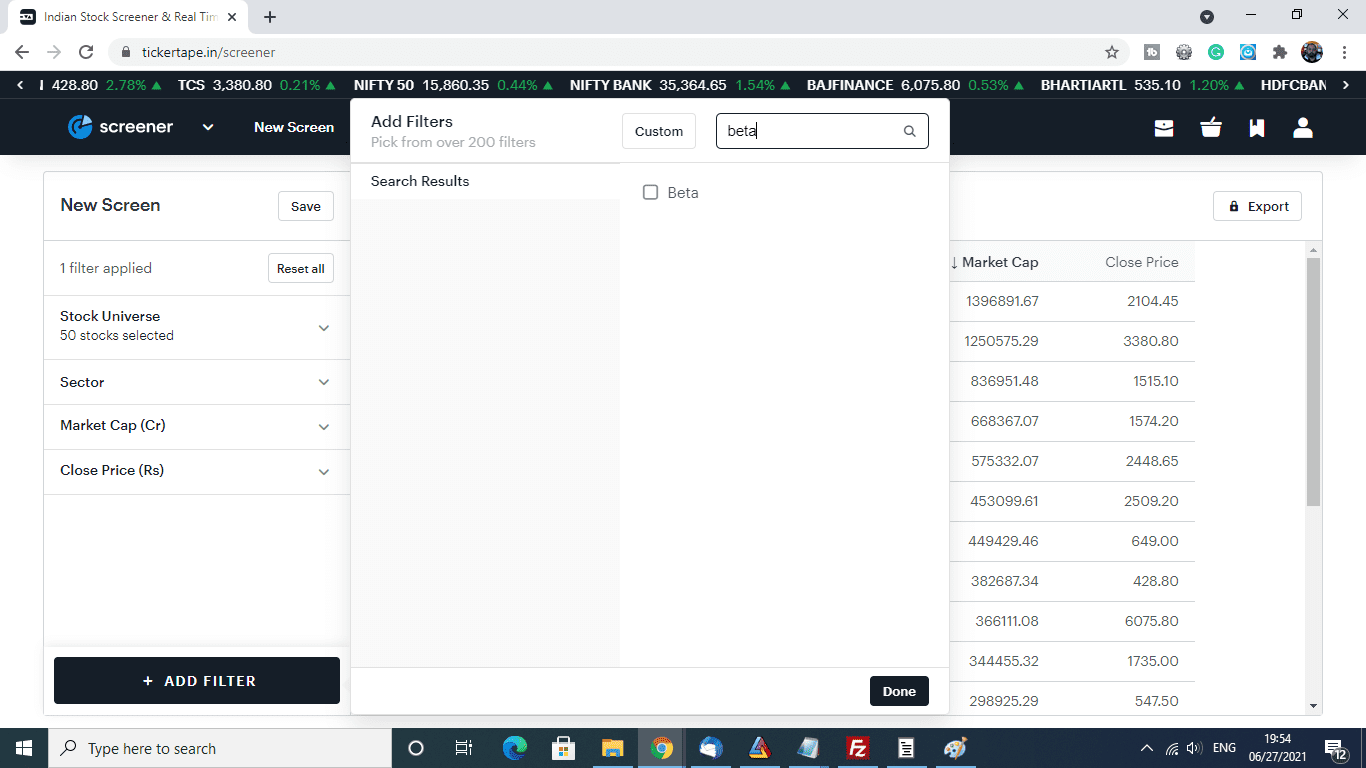 Now in the Beta filter just change it to High so that it can only find high Beta Stocks. These are High volatile stocks NSE.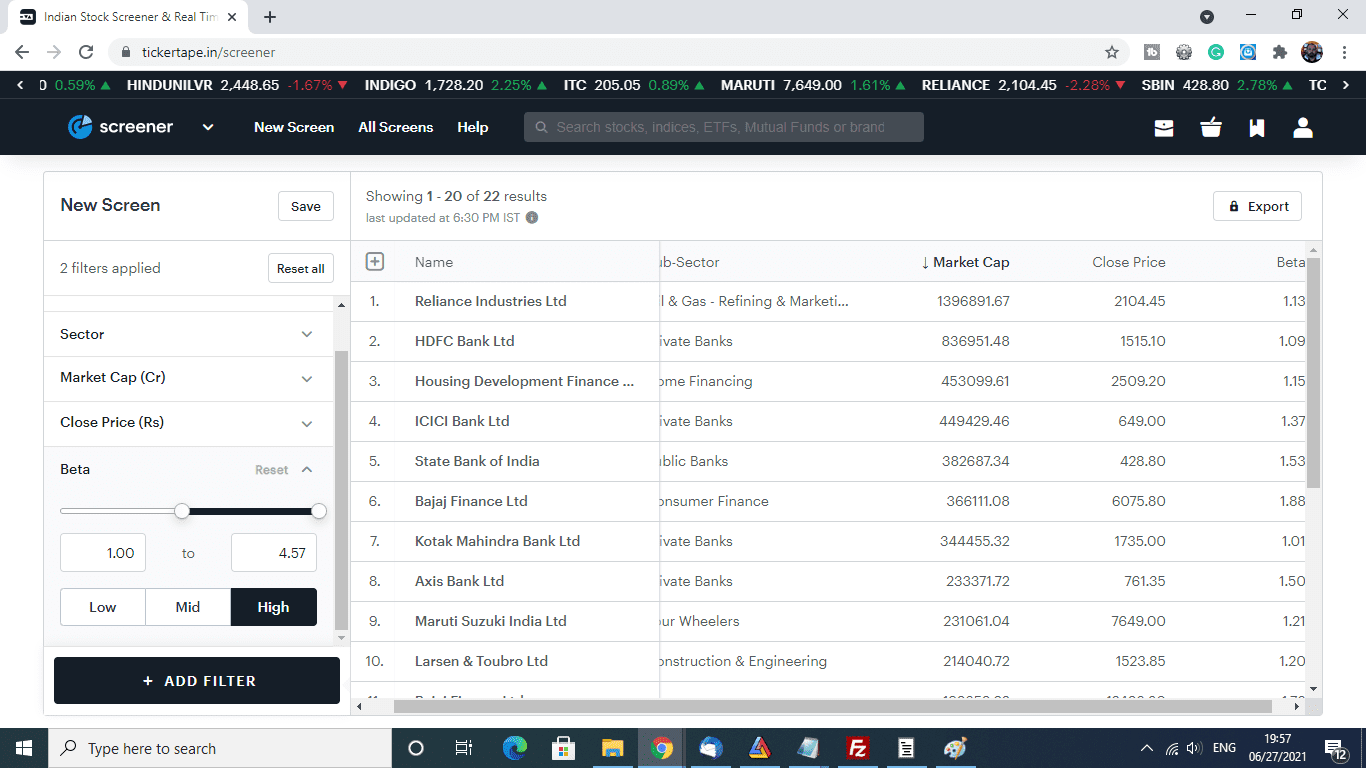 The above list displays 22 high volatile stocks with high beta. As of 27th June 2021, the image also reflects its current price, Market Capitalization, etc. Volatility can benefit investors from every point of view. In the Stock Market, it performs well. Often Market volatility is seen through the VIX or the volatility index. We know that Beta is a stock volatility measure in relation to the market. If a stock swings many times, then it has a beta above 1.0. For example, a 1.20 beta indicates the stock is 20% more volatile than the market.
Other Ways to Find the High Beta Stocks in NSE?
There is an index called Nifty High Beta 50. This is also made of a basket of diversified but high beta stocks. You can follow this index and its components for the exchange's some highly liquid and heavily movable stocks. Here are some active components of Nifty High Beta 50.
| Company Name | LTP (Rs) | Change (%) | Mkt Cap(Rs. Cr.) | Weight(%) |
| --- | --- | --- | --- | --- |
| HDFC | 2,839.00 | 0.76 | 513,174.29 | 10.43 |
| ICICI BANK | 722.95 | 0.82 | 501,254.23 | 10.19 |
| BAJAJ FINANCE... | 7,793.40 | -1.33 | 470,405.22 | 9.56 |
| SBI | 440.75 | -2.01 | 393,352.25 | 8.00 |
| BAJAJ FINSERV... | 18,526.00 | 0.11 | 294,818.03 | 5.99 |
| AXIS BANK LTD. | 798.05 | -1.73 | 244,721.47 | 4.98 |
| MARUTI SUZUKI... | 6,952.25 | 1.54 | 210,013.61 | 4.27 |
| JSW STEEL | 659.15 | -2.67 | 159,331.09 | 3.24 |
| ADANI PORTS &... | 744.80 | -1.28 | 152,069.67 | 3.09 |
| TATA STEEL | 1,272.10 | -3.53 | 143,300.75 | 2.91 |
| VEDANTA | 293.10 | -2.16 | 108,951.03 | 2.22 |
| HINDALCO INDU... | 478.75 | -0.93 | 107,580.62 | 2.19 |
| GRASIM INDS. | 1,629.75 | 1.42 | 107,263.85 | 2.18 |
| TATA MOTORS L... | 317.95 | -1.10 | 105,569.19 | 2.15 |
| DLF LTD. | 410.45 | 2.14 | 101,599.17 | 2.07 |
| ICICI PRU LIFE | 673.50 | -1.78 | 96,776.17 | 1.97 |
| BHARAT PETROL... | 414.80 | -1.22 | 91,496.12 | 1.86 |
| INDUSIND BANK | 1,163.05 | -0.52 | 90,022.63 | 1.83 |
| MOTHERSONSUMI... | 224.70 | -1.25 | 70,958.78 | 1.44 |
| PIRAMAL ENTER... | 2,767.50 | -0.43 | 66,050.18 | 1.34 |
| GODREJ PROPER... | 2,191.45 | -0.35 | 60,919.54 | 1.24 |
| [TABLE] | | | | |
Check the image for how we have created our high volatile stocks NSE market watch in Zerodha Kite.
How to Trade the High Beta Stocks?
The high beta stocks can be traded just like normal stocks.
Put the high beta stocks in your market watch.
We prefer using a trend following system.
The SuperTrend indicator is just a perfect bet for trading these stocks.
As these stocks have a good amount of volatility, we suggest you maintain a wide and strict stop loss.
To confirm the trend, with the SuperTrend one can also use another trend following indicators like Rainbow Moving Average. See the image above to understand how the setup works.
Combining the two indicators will minimize many whipsaws in the sideways market.
In most of the trades, you can make 2% to 4% trades.
If you follow any strategy, before going live do not forget to backtest your strategy. This will increase your profitability as well as your confidence.
Is the List Final?
No, this is not the final list of high beta stocks. In the natural rule, some stocks will lose their volatility and some will gain volatility over time. So time to time you need to add or delete stocks from your list and keep your list updated.
Conclusion
Investors and swing traders can trade almost any kind of stock. But we have understood that intraday traders need to concentrate only on high volatile stocks NSE or any other exchange. This will increase their intraday profitability and amount of gains. But keep in mind that volatility increases the chance of profit, at the same time it can increase the chance of loss. So remain extra cautious while trading a volatile stock.