Every blogger searches for different ways of online income and online earning. Affiliate programs are great ways of increasing online earning. If you are a blogger and write on different subjects then you can promote affiliate links from your niche world that can attract your audience. If your visitors click the affiliate links in your blog and purchases any of the services from the affiliate advertisers then you get paid a certain percentage of a fixed value per purchase. So the more hits you get in the affiliate links the more chance of earning. In 2017 we tested that Rakuten Linkshare is a great way to generate affiliate income.
To join Rakuten Link share please CLICK HERE. You need to provide your personal details, contact details, payment details and create a username and password for the site to complete the registration process. Once the registration is complete you will receive a confirmation mail. Once you confirm the mail you are good to go with affiliate marketing.
How to earn money using Rakuten Linkshare?
First login to Rakuten Linkshare.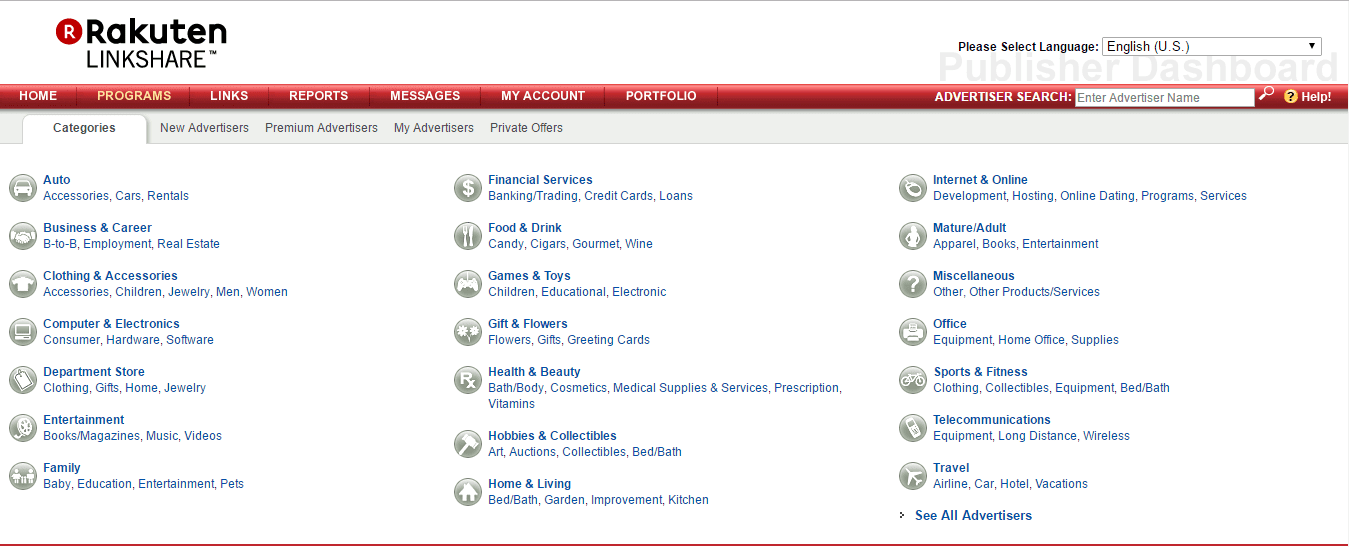 The various categories available in the LinkShare network are:
Auto
Business & Career
Clothing & Accessories
Computer & Electronics
Department Store
Entertainment
Family
Financial Services
Food & Drink
Games & Toys
Gift & Flowers
Health & Beauty
Hobbies & Collectibles
Home & Living
Internet & Online
Mature/Adult
Miscellaneous
Office
Sports & Fitness
Telecommunications
Travel
Inside the categories, there are various publishers. Now, choose your category and apply for the publisher of your choices. Once the publishers approve your affiliate application you will get their affiliate link.
Now write a short blog post or a product review on the products or services of the publisher. Suppose you review Register.com inside Internet & Online categories. Include your affiliate link in the post. If the visitors click on your affiliate link and purchase any services from the advertiser you will get paid by a certain percentage. In this way, you can start earning handsome income per month from Rakuten Linkshare.