The story of our website began in 2008. I still remember those days when I started the website on the blogger platform. It was going really smooth. The address of the website was on the Blogspot platform. Then slowly I moved my website to its own domain. But then I felt the need to change the platform to something else. Because the blogger has many constraints. The major constraint was they were not allowing us to upload anything. So I transferred my website to WordPress from blogger.
First of all, we will briefly demonstrate what exactly WordPress and blogger are.
Blogger and Its Features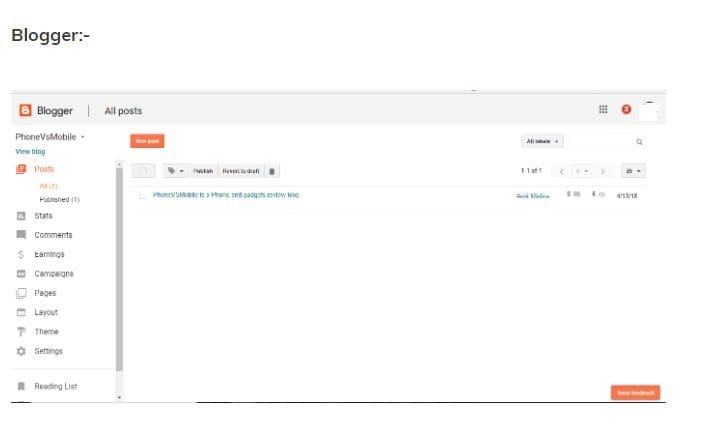 What is Blogger?
Blogger is a Google-owned Free publishing platform. In the year 2003, Google acquired Blogger. Simply we can say that one can utilize it to create and promote blogs without having to make a big investment.
Features
Some people avoid Blogger for its limited features but it's free of cost facility and flexibility makes blogger attractive options.
Setting up the blogger account is easy enough. The process of creating a blog is quite simple through Blogger. First of all, you need to create an account. After that, choose a name and template.
Multiple blogs can be created under one account here like you want to create professional and personal blogs separately, you can create the two from here.
Per account, Users can sign up for a maximum of 100 blogs. Their service is available in 60 languages. The specific platform has huge international popularity in countries like India, Brazil, Indonesia, etc.
In the Google platform, the user can receive a Free Blogstpot.com domain or he can pay to buy a custom domain name.
As Adsense also run by Google, Bloggers get the first preference here to qualify for advertisements. User can check detailed information about his blog's audience by applying Google's data analytics platform, Google Analytics.
Limitations
Blogger's text editor is quite simple, the platform doesn't have JavaScript.
Features are limited here.
WordPress and Its Features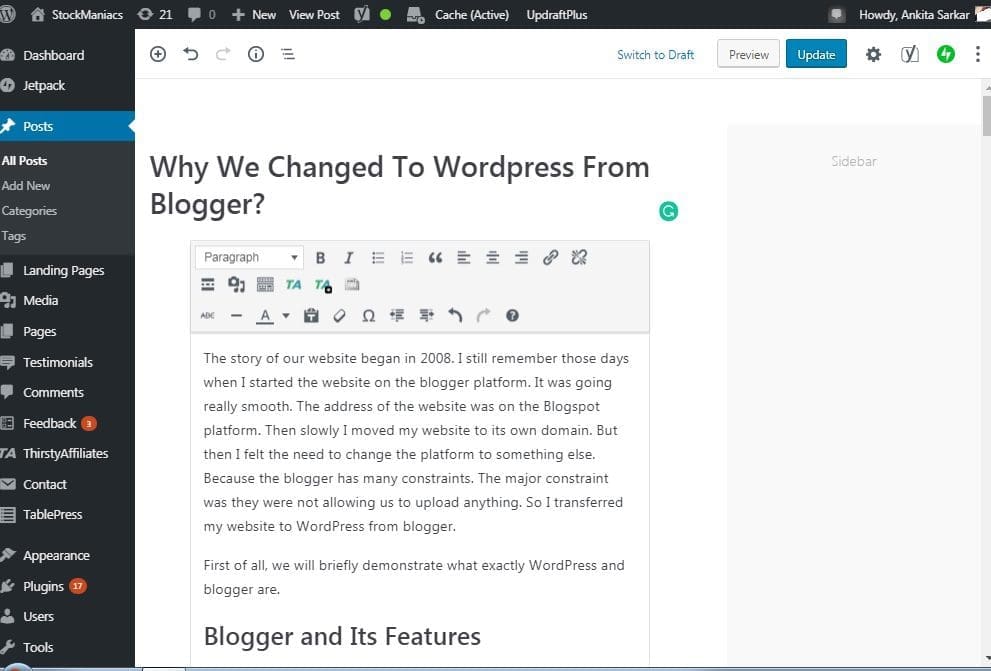 What is WordPress?
WordPress is a content management system, launched in 2003. The Free and open source platform spread its wings with more than 75 million websites (as of the record of 2017). It is Free to use and can be easily modified at free of cost but the cost involved in some areas.
Features
There are different ways by which one can host a WordPress website.
WordPress.com is the hosted version, it can be run on the official WordPress server.
WordPress.org is the self-hosted version where you can run WordPress on your own web hosting account. Here, you will have complete control over the design and, of your website.
WordPress is quite easy to use. User can learn WordPress by himself.
There you can get thousands of free and premium themes, addons, plugIns and, widgets at your disposal. So, in simple words, it is easily extensible.
One of the biggest advantages is it is search engine friendly.
It is fast, secure, scalable platform.
Limitations
If you are WordPress.com users, you can face a few limitations here. You won't have access to all of the available themes and you can't use WordPress plugins.
The personal Domain name is chargeable.
Pros and Cons of Blogger:
The blogger is a nice platform for beginners. Whenever you are going to start a website blogger is fine to start. Because there is very less coding, and you can spend your time on the content generation. But the blogger does not allow you to upload files. So if you are a software developer and you want to put your software copy on your website, that your clients can download, then sorry blogger is not for you. In that case, you need a full-fledged website that has upload and download facility.
So I decided to install WordPress in my domain. WordPress is a completely active PHP website and here also you do not need any coding experience.
The main advantages to WordPress from the blogger:
WordPress is PHP at its best without any coding knowledge
It has many powerful plugins
You can modify your website or add new content just like blogger
WP also has RSS feeds just like blogger
Now, we will go through the highlighted points of the distinction between WordPress and Blogger.
Distinction Between WordPress and Blogger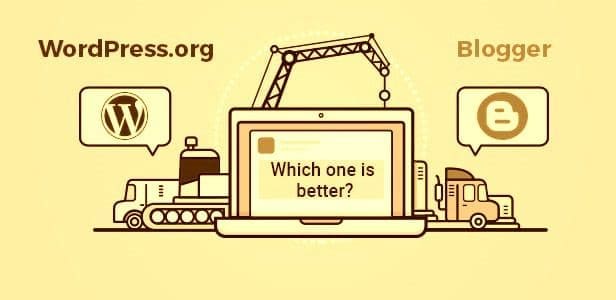 Customization
WordPress:
Users can transform to look like a website or blog, slideshows, Javascript, you can also add PHP. Apart from this, one can customize the CSS file by purchasing it.
Blogger:
Here, also you can transform it into a website or blog and also set up slideshows, add PHP, etc. but the capabilities are quite limited. There you will get a limited number of features.
Allow Pages
WordPress:
In WordPress, bloggers can get unlimited pages. There are no boundaries on page limit.
Bloggers:
Blogger has only 10 pages. One can get up to 10 pages there.
Portability
WordPress:
In WordPress, portability is quite easier in comparison to blogger. If you want to transfer data to another platform, the process is easy here. Besides this, if anyone wants to change the domain name of a blog or change the platform or hosting site, he or she can do it in a short time span and with much less complexity.
Blogger:
In blogger, it is very difficult to work on and SEO can be spoiled while transfer the data to another platform. Spoiling SEO can reduce the traffic of the site.
Update
WordPress:
As WordPress is an open source software, update facilities come very often. Users can update it in their own way and improve their blogs.
Blogger:
In the following years, Google has not made any changes or does not bring any updates. No new adds, features, the update level is low in blogger.
Search Engine Optimization
WordPress:
SEO or search engine optimization is one of the most important aspects of online blogs. SEO helps to increase the traffic of a website. Here also, WordPress is ahead of the blogger. There are many plugins in WordPress, these can improve the blog's SEO easily.
Blogger:
As I've mentioned that Blogger is lagging behind WordPress. Though change has occurred in SEO in the past few years, that is not enough in comparison to WordPress.
Plugins
WordPress:
Thousands of plugins are available in WordPress. Users can add any features as per their wish.
Blogger:
Here, no plugins are available. A decent range of simple features is available there.
Updated Information
The article was first published in the year 2013. We've updated the article according to recently available information about WordPress and Blogger. The present article contains each and every vital point regarding this.
So WordPress has all the facilities and functionalities of blogger plus you can also tweak the WordPress website as per your wish. That is the WordPress edge. Hence, in early 2013 I converted my website to WordPress from blogger. The initial days were tough. Because I lost many of my instant visitors. But slowly with the help of time, I regained my visitors back. I do give Thumbs up to WordPress.