There are number of strategies available in the market to identify profitable stocks. Piotroski F score strategy is one of them. Many of the well-known analysts believe that by applying the Piotroski F score strategy one can find multibagger stocks. An accounting professor at Stanford, Joseph Piotrosk, developed this strategy. The strategy was named after him. It is purely based on fundamental analysis. We can recognize companies with good fundamentals and eliminate stocks of weak companies.
Piotroski F Score Strategy
Piotroski F score strategy is a ranking system based on 9 fundamental criteria. As per this strategy, analysts give a company a discrete score between 0-9 which reflects the strength of the company. For every criterion that the business entity meets, rewarded by 1 point, and for those criteria that a business entity fails to meet, no points are rewarded. Lastly, the points are added to determine the best value stocks. As I have already mentioned that the Piotroski score helps to identify value stocks having good potential. A score between 0-3 considers as low, those between 7-9 considered as high, and a score of 4-6 is set to be an average score.
We have already stated above that there are 9 fundamental criteria. Now, we can put these criteria into 3 broad sections like Profitability, Leverage & Liquidity, Operational Efficiency.
Profitability:
Net Income-

Current year's positive net income shows the company's net profit level. Some investors compare current FY net income to the previous year to calculate if there has been an increase in the profit from the previous year. A company can earn 1 point by positive net profit.
Operating Cash Flow- Positive operating cash flow in the current year reflects the ability of a company to generate sufficient cash flow to maintain the growth level.
Return on Asset- Current FY RoA or return on asset analysis help to identify whether a company efficiently manage its asset or not. A higher return on assets shows how well a company's management is employing total assets to make a profit.
The relation between Cash Flow and Net Income- If cash flow from operation is greater than net income, the company's quality of earnings is in a better position. For example, CFO is higher than Net Income but if the reverse happens one needs to be aware.
Leverage & Liquidity:
Long-Term Debt-

A Lower ratio of long-term debt to a total asset as per the current FY reveals a company is being able to generate sufficient profit to grow and continue its business cycle. A decreasing debt compared to the previous year is a good sign. A lower debt can earn 1 point from the Piotroski score.

Current Ratio-

Latest FY current ratio should be higher than the previous FY. This criteria measures the company's ability to pay back its short-term liabilities with the help of short-term debt.

Dilution of Shares-

The criteria deals with the dilution of equities that reflects the faith of the company's promoters on the growth of their business.
Operational Efficiency:
Gross Margin- Higher gross margin compared to the previous year indicates a company's retained earnings after incurring direct-cost.
Asset Turnover Ratio- Higher turnover ratio compared to previous FY reflects how efficiently a company uses its asset.
There are many websites available for analyzing the Piotroski score. I have taken a list of companies with their Piotroski score that helps to segregate stocks.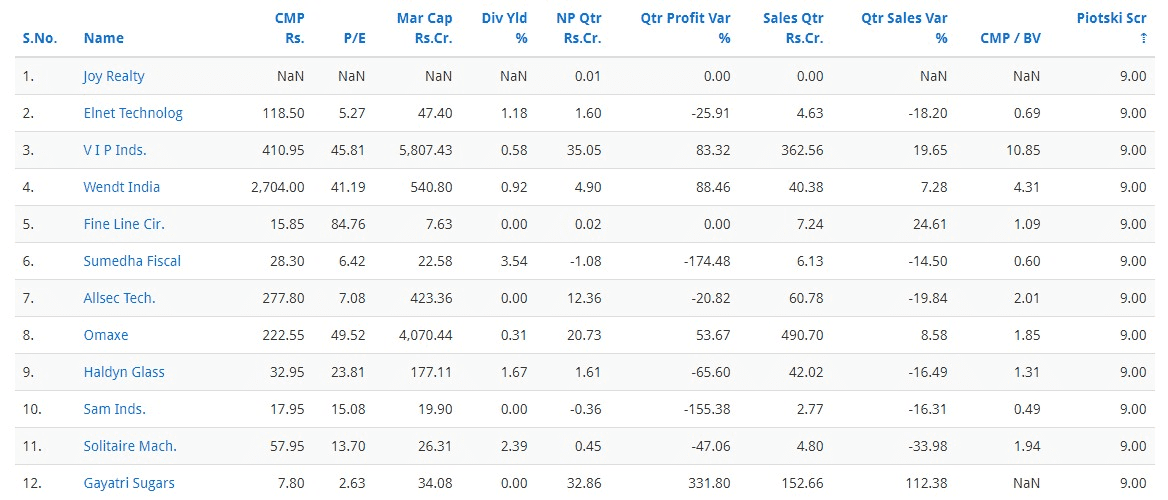 These are companies with the Piotroski score. I have listed 9 rated companies. The rating indicates good value stocks.
Piotroski F score strategy is one of the best strategies to identify profitable stocks. However, the fundamental strategy analysis is not the only criteria to find out a good stock. Besides this, you need to focus on the technical analysis tool for finding out the current market scenario.