Now we have a new virtual trading platform. This is the first real-time trading platform in India. Subscribers here can trade in NSE live with virtual money. Subscribers here can trade virtually without any money in the kitty. So new traders who wish to be a trader and investor in the stock market can now practise and develop their trading skills without any money. Even an experienced trader can trade with the new strategy and see its effect in a live market. This is the first app for virtual trading in India. You can trade without real money in the live market.
Of course, there were other websites where you could trade virtually. But visit this website here. Neostox provides you with a dedicated app for virtual trading, a 100% virtual trading app to trade without real money. Neostsox Fintech has come up with neostox.com to help traders. It is their flagship product. Veteran traders having more than 15 years of trading experience joined hands to craft and conceptualize this product. Also, research analysts joined hands to make this a real-time, fast and true professional platform.
So, Neostox has primarily focussed on those traders who are new to the market or who want to check their strategies in the live market without risking money. Here you can analyze index price movement, F&O data and equities price changes in the live market. As a result, after analysis, you can take a position, track your position and exit anytime you wish. Total profit and loss will show in your dashboard.
Neostox FAQs
Does Neostox provide 100% virtual money?
Yes, the user can use 100% virtual money.
How much virtual money can be used?
A trader can use Rs 1000000 virtual money for trading. But the trader can not take away the virtual money.
How does the live trading platform works in Neostox?
As it is an app for virtual trading, you can trade without real money in the live market. But the platform remains connected with the live market and take the actual bid-ask rate for virtual trading. Therefore, to maintain data flow, the live market data is continuously updated.
Does this app show real-time P&L of your poisition?
Neostox lets you trade in the live market, Hence, once you take a position, the live P&L shows automatically till you exit.
Can a trader trade virtually in F&O also?
Yes. An efficient real-time future and options trading platform is there to help the traders.
How is the options platform?
The options trading platform is known as Options Trader. A trader can check the performance of various F&O strategies in the live market. Therefore you can find the best strategy for you with a click of the mouse.
Do we get real-time data?
Yes, as the data feed is live, therefore it lets you trade with real-time data.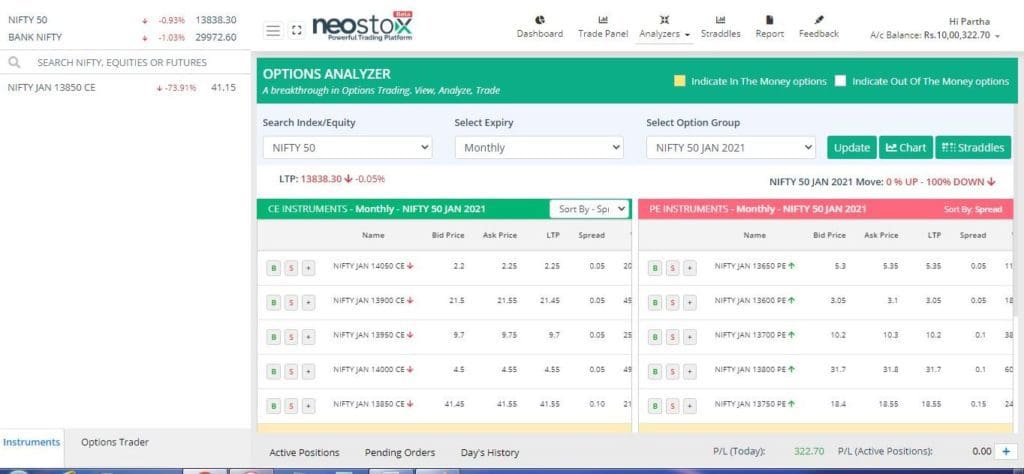 Features of Neostox – App for Virtual Trading, Trade without Real Money
Neostox has excellent features for its subscribers. Therefore the clients find it very user friendly. Let us discuss the features.
It is designed in such a way so that you can have excellent insight into what happening in the market. Also, it helps to take wise decisions during an actual trade.
All standard market features like equities, futures and options are available for the trade without real money and do the virtual trading through buy-sell orders.
The data feed on the market is on real-time.
The data is updated every second.
A subscriber can view real-time profit and loss of his trade. In addition, he can also find which trades hit stop loss and which are still active.
This app for virtual trading has the facility of auto trade as per the limit already set. You can set an entry limit by percentage and also fix the wait time for a trade. Therefore, if you set an entry below 1% of the CMP and want to wait for 25 minutes, you can set it that way. If by the stipulated time the order could not be fulfilled, the order will be cancelled automatically.
Options trader
Neostox provides you with an AI ( Artificial Intelligence) based options trader. The AI-based trader will help you scan and select the best options suitable for you.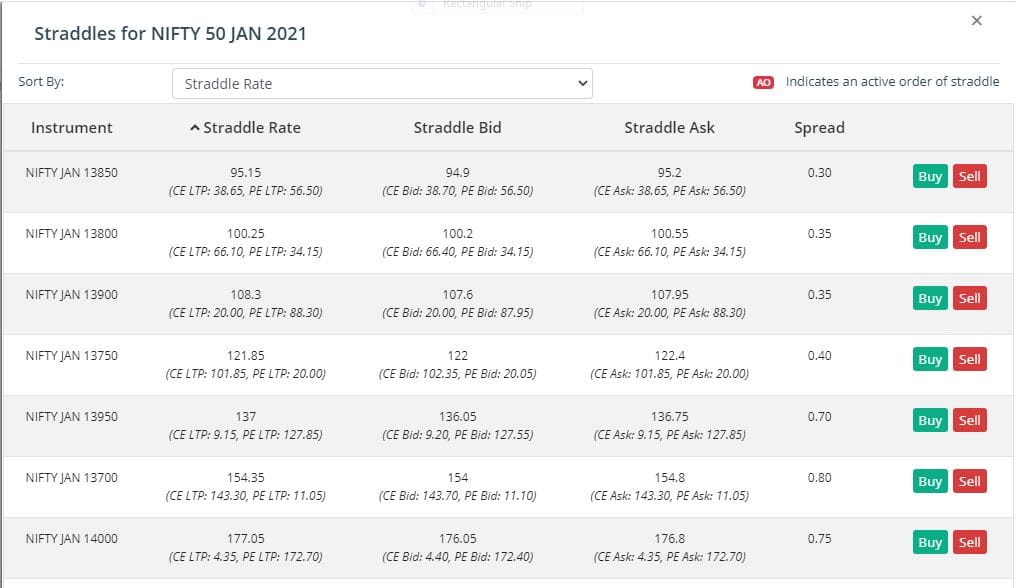 Choose index/ equity options data to trade.
Choose from weekly, monthly options data.
You can set fixed/ auto-calculate as per the lot size.
Set investment limit as fixed or percentage of total investment.
Also, set the order type as auto limit or market type.
Set the options type from your selection criteria.
Set the target as fixed or percentage-wise.
Now set stop-loss similarly.
Trade the best options picked by AI for you.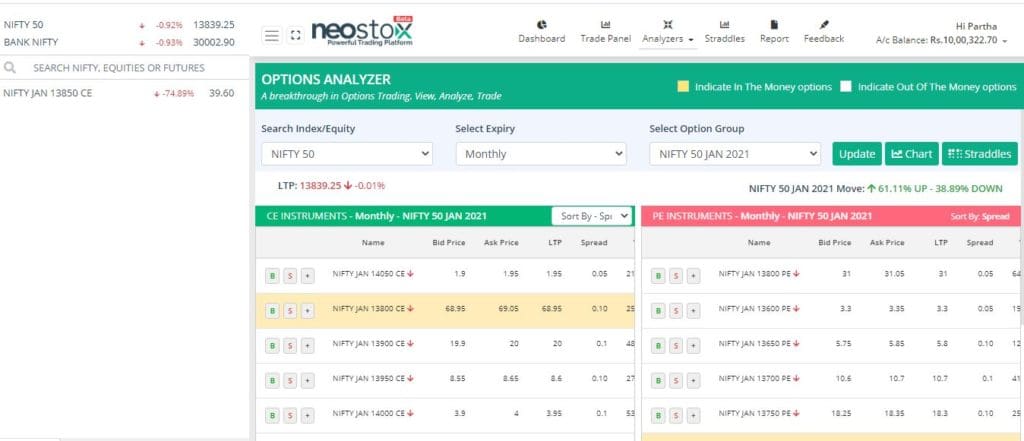 Options analyser for the trade without real money
Options analyser gives you real-time insight into the options market. Hence a trader can easily choose the best options strategy to pick before the actual trade. Also, you can choose a readymade strategy like a straddle etc. And from the table, you can see the straddle rates at different strike prices. There is the strike price, straddle rate, straddle bid, straddle ask and the spread. Therefore with just a click of a button in options analyser, you can take short or long straddle position and check your strategy. Hence, this very unique feature helps the traders a lot. There are other features also.
Excellent visual representation of market data.
Real-time CE, PE position of every straddle.
Choose options of any expiry to view positions.
AI-based calculation of options data.
View ATM, OTM or deep ITM options prices to choose a better position.
Scan AI-based data and sort as per LTP/ volume/ spread/ buy-sell quantity.
Visual representation of holistic sector-wise index data.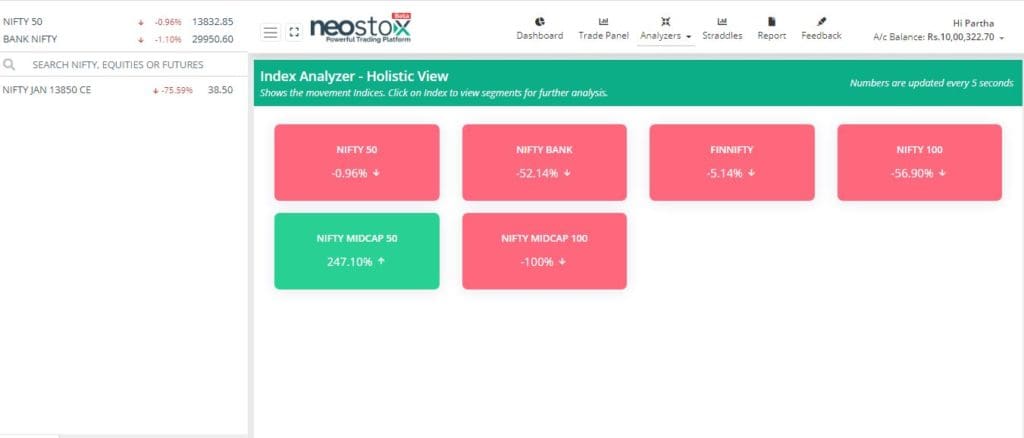 Index analyser of Neostox, the app for virtual trading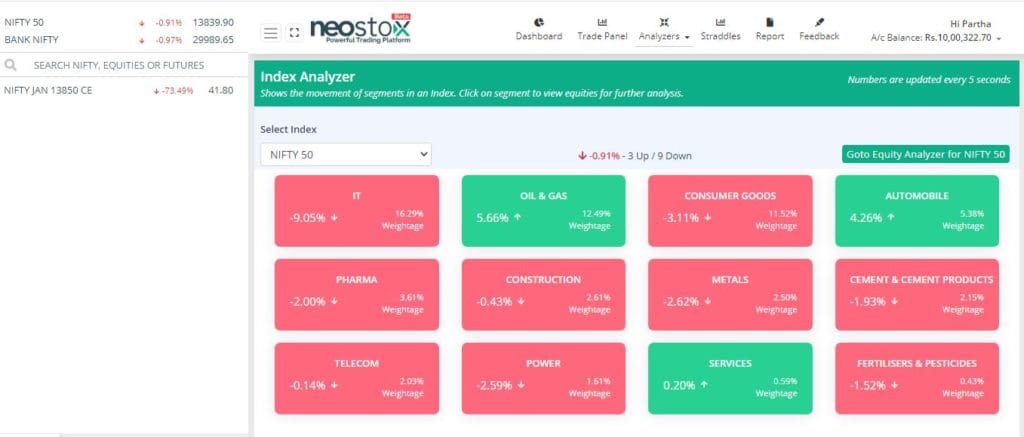 You can analyse the index from the live data. Thus you can have an in-depth knowledge of real-time market movement. the real-time data with percentage movement helps to focus on a particular sector. Above all, you can click on the sectoral button and clarify further. After that, you can trade accordingly. There are more features available. So let us discuss further.
In the analyser, you can view Bank Nifty, Nifty 50, Nifty midcap 50, Nifty 100, Nifty midcap 100.
View segments/ sectors in the Index analyser under these indices.
Check the performance of all subsectors as per weightage.
You can also view all the performances of equities under each segment.
Scan the list from analyser as per LTP/ volume/ spread/ buy-sell quantity.
Some other features of this app for virtual trading

Like all other trading platforms, Neostox also has a professional set up. It has menus like Dashboard, Trade panel, Analysers, straddle, report feedback and settings. The charting platform is also very powerful. To make it a strong point, Neostox has made its chart very customisable.
Dashboard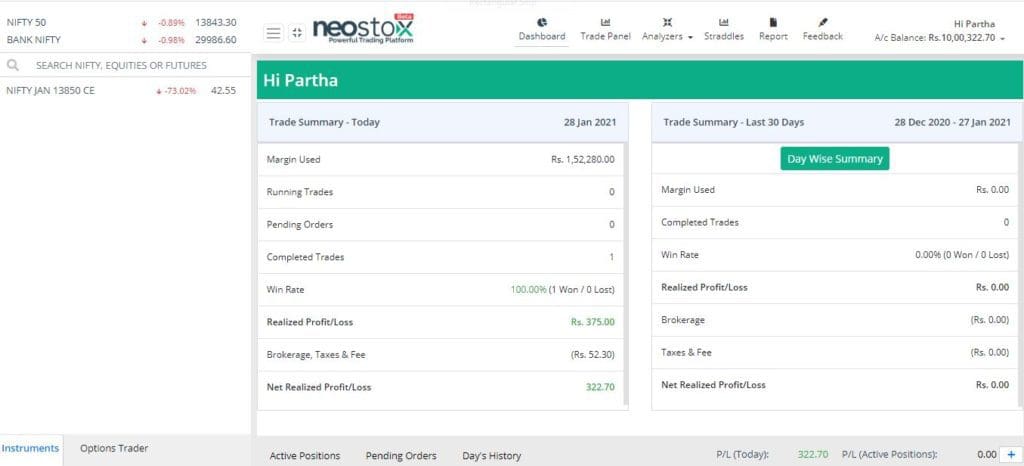 The dashboard contains a lot of information. The main window has two sections. The first section contains the trade summary of the last day. The other section contains trade summary of the last 30 days and even 180 days. So you get trade summary of the last 6 months in this virtual trading platform. Trade summary consists of the current day trade history including margin used, running trades, pending orders, completed trades, win rate, realized P&L, brokerage and all other expenses and the net P&L. Hence one look at the dashboard tells you all as if you are trading at a highly professional broker's terminal.
Equities Analyser of app for virtual trading, trade without real money in Neostox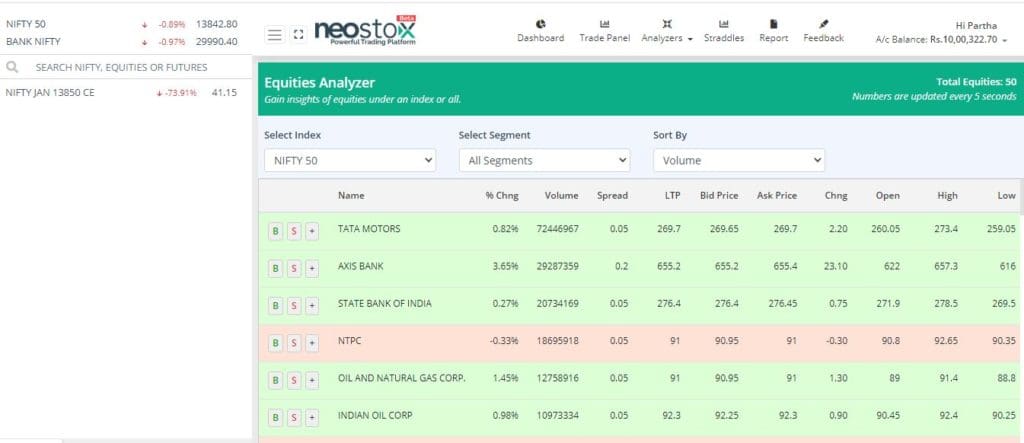 Choose all of the stocks under a particular type of index. As already explained, take Nifty 50 or any other type and scan all stocks under it as per traded volume. You get all stocks in a visual analyser. Traders who prefer to trade and use volume-based strategies will prefer this analysis. Hence a look into the analyser helps the trader to check the right strategy. And there are other types of scans available as well.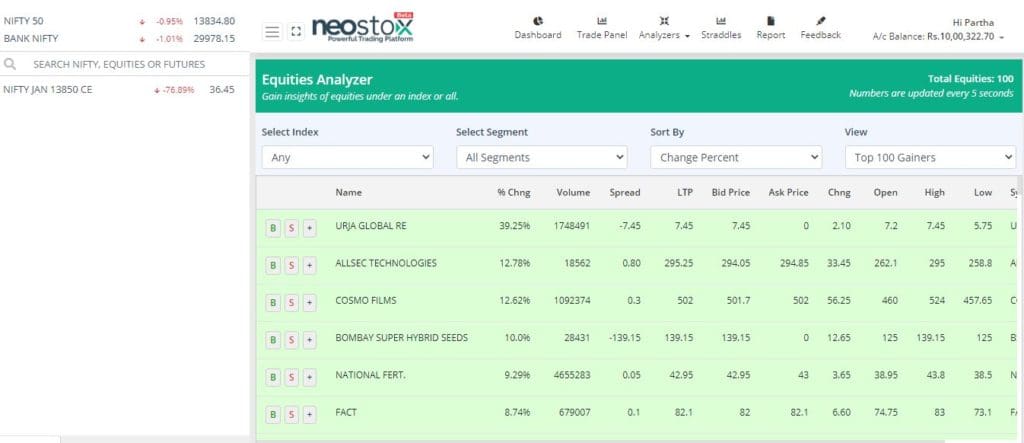 At times traders want to trade according to the market trends. Therefore the trader may want to seek the most traded or the least traded stock as per the change in price percentage. After getting the visual analyser, the trader may also check the volume analyser. Resultingly the trader finds the stock in demand. These scans are very useful for day traders. in conclusion, you have very handy analyser at your fingertip.
Orders
Similar to trading terminals, you can place regular orders and even AMO (after-market orders). In addition, you can also place carry over orders. The orders that can not be executed the same day, will be carried over to the next working day.
The AMO section consists of different types of orders. You can place AMO with set target and stop-loss. And you can also place market AMO, limit AMO and limit AMO with either or both target and stop-loss. All these AMO will execute orders automatically after the market opens the next day whenever the set parameters are hit.
How to trade in Neostox App for Virtual Trading, Trade without Real Money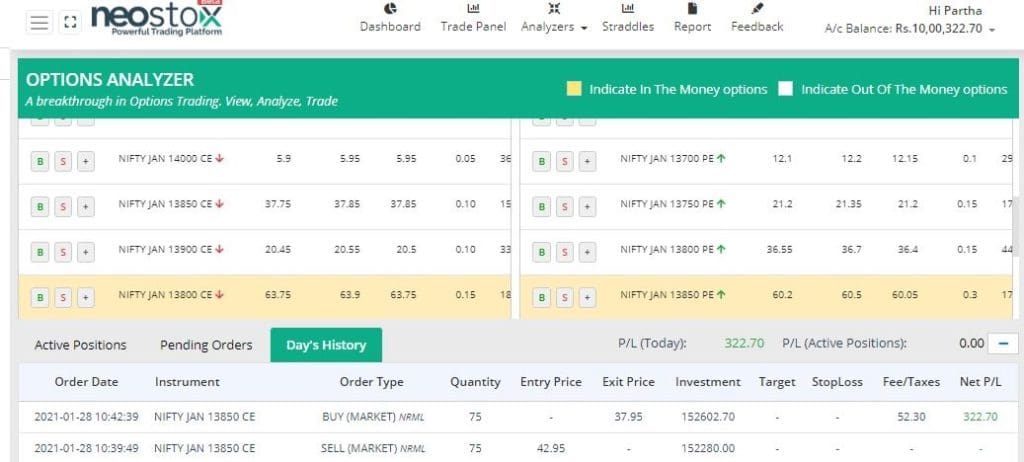 In Neostox, we already know, allow you to have a kitty of Rs 1000000 virtual money for trading. Hence your total trade value has to be within that limit. Here in this image, I showed my trade, in options on 28.01.2021. In intraday trades, Neostox assumes that there is no margin. So it pays 100% margin value for each trade. In this trade, I took a position in Nifty options. I sold a NIFTY on January 13850 CE. The trade was taken at 28-01-2021 at 10:39:49. The details of the trade are there in the picture above.
At that time Nifty was hovering around 13850 levels. So it was the ATM call options. Though we need to pay only 25% of total trade value, Neostox invested Rs 152280 for the trade, the full trade value. Hence it shows it was a Normal (NRML) trade execute at the current market price at Rs 42.95. After 3 minutes, I exited from the trade at Rs 37.95 gaining Rs 5 from it. So the total profit was 75*Rs 5 = Rs 375. After deducting all expenses the ultimate net profit stood at Rs 322.70.
All the trades are calculated at the end of the day. Consequently, you get a total trade report that includes total profit and loss. As I traded only once for this blog, the total trade is 1. But you need to keep in mind that I can not take my profit away from this trade. The net P&L stays with Neostox.
Few words about Neostox
Neostox is a well equipped, technologically advanced modern-day virtual trading platform. There are no subscription plans now.  Neostox is absolutely free. Users can now top-up to Rs. 1 Crore virtual money. Also, Neostox is starting everything afresh. Therefore, we expect to hear a lot of important advanced idea coming from them. The management is poised to make this the most preferred platform for the traders. A lot of highly advanced techniques are going to be added very soon. And there will be some earning programs also as far as we know. But all news aside, traders must keep a close eye on this website to get more information about it to make utmost from Neostox.