Bollinger Bands are a technical trading device, developed by John Bollinger in the early Nineteen Eighties. It arose from the necessity for trading bands. The article is all about MACD BB Indicator.
What's MACD Bollinger Bands (MACD BB Indicator)?
The aim of the MACD Bollinger Bands is to supply a relative relation of high and low ranges of the MACD, much like how they're tailored the common market. According to the definition, price is high on the higher band and low on the lower band. This definition can help in rigorous sample popularity and turns out to be useful in evaluating price action to the motion of warning signs to reach systematic trading selections.
Calculation

Buy/Sell Alerts
A sell signal occurs when the MACD line goes beneath the band. A buy signal occurs when the MACD line goes above the band. That is a lot more uncomplicated to peer if the MACD line is in dotted line mode.
The MACD BB indicator comes as default in Ninja Trading and Trade Station, however, it's not placed in Amibroker as default indicator. So, we're sharing a pleasant MACD BB indicator for Amibroker (Best charting software). The indicator is coded for Amibroker and can be utilized for everyday trading. Test the picture beneath for extra important points. Click on on the picture for a bigger view.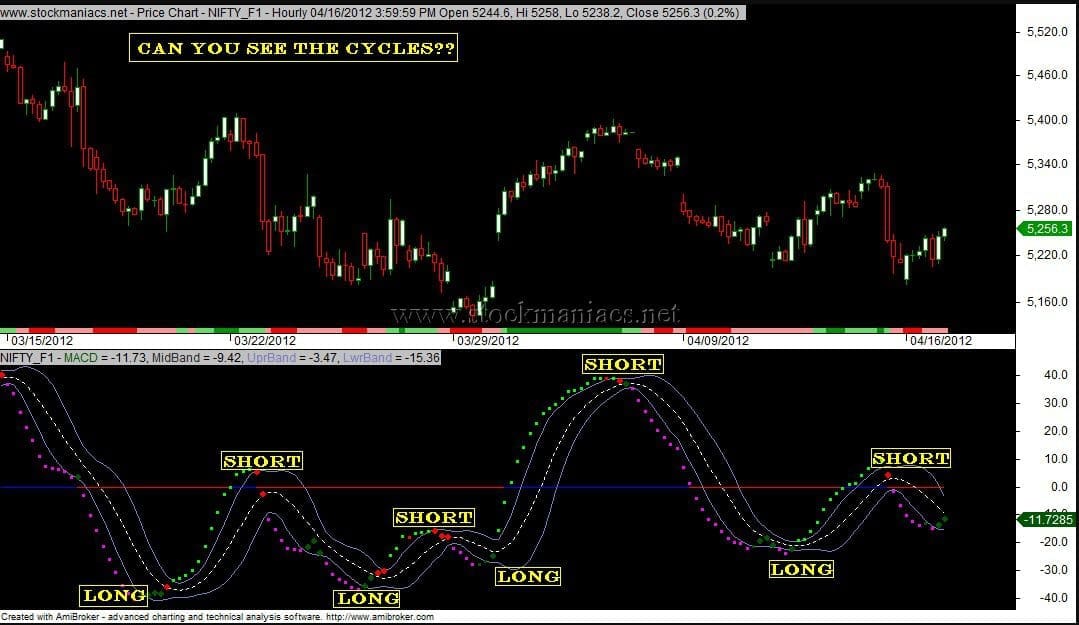 You can freely download and use the MACD BB indicator Amibroker AFL formula by clicking the button below.
However, now you will instantly see MACD Bol Bands indicator appear in the charts on real-time in Amibroker. You may distribute this AFL to your friends, but do not forget them to refer them to our site. So, remember even all StockManiacs.net freebies are copyrighted for 164 countries, so if anyone tries to modify or sell these freebies we will be compelled to take strict legal actions against them.