Since the launch of Zerodha Kite, Zerodha is continuously improving the looks, features, and accessibility of the Kite platform. Now for the normal traders, Kite has even become more popular than Pi. This has only happened due to the ease of use of Kite and due to the major factor that Kite does not require any installation on the PC. Now, to make Kite, even more, user-friendly, the company has launched Zerodha Kite chrome extension, a tool for the new generation traders.
What Is Zerodha Kite Chrome Extension?
Zerodha Kite chrome extension is a nice trading app built on HTML5 platform, is much more speedy than any competitors app and is exclusively for Zerodha trading clients. The extension creates ease of access to users.
Previously the traders trading in desktop OR laptop needed to use the browsers to access Zerodha Kite. They needed to type kite.zerodha.com in their web browser to access the Kite login page. But things have changed after the launch of the extension. You can get the extension for google chrome from the google chrome web store. You can visit the chrome web store by clicking https://www.google.co.in/chrome/webstore.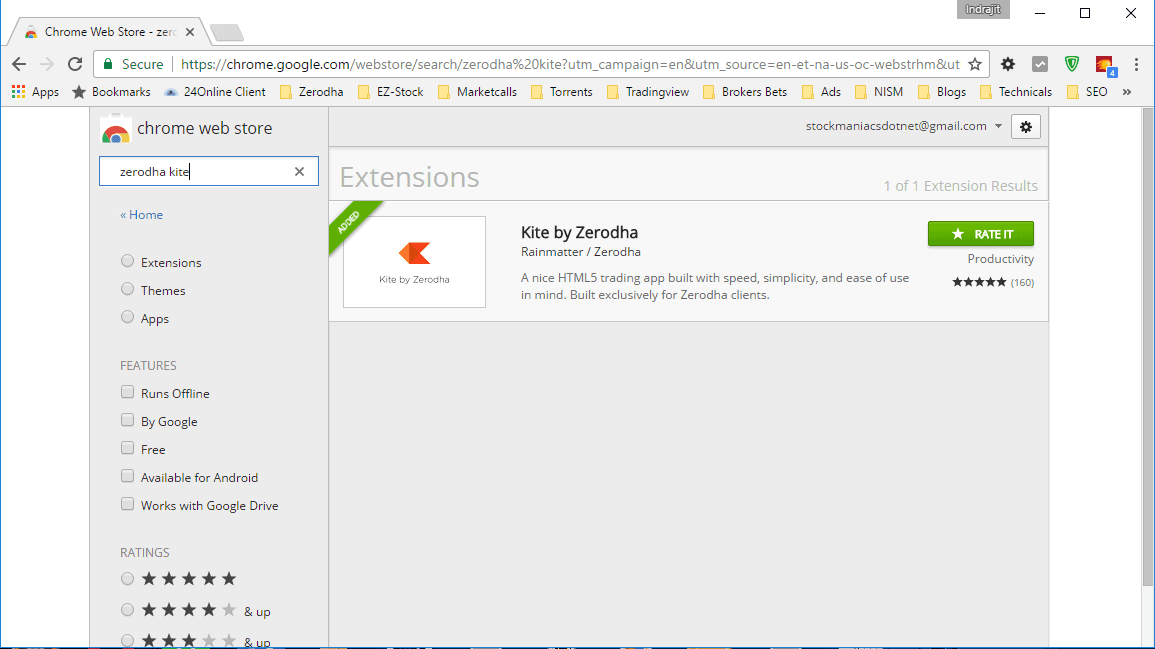 Now you can install your Kite chrome extension in your google chrome. Once it is installed you will be able to Zerodha Kite icon on the toolbar of your google chrome. Now, no need to write Zerodha Kite address in your web browser. Simply click the Zerodha Kite icon in your web browser and you are off to the Zerodha Kite login page.
You can log in to Kite and start trading immediately. If you still are not into Zerodha and don't know that Kite can be accessed immediately without installation, you can get access to Kite by opening a trading account in Zerodha, India's top discount stockbroker. To open a trading account with Zerodha CLICK HERE.