We have now many options trading software in India. In our previous post, I have also discussed the pros and cons of options trading. Currently, Quantsapp is the no. 1 options software in India. Today I would like to discuss on Why Quantsapp Web is the No 1 Options Trading Software in India?
Before we delve deeper into this topic, we must consider why do we need it. Options traders know that options pricing is done on some complex parameters called Greeks. Therefore, it is necessary to take the help of some software to simplify things. These software help us to project profit and loss during the expiry of contracts. There are many things to consider before entering an options trade. Only software can compute all those things in a matter of seconds and deliver them to you before you make a trading decision.
Hence the role of software is very important in an options trade. We have studied software like Sensibull, Zerodha Streak, and many others before coming to a conclusive decision. Quantsapp web, by far, is the most efficient software for options trading in India. We will analyze step-by-step advantages later.
How to get Quantsapp?
FAQs
What is Quantsapp?
Quantsapp or Quantsapp web is a software for options trading.
Why Quantsapp?
You can simply your options trading using this platform.
Why trade in options?
Trading in options gives a trader multifaceted advantages. You can gain sharply or lose all your investments in no time. And also you can earn steadily on a periodic basis with the help of options.
Does Quantsapp web has mobile application too?
Yes. You can download the mobile app for use in mobiles.
Does Quantsapp cost money?
Quantsapp is basically a free software for options trading. But you can avail of their premium services as well by paying the subscription.
Does Quantsapp web provide advisory services?
The premium services of Quantsapp include many features. One of them is advisory service. The company provides these services to their premium customers.
The advantages of Options Trading Software, the Quantsapp web
Today options are a very popular trading instrument in the stock market. As traders are focusing more and more on options trading, more and more companies are coming up with more developed options trading platforms. All of these platforms focus on the user interface. Options being a complex trading instrument, traders need software to make complex calculations easier. Therefore options software has become the only solution.
Keeping the complex nature of options in view, options trading platforms have become smarter. Thus, we are getting many of such smart options trading platforms at our disposal. Now traders can compare the advantages of such software. Quantsapp is a similar kind of software for options trading. They have many smart tricks in their kitty. So let us look deep into their features.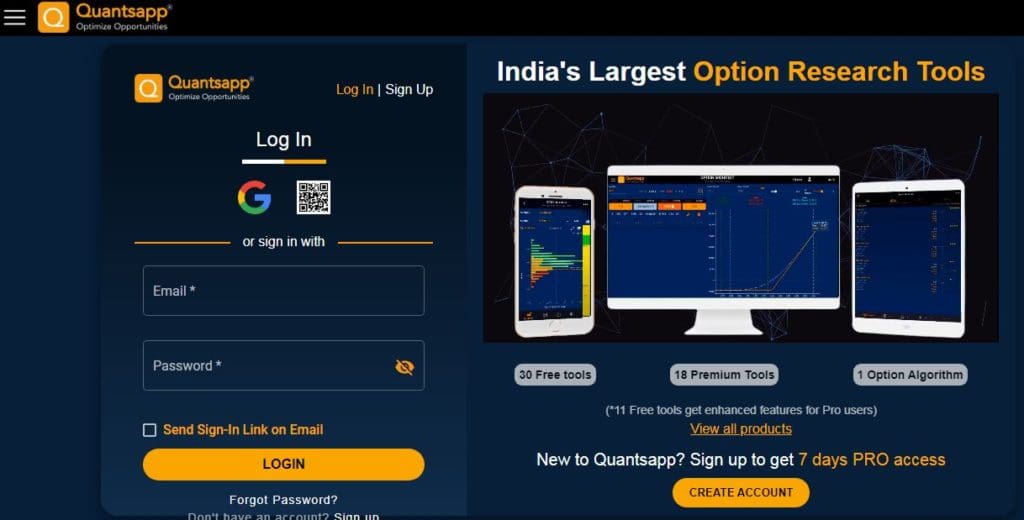 Features of Quantsapp web, the options trading software
The catchline of Quantsapp is – 'Complex Options Simplied'. As the catchline goes, they created this options trading platform to simplify things for traders. Hence the smart traders will find it very effective.
Tools
This platform provides you with many utility tools. There are 30 free tools. There are 15 intraday tools, 20 positional tools, 1 options algorithm, and 5 essential tools.
Intraday Tools from Quantsapp web, the options trading software
Synopsis – It is a simplified color-coded FnO. It shows market movement data, heat map, etc. Thus you know which stocks are moving the market.
FnO news – This shows which big changes are in FnO data. So, analyze and prepare your next trade.
Open interest – It shows OI data and changes in OI. It is also a good trade setup tool.
Options chain – It is another FnO data set. Also, it shows existing support-resistance data.
Max pain – This is max-pain data.
Built-up – This shows the color-coded sector-wise built-up.
Gain – It shows the levels where options writers are gaining most.
Option Triggers – Shortlist stocks before my big move.
Stop target – It helps to set up stop-loss and target.
Index contributor- It shows the market leaders and laggards.
SGX Nifty – It shows you the SGX Nifty before the market curve.
Advance-Decline – This tool shows periodic market breadth.
FnO scanner – On the basis of IV, price movement, and OI, you can scan FnO data changes.
Straddle Index – Here you see the straddle price changes. So trade straddle with just a glance at it.
Market News – Get the latest news and updates here.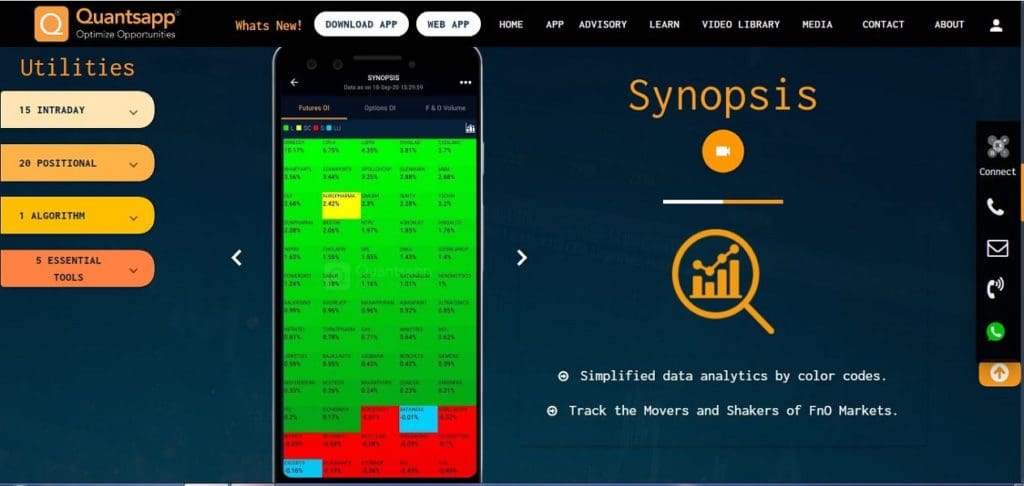 Positional tools
Gainer and loser – Check projection of futures price at different expiries.
Manager – Manage your position, add or exit. Get alerts for target or stop-loss hit.
Pair trading – Find correlation and hence find new pairs.
Architect – Create your own strategy for different expiry pay-offs.
Open Interest – Check open interest data and change of OI.
iv – Check different implied volatility parameters from here like IVP, IVR, HV vs IV etc.
PCR – Find put call ration. Find extremes of OIPCR and trade accordingly.
Trap Indicator – Proprietory algo showing when the option writers get trapped.
Backtesting – Run backtesting to optimize any strategy.
Rollover – Compare rollover data with current expiry.
Participant Data – Volume and other market participant data.
Result Calendar – Create iv based trade setup from the result calendar.
Advance-Decline – Historical market breadth and net advances analysis.
Seasonality – Decode historical data.
Straddle Index – Check all straddle price changes at different strikes.
Market News
Result Analysis – Analyse pre and post result prices and run backtest.
Comparative Analysis – Realtime FnO data analysis.
Market-wide OI – Check historical PCR and daily PCR data.
Ban Hist – List of banned securities.
Algorithm
Optimizer – It is a great tool. This algo shows you the best possible trades from 200 million probable trades. Also, this tool optimizes the best strategy based trade as per the forecast of traders. Therefore you can choose what is the best possible trade for you as per parameters set by you.
Essential tools
Circular – Traders get to know about all the circulars that are shared from trading exchanges.
Ban list – Form this, the traders can know the stocks there are going to be banned from the trading list or already banned.
Liquidity Finder – This tool shows stocks that have the highest liquidity.
Option Calculator – This tool shows options price movement with respect to market or scrip volatility.
Holidays – This shows when the exchanges remain closed, the NSE holidays.
Pros and Cons
Pros
It is no doubt that Quantsapp web is a very good options trading software. But there must be some reasons to call it the NO.1 software for options trading. There are a few other software already in the market. those are popular software and traders use them as well Some of them are Sensibull, Streak, Stockedge, Elearnoptions and some others. In addition, traders use Excel sheets for building strategy and trade. Also, stockbrokers allow their platforms to build strategy and trade. People also take the help of independent software like Amibroker to create options strategy and trade. But none of these is so feature-rich as the Quantsapp web.
A few years ago there was no such research-based options trading software like Quantsapp. Here you get all historical data for backtesting. Earlier, only a few corporates had it. Therefore the common traders couldn't buy the data. It was so pricey that we had no way to have them. Therefore the tricky options greeks always remained out of reach. Quantsapp made that possible. The platform is technically very rich and fluid. You can create lots of options strategy here and backtest them. Some of these are IVP, IVR, HV, OIPCR etc. Besides, there are indicators like Trap Indicator. This is a proprietary indicator that tells you when the options writers are getting trapped and fast shifting positions. We usually don't get such positions readily.
Therefore as far as the technical ability goes, this is NO.1 options trading platform in India. I can't name any other which is so feature-rich. But, of course, all these facilities are not free. Many of them come under the premium subscription.
Cons
Quantsapp has many attractive features kept for the premium subscribers. Therefore a new entrant will only get 7 days to look at premium features.
Secondly when you visit the webpage, it always insists you to take training and courses. That is somewhat disturbing.
Thirdly they have the advisory business attached with it. The advisory section is not well praised by subscribers among the traders. The market movement has its own momentum. Therefore you may not get it right every time. Trading on advisory tips largely depends on the traders. How the traders can handle it.
Last few words on options trading platform, the Quantsapp web
When you have such a good platform for options strategy creation, it is of no use to take advisory. Rather you should learn more about options trading. One should also focus more on backtesting and knowing the success rate before applying a strategy. That way you are prepared beforehand on what to expect. You know how much you can lose maximum. There are many videos available from where you can get good training on options trading. Therefore use these features of Quantsapp web and optimize the efficiency of this options trading software.