In our site, we have already discussed some of the most applicable chart patterns like head and shoulder, double top, double bottom, etc. Today's subject is the Symmetrical Triangle Chart Pattern, also known as "coil" or "Isosceles Triangle" because of its appearance. Before move on to Symmetrical Triangle Chart Pattern Formation, let's define the symmetrical triangle first. It is the most commonly found pattern in the stock market.
The symmetrical pattern is basically formed in a period of prolonged consolidation. It is comprised of price fluctuation and the movement of price creates a pattern like a triangle. In the pattern, there must be two lower highs and one or two higher lows. When these points are connected by creating two converging trendlines, forms this conical shape. The pattern forms during indecision in the market. Though it may be in both a reversal or continuation pattern, it more often marks a continuation pattern.
Symmetrical Triangle Chart Pattern Formation
In order to clarify this in an easy way, a proper chart is necessary.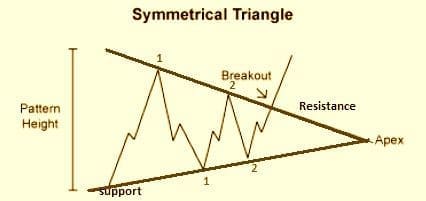 Every investor must remember a point that is the future direction of the breakdown can be determined only after the breakdown has occurred. The above figure is an example of a symmetrical triangle bullish breakdown form. Every chart indicates the target of trade. Most of the time according to the size of the pattern, investors set the target. Now, come to the point of stop-loss, it is advisable to set your SL limit below the breaking point or near the bottom line.
I am coming up with another symmetrical chart pattern of United Spirits (Symbol code: MCDOWELL-N).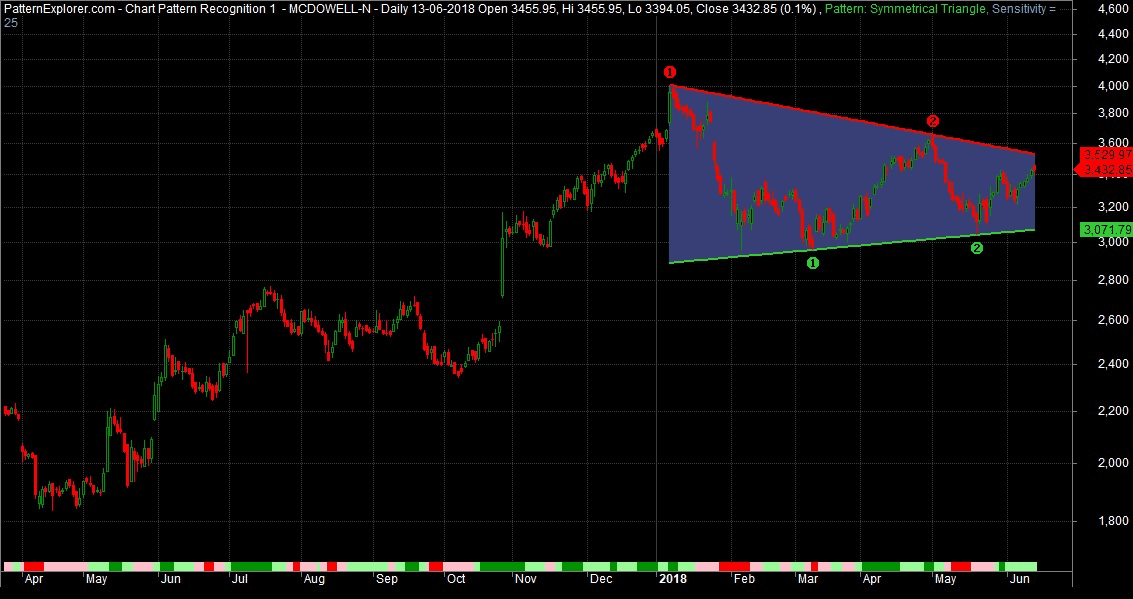 Before we step into the main discussion, see carefully that the triangular pattern is not broken out yet. Last closing price was 3432.85 on 13th June, 2018.and it is expected to happen the breakout at 3529.97. The breakout price will be in dynamic form with time. As I have mentioned earlier that only after the breakout future direction can be determined. In this bullish continuation pattern, the 1st target will be near at 3700 after a breakdown and the second target may be near at 3850. Stop loss is suggested to set near the bottom line of the pattern. According to our research, the stock could be beneficial for investors if they are ready to mid to long-term investment.
However, the symmetrical triangular pattern is widely used by most of the investors. You can trade effectively by applying the pattern in the right time.