It gives me immense pleasure when I receive then you mail from my clients/readers. Yes, last week I received a lot of messages after all my readers/clients have earned both on short-side and long-side. It is about range trading. So, let's check out the theory in detail. The strategy is based on the range-trading. So, before explaining the strategy in detail, let us check what the range-trading is.
Basic FAQ about Range Trading
What is range bound trading?
Traders can observe range breakout as a trading strategy. It identifies stocks trading in channels. So, in technical analysis by finding major support and resistance levels, a range-bound trader buys stocks at the lower level of support (bottom of the channel). Reversely, it sells them near resistance or top of the channel.
What is range breakout?
Range breakout is quite a simple strategy. The strategy involves when price breaks above or below the previous candle high or low. You can enter and exit a trade by identifying the breakout.
What is opening range breakout?
After the market opens, if the price breaks the first 30-minute opening range, it is called the opening range breakout. So, traders can enter a trade once the opening range breaks and moves above. This strategy is quite popular among traders.
Key Notes on Range Trading
A range trading happens when the price of a stock moves between a certain range over a certain period of time.
In this type of trade, the price makes high and low between a certain range.
Each price range has a specific support-resistance zone. Support at which you can purchase the security and resistance at which you can sell the security.
In order to enter and exit in a price range, traders use a variety of indicators, price action, trendline.
Breakout and Breakdown of Trading Range
Though traders can enter a trade on the breakout or breakdown of a trading range, they can use other indicators along with it. I will explain the usage of other indicators on the range trading later in this article. A buy limit order can be placed on the upside breakout of the trading range. Oppositely, you can place a sell limit order at the downside breakdown of a range of trading.
What for Monday 16th February 2015 and the coming week:
Nifty has played a lot in the last 2 weeks. No range trading was seen in the last 2 weeks. Yes, our readers have earned a lot both short-side and long-side. Now 61.8% level reached in long side Fibonacci retracement. Do you feel trend play will continue??
If you are thinking like that, you are 101% WRONG. Now the trend is….. UP. Why UP. No AAP. It's only UP as the stochastics is still in buy mode. Yes after my last mail when everybody was selling heavily in the market because of the defeat of BJP in Delhi, I told you clearly to buy the market.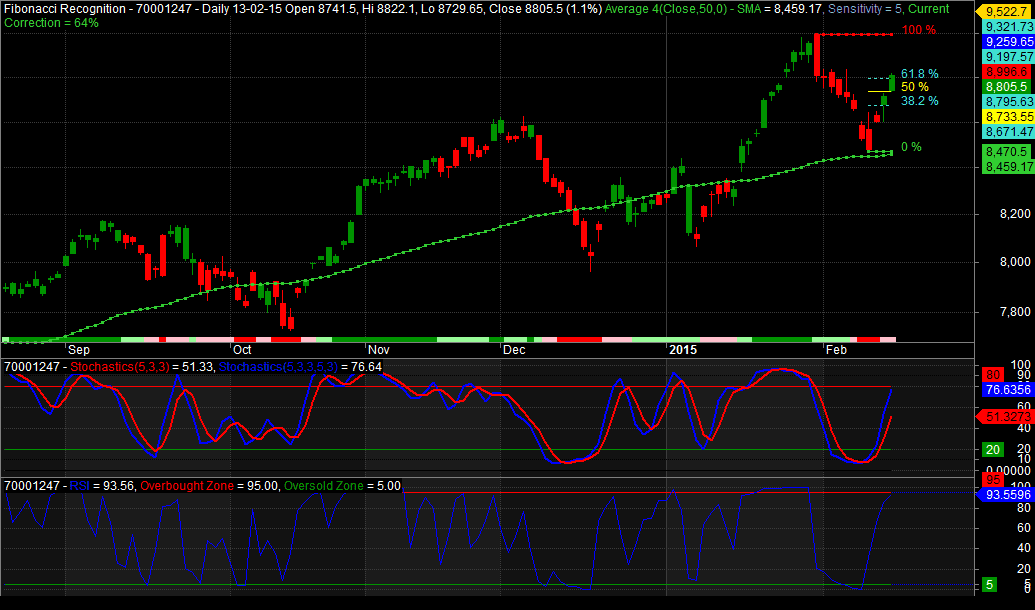 Key Points on the Strategy
I do not believe in the news, I don't believe in politics. I believe is technicals. And sadly for the news lovers, the news follows the chart.
So if you want to be a newsmaker, learn to read the chart.
Now, the trading strategy will be as long as the stochastics is in buy mode, forget positional now. Buy in intraday dips, and sell on rallies.
This is the art of range trading. This strategy will work until the stochastics reaches the overbought zone.
If you have 2 days multiplies by 50 points, its 100 points for you.
If you listen to my little advice, no aggressive shorting please till the daily stochastics are in BUY mode. Also, you cannot make up the market by any aggressiveness. Just follow the trend. If you want exactly the time the market to listen.
More Details on the Theory
I have training on this little awareness where people can learn to use charting platforms and master both range trading and trend trading. You can check my training package here.
A few stocks you can consider buying next week. TTKPRESTIG is a stock that TTTB Trading System has found out in my last scan, CMP 3419.10, BUY BUY BUY on any dips to 3390-3380, put an SL below 3350 and go for targets 3485-3515. If now can decisively close above 3490 with volumes We will see non stop rally to 3595.
In MCX, Silver's future is a buy. Try to buy near support of 37746 and resistance will be faced around 39000 levels. The gold future trend is not clear. Support is around 26668. So, if you can maintain above this level on an intraday basis in the next 2 sessions, 101% 27000+ levels are waiting.
Manage Risk
Though this range of trading can help you extract profits, it can generate losses too. For instance, you may incur losses if you set up some trade orders within a predetermined range. Then the currency in question breaks past resistance or falls below support.
This unwanted result could happen if you face a false breakout. It means that currency moves outside the range and then back within this predefined area.
Conclusion
However, first, you need to identify the range of trading. Generally, the price of the security must recover from a support area at least twice. And also it has to move back from a resistance zone at least twice a time. So, range trading is a useful skill to you must-have. As most of the traders know that most markets do not trend all of the time. Indeed, trends are comparatively rare. Hence, range trading allows traders to take advantage of this non-trending market. Moreover, it is not possible to know when a range starts or ends. Thus traders should not try to pre-empt a market, but just wait until the range has been developed.