Intense Technologies Multibagger candidate as it has been named as a hot emerging business technology vendor. Many research firms gladly published Intense Technologies Limited in their report titled "Hot emerging Indian Business Technology Vendors to Watch in the coming days".
Technical Update
Intense Technologies Multibagger Story- BSE: 532326 | ISIN: INE781A01025 | SECTOR: COMPUTERS – SOFTWARE MEDIUM & SMALL
CMP: 189.35 at BSE (As of 5th Jan 2017)
Updated Information (As of 31st Jan 2020)
As you can see the graph is presenting the last 5 years' data. After our recommendation, the stock didn't move so well. Let's see in the coming future if it has a possibility or not to further growth.
Fundamentals
The company, Intense Technologies Ltd has its customers all over 45+ countries across 4 continents. In the Indian telecom industry, the company holds 70% of market shares. At present, they help millions of customers daily by maintaining their database.
Intense Technologies Ltd (ITL) is mainly in digital transformation space. ITL is the industry leader in Indian Telecom document management and customer communication products.
Their flagship platform UniServe helps companies to digitize various sides of customer handling starting from client acquisition, having client insights, engaging them through various digital channels, delivering top of the world experience.
In Financial Year 2016, Asia-Pacific added fifty-seven percent of revenue as well as Europe and the Middle East (forty-two percent).
Total revenue for ITR grew at a CAGR of twenty-one percent over FY 2012-2016.
Today I called one of my good old HNI investor friends and he gave me the insights in a small telephonic interview. His team has thoroughly checked the balance sheet and profit and loss account of the company and recommends a BUY rating for the stock. He recommended a price target of Rs. 2000 in the coming years.
Technically Analysing Intense Technologies Multibagger Opportunity: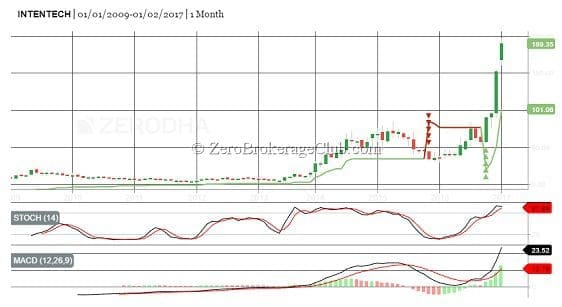 I have given a close look at the monthly charts of Intense Technologies Ltd. The stock is having a dream run in the last 3 months. Last SuperTrend buy signal has come in the month of October 2016 and since then the stock is really having a dream run. The stock has a good base around 80 marks and once it crossed that zone the price has doubled.
Detailed Explanation (as of 2017 update)
In the current valuation, the stock is looking a bit overheated as the stochastics oscillator has reached in the overbought zone in the monthly charts. So new entries should be in limited quantities for the time being and investors should look for a decent dip in the stock price. We recommend this stock a BUY in every dip. Really Intense Technologies' multi-bagger story looks pretty realistic.
Conclusion
However, it is quite normal in the stock market to face loss but you need to be very cautious about it. Apart from the particular recommendation, we also recommend multi-bagger stocks like Zen technologies, Bajfinance, IRCTC etc. You can check it in our blog post.