The first thing a person wants to invest in or trade in the stock market is he needs to open a Demat account. So in this post let me write the basics of the Demat account opening procedure in India. The first question that comes to our mind whether this account is mandatory to open if anyone wants to trade or invest? Yes, it is mandatory to open a Demat a/c if anyone wants to trade or invest in the stock market.
In historical times, the physical shares were being traded when people used to handle shares in the paper form. Still, this physical share transfer happens on today's date, but the ratio of the same is very less compared to today's online share trading. Nowadays, once the Demat account opening procedure in India is introduced, practically 99.99% of all the delivery trades are done through Demat a/c only.
What Is a Demat Account?
It is simply paperless trading. Whenever a trader or an investor buys a share and becomes the shareholder of that company, he has a share in this company. He has ownership of some units of the company that he has purchased. To prove his ownership he should have a certificate that he is the shareholder of the company. So previously companies used to issue physical share certificates in paper form. The investor had to keep it safe so that they do not get destroyed.
Then came the concept of Demat a/c. Demat a/c is the same as a bank account. The basic difference between it with a bank account is that in bank account transaction of money takes place whereas in a Demat account shares are transacted. So an investor or a trader can transfer shares from the Demat a/c and also receive shares in the Demat a/c.
Now, what is the Demat account opening procedure in India?
It has many options, but first, let's understand the structure. The Securities and Exchange Board of India or SEBI is the biggest organization that regulates the market. SEBI has given approval to two depositories, same as they have given approval to exchanges like NSE, BSE or MCX. These two depositories are NSDL and CDSL. The full form of NSDL is National Securities Depository Limited and that of CDSL is Central Depository Services (India) Ltd.
As there are many trading members and brokers under every exchange, similarly there are many depository participants under these depositories. They are same as brokers. Many organizations can become a depository participant or DP. It can be a broker or a bank or an institution. These DPs will register with any of the two depositories and once they are registered as a DP, they can start opening Demat account of the traders and the investors. The opening of a Demat a/c is the same as we go to a bank and open a bank account there.
So we have learned that traders and investors can open their Demat account of DP account with only SEBI registered DPs who are registered with either of the two NSDL or CDSL. Most of the banks work as a DP in India. Apart from that major broker of India also gives the facility to open Demat a/c. So the opening of a DP a/c is not at all a complicated job, rather almost any bank or any stockbroker can open it for you. And the documentation for the Demat account opening procedure in India is also the same as of Bank account opening. You need to provide your photo, PAN card, identity proof, and address proof.
Whether it is mandatory to open a Demat a/c if one wants to invest in the share market?
Yes, it is mandatory and the investor should not think of skipping the Demat process. DMAT has only pros, there are no cons to it. It is mandatory because when you are buying a share it will come to your account and when you will sell it, it will move out of your account. The transaction of funds involved in this process will be done through your bank account. But the transaction of shares will definitely require a Demat account. So, in a nutshell, we can say, anyone who wants to start investing in the share market must need a Demat account and he will not be able to invest in the share market without a Demat.
When will the shares reflect in the Demat account?
Suppose, you have purchased the share today in your trading account. The margins will automatically be deducted from your trading account and associated funds. Next to next day of the purchase after the pay-in and pay-out are complete between the selling prober and the purchasing broker, the shares will be delivered to the purchasing broker and it will reflect in your account. Nowadays all the major brokers provide the facility to see the Demat account status online to their clients, same as banks give internet banking. You just log in and you can at once understand whether you received the share or not. If you don't see your shares after 2 days of the purchase you need simply to contact your broker. So generally it 2 days to receive the shares after the transaction. This is popularly known as T+2 or TRANSACTION+2 in share market terminology.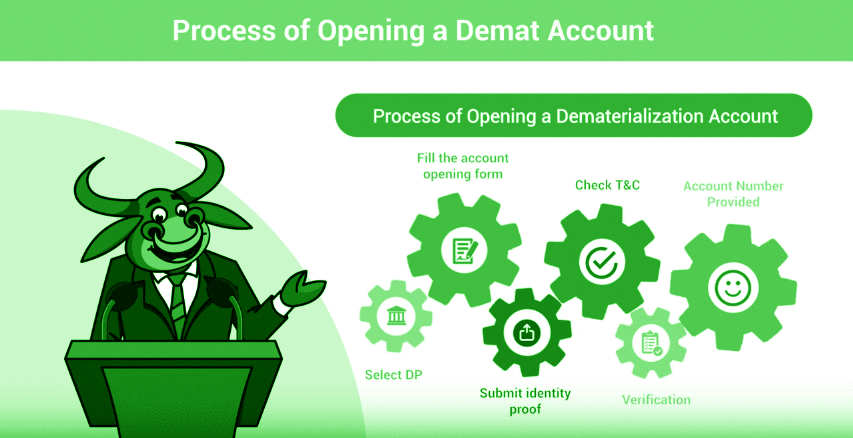 Case Study: Demat account opening procedure in India with a popular broker, Zerodha:
First, visit this page and put your name, phone number and email id in the form.
Once details are registered you will receive a phone call from their sales staff who will assist you in the Demat account opening.
Else you can proceed and open the Zerodha account with aadhar card instantly.
Alternatively, take the print out of the account opening forms.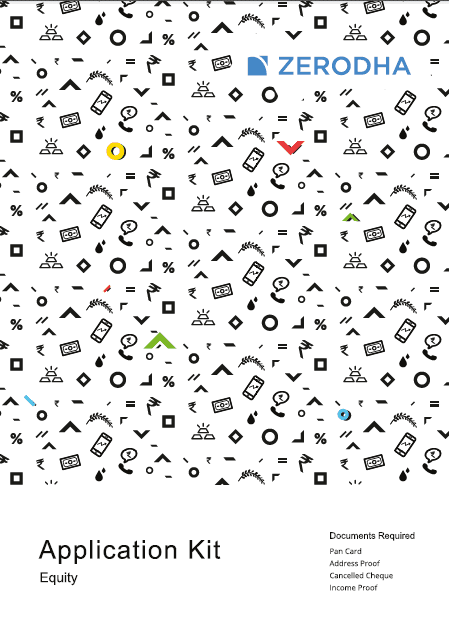 If you want to open only the Trading and Demat a/c, just print the TD form. If you want to open the commodity account as well as print the C form also.
Sign on the first holder's place, wherever F is mentioned, like F1, F2, etc.
Attach photographs and attach documents – Pan card (Xerox), Aadhar card (both side xerox), 6 month's bank statement (Xerox), 1 canceled cheque, another cheque to pay a/c opening fees and 2 photographs needed. Don't forget to self-attest all xerox copies.
Courier the forms and documents to the following address – Zerodha, 153/154, Opp Clarence School, J P Nagar 4th Phase, Dollars Colony, Bangalore – 560078.
The Trading / Demat a/c will be opened within 3 days after they receive your form.
Conclusion
This concludes our discussion on Demat account opening procedure in India. I will love to answer your queries in the comment section below this post.