Recently Angel Broking has come out with a research report on Jubilant Foodworks. According to the research report Angel has recommended a BUY rating on JUBLFOOD. I will analyze the pros and cons of the company at current valuations and will analyse the Jubilant Foodworks share price forecast by the brokerage house.
About The Company – Jubilant Foodworks:
Jubilant Foodworks is the owner of Dominos Pizza and its a well-known name on the food lovers all over the major metros of India.
They opened their first store in New Delhi in 1996.
The company has added 150 stores all over India every year for the last 4 years.
They are gunning for 2000 stores by 2020-2021.
They have a per store stringent investment payback period of ~3 years.
Eased a bit on their per store investment payback period.
They do not have any franchise stores / all stores are their own.
All stores are profitable from day 1.
Growth of QSR seen at SSSG of 10%-15%.
James Monaghan was the co-founder of Dominos. He sold off his share for a second-hand car. Dominos is focussing more on increasing stores in the big cities than in the smaller cities. They are basically following the China model of KFC. KFC is opening around 400 stores a year every year. Jubilant is a step behind in the rate but they are also following the same model.
Company Financials:
Check the image below for the companies last 10 years of financial data and other fundamental data.

So the financial data is very strong for the company. This is also a big positive for the company that they are almost debt-free. Investors should invest in these kinds of companies for long term gains.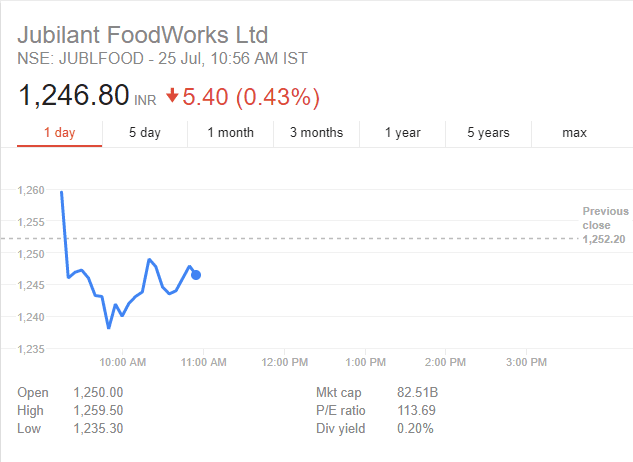 When I am writing this post the Jubilant Foodworks share price is quoting around Rs. 1247. As per the Jubilant Foodworks share price forecast done by Angel, Broking investors can consider buying this stock. We suggest buying some at this level and add more to any dips. This stock should be a multibagger in the coming years.
You can download the full research report from below. You need to use any of the social share buttons to unlock the download link.