In my last post about google adsense I have written about how you can block low CPC adsense advertisers sites. This will increase your CPC and your google adsense earning for sure. You may read my previous post at Undisclosed Secret To Increase Adsense Pay Per Click In 2017.
Now there are other ways of blocking low paying adsense elements to boost your google adsense earning. First, you need to do some research. Login to your google adsense account and click on ALLOW AND BLOCK ADS. There are various tabs which can be blocked eg, 1) Advertiser URLs 2) General categories 3) Sensitive categories 4) Ad networks 5) Ad serving 6) Ads (Ad review center).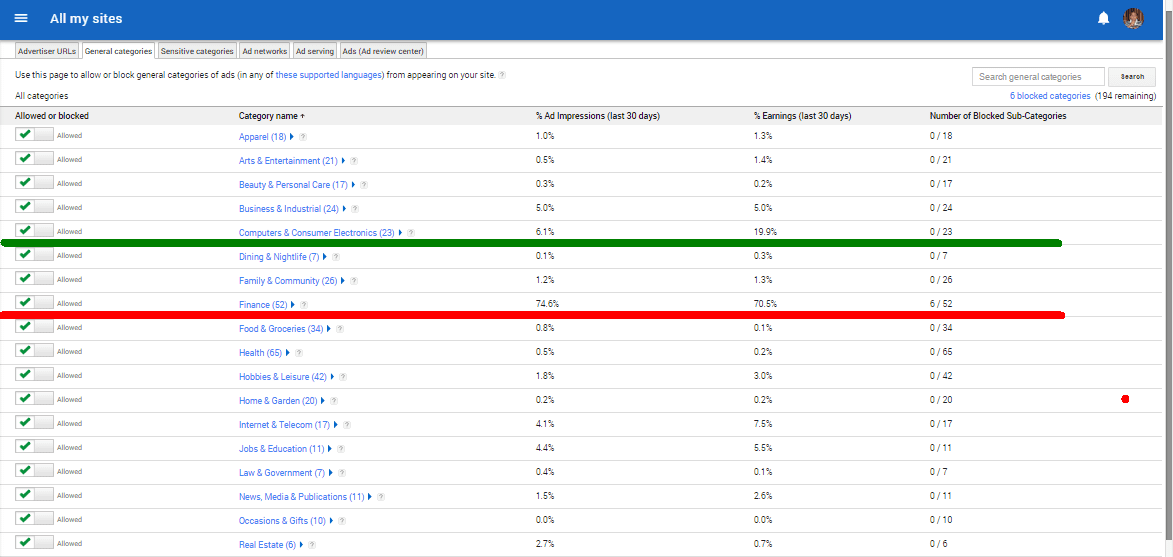 In my last post, we have already seen how to block low paying advertiser URLs using the first tab. Now let's visit the next tab – General categories. You can see the last 30 days percentage ad impression vis-a-vis last 30 days percentage earning beside each general category. Suppose in my case finance category has been responsible for 74.6% ad impression while it accounted for 70.5% ad revenues. On the other hand computers and consumer electronics category has accounted for 6.1% ad impression while they contributed 19.9% of ad revenues
So from this fact, it is clearly understood that the finance category has underperformed. They have taken more ad impression while contributed to less percentage of ad revenues. On the other hand computers and consumer electronics category has clearly out-performed. They took less percentage of ad impression while they have generated more ad revenue.
Now here we have options to disable non-performing advertisement categories and this will increase the chance of low ad impression in high ad revenue. You can disable one or several categories and test the performance in the next 15-30 days. After doing some trial and error you will arrive at a perfect combination of activated categories which will give you optimal ad revenues in low ad impression and that will surely boost your google adsense earning.