Adani Ports and Special Economic Zone Limited, in short APSEZ, is part of Adani Group. The company's business mainly consists of the port operator as well as development. In less than two decades, Adani Ports has acquired and developed a portfolio of port infrastructure and services across India. The company's 10 ports and terminals represent 24% of India's port capacity. The page is all about the detail information on Adani Ports Share Price Graph And News. In NSE, the company share name come as ADANIPORTS. Here is the Adani Ports Share Price graph. Besides Adani Ports Share Price there is a brief background regarding the company financial scenario.
Adani Ports Share Price Graph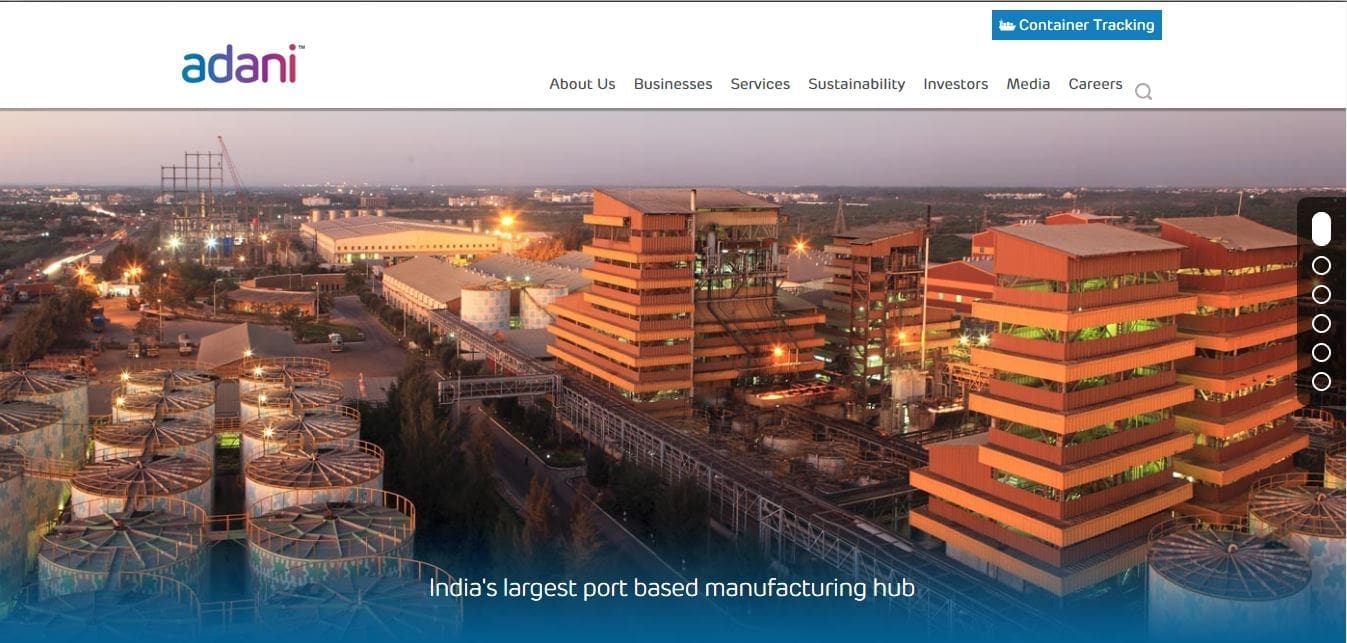 About the company
Adani ports and special economic zone (APSEZ) consists of seamless business integration of three different but closely related verticals. They are 1) Ports; 2) Logistics; 3) Special Economic Zones (SEZ). They have pan-India presence spanning across 10 different locations. Based on Mundra, India's largest commercial port on Gulf of Kachchh, it has business interests across all three verticals in India and abroad.
Adani group is a moderate sized India based company. The company has a global presence with business interests in Power, Infrastructure, Logistics, Global Trading as well as Port u0026amp; SEZ, Energy, Mining, Agri-Business, Oil u0026amp; Gas, Real Estate, FMCG products.
Adani group controls business activities inMundra Port, the largest privately owned port, providing port services like cargo handling and other value-added services.
The port also offers Dry Cargo Handling and Warehouse for storage. Through Bunkering Services they offer fuel oil and gas oil of all grades and specifications as per ISO at a globally competitive price.
There is also dry dock present in the Mundra port for ship repairing with state of art facilities. The well-equipped port Mundra Port has good infrastructure and transport facilities including road and rail.
For these facilities, it is a popular port that services huge inbound and outbound cargo comparing to other seaports in India.
Registered Office- "Adani House", Navinal Island, City: Kutch State: Gujarat Pincode: 370421. Another office is in Near Mithakhali Six Roads, City: Ahmedabad State: Gujarat Pincode: 380009
Management team- Gautam Adani (Chairman), Rajesh Adani (Managing Director), Priti Adani(Chairperson), Malay Mahadevia (HR, and Wholetime Director).
Company financials
Adani Ports share price is Rs 360.10 (as on 16.06.17 at NSE). The consolidated Earning Per Share (EPS) is Rs. 18.89 as per the latest data. The standalone EPS is Rs 14.97. Book Value Rs 81.44 (standalone) and Rs 84.63 (consolidated). The consolidated P / BV is 4.26 and PE 19.07. The Face value of a share is Rs 2. The industry average PE is 24.4 and standalone PE of Adani ports is 24.06. As per the current market price, the share price is quite reasonable. The market capitalization is Rs 74,606 crores. As per quarterly result of March 2017 on a standalone basis, the Net sales stands at Rs 1235 crores, adjusted EPS Rs 3.42, operating profit margin stands at 66.69% and Net profit at 57.37%.
Company financials for the fiscal 2018 – 1019

As per the latest financial statement (consolidated), the share price of Adani ports is Rs 372 (as on 19.09.18. in NSE). The market cap of APSEZ is Rs. 78,178.43 crores. The EPS (average of past twelve months) is Rs 17.40 (consolidated) and Rs 10.95 (standalone). The consolidated price over earning ratio, i.e. P/E is 21.7. Book value stands at Rs 102.46 (consolidated) and Rs 88.28 (standalone). The consolidated P/BV is 3.67. The average industry P/E is 38.15. The June 2018 quarterly results show that the company earned a net profit of Rs 359.36 crores which is almost half from the previous quarter, i.e. March 2018.
Cash Flow
The annually audited result of the previous fiscal shows that Adani port has a negative cash flow of -64.45 crores.
Company summary
APSEZ was incorporated in 1998. It is a large-cap company listed in both NSE and BSE.
Top management of the company includes Mr Gautam S. Adani, Mr Karan Adani, Mr Rajesh Adani, Dr Malay Mahadevia, Mr Gopal Krishna Pillai, Mr Sanjay Lalbhai, Prof. Ganesan Raghuram, Ms Radhika Haribhakti.
The financial report of the quarter ended 30-06-2018, the company reported a total sales of Rs 2411.03 crores (consolidated), down by -24.25% from previous sales of Rs 3182.86 crores. The figure also shows a decline of -12.17% from the same quarter of the previous fiscal. The company has also reported a PAT of Rs 697.40 crores in this quarter.
Adani Ports and Special Economic Zone earns its revenue from different business verticals. Audited report of the last fiscal shows total earning was achieved in the following manner.
Income from Infrastructure leasing was Rs 596.35 crores (9.12% of total sales value).
The contribution of Port services amounts to Rs 3514.14 crores (53.78% of total sales value).
Income from Containers was Rs 2259.15 crores (34.57% of total sales value)
Income from other sources was Rs 164.18 crores (2.51% of total sales value).
The company auditor is Deloitte Haskins u0026amp; Sells LLP.
The company has 2,070,951,761 nos. of shares outstanding as on 30-06-2018.
The shareholding pattern of the company
The shareholding pattern of the company by the promoters and promoter group is as follows.
The principal percentage of shares are held by Mr. Gautambhai Shantilal Adani and Rajeshbhai Shantilal Adani representing the S.B. Adani Family Trust. In addition, Adani Tradeline LLP, formerly known as Parsa Kente Rail Infra LLP, also holds principal percentage of total shares. There are also other institutional shareholders who hold a significant number of shares of APSEZ. These companies belong to the Promoter and Promoter Group of companies. They are –
Worldwide Emerging Market Holding Limited,
Universal Trade and Investments Limited,
Gautambhai Shantilal Adani and Pritiben Gautambhai Adani on behalf of Gautam S. Adani Family Trust,
Rajeshbhai Shantilal Adani and Shilin Rajeshbhai Adani representing Rajesh S. Adani Family Trust,
PanAsia Trade and Investment Private Limited,
Afro Asia Trade and Investments Limited,
Emerging Market Investment DMCC.
Besides the promoter and promoter group, there are other institutional investors. Qualified foreign investors, mutual funds, financial institutions, banks, and other institutional investors belong to this group. Rest of the shares form retail shareholding who individually own less than 1% of total shares.
The list below shows a shareholding pattern of all shareholders of Adani Ports and Special Economic Zone (APSEZ).
Promoter and promoter group – 46.03%
Foreign institutional investors – 21.27%
Foreign promoters – 16.27%
Financial institutions – 9.78%
Others – 2.63%
General public – 2.28%
Banks and mutual funds – 1.66%
Central government – 0.07%
News and announcements
The company has announced that its subsidiaries have formed a JV. Adani ports have come up with a JV (joint venture), with NYK Auto Logistics to form Adani NYK Auto Logistics Solution Private Limited. The company informed that the newly formed company will provide logistics solution to the auto sector. The JV is formed with an authorized capital of 10 crores and a paid-up capital of Rs 1 lakh.
However, this article contains every detail regarding Adani Ports Share Price.
For more information kindly visit the corporate website.
For information relating to other companies visit here.