What is a Penny Stock:
Literally 'Penny' means a small sum of money. The term 'Penny Stock' almost bears the same meaning. There is no clear definition of these types of stocks. Basically, a stock with a low price amount refers to a penny stock. In the Indian stock market, penny stock can have priced below Rs. 10. These stocks are usually considered as highly speculative. In the content 'what is a penny stock,' we are going to analyze the positive as well as negative features of these stocks so that Investors can get benefits from it.
Things to Remember about the Penny Stocks:
As penny stock price generally stands at below Rs. 10, price and market capitalization of the issuer company is usually low.
Before penny stock trading, you need to have a good understanding of penny stocks liquidity. Basically, this is one of the biggest problems with penny stocks; low liquidity.
Proper, intense research and monitoring are required for the trading of penny stocks. Price movements, records, market capitalization, liquidity, company fundamentals, size, products are some of the most important factors of analyzing.
A penny stock typically bears the risk for the high level of volatility, lack of liquidity, low capitalization.
Positive sides:
The stock price is extremely low. If a trader invests Rs. 50k for Rs. 1000/share, he will get 50 shares but if he invests Rs. 50k in penny stocks, the number of shares will be near 10-12 thousand.
If you analyze properly, some of the penny stocks can return huge interest in the long-term.
For example, We are familiar with the name of Mr. Rakesh Jhumjhunwala, one of the Indian billionaire Investors and Traders, bought Titan's penny stocks at Rs. 4 to 5 (average price), today's share price is around 350-400, hence he got a huge return.
This doesn't mean all the penny stocks will turn out to be multibagger. One has to be very careful about choosing these stocks.
Anyone with a low income can afford these stocks.
Negative sides:
You need to give massive effort to find a good penny stock. As penny stocks issuer company are basically small one, the company's fundamental analytical details are not always available. Hence, the analysis of these stocks is not so easy.
If you lack proper knowledge regardings tradings, stock analysis, company details analysis, you should not take risk of trading penny stocks, this may cause loss.
As I have mentioned above, penny stocks have a very low level of liquidity, it may be hard to find buyers for these stocks. Secondly, low liquidity provides opportunities for some traders to manipulate the price of penny stocks by the pump and dump policies.
Investors or traders must be careful while trading penny stocks. Investors must be aware of penny stocks scams.
Generally, most of these stocks do not come with a good return, only a few penny stocks are good.
A chart is given below as an example of penny stocks.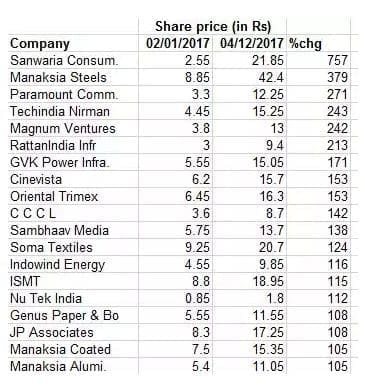 The conclusion of the content ', what is a penny stock' is investing in penny stocks consider high risk but if you have good knowledge about market movements and you are a high-risk investor, penny stocks can give you a huge return.