Recently Angel Broking has published their report on L&T Finance share price forecast for next one year. Before I discuss the research report lets check some more details about the company.
L&T Finance Holdings Ltd (NSE Code: L&TFH) is a company engaged in two-wheeler finance, housing finance, mutual funds, farm equipment finance, wealth management, microfinance, supply chain finance, real estate finance, infrastructure finance, etc. The corporate office of the company is situated at Satacruz (East) in Mumbai. The company has been founded by Shri S V Haribhakti, who is the Non – Executive Chairman of the company right now.
Recently Mr. Dinanath Dubhashi, MD & CEO of L&T Finance Holdings Ltd has appeared on the CNBC TV and he discussed on the Q4 results of the company and also the strong disbursement and AUM growth of the company. He told that it was their business strategy which they implemented 1 year back that they will grow only those businesses where they feel they are strong. So they have grown their business in wholesale, in housing and in rural. The interest income on Q4 FY17 has jumped to 1004.5 crores which is a 21% YOY growth considering the same period's figure of 830.6 crores one year back. The profit has also climbed to 314 crores, which is a 33% growth from last year's figure.
The company is now focusing on fee income coupled with operating efficiency to drive earnings. Their disbursement is expected to grow at CAGR of 25% over the next 2-3 years. The company is also expected to deliver an AUM growth of 16%-18% over the next 2-3 years. They will mainly focus on net interest margins (NIM) and fee income.

Considering the rosy future of the company, many brokers are bullish on L&T Finance Holdings. Angel Broking has come up with their L&T Finance share price forecast on 7th July 2017. Before that let's check the weekly chart of the company once. Chart courtesy Zerodha Kite.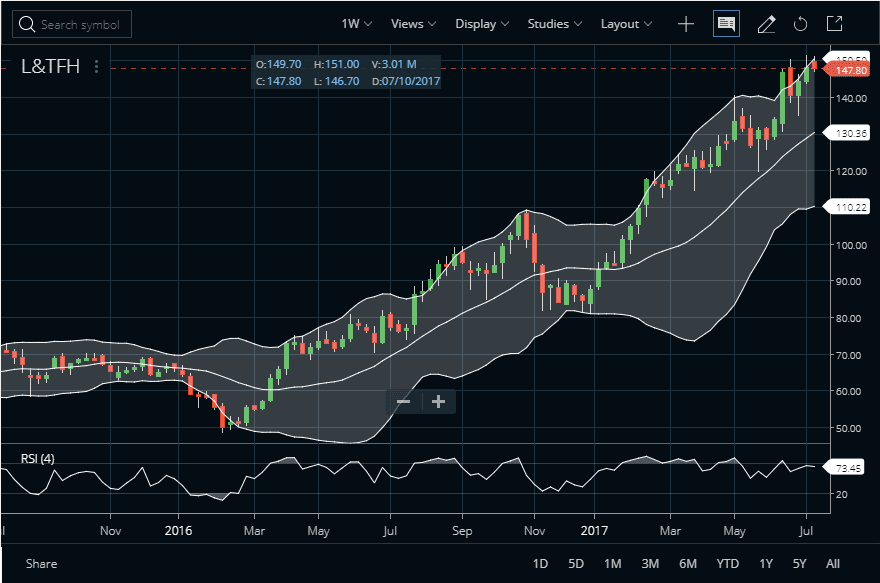 L&T Finance Share Price Forecast By Angel Broking:
BUY
CMP: 148.50 (as on 10:50 on 12th July 2017)
Target Price 179
Investment Period 12 Months
To download the full research report CLICK HERE.