Every Indian investor wants to trade like him. He is the idol of all. None other than the big bull. In this post, I will post the latest holding of Rakesh Jhunjhunwala Portfolio 2019 update. But why should you track his holding? I will show you my sure-shot ways of generating profits from the portfolio of Rakesh Jhunjhunwala. I will also discuss how to become a crorepati following the big bull Rakesh Jhunjhunwala's stock-picking mantra. But before that, I will discuss a brief history of Shri Rakesh Jhunjhunwala.
Common FAQ About Rakesh Jhunjhunwala
Who is Rakesh Jhunjhunwala?
Rakesh Jhunjhunwala or in short form RJ is also known as the Warren Buffet of India. He is the king of the Indian stock market. He has started his investing career with only Rs. 5000. And now his net worth is almost USD 3 billion. Many Indian investors follow RJ as their guru.
How to contact Rakesh Jhunjhunwala?
We have searched for the official social profile of RJ or his company Rare Enterprise. But found that all available profiles are fake. Hence we suggest you contact the TV channels like Zee Business and send your queries that you want to ask to RJ. These channels have close contact with the mighty investor and they can forward your query to the right person.
How to meet Rakesh Jhunjhunwala?
Once again there is no easy way to meet this mighty investor. Hence you must follow the business TV channels. If anytime he appears for a question-answer round in any channel route your query to him You may get an answer from him. Who knows if you can trade professionally and excel to new heights, one day you can share a stage with this legend.
Where does Rakesh Jhunjhunwala live?
RJ was born in Mumbai in 1960 and he stays in Mumbai only. He runs his own investment company Rare Enterprises as a partner.
How much is Rakesh Jhunjhunwala worth?
Rakesh Jhunjhunwala started his career with only Rs. 5000 and he grew his net worth to USD 3 billion.
Rakesh Jhunjhunwala Story
Rakesh was born on 5th July 1960 in Mumbai. His father was an income tax officer. Rakesh had an interest in the stock markets since his childhood. Rakesh used to ask stock market-related questions to his father starting from his 10-12 years of age. He was curious about why share prices increase OR decrease. Rakesh completed his graduation from Mumbai's Sydenham College. After completing CA in 1985 and wanted to build his career in the stock markets. Then his father advised him a few things those became Rakesh Jhunjhunwala's stock-picking mantra.
Do whatever you enjoy.
Don't ask for money from the family members.
Be fearless.
How He Collected Money?
That time Rakesh had only Rs. 5000. Rakesh's brother was also a CA and he had a wealthy lady client who was looking for decent returns. Rakesh approached that lady and told her that he will give her 18% returns per annum as compared to bank returns of 10%. The lady gave Rakesh Rs. 2.5 lakhs to invest. Rakesh got some more Rs. 5 lakhs from another source and built his initial capital.
How Rakesh Jhunjhunwala became rich?
In his initial days, Rakesh made some 8 lakhs – 10 lakhs profits out of his capital and slowly he started increasing his capital. In the year 1989 before the budget, his net worth was Rs. 2 crores and he invested so wisely that within a few months after the budget his net worth increased to around 50 crores.
What is Rakesh Jhunjhunwala's stock-picking mantra?
Identify stocks with business ideas, business opportunities, and cash flows and BUY them.
HOLD them while the EPS and price of the stock rise.
Sell them when the earnings per share (EPS) peaks.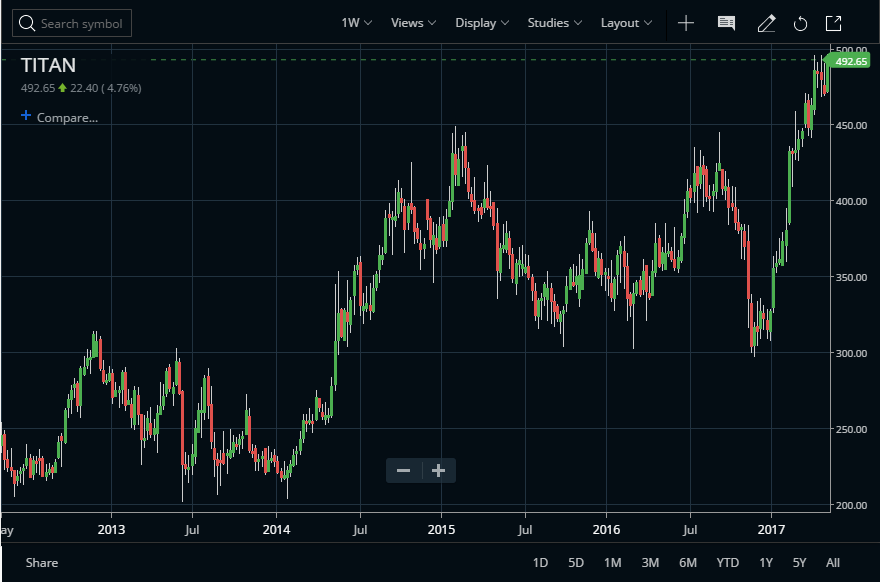 As an example lets see the 5 years chart of Titan Industries (a Rakesh Jhunjhunwala stock) above, see how the stock has appreciated in the last 5 years. We can see from Rs. 200 level the stock is now trading at Rs. 500. That is real wealth creation. I will write more on this topic if I get comments from you below this post.
Which stocks are in Rakesh Jhunjhunwala Portfolio 2019?
First, take note of the stocks of Rakesh Jhunjhunwala Portfolio 2019. You can bookmark this post to recheck the latest holdings of the portfolio of Rakesh Jhunjhunwaja as I will update this post from time to time throughout the year 2019.
| Company | Sector | |
| --- | --- | --- |
| Aptech Ltd. | COMPUTERS | 10.83% |
| The Mandhana Retail Ventures Ltd. | RETAIL | -6% |
| NCC Ltd. | CONSTRUCTION | 8.98% |
| Rallis India Ltd. | PESTICIDES & AGRO CHEMICALS | 11.21% |
| Bilcare Ltd. | PACKAGING | -13.41% |
| Agro Tech Foods Ltd. | AUTO - TRACTORS | 16.73% |
| Escorts Ltd. | FINANCE - GENERAL | 7.69% |
| Geojit Financial Services Ltd. | CONSTRUCTION | 17.66% |
| Delta Corp Ltd. | MISCELLANEOUS | -6.92% |
| Titan Company Ltd. | EDIBLE OILS & SOLVENT EXTRACTION | 49.85% |
| Autoline Industries Ltd. | AUTO ANCILLARIES | -39.49% |
| Crisil Ltd. | MISCELLANEOUS | 31.86% |
| VIP Industries Ltd. | ENGINEERING | 35.56% |
| Ion Exchange (India) Ltd. | PLASTICS | -5.27% |
| Multi Commodity Exchange of India Ltd. | BANKS | 43.39% |
| Jubilant Life Sciences Ltd. | MISCELLANEOUS | 8.42% |
| Anant Raj Ltd. | BANKS | 0.66% |
| Federal Bank Ltd. | COMPUTERS | -8.31% |
| Firstsource Solutions Ltd. | CONSTRUCTION | 16.99% |
| TV18 Broadcast Ltd. | NBFC | -56.59% |
| Dewan Housing Finance Corporation Ltd. | CONSTRUCTION | 39.39% |
| D B Realty Ltd. | CONSTRUCTION | 27.13% |
| Prozone Intu Properties Ltd. | PHARMACEUTICALS | 5% |
| Spicejet Ltd. | MEDIA & ENTERTAINMENT | 13.18% |
| Fortis Healthcare Ltd. | PHARMACEUTICALS | 5.96% |
| Lupin Ltd. | PHARMACEUTICALS | 8.42% |
| Prakash Pipes Ltd. | DIVERSIFIED | 30.74% |
| Prakash Industries Ltd. | TRANSPORT & LOGISTICS | -16.58% |
| Orient Cement Ltd. | CEMENT | -4.35% |
| Man Infraconstruction Ltd. | CONSTRUCTION | 54.70% |
| Edelweiss Financial Services Ltd. | NBFC | 14.81% |
| Karur Vysya Bank Ltd. | BANKS - PRIVATE SECTOR | -4.43% |
So, we can see from the table above that the portfolio of Rakesh Jhunjhunwala has around 31 scrips that build the lion's share of his portfolio in 2019. Most of these stocks are in the portfolio of Rakesh Jhunjhunwala and some of them are from the portfolio of his wife Mrs. Rekha Jhunjhunwala. Take a note of them, but don't try to buy these stocks immediately as you don't know when or at what price the big bull has purchased these scrips.
How to know what stocks are added in Rakesh Jhunjhunwala Portfolio 2019 ?
Now if there is a way so that you can replicate exact trades of the big bull it would have been easier for you to replicate his gains too. I will show the exact way to copy the trades of Rakesh Jhunjhunwala. Visit our BSE Bulk Deals and NSE Bulk Deals page every night.
Where is Rakesh Jhunjhunwala investing?
These pages will list the bulk deals that happened in the exchanges that day. Generally, the page will be updated at night. Now in the third column named CLIENT find Rakesh Jhunjhunwala, Rekha Jhunjhunwala OR his company Rare Enterprises. If you find any BUY trades done by any of them check if that script already exists in this portfolio OR not. If this is a fresh script in the list, voila you got the script that has been added to the trading account of the big bull.
How to profit from Rakesh Jhunjhunwala Portfolio 2019?
Next morning simply add the script to your portfolio. It is as simple as that. In this way, you can copy all trades of the big bull. If you have followed this page, you have noticed that RJ has bought Yes Bank share a few days back at the price of 67.

Similarly, keep an eye on which scrips are offloaded by the big bull to know your exit time too. Isn't it simple to copy trades from Rakesh Jhunjhunwala Portfolio 2019?
To know more about the investing of RJ read the following book: How to Become a Billionaire by Selling Nothing written by Aditya Magal.
Here I also offer you a free ebook. This ebook has an article by RJ where he disclosed his exact stock-picking formula. Download the ebook now.
Conclusion
Many traders follow the portfolios of Rakesh Jhunjhunwala and his wife Rekha Jhunjhunwala without any own technical analysis. But blind follow of the stocks is not advisable. Many times these big investors make strategic investments in various companies. So if you follow his picks blindly there may be a time when you can get caught on the wrong front. Because you don't know the logic behind his investments. However, you may keep an eye on his holdings and use them as a guideline in your own investing. Your questions in the comment section will be appreciated.