We are authorized partners of top stock and commodity brokers like Zerodha, Upstox, Fyers, Stoxkart, and 5Paisa. You can join the broker you like and learn stock market and get our other services FREE of cost.
We do not charge for any of the services given to our trading members. The only criteria that the trader must maintain a Trading and Demat account under us.
How can you learn stock market and also earn regularly?
Initial training on money-making trade setups (presently only for Zerodha clients).
Live computer-generated trading calls daily through our mobile app.
Special expiry options trading ideas through our mobile app (only as per opportunity).
IPO recommendations through our mobile app.
Our special 6 hours training video for taking your trading to new heights.
All of the above benefits are 100% FREE.
For a detailed T&C Whatsapp us at +91-9674321856.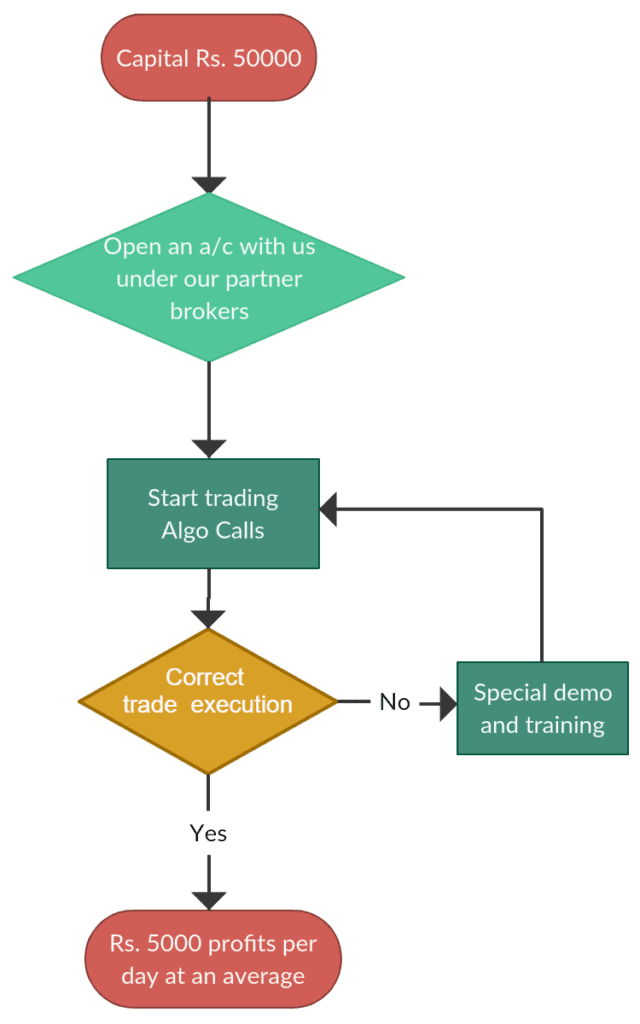 Our Mobile App (Hot Tips)
All our trading members are entitled to download our free mobile app (Hot Tips). This app is available in the google play store. Now get 100% computer-generated Algo calls in our app. High accuracy. 80%-90%.
Algo Calls Performance – Equity
Date
Scrip
Trade
Entry
Target1
Target2
Stop Loss
Remarks
08/04/2019
SBIN
Buy
318.80
320.35
323.40
315.65
SL hit
08/04/2019
BAJFINANCE
Short Sell
3,098.00
3,083.85
3,053.85
3,130.00
T2 done
08/04/2019
TATASTEEL
Short Sell
548.55
545.10
537.60
557.00
Exited @ 549
08/04/2019
RELIANCE
Short Sell
1,343.70
1,337.15
1,324.05
1,357.00
T2 done
08/04/2019
NIFTY
Short Sell
11,713.50
11,682.50
11,621.00
11,778.50
T1 done
08/04/2019
SBIN
Short Sell
315.40
313.85
310.75
318.70
T1 done
08/04/2019
BANKNIFTY
Short Sell
30,254.90
30,164.50
29,991.60
30,426.80
T2 done
08/04/2019
BPCL
Short Sell
349.80
347.30
342.40
354.85
Exited @ 351.4
09/04/2019
RELIANCE
Buy
1,339.60
1,348.35
1,365.55
1,321.85
Exited @ 1336.4
09/04/2019
BANKNIFTY
Buy
30,083.50
30,166.80
30,338.30
29,904.00
T1 done
09/04/2019
SBIN
Short Sell
310.00
307.80
303.40
314.60
Exited @ 315.1
09/04/2019
TATASTEEL
Short Sell
544.25
540.70
533.70
551.35
T1 done
09/04/2019
BPCL
Buy
352.55
356.30
363.45
345.05
T1 done
09/04/2019
BAJFINANCE
Short Sell
2,986.40
2,972.50
2,943.40
3,019.20
Exited @ 3035
09/04/2019
BAJFINANCE
Buy
3,035.00
3,046.50
3,075.60
2,990.00
T1 done
09/04/2019
NIFTY
Buy
11,714.00
11,747.70
11,875.50
11,640.00
Exited @ 11747.5
09/04/2019
SBIN
Buy
315.10
317.40
321.80
310.20
Exited @ 314.55
10/04/2019
BAJFINANCE
Buy
3,033.95
3,047.20
3,073.70
3,005.00
Exited @ 3004.7
10/04/2019
TATASTEEL
Buy
558.90
563.35
572.35
549.05
Exited @ 548.75
10/04/2019
BPCL
Short Sell
353.85
351.30
346.20
359.00
Exited @ 359.1
10/04/2019
SBIN
Short Sell
313.40
312.00
309.00
317.05
T1 done
10/04/2019
NIFTY
Short Sell
11,712.00
11,693.00
11,661.00
11,744.00
T2 done
10/04/2019
BANKNIFTY
Short Sell
30,156.00
30,075.70
29,917.10
30,320.00
T1 done
10/04/2019
BAJFINANCE
Short Sell
3,004.70
2,991.15
2,964.65
3,031.50
T1 done
10/04/2019
BPCL
Buy
359.10
361.90
367.00
353.90
Exited @ 357.55
10/04/2019
RELIANCE
Short Sell
1,334.50
1,328.25
1,315.75
1,348.00
T1 done
10/04/2019
TATASTEEL
Short Sell
548.75
544.55
535.55
558.00
T1 done
11/04/2019
SBIN
Short Sell
309.90
308.65
306.25
312.80
Exited @ 313
11/04/2019
BAJFINANCE
Short Sell
2,996.00
2,985.30
2,963.90
3,019.00
Exited @ 3022.05
11/04/2019
RELIANCE
Buy
1,336.45
1,339.65
1,346.35
1,329.00
T2 done
11/04/2019
TATASTEEL
Short Sell
539.00
535.80
529.40
546.40
T1 done
11/04/2019
BANKNIFTY
Short Sell
29,840.20
29,798.90
29,713.30
29,964.80
Exited @ 29967.4
11/04/2019
BANKNIFTY
Buy
29,967.40
30,010.20
30,095.80
29,879.20
Exited @ 29834.3
11/04/2019
BAJFINANCE
Buy
3,022.05
3,033.70
3,055.10
2,997.60
T1 done
11/04/2019
NIFTY
Short Sell
11,616.00
11,596.70
11,557.90
11,664.90
Exited @ 11668.6
11/04/2019
SBIN
Buy
313.00
314.35
316.75
310.35
T1 done
12/04/2019
BAJFINANCE
Short Sell
3,037.05
3,026.25
3,004.75
3,062.00
T1 done
12/04/2019
TATASTEEL
Short Sell
536.55
534.10
528.60
542.70
T1 done
12/04/2019
BPCL
Short Sell
361.85
359.40
354.60
367.80
T1 done
12/04/2019
RELIANCE
Short Sell
1,346.50
1,342.70
1,334.25
1,356.90
T1 done
12/04/2019
SBIN
Short Sell
312.35
311.55
309.65
314.60
T1 done
12/04/2019
NIFTY
Short Sell
11,643.40
11,628.40
11,598.40
11,674.40
T1 done
12/04/2019
BANKNIFTY
Short Sell
29,850.00
29,786.20
29,658.60
29,985.00
Exited @ 30010
12/04/2019
NIFTY
Buy
11,677.00
11,692.00
11,722.00
11,644.40
T2 done
12/04/2019
BANKNIFTY
Buy
30,010.00
30,071.80
30,199.40
29,857.40
T1 done
12/04/2019
SBIN
Buy
314.70
315.65
317.55
312.70
T1 done
15/04/2019
SBIN
Buy
317.40
318.55
320.90
314.95
T1 done
15/04/2019
RELIANCE
Short Sell
1,338.00
1,333.35
1,323.40
1,348.95
Exited @ 1339.5
15/04/2019
TATASTEEL
Buy
541.55
544.20
549.60
536.10
T2 done
15/04/2019
BANKNIFTY
Buy
30,185.00
30,246.50
30,369.30
30,047.00
T1 done
15/04/2019
BPCL
Short Sell
357.65
354.90
349.60
363.00
Exited @ 358.1
15/04/2019
NIFTY
Buy
11,722.00
11,737.00
11,769.90
11,685.60
T1 done
16/04/2019
BAJFINANCE
Buy
3,054.10
3,069.60
3,102.85
3,018.70
Exited @ 3033.6
16/04/2019
NIFTY
Buy
11,805.50
11,821.70
11,854.70
11,762.00
T1 done
16/04/2019
BANKNIFTY
Buy
30,452.80
30,520.70
30,652.60
30,278.00
T2 done
16/04/2019
BPCL
Short Sell
358.30
356.65
353.40
361.95
T1 done
16/04/2019
RELIANCE
Buy
1,359.20
1,368.05
1,386.00
1,340.00
Exited @ 1342.15
16/04/2019
TATASTEEL
Buy
555.95
559.15
564.95
549.20
Exited @ 553.15
16/04/2019
SBIN
Short Sell
316.35
315.00
312.20
319.40
T1 done
18/04/2019
BPCL
Short Sell
356.20
354.35
350.65
360.25
T1 done
18/04/2019
NIFTY
Short Sell
11,782.00
11,751.50
11,684.90
11,859.00
Exited @ 11769.3
18/04/2019
BAJFINANCE
Short Sell
2,999.95
2,979.90
2,940.10
3,046.00
Exited @ 3013.25
18/04/2019
BANKNIFTY
Short Sell
30,406.50
30,283.10
30,019.80
30,684.50
T1 done
18/04/2019
BPCL
Buy
361.70
363.50
367.20
356.55
T1 done
18/04/2019
TATASTEEL
Short Sell
539.20
533.05
520.30
554.35
Exited @ 542.75
18/04/2019
RELIANCE
Buy
1,387.90
1,397.15
1,417.15
1,365.00
Exited @ 1387.55
22/04/2019
RELIANCE
Buy
1,365.35
1,373.95
1,391.45
1,345.05
Exited @ 1343
22/04/2019
SBIN
Buy
309.90
311.15
313.70
306.35
T1 done
22/04/2019
BPCL
Short Sell
344.80
340.40
331.85
354.05
T1 done
22/04/2019
TATASTEEL
Short Sell
536.65
532.85
525.25
545.45
Exited @ 533.95
22/04/2019
BANKNIFTY
Short Sell
29,907.50
29,745.30
29,425.80
30,230.00
Exited @ 29766.5
22/04/2019
NIFTY
Short Sell
11,652.00
11,609.00
11,524.00
11,742.00
Exited @ 11615
23/04/2019
TATASTEEL
Short Sell
529.45
525.05
517.05
538.50
T1 done
23/04/2019
NIFTY
Short Sell
11,603.00
11,581.80
11,538.40
11,654.40
T1 done
23/04/2019
RELIANCE
Buy
1,363.75
1,371.40
1,386.25
1,346.00
T1 done
23/04/2019
SBIN
Buy
311.60
313.25
316.50
308.25
T1 done
23/04/2019
BAJFINANCE
Buy
3,021.10
3,037.00
3,068.75
2,987.05
T1 done
23/04/2019
SBIN
Short Sell
307.95
306.25
303.00
311.50
T1 done
23/04/2019
BANKNIFTY
Short Sell
29,638.00
29,504.80
29,234.40
29,921.90
Exited @ 29536
24/04/2019
RELIANCE
Buy
1,376.35
1,380.75
1,389.35
1,366.35
T2 done
24/04/2019
BAJFINANCE
Buy
3,059.90
3,071.60
3,095.00
3,034.50
T2 done
24/04/2019
BPCL
Buy
345.85
348.35
353.35
340.00
T1 done
24/04/2019
TATASTEEL
Short Sell
516.65
511.65
501.95
526.90
Exited @ 527.15
24/04/2019
NIFTY
Short Sell
11,590.10
11,577.00
11,549.80
11,619.60
Exited @ 11639
24/04/2019
BANKNIFTY
Short Sell
29,511.10
29,456.30
29,341.20
29,630.00
T1 done
24/04/2019
SBIN
Buy
307.30
308.90
312.00
303.85
T1 done
24/04/2019
NIFTY
Buy
11,639.00
11,652.00
11,679.00
11,592.30
T2 done
24/04/2019
BANKNIFTY
Buy
29,652.40
29,711.70
29,826.80
29,514.90
T1 done
24/04/2019
TATASTEEL
Buy
527.15
532.00
541.65
517.25
Exited @ 523.85
25/04/2019
RELIANCE
Buy
1,397.55
1,400.85
1,408.45
1,382.20
T2 done
25/04/2019
TATASTEEL
Short Sell
521.25
517.20
509.30
529.30
T1 done
25/04/2019
NIFTY
Buy
11,755.10
11,774.60
11,813.60
11,716.00
T1 done
25/04/2019
BANKNIFTY
Buy
30,009.50
30,069.00
30,212.80
29,846.00
Exited @ 29832.3
25/04/2019
BPCL
Buy
356.40
360.50
368.70
347.60
Exited @ 358.3
25/04/2019
BAJFINANCE
Buy
3,113.60
3,125.35
3,148.65
3,084.00
Exited @ 3084
25/04/2019
SBIN
Short Sell
309.05
308.05
305.90
311.75
T2 done
25/04/2019
BANKNIFTY
Short Sell
29,832.30
29,770.10
29,626.20
29,989.90
T2 done
25/04/2019
BAJFINANCE
Short Sell
3,084.00
3,072.25
3,048.95
3,107.30
Exited @ 3084.35
25/04/2019
NIFTY
Short Sell
11,716.00
11,696.10
11,657.10
11,755.00
T2 done
26/04/2019
TATASTEEL
Buy
536.80
546.85
567.35
515.55
Exited @ 544.3
26/04/2019
BAJFINANCE
Short Sell
3,059.70
3,044.95
3,015.45
3,089.50
Exited @ 3090
26/04/2019
BPCL
Buy
367.30
370.90
378.25
358.25
T1 done
26/04/2019
RELIANCE
Buy
1,386.45
1,393.15
1,407.45
1,370.70
T1 done
26/04/2019
SBIN
Buy
308.75
309.65
311.65
306.60
T2 done
26/04/2019
BAJFINANCE
Buy
3,090.00
3,104.30
3,133.80
3,060.00
T1 done
30/04/2019
SBIN
Short Sell
306.40
303.85
398.65
312.00
Exited @ 310.4
30/04/2019
NIFTY
Short Sell
11,725.00
11,694.40
11,630.20
11,815.20
Exited @ 11795.6
30/04/2019
BANKNIFTY
Short Sell
29,790.00
29,706.30
29,499.10
30,050.00
T1 done
30/04/2019
RELIANCE
Short Sell
1,370.80
1,358.85
1,334.45
1,396.40
Exited @ 1392.65
30/04/2019
BAJFINANCE
Short Sell
3,065.50
3,055.55
3,033.45
3,093.70
T1 done
30/04/2019
TATASTEEL
Short Sell
536.95
532.90
525.00
546.15
Exited @ 546.05
30/04/2019
TATASTEEL
Buy
546.05
550.15
558.05
538.25
T2 done
02/05/2019
BAJFINANCE
Buy
3,113.45
3,131.50
3,166.50
3,060.00
T1 done
02/05/2019
NIFTY
Buy
11,814.90
11,842.50
11,899.50
11,735.00
Exited @ 11762.9
02/05/2019
BANKNIFTY
Buy
29,989.00
29,741.20
30,085.80
29,741.20
Exited @ 29797.2
02/05/2019
RELIANCE
Buy
1,409.30
1,421.50
1,446.40
1,382.10
Exited @ 1404.35
02/05/2019
TATASTEEL
Buy
556.00
559.35
565.85
549.45
T1 done
03/05/2019
TATASTEEL
Short Sell
549.00
545.60
538.80
556.00
Exited @ 547.8
03/05/2019
BANKNIFTY
Buy
30,007.90
30,088.20
30,268.20
29,810.00
T1 done
03/05/2019
NIFTY
Buy
11,801.10
11,831.70
11,892.50
11,735.00
Exited @ 11768.4
03/05/2019
SBIN
Buy
311.15
312.25
314.35
308.80
Exited @ 310.2
03/05/2019
BPCL
Short Sell
381.55
379.40
375.10
385.90
T1 done
03/05/2019
BAJFINANCE
Short Sell
3,126.50
3,108.95
3,074.85
3,165.00
Exited @ 3107
06/05/2019
TATASTEEL
Buy
535.35
539.30
547.00
527.45
T1 done
06/05/2019
BAJFINANCE
Buy
3,090.00
3,108.00
3,142.90
3,055.20
Exited @ 3045.55
06/05/2019
BANKNIFTY
Buy
29,804.90
29,879.20
30,027.80
29,649.00
Exited @ 29796.8
06/05/2019
BPCL
Buy
387.00
390.00
395.95
380.95
T1 done
06/05/2019
SBIN
Buy
308.25
309.40
311.70
305.90
T1 done
06/05/2019
NIFTY
Buy
11,685.60
11,703.00
11,738.00
11,646.00
Exited @ 11642
06/05/2019
RELIANCE
Short Sell
1,389.45
1,383.15
1,370.45
1,402.70
T1 done
06/05/2019
BAJFINANCE
Short Sell
3,045.55
3,029.35
2,994.55
3,090.00
T1 done
06/05/2019
NIFTY
Short Sell
11,642.00
11,624.90
11,590.00
11,681.00
Exited @ 11655.3
07/05/2019
RELIANCE
Short Sell
1,369.00
1,357.40
1,334.10
1,394.80
T1 done
07/05/2019
BAJFINANCE
Short Sell
3,035.20
3,023.35
2,999.50
3,065.00
Exited @ 3067.05
07/05/2019
NIFTY
Short Sell
11,661.00
11,648.90
11,622.80
11,688.00
T2 done
07/05/2019
BPCL
Short Sell
373.85
367.40
354.30
388.45
Exited @ 379
07/05/2019
BANKNIFTY
Short Sell
29,835.00
29,800.60
29,722.80
29,945.80
T2 done
07/05/2019
TATASTEEL
Short Sell
538.55
535.40
529.10
544.95
T1 done
07/05/2019
BAJFINANCE
Buy
3,067.05
3,078.95
3,102.80
3,041.15
Exited @ 3037.9
07/05/2019
SBIN
Short Sell
309.40
308.05
305.35
312.50
T1 done
08/05/2019
TATASTEEL
Short Sell
526.50
523.35
517.55
532.35
T1 done
08/05/2019
BANKNIFTY
Short Sell
29,280.50
29,235.30
29,143.20
29,374.90
T1 done
08/05/2019
NIFTY
Short Sell
11,474.10
11,457.50
11,423.70
11,509.90
T2 done
08/05/2019
RELIANCE
Short Sell
1,317.20
1,306.05
1,284.15
1,340.00
T1 done
08/05/2019
BPCL
Buy
380.10
382.95
388.85
373.10
T1 done
08/05/2019
SBIN
Buy
304.45
305.75
308.50
301.40
Exited @ 300
08/05/2019
BANKNIFTY
Buy
29,384.80
29,430.80
29,523.00
29,282.80
Exited @ 29230.4
08/05/2019
SBIN
Short Sell
300.00
298.50
295.75
304.15
T1 done
08/05/2019
BAJFINANCE
Short Sell
2,958.35
2,934.84
2,887.85
3,017.00
T1 done
09/05/2019
SBIN
Buy
300.05
301.65
304.90
296.65
Exited @ 296.55
09/05/2019
BAJFINANCE
Buy
2,940.00
2,959.65
2,999.65
2,885.00
T1 done
09/05/2019
BANKNIFTY
Buy
29,072.00
29,107.40
29,178.70
289,986.00
T1 done
09/05/2019
NIFTY
Buy
11,383.30
11,401.50
11,438.50
11,344.00
Exited @ 11341.8
09/05/2019
NIFTY
Short Sell
11,341.80
11,323.50
11,286.50
11,381.00
T1 done
09/05/2019
BANKNIFTY
Short Sell
28,977.50
28,943.00
28,871.70
29,057.30
T1 done
09/05/2019
RELIANCE
Short Sell
1,258.10
1,242.75
1,212.30
1,288.80
Exited @ 1257.65
09/05/2019
TATASTEEL
Short Sell
517.40
514.50
507.35
526.40
Exited @ 519.65
09/05/2019
BPCL
Short Sell
369.75
364.95
355.35
379.60
Exited @ 367.55
09/05/2019
SBIN
Short Sell
296.55
294.90
291.65
299.90
Exited @ 300.1
10/05/2019
NIFTY
Short Sell
11,312.60
11,288.00
11,236.00
11,369.00
Exited @ 11315.5
10/05/2019
BAJFINANCE
Short Sell
2,926.45
2,899.35
2,843.85
2,995.95
Exited @ 2924.95
10/05/2019
SBIN
Short Sell
300.25
299.15
297.00
302.65
T1 done
10/05/2019
TATASTEEL
Short Sell
519.15
516.40
510.75
525.75
T2 done
10/05/2019
RELIANCE
Short Sell
1,251.45
1,244.00
1,228.65
1,277.45
Exited @ 1249
10/05/2019
BANKNIFTY
Buy
29,211.00
29,321.00
29,540.80
28,975.00
Exited @ 29088.5
10/05/2019
SBIN
Buy
303.00
304.05
306.15
300.50
T2 done
13/05/2019
BAJFINANCE
Short Sell
2,917.50
2,902.85
2,873.85
2,950.00
Exited @ 2955
13/05/2019
NIFTY
Buy
11,296.60
11,312.60
11,344.60
11,264.00
T1 done
13/05/2019
RELIANCE
Buy
1,258.50
1,267.55
1,285.85
1,240.00
Exited @ 1238
13/05/2019
BANKNIFTY
Buy
29,047.20
29,107.80
29,210.70
28,927.00
Exited @ 28920
13/05/2019
TATASTEEL
Buy
483.80
489.35
500.45
471.60
Exited @ 464.3
13/05/2019
BPCL
Short Sell
357.10
352.20
342.15
367.95
Exited @ 355.35
13/05/2019
SBIN
Short Sell
308.00
305.05
299.15
314.20
Exited @ 306.75
13/05/2019
NIFTY
Short Sell
11,258.30
11,242.80
11,210.80
11,296.00
T2 done
13/05/2019
BAJFINANCE
Buy
2,955.00
2,967.00
2,996.00
2,921.00
Exited @ 2918.7
13/05/2019
BANKNIFTY
Short Sell
28,920.00
28,872.30
28,769.50
29,029.90
T2 done
14/05/2019
BAJFINANCE
Short Sell
2,910.05
2,895.50
2,865.00
2,941.95
T1 done
14/05/2019
SBIN
Short Sell
305.30
303.95
301.15
308.60
Exited @ 308.75
14/05/2019
SBIN
Buy
308.75
310.10
312.90
305.80
T2 done
14/05/2019
TATASTEEL
Short Sell
461.50
457.25
448.95
469.75
T1 done
14/05/2019
BANKNIFTY
Buy
28,869.30
28,936.80
29,071.80
28,700.00
T2 done
14/05/2019
NIFTY
Buy
11,189.00
11,211.00
11,257.00
11,138.00
T2 done
14/05/2019
RELIANCE
Buy
1,248.50
1,257.10
1,274.10
1,231.50
T1 done
14/05/2019
BPCL
Buy
356.20
360.20
368.20
348.00
T1 done
14/05/2019
TATASTEEL
Buy
472.30
476.25
484.55
461.45
T1 done
15/05/2019
BPCL
Buy
367.80
372.75
382.25
358.20
Exited @ 357.55
15/05/2019
TATASTEEL
Buy
479.15
483.35
491.65
470.05
Exited @ 468.55
15/05/2019
NIFTY
Buy
11,284.90
11,301.30
11,335.70
11,249.50
Exited @ 11245.8
15/05/2019
RELIANCE
Buy
1,274.00
1,278.70
1,287.70
1,264.25
Exited @ 1257.2
15/05/2019
SBIN
Short Sell
314.40
312.90
309.85
317.55
T1 done
15/05/2019
BANKNIFTY
Short Sell
28,980.00
28,932.50
28,837.50
29,079.00
T2 done
15/05/2019
BAJFINANCE
Buy
2,923.00
2,948.25
2,998.45
2,870.80
T1 done
15/05/2019
NIFTY
Short Sell
11,245.80
11,228.70
11,194.30
11,283.90
T2 done
15/05/2019
TATASTEEL
Short Sell
468.55
464.55
456.25
478.35
T1 done
16/05/2019
TATASTEEL
Short Sell
457.50
452.90
443.75
467.20
Exited @ 467.85
16/05/2019
BPCL
Buy
361.90
365.70
373.60
351.50
Exited @ 365.65
16/05/2019
SBIN
Short Sell
310.05
308.25
304.70
313.65
Exited @ 314.15
16/05/2019
NIFTY
Short Sell
11,167.00
11,151.80
11,123.50
11,195.80
Exited @ 11197.2
16/05/2019
BANKNIFTY
Short Sell
28,610.00
28,575.10
28,505.20
28,690.00
T1 done
16/05/2019
NIFTY
Buy
11,197.20
11,211.40
11,239.70
11,167.50
Exited @ 11167
16/05/2019
TATASTEEL
Buy
467.85
472.45
481.60
458.05
Exited @ 470.6
16/05/2019
BANKNIFTY
Buy
28,716.00
28,751.10
28,821.00
28,620.10
T2 done
16/05/2019
BAJFINANCE
Buy
3,074.50
3,097.35
3,145.75
3,010.90
Exited @ 3122.15
16/05/2019
SBIN
Buy
314.15
316.00
319.55
310.10
T1 done
17/05/2019
TATASTEEL
Short Sell
461.50
457.35
449.05
470.00
Exited @ 469.85
17/05/2019
BAJFINANCE
Buy
3,252.45
3,315.00
3,440.90
3,122.05
T1 done
17/05/2019
SBIN
Short Sell
313.80
312.10
308.65
317.40
Exited @ 317.7
17/05/2019
BPCL
Short Sell
366.80
363.95
358.45
372.25
Exited @ 374.5
17/05/2019
NIFTY
Buy
11,335.10
11,367.50
11,433.50
11,267.00
T2 done
17/05/2019
BANKNIFTY
Buy
29,135.50
29,238.90
29,446.70
28,891.10
T2 done
17/05/2019
RELIANCE
Short Sell
1,262.10
1,257.65
1,247.75
1,276.90
Exited @ 1265.95
17/05/2019
SBIN
Buy
317.70
319.40
322.90
313.95
T1 done
20/05/2019
TATASTEEL
Buy
493.10
499.65
512.85
476.65
Exited @ 482.45
20/05/2019
SBIN
Buy
341.65
331.60
344.25
349.65
T1 done
20/05/2019
NIFTY
Buy
11,706.90
11,753.50
11,852.30
11,601.10
T2 done
20/05/2019
BANKNIFTY
Buy
30,422.00
30,577.60
30,880.40
30,122.20
T2 done
21/05/2019
RELIANCE
Buy
1,349.30
1,357.85
1,374.60
1,330.05
T1 done
21/05/2019
SBIN
Buy
346.40
349.00
354.00
340.45
Exited @ 339.95
21/05/2019
BPCL
Short Sell
374.30
363.15
340.70
397.35
Exited @ 369.05
21/05/2019
SBIN
Short Sell
339.95
337.10
331.65
345.90
T1 done
21/05/2019
NIFTY
Short Sell
11,812.50
11,779.40
11,711.90
11,895.00
T2 done
21/05/2019
BANKNIFTY
Short Sell
30,671.30
30,528.00
30,243.80
30,970.30
T1 done
21/05/2019
TATASTEEL
Short Sell
471.75
465.60
453.20
484.90
Exited @ 473
21/05/2019
BAJFINANCE
Short Sell
3,402.95
3,364.85
3,286.85
3,488.00
Exited @ 3434.85
22/05/2019
BANKNIFTY
Buy
30,544.50
30,636.60
30,820.10
30,350.00
T1 done
22/05/2019
NIFTY
Buy
11,775.50
11,807.40
11,872.20
11,710.00
T1 done
22/05/2019
BPCL
Buy
383.55
386.30
392.00
376.65
T1 done
22/05/2019
BAJFINANCE
Buy
3,450.00
3,472.70
3,518.10
3,403.00
Exited @ 3447.9
23/05/2019
BANKNIFTY
Buy
31,420.50
31,669.70
32,167.10
30,900.00
T1 done
23/05/2019
RELIANCE
Buy
1,377.75
1,390.15
1,414.60
1,352.55
T1 done
23/05/2019
SBIN
Buy
358.75
363.20
371.90
349.85
T1 done
23/05/2019
BPCL
Buy
395.85
398.75
404.75
387.30
T2 done
23/05/2019
NIFTY
Buy
12,000.00
12,074.50
12,223.50
11,850.00
Exited @ 11824.7
23/05/2019
TATASTEEL
Buy
484.50
486.90
494.00
475.70
Exited @ 475.25
23/05/2019
BAJFINANCE
Short Sell
3,459.65
3,436.65
3,385.65
3,518.00
T1 done
23/05/2019
TATASTEEL
Short Sell
475.25
471.90
464.80
482.85
T1 done
23/05/2019
NIFTY
Short Sell
11,824.70
11,749.50
11,600.00
11,999.00
T1 done
23/05/2019
BANKNIFTY
Short Sell
30,893.50
30,648.20
30,150.80
31,397.40
T1 done
23/05/2019
SBIN
Short Sell
348.75
344.80
336.15
358.50
Exited @ 343.8
23/05/2019
RELIANCE
Short Sell
1,345.90
1,334.60
1,310.15
1,377.00
Exited @ 1332.1
23/05/2019
BPCL
Short Sell
387.45
384.25
378.30
393.25
T1 done
24/05/2019
RELIANCE
Short Sell
1,326.00
1,310.00
1,281.30
1,353.80
Exited @ 1335.75
24/05/2019
NIFTY
Short Sell
11,697.80
11,651.30
11,561.50
11,788.80
T1 done
24/05/2019
TATASTEEL
Buy
469.70
474.85
485.45
458.75
T1 done
24/05/2019
SBIN
Buy
348.10
350.35
354.65
343.50
Exited @ 353.1
24/05/2019
BAJFINANCE
Buy
3,434.20
3,453.05
3,491.15
3,391.30
T1 done
24/05/2019
BANKNIFTY
Buy
30,912.00
31,056.40
31,349.20
30,582.00
T1 done
24/05/2019
BAJFINANCE
Buy
3,448.15
3,474.40
3,526.25
3,391.30
T1 done
27/05/2019
NIFTY
Buy
11,896.00
11,926.30
11,986.80
11,833.10
T1 done
27/05/2019
BPCL
Buy
395.50
398.25
404.25
388.85
T1 done
27/05/2019
TATASTEEL
Buy
501.40
509.65
526.05
483.55
Exited @ 508.4
27/05/2019
BANKNIFTY
Buy
31,444.00
31,574.50
31,838.30
31,175.10
T1 done
27/05/2019
RELIANCE
Short Sell
1,314.30
1,305.70
1,288.20
1,337.50
Exited @ 1308.75
28/05/2019
BANKNIFTY
Short Sell
31,425.00
31,330.10
31,122.50
31,676.80
T1 done
28/05/2019
RELIANCE
Buy
1,325.40
1,330.15
1,339.50
1,315.65
T1 done
28/05/2019
BAJFINANCE
Short Sell
3,412.40
3,385.45
3,332.85
3,468.00
Exited @ 3404.7
28/05/2019
NIFTY
Short Sell
11,889.00
11,855.80
11,791.30
11,959.00
Exited @ 11936.1
28/05/2019
TATASTEEL
Short Sell
508.50
503.85
494.40
518.60
Exited @ 505.85
28/05/2019
SBIN
Buy
361.00
363.15
367.45
356.65
Exited @ 359.95
28/05/2019
BPCL
Buy
408.85
414.55
425.90
397.10
Exited @ 399.15
28/05/2019
RELIANCE
Short Sell
1,314.40
1,309.50
1,299.60
1,325.00
Exited @ 1326.9
29/05/2019
RELIANCE
Buy
1,327.60
1,331.15
1,338.55
1,318.50
T1 done
29/05/2019
SBIN
Short Sell
351.20
347.55
340.35
358.60
T1 done
29/05/2019
BPCL
Short Sell
394.60
390.15
381.75
402.95
Exited @ 398.85
29/05/2019
NIFTY
Short Sell
11,896.40
11,886.00
11,865.00
11,918.00
Exited @ 11922.4
29/05/2019
BANKNIFTY
Short Sell
31,427.40
31,351.10
31,208.90
31,565.00
T1 done
29/05/2019
BAJFINANCE
Buy
3,418.00
3,431.60
3,457.35
3,384.50
T1 done
29/05/2019
NIFTY
Buy
11,922.40
11,932.90
11,953.90
11,897.00
T1 done
29/05/2019
TATASTEEL
Short Sell
499.30
494.45
484.35
511.70
T1 done
29/05/2019
RELIANCE
Short Sell
1,317.80
1,314.10
1,306.70
1,325.90
T2 done
30/05/2019
RELIANCE
Buy
1,324.45
1,328.00
1,335.50
1,316.25
T2 done
30/05/2019
BAJFINANCE
Buy
3,440.70
3,457.45
3,492.35
3,400.05
T1 done
30/05/2019
BANKNIFTY
Buy
31,381.00
31,441.80
31,555.60
31,261.00
T2 done
30/05/2019
NIFTY
Buy
11,902.70
11,926.50
11,971.50
11,856.90
T1 done
30/05/2019
SBIN
Buy
351.35
353.10
356.40
347.50
T1 done
30/05/2019
TATASTEEL
Short Sell
489.30
485.50
478.25
496.45
Exited @ 487.9
30/05/2019
BPCL
Buy
405.30
407.75
412.50
400.05
T1 done
31/05/2019
BPCL
Buy
420.00
423.10
428.90
414.00
Exited @ 413.5
31/05/2019
SBIN
Buy
357.75
359.75
363.75
353.00
Exited @ 352.7
31/05/2019
TATASTEEL
Short Sell
488.35
485.65
480.10
494.40
T1 done
31/05/2019
BAJFINANCE
Buy
3,519.10
3,540.00
3,580.60
3,473.00
Exited @ 3465.75
31/05/2019
RELIANCE
Buy
1,339.15
1,344.25
1,355.15
1,327.00
Exited @ 1326.75
31/05/2019
SBIN
Short Sell
352.70
350.70
346.70
357.00
T2 done
31/05/2019
BPCL
Short Sell
413.50
411.05
405.15
419.85
T1 done
31/05/2019
RELIANCE
Short Sell
1,326.75
1,321.30
1,310.40
1,337.90
T1 done
03/06/2019
NIFTY
Buy
11,972.80
11,999.50
12,053.00
11,915.50
T2 done
03/06/2019
BAJFINANCE
Buy
3,505.95
3,528.55
3,574.05
3,460.00
T1 done
03/06/2019
TATASTEEL
Buy
495.05
499.70
509.10
485.10
T1 done
03/06/2019
SBIN
Buy
352.80
354.35
357.30
349.65
T1 done
03/06/2019
BANKNIFTY
Buy
31,499.00
31,602.30
31,816.90
31,250.00
T1 done
03/06/2019
BPCL
Short Sell
412.20
408.65
401.50
419.90
Exited @ 418
03/06/2019
RELIANCE
Buy
1,336.05
1,342.90
1,356.75
1,321.02
T1 done
04/06/2019
NIFTY
Short Sell
12,070.00
12,052.10
12,016.30
12,111.80
T1 done
04/06/2019
SBIN
Buy
357.10
359.10
363.20
352.65
Exited @ 351.7
04/06/2019
RELIANCE
Short Sell
1,352.50
1,341.70
1,320.50
1,374.25
Exited @ 1352.4
04/06/2019
TATASTEEL
Short Sell
495.45
491.85
484.65
502.75
Exited @ 498.85
04/06/2019
BANKNIFTY
Buy
31,780.40
31,852.00
32,015.80
31,588.00
Exited @ 31656.8
04/06/2019
SBIN
Short Sell
351.70
349.70
345.60
356.80
Exited @ 352.85
06/06/2019
BPCL
Short Sell
405.95
401.95
393.95
414.00
T1 done
06/06/2019
NIFTY
Short Sell
12,001.00
11,979.60
11,935.60
12,046.00
T2 done
06/06/2019
TATASTEEL
Short Sell
493.10
489.05
480.90
502.50
T1 done
06/06/2019
RELIANCE
Short Sell
1,339.35
1,328.85
1,307.90
1,361.90
T1 done
06/06/2019
BANKNIFTY
Short Sell
31,397.00
31,297.60
31,097.60
31,600.00
T2 done
06/06/2019
BAJFINANCE
Short Sell
3,496.00
3,481.05
3,451.05
3,533.00
T2 done
06/06/2019
SBIN
Short Sell
343.55
340.70
335.50
349.00
T1 done
07/06/2019
BPCL
Buy
399.30
403.55
412.15
389.60
T1 done
07/06/2019
BAJFINANCE
Buy
3,480.05
3,509.10
3,564.00
3,419.95
T1 done
07/06/2019
BANKNIFTY
Buy
31,020.00
31,196.30
31,544.10
30,670.30
Exited @ 31085.3
07/06/2019
TATASTEEL
Buy
487.65
491.50
499.70
478.50
Exited @ 477.6
07/06/2019
SBIN
Buy
340.70
342.40
345.95
337.00
Exited @ 336
07/06/2019
NIFTY
Buy
11,903.40
11,945.90
12,030.50
11,801.20
Exited @11883
07/06/2019
RELIANCE
Short Sell
1,313.00
1,306.65
1,294.40
1,327.25
T1 done
07/06/2019
SBIN
Short Sell
336.00
334.45
330.90
340.55
Exited @ 341.7
07/06/2019
TATASTEEL
Short Sell
477.60
473.45
465.25
486.70
Exited @ 482.35
10/06/2019
BANKNIFTY
Short Sell
31,165.40
31,076.20
30,888.50
31,391.70
T2 done
10/06/2019
SBIN
Short Sell
343.95
342.50
339.45
347.30
T1 done
10/06/2019
NIFTY
Short Sell
11,929.90
11,904.30
11,850.30
11,994.00
T1 done
10/06/2019
RELIANCE
Short Sell
1,314.00
1,307.70
1,296.00
1,327.00
Exited @ 1319.3
10/06/2019
TATASTEEL
Short Sell
485.30
480.95
472.25
494.80
Exited @ 486.2
11/06/2019
RELIANCE
Buy
1,330.25
1,336.15
1,348.05
1,318.00
Exited @ 1329.5
11/06/2019
BPCL
Short Sell
386.65
383.35
376.60
393.50
T1 done
11/06/2019
NIFTY
Buy
11,979.00
12,006.00
12,064.00
11,917.00
T1 done
11/06/2019
BANKNIFTY
Buy
31,210.50
31,328.30
31,561.50
30,974.90
T1 done
11/06/2019
BAJFINANCE
Buy
3,541.90
3,555.75
3,583.50
3,511.25
T1 done
11/06/2019
SBIN
Buy
346.75
348.45
351.95
342.85
Exited @ 347.8
11/06/2019
TATASTEEL
Buy
493.45
496.25
502.00
487.00
Exited @ 493.12
12/06/2019
TATASTEEL
Buy
502.20
507.60
518.25
490.05
T1 done
12/06/2019
BAJFINANCE
Short Sell
3,509.65
3,498.00
3,474.00
3,539.95
T1 done
12/06/2019
BANKNIFTY
Short Sell
313,035.00
30,952.10
30,788.90
31,220.00
T1 done
12/06/2019
SBIN
Short Sell
344.10
342.80
340.00
346.95
T1 done
12/06/2019
NIFTY
Short Sell
11,920.00
11,901.80
11,865.40
11,961.50
T1 done
12/06/2019
BPCL
Buy
390.00
392.00
395.10
386.20
Exited @ 385.25
12/06/2019
BPCL
Short Sell
385.25
383.70
380.60
389.30
T2 done
12/06/2019
RELIANCE
Short Sell
1,328.85
1,324.40
1,315.60
1,338.40
Exited @ 1332.7
13/06/2019
RELIANCE
Short Sell
1,327.20
1,323.85
1,317.15
1,334.70
T2 done
13/06/2019
NIFTY
Short Sell
11,878.60
11,862.50
11,831.40
11,911.10
T1 done
13/06/2019
BANKNIFTY
Short Sell
30,773.20
30,691.40
30,527.20
30,950.00
T1 done
13/06/2019
SBIN
Short Sell
342.80
341.00
337.60
346.20
T1 done
13/06/2019
BPCL
Buy
388.15
390.15
394.55
388.40
T1 done
13/06/2019
USDINR
Buy
69.47
69.50
69.50
69.39
T2 done
13/06/2019
BAJFINANCE
Buy
3,532.00
3,546.35
3,575.75
3,500.00
T1 done
13/06/2019
BANKNIFTY
Buy
30,970.00
31,052.10
31,216.30
30,785.80
T1 done
13/06/2019
NIFTY
Buy
11,913.80
11,928.50
11,959.70
11,880.00
T1 done
14/06/2019
TATASTEEL
Buy
505.25
508.40
515.30
497.05
T1 done
14/06/2019
BPCL
Buy
388.00
389.70
393.40
384.15
Exited @ 386.35
14/06/2019
RELIANCE
Short Sell
1,313.55
1,309.60
1,301.40
1,322.00
T1 done
14/06/2019
BANKNIFTY
Short Sell
30,770.00
30,638.90
30,376.90
31,042.00
T1 done
14/06/2019
NIFTY
Short Sell
11,862.00
11,835.50
11,781.90
11,916.50
T1 done
14/06/2019
BAJFINANCE
Short Sell
3,531.00
3,516.50
3,486.70
3,569.80
T1 done
14/06/2019
USDINR
Buy
69.74
69.77
69.86
69.60
T2 done
14/06/2019
SBIN
Buy
345.90
347.15
349.65
343.25
Exited @ 343.2
14/06/2019
RELIANCE
Buy
1,322.55
1,327.05
1,335.25
1,313.80
Exited @ 1317.85
17/06/2019
NIFTY
Short Sell
11,767.30
11,734.50
11,671.00
11,830.00
17/06/2019
TATASTEEL
Short Sell
490.75
486.15
476.75
500.85
T1 done
17/06/2019
BPCL
Short Sell
379.55
377.40
373.00
385.50
17/06/2019
USDINR
Short Sell
69.87
69.81
69.70
70.00
17/06/2019
SBIN
Short Sell
340.75
339.35
336.60
343.75
T1 done
17/06/2019
BANKNIFTY
Short Sell
30,426.70
30,335.50
30,153.80
30,613.00
18/06/2019
BPCL
Buy
381.85
384.55
389.95
376.30
T1 done
18/06/2019
BAJFINANCE
Buy
3,497.95
3,510.10
3,534.45
3,469.05
T1 done
18/06/2019
NIFTY
Buy
11,735.00
11,759.60
11,808.60
11,678.60
Exited @ 11709.9
18/06/2019
BANKNIFTY
Buy
30,442.90
30,539.20
30,727.60
30,256.00
T1 done
18/06/2019
SBIN
Buy
338.50
340.50
344.50
333.80
T1 done
18/06/2019
USDINR
Short Sell
69.86
69.81
69.73
69.94
T2 done
18/06/2019
BANKNIFTY
Short Sell
30,230.00
30,151.80
29,963.40
30,444.40
Exited @ 30355
18/06/2019
NIFTY
Short Sell
11,670.90
11,648.10
11,599.10
11,727.60
Exited @ 11709.9
19/06/2019
SBIN
Short Sell
342.80
341.75
339.55
345.20
T2 done
19/06/2019
USDINR
Buy
69.70
69.77
69.90
69.56
T1 done
19/06/2019
BPCL
Short Sell
381.60
379.40
375.00
386.75
T1 done
19/06/2019
NIFTY
Short Sell
11,745.00
11,709.80
11,639.80
11,815.00
T2 done
19/06/2019
BAJFINANCE
Short Sell
3,516.35
3,504.55
3,479.65
3,548.00
T1 done
19/06/2019
BANKNIFTY
Short Sell
30,485.00
30,401.50
30,234.60
30,663.00
T2 done
19/06/2019
RELIANCE
Short Sell
1,284.70
1,276.10
1,258.90
1,302.00
T1 done
20/06/2019
NIFTY
Buy
11,734.70
11,766.20
11,830.50
11,668.90
T2 done
20/06/2019
BPCL
Buy
384.40
387.70
394.60
377.00
Exited @ 384.55
20/06/2019
BANKNIFTY
Buy
30,458.00
30,547.00
30,724.80
30,276.00
T2 done
20/06/2019
BAJFINANCE
Buy
3,538.20
3,553.55
3,584.15
3,507.40
T2 done
20/06/2019
TATASTEEL
Buy
498.20
501.85
509.10
489.85
Exited @ 501.35
20/06/2019
SBIN
Buy
341.15
343.85
349.25
335.60
T1 done
20/06/2019
RELIANCE
Buy
1,292.35
1,298.60
1,310.60
1,278.00
Exited @ 1297.35
21/06/2019
TATASTEEL
Short Sell
494.85
492.05
486.55
500.60
Exited @ 498
21/06/2019
USDINR
Short Sell
69.68
69.54
69.26
69.99
Exited @ 69.6275
21/06/2019
BPCL
Buy
383.20
385.85
391.15
377.00
T1 done
21/06/2019
RELIANCE
Short Sell
1,283.10
1,277.75
1,266.90
1,296.00
Exited @ 1276.5
21/06/2019
NIFTY
Short Sell
11,779.00
11,757.00
11,713.00
11,839.00
T1 done
21/06/2019
SBIN
Buy
349.15
351.65
356.50
343.15
Exited @ 349.8
21/06/2019
BAJFINANCE
Short Sell
3,566.00
3,552.95
3,523.95
3,599.00
T1 done
21/06/2019
BANKNIFTY
Short Sell
30,562.30
30,454.70
30,237.80
30,799.90
Exited @ 30658.7
24/06/2019
RELIANCE
Short Sell
1,259.55
1,251.80
1,235.50
1,276.45
Exited @ 1263.35
24/06/2019
BANKNIFTY
Short Sell
30,602.80
30,521.70
30,359.30
30,768.00
Exited @ 30634.4
24/06/2019
BPCL
Short Sell
373.30
370.60
364.80
379.55
Exited @ 380.3
24/06/2019
USDINR
Short Sell
69.55
69.49
69.36
69.69
T1 done
24/06/2019
TATASTEEL
Short Sell
492.20
488.60
481.50
499.80
T1 done
24/06/2019
SBIN
Buy
352.65
353.85
356.25
350.00
T1 done
24/06/2019
NIFTY
Short Sell
11,699.00
11,659.00
11,580.80
11,782.00
Exited @ 11723
25/06/2019
NIFTY
Buy
11,702.00
11,717.00
11,748.90
11,666.60
T2 done
25/06/2019
BAJFINANCE
Buy
3,559.60
3,574.30
3,603.55
3,530.35
T1 done
25/06/2019
RELIANCE
Buy
1,274.45
1,284.30
1,304.30
1,254.25
T1 done
25/06/2019
TATASTEEL
Buy
485.45
490.30
499.90
474.00
T1 done
25/06/2019
BPCL
Buy
388.30
392.50
401.00
379.00
T1 done
25/06/2019
SBIN
Buy
355.50
357.30
360.90
351.25
Exited @ 356.15
25/06/2019
BANKNIFTY
Buy
30,609.00
30,664.00
30,774.00
30,480.00
T2 done
26/06/2019
USDINR
Short Sell
69.37
69.25
69.02
69.60
Exited @ 356.15
26/06/2019
TATASTEEL
Buy
498.05
501.75
509.15
490.30
T2 done
26/06/2019
NIFTY
Buy
11,845.00
11,880.40
11,951.00
11,769.30
T1 done
26/06/2019
BAJFINANCE
Buy
3,582.80
3,591.80
3,607.70
3,564.15
T2 done
26/06/2019
BANKNIFTY
Buy
31,030.10
31,142.50
31,361.30
30,779.30
Exited @ 31162.2
26/06/2019
BPCL
Buy
390.15
392.10
395.85
386.40
T1 done
26/06/2019
SBIN
Buy
358.25
359.90
363.15
354.75
Exited @ 357.55
27/06/2019
BANKNIFTY
Buy
31,315.00
31,369.00
31,479.00
31,190.00
T2 done
27/06/2019
TATASTEEL
Short Sell
509.00
505.80
499.35
515.60
Exited @ 512.95
27/06/2019
SBIN
Buy
360.90
362.40
365.20
358.00
T1 done
27/06/2019
BAJFINANCE
Buy
3,655.00
3,667.25
3,690.25
3,632.00
Exited @ 3627.15
27/06/2019
NIFTY
Buy
11,896.20
11,911.90
11,941.70
11,867.10
T1 done
27/06/2019
USDINR
Short Sell
69.54
69.50
69.43
69.62
T2 done
27/06/2019
RELIANCE
Short Sell
1,283.40
1,277.00
1,264.20
1,296.90
T1 done
27/06/2019
BPCL
Short Sell
387.60
382.60
372.60
398.00
Exited @ 392.95
27/06/2019
BAJFINANCE
Short Sell
3,627.15
3,615.90
3,592.90
3,655.00
Exited @ 3641.5
27/06/2019
NIFTY
Short Sell
11,865.90
11,851.10
11,821.30
11,896.90
T1 done
28/06/2019
SBIN
Buy
363.95
365.10
367.55
360.55
Exited @ 360.8
28/06/2019
BPCL
Buy
395.25
397.30
401.35
390.65
Exited @ 392.45
28/06/2019
TATASTEEL
Short Sell
505.00
500.35
491.05
515.65
T1 done
28/06/2019
NIFTY
Short Sell
11,868.00
11,848.00
11,807.00
11,915.90
T1 done
28/06/2019
BANKNIFTY
Short Sell
31,242.00
31,177.50
31,039.50
31,400.00
Exited @ 31272.7
28/06/2019
USDINR
Short Sell
69.18
69.09
68.91
69.37
28/06/2019
RELIANCE
Short Sell
1,265.80
1,257.50
1,240.80
1,282.85
T1 done
28/06/2019
BAJFINANCE
Buy
3,668.00
3,684.50
3,719.40
3,629.70
Exited @ 3688.65
28/06/2019
SBIN
Short Sell
359.55
358.30
355.85
363.00
Exited @ 360.8
01/07/2019
TATASTEEL
Short Sell
508.15
505.85
500.85
514.85
T1 done
01/07/2019
RELIANCE
Short Sell
1,249.25
1,243.05
1,230.80
1,262.45
Exited @ 1264.3
01/07/2019
BPCL
Short Sell
387.80
385.30
380.50
392.85
T2 done
01/07/2019
USDINR
Short Sell
Exited @ 69.2375
01/07/2019
RELIANCE
Buy
1,264.30
1,270.65
1,282.90
1,250.20
T1 done
01/07/2019
BANKNIFTY
Buy
31,472.00
31,536.40
31,659.20
31,351.20
T1 done
01/07/2019
NIFTY
Buy
11,907.30
11,926.20
11,962.50
11,863.50
Exited @ 11903
01/07/2019
USDINR
Buy
69.24
69.31
69.46
69.09
T1 done
02/07/2019
BANKNIFTY
Short Sell
31,390.00
31,330.00
31,210.00
31,530.00
T2 done
02/07/2019
BAJFINANCE
Short Sell
3,678.95
3,670.00
3,652.00
3,699.00
Exited @ 3706.5
02/07/2019
NIFTY
Short Sell
11,886.00
11,870.50
11,842.30
11,921.20
T2 done
02/07/2019
SBIN
Short Sell
360.95
359.85
357.75
363.35
Exited @ 363.55
02/07/2019
USDINR
Short Sell
69.14
69.08
68.98
69.26
Exited @
02/07/2019
TATASTEEL
Short Sell
503.65
501.05
495.85
510.90
Exited @ 508.05
02/07/2019
RELIANCE
Short Sell
1,265.80
1,260.50
1,249.70
1,277.00
Exited @ 1277
02/07/2019
BAJFINANCE
Buy
3,706.50
3,716.00
3,733.90
3,681.05
T1 done
02/07/2019
NIFTY
Buy
11,924.10
11,937.00
11,965.20
11,893.00
T1 done
02/07/2019
SBIN
Buy
363.55
364.60
366.70
361.25
T1 done
03/07/2019
SBIN
Buy
365.85
367.20
369.90
363.10
Exited @ 366.1
03/07/2019
BANKNIFTY
Buy
31,532.00
31,605.50
31,760.50
31,359.00
Exited @ 31495
03/07/2019
TATASTEEL
Buy
511.00
513.30
517.85
505.00
T1 done
03/07/2019
NIFTY
Buy
11,962.50
11,974.20
12,004.40
11,928.50
T1 done
03/07/2019
RELIANCE
Buy
1,286.20
1,291.05
1,301.00
1,275.05
Exited @ 1282.95
03/07/2019
BPCL
Short Sell
379.70
377.20
372.30
385.40
Exited @ 381.25
03/07/2019
USDINR
Buy
69.13
69.19
69.32
69.00
Exited @ 69.095
04/07/2019
RELIANCE
Buy
1,290.90
1,295.80
1,305.75
1,280.00
Exited @ 1282.9
04/07/2019
TATASTEEL
Short Sell
497.10
495.00
491.00
502.00
T1 done
04/07/2019
BPCL
Short Sell
379.95
378.00
374.10
384.00
Exited @ 379.95
04/07/2019
BANKNIFTY
Buy
31,677.00
31,756.70
31,920.00
31,500.00
Exited @ 31547
04/07/2019
BAJFINANCE
Short Sell
3,706.75
3,685.75
3,643.75
3,749.90
Exited @ 3732.8
04/07/2019
NIFTY
Buy
11,984.10
12,004.80
12,046.20
11,942.60
Exited @ 11977
04/07/2019
USDINR
Short Sell
68.99
68.96
68.90
69.06
T2 done
05/07/2019
NIFTY
Short Sell
11,981.30
11,974.80
11,960.30
11,999.00
T2 done
05/07/2019
BPCL
Short Sell
375.50
373.05
368.15
380.45
T1 done
05/07/2019
USDINR
Buy
68.87
68.96
69.15
68.68
Exited @ 68.63
05/07/2019
RELIANCE
Short Sell
1,284.45
1,281.00
1,274.80
1,290.50
T2 done
05/07/2019
TATASTEEL
Short Sell
493.00
490.70
486.10
498.50
T1 done
05/07/2019
BANKNIFTY
Short Sell
31,502.00
31,457.30
31,372.30
31,635.00
T2 done
05/07/2019
SBIN
Short Sell
367.50
366.35
364.35
369.50
T1 done
05/07/2019
SBIN
Buy
372.50
373.35
375.35
367.50
05/07/2019
BAJFINANCE
Buy
3,756.20
3,767.25
3,790.15
3,726.10
Exited @ 3724.2
05/07/2019
USDINR
Short Sell
68.63
68.55
68.37
68.87
Exited @ 68.615
05/07/2019
BAJFINANCE
Short Sell
3,724.20
3,711.85
3,688.95
3,749.00
T1 done
08/07/2019
RELIANCE
Buy
1,260.25
1,265.95
1,277.25
1,248.20
T1 done
08/07/2019
SBIN
Short Sell
361.65
358.75
353.10
368.20
T1 done
08/07/2019
BPCL
Short Sell
362.60
360.50
356.40
367.60
T1 done
08/07/2019
BANKNIFTY
Short Sell
31,110.50
30,983.20
30,729.50
31,369.50
T2 done
08/07/2019
BAJFINANCE
Short Sell
3,661.00
3,632.50
3,575.60
3,724.95
T1 done
08/07/2019
NIFTY
Short Sell
11,680.00
11,636.40
11,549.00
11,769.90
T2 done
08/07/2019
USDINR
Buy
68.81
68.87
68.99
68.69
T1 done
09/07/2019
TATASTEEL
Short Sell
465.45
463.00
458.00
472.00
T1 done
09/07/2019
NIFTY
Short Sell
11,499.00
11,475.00
11,425.00
11,553.80
Exited @ 11560.6
09/07/2019
BAJFINANCE
Buy
3,478.55
3,543.25
3,671.85
3,336.40
Exited @ 3581.1
09/07/2019
RELIANCE
Buy
1,265.50
1,275.35
1,294.70
1,245.50
T1 done
09/07/2019
SBIN
Buy
358.05
360.40
365.20
352.50
Exited @ 359.3
09/07/2019
NIFTY
Buy
11,560.60
11,586.50
11,636.50
11,503.80
T1 done
09/07/2019
BANKNIFTY
Buy
30,710.90
30,817.90
31,045.70
30,451.00
Exited @ 30636.8
09/07/2019
BPCL
Short Sell
360.50
357.20
350.50
367.85
Exited @ 360.7
09/07/2019
USDINR
Short Sell
68.75
68.63
68.40
68.99
Exited @ 68.6875
10/07/2019
SBIN
Short Sell
358.00
356.65
353.85
361.50
T2 done
10/07/2019
TATASTEEL
Short Sell
466.05
462.40
455.30
474.35
T1 done
10/07/2019
USDINR
Short Sell
68.71
68.66
68.57
68.81
T1 done
10/07/2019
NIFTY
Short Sell
11,523.90
11,496.30
11,438.50
11,589.70
T1 done
10/07/2019
RELIANCE
Short Sell
1,273.65
1,266.15
1,251.25
1,289.35
Exited @ 1279.1
10/07/2019
BANKNIFTY
Short Sell
30,607.00
30,534.60
30,385.80
30,793.80
T1 done
10/07/2019
BPCL
Short Sell
358.75
356.50
351.95
363.40
T1 done
10/07/2019
BAJFINANCE
Short Sell
3,521.20
3,483.75
3,408.85
3,599.95
11/07/2019
NIFTY
Buy
11,555.10
11,568.00
11,593.90
11,528.10
T2 done
11/07/2019
BPCL
Buy
353.85
357.05
363.45
347.00
Exited @ 351.8
11/07/2019
BAJFINANCE
Buy
3,480.00
3,530.50
3,629.00
3,366.55
Exited @ 3448.9
11/07/2019
TATASTEEL
Short Sell
460.25
457.65
452.45
466.50
T1 done
11/07/2019
BANKNIFTY
Buy
30,722.00
30,785.30
30,904.10
30,600.00
T1 done
11/07/2019
USDINR
Buy
68.52
68.58
68.69
68.38
Exited @ 68.54
11/07/2019
SBIN
Buy
360.20
361.65
364.50
357.15
T1 done
11/07/2019
RELIANCE
Short Sell
1,281.85
1,278.50
1,271.60
1,289.40
Exited @ 1282.25
12/07/2019
BANKNIFTY
Short Sell
30,590.00
30,496.50
30,313.50
30,785.90
Exited @ 30792.8
12/07/2019
BAJFINANCE
Short Sell
3,408.00
3,381.10
3,328.40
3,470.00
T1 done
12/07/2019
BPCL
Short Sell
349.70
347.65
343.35
354.80
T1 done
12/07/2019
NIFTY
Short Sell
11,552.50
11,531.80
11,489.30
11,597.60
Exited @ 11617.9
12/07/2019
USDINR
Buy
68.65
68.70
68.79
68.54
T2 done
12/07/2019
TATASTEEL
Buy
466.30
469.00
474.20
460.25
T1 done
12/07/2019
RELIANCE
Buy
1,299.20
1,307.50
1,324.15
1,282.00
Exited @ 1280.35
12/07/2019
SBIN
Buy
364.10
365.30
367.65
361.50
T1 done
12/07/2019
NIFTY
Buy
11,617.90
11,641.30
11,683.80
11,555.10
T1 done
12/07/2019
BANKNIFTY
Buy
30,792.80
30,884.80
31,067.80
30,602.90
Exited @ 30590
15/07/2019
SBIN
Short Sell
360.65
358.75
354.75
365.00
T1 done
15/07/2019
TATASTEEL
Short Sell
467.80
462.20
451.90
478.00
Exited @ 468.25
15/07/2019
BANKNIFTY
Short Sell
30,511.50
30,399.70
30,203.00
30,700.00
T1 done
15/07/2019
NIFTY
Short Sell
11,552.00
11,531.00
11,486.00
11,599.90
T1 done
15/07/2019
RELIANCE
Short Sell
1,277.25
1,272.15
1,261.65
1,289.50
T1 done
15/07/2019
BAJFINANCE
Buy
3,406.00
3,430.45
3,479.35
3,353.60
T1 done
15/07/2019
BPCL
Buy
347.80
350.40
355.40
342.70
Exited @ 347.45
15/07/2019
USDINR
Short Sell
68.60
68.56
68.47
68.70
Exited @ 68.6425
16/07/2019
BANKNIFTY
Buy
30,618.70
30,712.10
30,898.80
30,428.30
Exited @ 30591.7
16/07/2019
NIFTY
Buy
11,628.60
11,655.40
11,709.40
11,571.00
Exited @ 11658.9
16/07/2019
RELIANCE
Buy
1,286.85
1,291.30
1,300.20
1,277.05
T1 done
16/07/2019
SBIN
Buy
364.15
367.10
372.90
357.65
Exited @ 364.2
16/07/2019
BAJFINANCE
Buy
3,446.35
3,465.80
3,504.65
3,407.15
Exited @ 3449.95
16/07/2019
BPCL
Buy
352.95
354.25
357.45
348.60
T1 done
16/07/2019
TATASTEEL
Buy
477.20
482.80
495.10
464.10
Exited @ 476.3
16/07/2019
USDINR
Buy
68.70
68.74
68.81
68.61
T1 done
17/07/2019
BANKNIFTY
Buy
30,673.00
30,731.50
30,854.50
30,542.00
T1 done
17/07/2019
RELIANCE
Short Sell
1,289.00
1,286.25
1,279.70
1,297.00
T1 done
17/07/2019
TATASTEEL
Buy
478.25
480.35
484.75
473.05
Exited @ 472.25
17/07/2019
NIFTY
Buy
11,674.90
11,690.40
11,721.20
11,643.20
T1 done
17/07/2019
SBIN
Buy
366.40
367.75
370.50
363.05
T2 done
17/07/2019
USDINR
Buy
68.91
69.00
69.18
68.72
Exited @ 68.9075
17/07/2019
BPCL
Short Sell
352.30
348.85
342.15
359.00
Exited @ 352.95
17/07/2019
TATASTEEL
Short Sell
472.25
469.80
465.40
477.45
T1 done
18/07/2019
BPCL
Short Sell
349.80
347.75
343.75
354.00
Exited @ 354.35
18/07/2019
USDINR
Buy
68.88
68.92
69.00
68.79
T2 done
18/07/2019
TATASTEEL
Short Sell
470.00
467.50
462.55
475.35
T1 done
18/07/2019
SBIN
Short Sell
370.20
368.50
365.25
373.80
T1 done
18/07/2019
BANKNIFTY
Short Sell
30,596.40
30,532.00
30,400.00
30,745.00
Exited @ 30433.7
18/07/2019
RELIANCE
Short Sell
1,267.00
1,259.40
1,243.60
1,286.40
T1 done
18/07/2019
BPCL
Buy
354.35
356.35
360.35
350.00
Exited @ 349.3
18/07/2019
NIFTY
Short Sell
11,628.90
11,611.80
11,576.70
11,665.30
T1 done
19/07/2019
BAJFINANCE
Short Sell
3,399.00
3,349.35
3,248.25
3,501.25
T1 done
19/07/2019
NIFTY
Short Sell
11,535.00
11,489.20
11,397.70
11,643.50
T1 done
19/07/2019
SBIN
Short Sell
359.90
356.90
351.00
366.05
T1 done
19/07/2019
BANKNIFTY
Short Sell
30,254.00
30,113.90
29,833.50
30,534.70
T2 done
19/07/2019
RELIANCE
Short Sell
1,256.75
1,248.70
1,232.60
1,272.95
T1 done
19/07/2019
BPCL
Short Sell
347.35
345.40
341.50
352.35
Exited @ 349.3
19/07/2019
TATASTEEL
Short Sell
465.00
461.80
455.35
473.00
T1 done
19/07/2019
USDINR
Buy
68.87
68.92
69.01
68.78
T2 done
19/07/2019
BPCL
Buy
352.15
354.40
358.30
348.45
Exited @ 351.4
22/07/2019
SBIN
Buy
358.05
360.05
364.15
353.50
Exited @ 352.75
22/07/2019
TATASTEEL
Buy
463.25
468.80
479.90
451.20
Exited @ 465.2
22/07/2019
BPCL
Buy
350.45
354.90
364.10
340.20
Exited @ 353.3
22/07/2019
RELIANCE
Buy
1,266.90
1,286.50
1,325.55
1,227.30
Exited @ 1282.55
22/07/2019
BAJFINANCE
Short Sell
3,187.00
3,123.95
2,998.15
3,316.00
Exited @ 3247.75
22/07/2019
BANKNIFTY
Short Sell
29,333.10
29,160.10
28,814.30
29,681.50
Exited @ 29382
22/07/2019
SBIN
Short Sell
352.75
350.70
346.50
357.70
T1 done
22/07/2019
NIFTY
Short Sell
11,316.00
11,269.50
11,178.70
11,407.80
Exited @ 11356
23/07/2019
RELIANCE
Buy
1,289.05
1,295.05
1,306.95
1,277.05
Exited @ 1275.45
23/07/2019
TATASTEEL
Short Sell
461.00
458.20
452.40
467.90
T1 done
23/07/2019
SBIN
Short Sell
347.15
344.40
338.90
353.00
T1 done
23/07/2019
NIFTY
Buy
11,371.90
11,393.00
11,436.00
11,326.00
T1 done
23/07/2019
BPCL
Buy
356.70
359.00
363.80
351.70
T1 done
23/07/2019
BANKNIFTY
Buy
29,413.30
29,532.50
29,767.30
29,180.00
Exited @ 29155
23/07/2019
RELIANCE
Short Sell
1,275.45
1,269.30
1,257.40
1,288.95
T1 done
23/07/2019
NIFTY
Short Sell
11,318.10
11,296.60
11,253.60
11,369.00
Exited @ 11332.1
23/07/2019
BANKNIFTY
Short Sell
29,155.00
29,038.80
28,803.80
29,414.90
Exited @ 29189.1
24/07/2019
BAJFINANCE
Short Sell
3,221.90
3,186.05
3,116.05
3,294.00
T1 done
24/07/2019
TATASTEEL
Short Sell
453.75
449.40
440.50
463.00
T1 done
24/07/2019
NIFTY
Short Sell
11,258.40
11,216.50
11,131.70
11,355.90
Exited @ 11276
24/07/2019
BANKNIFTY
Short Sell
29,017.70
28,901.70
28,670.30
29,292.00
Exited @ 28972.8
24/07/2019
SBIN
Short Sell
340.20
338.30
334.60
344.70
T1 done
25/07/2019
BANKNIFTY
Buy
29,230.80
29,385.20
29,690.20
28,920.00
Exited @ 29029.5
25/07/2019
TATASTEEL
Short Sell
445.55
443.05
438.10
451.95
T1 done
25/07/2019
BAJFINANCE
Short Sell
3,182.00
3,153.10
3,096.60
3,238.00
T1 done
25/07/2019
SBIN
Short Sell
340.20
338.65
335.70
343.20
T1 done
25/07/2019
RELIANCE
Short Sell
1,248.35
1,239.95
1,223.20
1,266.80
T1 done
25/07/2019
BPCL
Short Sell
343.95
340.85
334.60
351.00
T1 done
25/07/2019
USDINR
Short Sell
68.93
68.89
68.80
69.03
Exited @ 69.0575
25/07/2019
NIFTY
Short Sell
11,269.10
11,228.70
11,146.10
11,354.90
Exited @ 11248.5
25/07/2019
USDINR
Buy
69.06
69.10
69.19
68.94
Exited @ 69.05
26/07/2019
BPCL
Short Sell
335.15
333.50
329.75
340.00
Exited @ 341.9
26/07/2019
RELIANCE
Short Sell
1,223.60
1,217.55
1,206.25
1,242.50
T1 done
26/07/2019
BAJFINANCE
Buy
3,100.95
3,146.65
3,235.95
2,994.00
T2 done
26/07/2019
BANKNIFTY
Buy
29,311.10
29,409.80
29,597.20
29,125.60
T1 done
26/07/2019
TATASTEEL
Buy
444.65
448.50
456.55
435.65
Exited @ 445.65
26/07/2019
NIFTY
Buy
11,305.00
11,334.20
11,390.90
11,247.10
T1 done
26/07/2019
USDINR
Short Sell
69.03
68.97
68.85
69.15
T1 done
26/07/2019
BPCL
Buy
341.90
343.50
347.25
336.25
T1 done
29/07/2019
TATASTEEL
Short Sell
435.20
429.95
419.65
445.90
Exited @ 433
29/07/2019
NIFTY
Short Sell
11,256.00
11,224.80
11,162.40
11,324.50
T1 done
29/07/2019
BPCL
Buy
346.25
348.90
354.15
340.30
Exited @ 339.6
29/07/2019
RELIANCE
Buy
1,218.90
1,225.75
1,239.25
1,205.10
Exited @ 1210.2
29/07/2019
USDINR
Short Sell
68.90
68.87
68.80
68.97
T1 done
29/07/2019
BANKNIFTY
Short Sell
29,381.50
29,255.80
28,999.80
29,645.90
T1 done
29/07/2019
SBIN
Short Sell
338.40
335.15
328.90
344.70
Exited @ 345.3
29/07/2019
BAJFINANCE
Buy
3,296.00
3,350.85
3,461.75
3,180.00
Exited @ 3250.75
29/07/2019
BPCL
Short Sell
339.60
337.00
331.75
345.55
Exited @ 342.35
29/07/2019
SBIN
Buy
345.30
348.40
354.65
338.45
Exited @ 343.95
30/07/2019
RELIANCE
Short Sell
1,210.55
1,206.05
1,197.05
1,220.00
T2 done
30/07/2019
TATASTEEL
Short Sell
434.20
430.60
423.35
441.90
T1 done
30/07/2019
BAJFINANCE
Short Sell
3,245.10
3,226.50
3,187.50
3,299.00
Exited @ 3249.95
30/07/2019
SBIN
Short Sell
343.85
342.40
339.50
346.70
T2 done
30/07/2019
NIFTY
Short Sell
11,214.70
11,179.00
11,109.00
11,290.00
T2 done
30/07/2019
BANKNIFTY
Short Sell
29,403.00
29,314.20
29,139.60
29,585.10
T2 done
30/07/2019
USDINR
Short Sell
68.88
68.83
68.73
68.99
Exited @ 69.0275
30/07/2019
BPCL
Short Sell
339.20
337.10
332.90
343.50
T1 done
30/07/2019
USDINR
Buy
69.03
69.08
69.18
68.89
T1 done
31/07/2019
TATASTEEL
Buy
421.55
426.80
437.15
409.50
T1 done
31/07/2019
BPCL
Buy
336.60
339.10
345.20
328.20
T1 done
31/07/2019
BAJFINANCE
Short Sell
3,200.50
3,174.45
3,122.55
3,257.10
T1 done
31/07/2019
RELIANCE
Buy
1,184.00
1,189.45
1,200.35
1,170.55
Exited @ 1169.85
31/07/2019
NIFTY
Short Sell
11,040.00
11,009.10
10,948.70
11,102.00
Exited @ 11110.9
31/07/2019
RELIANCE
Short Sell
1,169.85
1,164.20
1,153.30
1,181.45
T1 done
31/07/2019
NIFTY
Buy
11,110.90
11,141.00
11,201.40
11,041.60
T1 done
31/07/2019
SBIN
Buy
330.75
333.80
339.90
323.90
Exited @ 331.8
31/07/2019
BANKNIFTY
Buy
28,960.90
29,096.60
29,370.70
28,655.80
Exited @ 28982
31/07/2019
USDINR
Short Sell
69.04
68.99
68.89
69.14
T1 done
01/08/2019
NIFTY
Short Sell
11,054.40
11,036.50
10,999.70
11,098.40
T2 done
01/08/2019
TATASTEEL
Buy
429.45
431.80
436.35
423.95
T1 done
01/08/2019
BAJFINANCE
Buy
3,260.00
3,280.45
3,321.35
3,210.10
Exited @ 3202.8
01/08/2019
BANKNIFTY
Short Sell
28,773.60
28,704.60
28,559.80
28,924.00
T2 done
01/08/2019
SBIN
Short Sell
328.50
327.10
324.30
331.50
T2 done
01/08/2019
USDINR
Short Sell
69.25
69.18
69.06
69.37
Exited @ 69.24
01/08/2019
TATASTEEL
Short Sell
423.20
421.25
416.70
428.50
T1 done
01/08/2019
RELIANCE
Short Sell
1,154.50
1,149.55
1,139.95
1,164.80
Exited @ 1165.65
01/08/2019
RELIANCE
Buy
1,165.65
1,170.50
1,180.10
1,155.20
T1 done
01/08/2019
BPCL
Buy
345.55
348.45
354.25
339.20
Exited @ 343.1
01/08/2019
BAJFINANCE
Short Sell
3,202.80
3,181.50
3,140.60
3,251.00
T1 done
02/08/2019
RELIANCE
Short Sell
1,166.25
1,161.20
1,150.20
1,181.00
Exited @ 1182.35
02/08/2019
TATASTEEL
Short Sell
408.85
405.65
399.15
415.50
T1 done
02/08/2019
BAJFINANCE
Short Sell
3,124.45
3,091.45
3,022.80
3,199.95
Exited @ 3204.35
02/08/2019
BPCL
Short Sell
338.70
335.15
328.05
346.95
Exited @ 342.9
02/08/2019
NIFTY
Short Sell
10,893.00
10,862.50
10,797.80
10,960.00
Exited @ 10989.1
02/08/2019
BANKNIFTY
Short Sell
28,079.50
27,922.20
27,607.00
28,397.90
Exited @ 28465.3
02/08/2019
USDINR
Buy
69.52
69.60
69.76
69.37
T2 done
02/08/2019
RELIANCE
Buy
1,182.35
1,187.80
1,198.80
1,170.00
T1 done
02/08/2019
NIFTY
Buy
10,989.10
11,020.50
11,085.20
10,895.30
T2 done
02/08/2019
SBIN
Buy
318.00
320.65
325.90
311.50
T1 done
02/08/2019
BAJFINANCE
Buy
3,204.35
3,238.35
3,307.00
3,131.30
T1 done
02/08/2019
BANKNIFTY
Buy
28,465.30
28,625.00
28,940.20
28,082.70
T1 done
02/08/2019
TATASTEEL
Buy
415.65
418.90
425.40
409.00
Exited @ 408.85
02/08/2019
SBIN
Short Sell
309.70
307.00
301.75
316.75
Exited @ 309.45
05/08/2019
RELIANCE
Short Sell
1,135.60
1,124.15
1,100.75
1,167.00
Exited @ 1144.1
05/08/2019
BAJFINANCE
Short Sell
3,147.30
3,121.75
3,073.15
3,199.80
Exited @ 3164.1
05/08/2019
TATASTEEL
Short Sell
390.45
383.80
370.40
403.95
Exited @ 400.25
05/08/2019
BPCL
Buy
340.25
344.75
353.20
331.55
Exited @ 345
05/08/2019
SBIN
Buy
299.05
302.50
309.25
291.70
T1 done
06/08/2019
TATASTEEL
Buy
403.60
408.05
416.90
393.65
Exited @ 402.2
06/08/2019
BPCL
Short Sell
338.70
335.75
330.00
344.50
Exited @ 345.4
06/08/2019
SBIN
Short Sell
298.05
295.40
289.90
304.25
Exited @ 301.55
06/08/2019
NIFTY
Buy
10,961.80
11,023.20
11,147.30
10,835.50
T1 done
06/08/2019
BANKNIFTY
Buy
28,076.50
28,273.50
28,666.30
27,651.10
T1 done
06/08/2019
RELIANCE
Short Sell
1,131.65
1,122.80
1,105.10
1,149.60
Exited @ 1125.45
06/08/2019
BPCL
Buy
345.40
348.25
354.00
338.75
Exited @ 344.4
06/08/2019
BAJFINANCE
Buy
3,220.95
3,254.30
3,321.05
3,153.15
Exited @ 3268.35
07/08/2019
RELIANCE
Short Sell
1,126.00
1,119.95
1,107.90
1,138.55
T2 done
07/08/2019
BAJFINANCE
Buy
3,323.80
3,351.85
3,417.55
3,252.30
Exited @ 3268.35
07/08/2019
BPCL
Short Sell
338.25
334.00
325.55
346.95
T1 done
07/08/2019
BANKNIFTY
Buy
28,168.00
28,253.30
28,423.30
27,965.10
Exited @ 27902.5
07/08/2019
TATASTEEL
Short Sell
385.70
380.75
370.85
396.50
T1 done
07/08/2019
NIFTY
Buy
10,986.40
11,016.80
11,073.20
10,925.00
Exited @ 10889.4
07/08/2019
USDINR
Short Sell
70.93
70.88
70.77
71.15
T2 done
07/08/2019
SBIN
Short Sell
298.60
296.75
293.30
302.45
T1 done
07/08/2019
NIFTY
Short Sell
10,889.40
10,861.30
10,804.90
10,981.40
Exited @ 10876.9
07/08/2019
BANKNIFTY
Short Sell
27,902.50
27,816.00
27,645.80
28,135.20
T1 done
08/08/2019
TATASTEEL
Short Sell
366.25
359.75
347.00
379.00
Exited @ 369.2
08/08/2019
RELIANCE
Buy
1,116.80
1,127.25
1,147.75
1,095.30
T1 done
08/08/2019
SBIN
Buy
291.55
293.50
297.30
287.60
Exited @ 287.3
08/08/2019
USDINR
Buy
71.05
71.15
71.37
70.83
Exited @ 70.785
08/08/2019
BPCL
Short Sell
330.65
328.65
324.65
335.00
Exited @ 335.15
08/08/2019
SBIN
Short Sell
287.30
285.30
281.50
291.40
Exited @ 291.85
08/08/2019
NIFTY
Buy
10,931.00
10,961.80
11,023.30
10,866.50
T2 done
08/08/2019
BPCL
Buy
335.45
337.35
341.35
331.00
T1 done
08/08/2019
BANKNIFTY
Buy
28,050.00
28,185.70
28,472.80
27,611.40
T1 done
08/08/2019
USDINR
Short Sell
70.79
70.68
70.46
71.04
T1 done
08/08/2019
BAJFINANCE
Buy
3,315.20
3,339.25
3,381.65
3,261.35
Exited @ 3339.2
09/08/2019
RELIANCE
Buy
1,170.00
1,178.75
1,196.25
1,152.30
Exited @ 1162.3
09/08/2019
BANKNIFTY
Buy
28,501.00
28,578.30
28,732.80
28,330.50
T1 done
09/08/2019
NIFTY
Buy
11,140.00
11,165.50
11,216.40
11,078.00
T1 done
09/08/2019
USDINR
Short Sell
70.57
70.51
70.39
70.71
Exited @ 70.7225
09/08/2019
BAJFINANCE
Buy
3,394.00
3,419.00
3,469.00
3,340.00
T1 done
09/08/2019
SBIN
Buy
297.90
300.50
305.50
292.45
Exited @ 292.3
09/08/2019
BPCL
Buy
346.35
348.45
352.90
341.00
T1 done
09/08/2019
USDINR
Buy
70.72
70.78
70.90
70.59
T2 done
09/08/2019
TATASTEEL
Short Sell
365.70
362.65
356.15
373.65
T1 done
09/08/2019
SBIN
Short Sell
292.30
289.65
284.60
297.50
Exited @ 291.65
13/08/2019
RELIANCE
Buy
1,274.85
1,295.25
1,336.05
1,229.15
Exited @ 1290.9
13/08/2019
USDINR
Buy
71.26
71.32
71.44
71.13
T2 done
13/08/2019
TATASTEEL
Short Sell
356.15
350.65
339.70
367.60
Exited @ 349.95
13/08/2019
BANKNIFTY
Short Sell
28,119.70
27,935.10
27,565.90
28,490.00
T1 done
13/08/2019
SBIN
Short Sell
287.05
285.10
281.20
291.55
T1 done
13/08/2019
BAJFINANCE
Short Sell
3,345.35
3,314.80
3,249.90
3,423.95
Exited @ 3308.5
13/08/2019
NIFTY
Short Sell
11,033.00
10,984.20
10,885.50
11,145.00
T1 done
13/08/2019
BPCL
Short Sell
344.55
338.45
326.15
357.85
Exited @ 342.1
14/08/2019
SBIN
Buy
287.60
288.90
291.25
284.50
T1 done
14/08/2019
NIFTY
Buy
11,035.00
11,066.70
11,130.20
10,935.60
T1 done
14/08/2019
BANKNIFTY
Buy
27,988.00
28,072.00
28,248.00
27,759.00
T1 done
14/08/2019
BPCL
Buy
352.60
357.25
367.05
341.00
Exited @ 356.6
14/08/2019
TATASTEEL
Buy
365.60
371.00
381.80
353.60
14/08/2019
BAJFINANCE
Buy
3,307.00
3,337.25
3,397.75
3,245.00
Exited @ 3281.55
14/08/2019
USDINR
Buy
71.18
71.29
71.50
70.93
T1 done
16/08/2019
BPCL
Short Sell
348.50
345.50
339.55
355.50
Exited @ 350.75
16/08/2019
BAJFINANCE
Buy
3,325.65
3,359.70
3,427.85
3,253.35
Exited @ 3336.95
16/08/2019
USDINR
Short Sell
71.34
71.24
71.03
71.56
T1 done
16/08/2019
BANKNIFTY
Buy
27,980.00
28,065.00
28,265.00
27,750.00
T2 done
16/08/2019
NIFTY
Buy
11,012.00
11,042.00
11,110.00
10,926.00
T1 done
16/08/2019
TATASTEEL
Buy
361.80
364.40
369.65
355.45
T1 done
16/08/2019
SBIN
Buy
288.10
289.95
293.60
284.30
T1 done
19/08/2019
BPCL
Short Sell
348.20
345.65
340.55
354.10
Exited @ 347.2
19/08/2019
NIFTY
Buy
11,123.00
11,151.00
11,205.90
11,065.10
T1 done
19/08/2019
TATASTEEL
Short Sell
358.50
354.40
346.25
366.95
Exited @ 358.95
19/08/2019
BANKNIFTY
Buy
28,449.00
28,539.40
28,720.20
28,264.20
Exited @ 28210
19/08/2019
BAJFINANCE
Buy
3,368.95
3,382.45
3,409.35
3,340.10
Exited @ 3316.15
19/08/2019
RELIANCE
Buy
1,291.30
1,296.90
1,307.65
1,280.00
Exited @ 1291.15
19/08/2019
USDINR
Buy
71.28
71.34
71.49
71.12
T2 done
19/08/2019
SBIN
Short Sell
288.45
286.60
282.90
292.40
Exited @ 286.6
19/08/2019
NIFTY
Short Sell
11,050.00
11,023.90
10,969.00
11,120.00
Exited @ 11058
19/08/2019
BAJFINANCE
Short Sell
3,316.15
3,302.80
3,275.90
3,367.00
Exited @ 3327
19/08/2019
BANKNIFTY
Short Sell
28,210.00
28,125.10
27,944.30
28,445.00
T1 done
20/08/2019
TATASTEEL
Short Sell
356.10
354.35
350.85
359.70
Exited @ 360.15
20/08/2019
NIFTY
Short Sell
11,026.60
11,005.50
10,962.00
11,078.10
T1 done
20/08/2019
BANKNIFTY
Short Sell
28,029.30
27,940.80
27,760.30
28,220.30
T1 done
20/08/2019
SBIN
Short Sell
284.70
283.40
280.85
287.40
T2 done
20/08/2019
RELIANCE
Short Sell
1,282.40
1,277.75
1,269.15
1,292.60
T1 done
20/08/2019
BAJFINANCE
Short Sell
3,260.95
3,227.85
3,159.60
3,334.40
Exited @ 3292.05
20/08/2019
TATASTEEL
Buy
360.15
361.85
365.35
356.20
Exited @ 354.5
20/08/2019
USDINR
Buy
71.74
71.82
71.98
71.57
T1 done
20/08/2019
BPCL
Short Sell
341.40
337.75
330.50
348.90
Exited @ 341.95
21/08/2019
TATASTEEL
Short Sell
353.25
350.90
346.30
358.20
T1 done
21/08/2019
NIFTY
Buy
11,024.50
11,042.70
11,078.30
10,988.30
Exited @ 10970
21/08/2019
BAJFINANCE
Buy
3,319.00
3,340.90
3,384.90
3,268.00
Exited @ 3266.6
21/08/2019
BANKNIFTY
Buy
28,084.90
28,182.50
28,362.80
27,870.00
Exited @ 27858.5
21/08/2019
SBIN
Short Sell
282.65
281.30
278.85
285.60
T1 done
21/08/2019
BPCL
Buy
338.10
340.20
344.40
333.65
Exited @ 333.4
21/08/2019
NIFTY
Short Sell
10,970.00
10,952.20
10,916.60
11,023.90
T2 done
21/08/2019
BAJFINANCE
Short Sell
3,266.60
3,244.55
3,200.55
3,312.00
Exited @ 3258.1
21/08/2019
BANKNIFTY
Short Sell
27,858.50
27,766.80
27,586.60
28,050.30
T1 done
21/08/2019
USDINR
Buy
71.65
71.72
71.85
71.50
Exited @ 71.48
21/08/2019
BPCL
Short Sell
333.40
331.50
327.00
337.85
T1 done
21/08/2019
USDINR
Short Sell
71.48
71.42
71.28
71.64
T1 done
22/08/2019
BANKNIFTY
Short Sell
27,554.20
27,472.00
27,306.00
27,740.00
T2 done
22/08/2019
BPCL
Short Sell
322.80
319.45
312.85
329.85
T1 done
22/08/2019
USDINR
Buy
71.76
71.86
72.05
71.56
T1 done
22/08/2019
RELIANCE
Short Sell
1,260.30
1,254.60
1,243.80
1,271.00
T2 done
22/08/2019
NIFTY
Short Sell
10,870.00
10,847.30
10,801.90
10,917.90
T2 done
22/08/2019
TATASTEEL
Buy
341.20
343.45
348.40
335.85
T1 done
22/08/2019
SBIN
Short Sell
274.50
272.75
269.15
278.30
T1 done
22/08/2019
BAJFINANCE
Short Sell
3,174.15
3,134.80
3,056.45
3,259.00
Exited @ 3127.95
22/08/2019
TATASTEEL
Short Sell
335.45
332.90
327.95
340.80
T1 done
23/08/2019
RELIANCE
Buy
1,239.50
1,245.95
1,258.45
1,226.50
T1 done
23/08/2019
SBIN
Buy
267.55
270.05
274.85
262.70
T1 done
23/08/2019
NIFTY
Buy
10,720.00
10,753.30
10,822.70
10,646.80
T2 done
23/08/2019
BAJFINANCE
Buy
3,129.75
3,194.65
3,325.65
2,998.00
Exited @ 3180.45
23/08/2019
TATASTEEL
Buy
337.10
339.95
345.90
330.35
T1 done
23/08/2019
BPCL
Buy
316.30
320.00
327.40
308.50
T1 done
23/08/2019
BANKNIFTY
Buy
26,920.30
27,056.80
27,336.20
26,615.60
T1 done
23/08/2019
USDINR
Short Sell
71.79
71.69
71.48
72.09
T1 done
26/08/2019
SBIN
Short Sell
275.50
269.75
258.25
288.00
Exited @ 272
26/08/2019
NIFTY
Short Sell
10,770.90
10,679.70
10,498.80
10,965.90
Exited @ 10967.5
26/08/2019
BANKNIFTY
Short Sell
26,902.00
26,573.30
25,914.10
27,624.40
Exited @ 27660
26/08/2019
TATASTEEL
Short Sell
325.60
315.15
294.65
347.05
Exited @ 338.35
26/08/2019
USDINR
Buy
72.15
72.37
72.81
71.70
Exited @ 72.0075
26/08/2019
NIFTY
Buy
10,967.50
11,057.50
11,238.50
10,785.00
T1 done
26/08/2019
BAJFINANCE
Buy
3,299.00
3,355.00
3,466.90
3,183.05
Exited @ 3329
27/08/2019
NIFTY
Buy
11,112.90
11,152.00
11,227.90
11,034.00
Exited @ 11110.1
27/08/2019
SBIN
Short Sell
283.50
281.40
277.40
288.00
Exited @ 285.9
27/08/2019
BPCL
Buy
343.30
346.80
353.80
334.25
Exited @ 343.3
27/08/2019
BAJFINANCE
Buy
3,393.45
3,416.50
3,465.30
3,340.10
Exited @ 3356
27/08/2019
USDINR
Short Sell
71.68
71.59
71.40
71.88
T1 done
27/08/2019
TATASTEEL
Buy
352.50
357.90
368.50
340.15
Exited @ 350.7
27/08/2019
RELIANCE
Short Sell
1,265.50
1,256.10
1,237.10
1,285.00
Exited @ 1275
28/08/2019
BANKNIFTY
Short Sell
27,915.10
27,833.50
27,661.30
28,118.20
T2 done
28/08/2019
NIFTY
Short Sell
11,066.90
11,041.30
10,991.80
11,130.90
T2 done
28/08/2019
TATASTEEL
Short Sell
342.45
338.40
330.20
350.90
T1 done
28/08/2019
RELIANCE
Short Sell
1,267.95
1,261.85
1,249.85
1,280.95
T1 done
28/08/2019
BPCL
Short Sell
339.00
336.35
331.25
344.30
Exited @ 344.6
28/08/2019
USDINR
Buy
71.62
71.69
71.84
71.46
T1 done
28/08/2019
BAJFINANCE
Short Sell
3,315.55
3,295.25
3,251.60
3,362.65
Exited @ 3326.1
28/08/2019
SBIN
Short Sell
282.50
281.05
277.90
286.65
Exited @ 284.75
28/08/2019
BPCL
Buy
344.60
347.25
352.50
339.05
T1 done
29/08/2019
SBIN
Buy
283.80
285.30
288.30
280.70
Exited @ 280
29/08/2019
TATASTEEL
Short Sell
329.85
326.10
318.70
338.35
Exited @ 339.5
29/08/2019
BANKNIFTY
Short Sell
27,544.00
27,446.30
27,260.30
27,750.00
T2 done
29/08/2019
BAJFINANCE
Short Sell
3,286.15
3,268.30
3,232.60
3,323.70
Exited @ 3329.85
29/08/2019
RELIANCE
Short Sell
1,250.40
1,246.65
1,239.25
1,259.45
T2 done
29/08/2019
BPCL
Buy
352.00
354.15
358.45
346.50
T1 done
29/08/2019
SBIN
Short Sell
280.00
278.35
275.35
283.70
T1 done
29/08/2019
TATASTEEL
Buy
339.50
343.15
350.50
331.00
Exited @ 336.2
29/08/2019
BAJFINANCE
Buy
3,329.85
3,347.35
3,383.05
3,288.00
Exited @ 3302.45
30/08/2019
BAJFINANCE
Buy
3,341.60
3,365.85
3,414.35
3,291.00
Exited @ 3280.1
30/08/2019
RELIANCE
Short Sell
1,237.45
1,231.95
1,220.95
1,249.00
T1 done
30/08/2019
BPCL
Short Sell
350.10
348.25
344.35
354.25
T1 done
30/08/2019
SBIN
Short Sell
273.70
271.80
267.90
277.95
T1 done
30/08/2019
BAJFINANCE
Short Sell
3,280.10
3,256.35
3,207.85
3,339.50
Exited @ 3335.75
30/08/2019
TATASTEEL
Short Sell
338.00
335.25
329.35
346.00
Exited @ 345.45
03/09/2019
BAJFINANCE
Buy
3,312.00
3,334.75
3,382.65
3,255.05
Exited @ 3252
03/09/2019
USDINR
Buy
72.37
72.44
72.60
72.12
T2 done
03/09/2019
RELIANCE
Short Sell
1,231.80
1,226.45
1,216.20
1,242.25
T2 done
03/09/2019
NIFTY
Short Sell
10,910.00
10,884.00
10,831.90
10,965.10
T1 done
03/09/2019
BANKNIFTY
Short Sell
26,990.30
26,834.70
26,523.70
27,321.00
Exited @ 26856
03/09/2019
BPCL
Buy
355.20
361.65
374.35
342.30
Exited @ 360.6
04/09/2019
BANKNIFTY
Buy
26,934.80
27,014.60
27,189.50
26,712.00
T2 done
04/09/2019
TATASTEEL
Buy
333.35
336.10
341.65
327.30
T1 done
04/09/2019
SBIN
Buy
271.95
273.80
277.60
267.25
T1 done
04/09/2019
NIFTY
Short Sell
10,796.30
10,766.20
10,708.40
10,856.30
Exited @ 10864
04/09/2019
BAJFINANCE
Short Sell
3,214.00
3,186.55
3,129.85
3,274.35
Exited @ 3251
04/09/2019
USDINR
Short Sell
72.31
72.22
72.05
72.49
T1 done
04/09/2019
NIFTY
Buy
10,864.00
10,891.50
10,949.30
10,798.50
T1 done
04/09/2019
BPCL
Short Sell
349.70
346.60
340.40
356.70
Exited @ 357.45
04/09/2019
BPCL
Buy
357.45
360.60
366.80
350.50
Exited @ 362.35
05/09/2019
BPCL
Buy
380.70
390.15
409.10
361.05
Exited @ 380.5
05/09/2019
USDINR
Buy
72.15
72.21
72.32
72.03
Exited @ 72.005
05/09/2019
NIFTY
Buy
10,956.70
10,989.70
11,057.10
10,881.40
Exited @ 10880.4
05/09/2019
USDINR
Short Sell
72.01
71.95
71.83
72.14
Exited @ 72.02
05/09/2019
RELIANCE
Short Sell
1,201.15
1,195.00
1,183.85
1,213.20
Exited @ 1199.7
05/09/2019
BAJFINANCE
Short Sell
3,270.20
3,256.15
3,228.25
3,299.90
T1 done
05/09/2019
NIFTY
Short Sell
10,880.40
10,845.80
10,778.40
10,948.80
T1 done
05/09/2019
BANKNIFTY
Short Sell
26,990.30
26,850.50
26,565.80
27,335.00
Exited @ 26996
05/09/2019
TATASTEEL
Short Sell
345.50
342.60
336.60
352.00
T1 done
05/09/2019
SBIN
Short Sell
271.45
269.20
264.65
276.35
Exited @ 273.5
06/09/2019
SBIN
Buy
276.75
277.45
278.95
275.00
Exited @ 274
06/09/2019
BANKNIFTY
Buy
27,237.30
27,331.80
27,521.80
27,025.00
T1 done
06/09/2019
TATASTEEL
Buy
348.45
351.20
356.70
342.85
Exited @ 355.1
06/09/2019
BAJFINANCE
Short Sell
3,305.00
3,292.55
3,267.65
3,330.00
Exited @ 3333.6
06/09/2019
BPCL
Short Sell
374.35
371.90
367.25
379.90
Exited @ 381.75
06/09/2019
SBIN
Short Sell
274.00
273.20
271.70
276.50
T1 done
06/09/2019
NIFTY
Buy
10,951.10
10,977.00
11,028.00
10,900.00
T1 done
06/09/2019
RELIANCE
Buy
1,213.90
1,222.10
1,238.55
1,195.25
T1 done
06/09/2019
BAJFINANCE
Buy
3,333.60
3,346.45
3,371.35
3,305.10
T2 done
06/09/2019
USDINR
Short Sell
71.81
71.69
71.45
72.07
Exited @ 71.8475
06/09/2019
BPCL
Buy
381.75
384.30
388.90
375.25
Exited @ 378.25
09/09/2019
NIFTY
Buy
10,955.60
10,972.90
11,006.90
10,916.00
T2 done
09/09/2019
BAJFINANCE
Buy
3,383.05
3,398.00
3,427.85
3,352.15
T2 done
09/09/2019
BANKNIFTY
Buy
27,274.50
27,388.80
27,620.00
27,035.00
T2 done
09/09/2019
USDINR
Short Sell
71.69
71.61
71.47
71.86
Exited @ 71.8375
09/09/2019
SBIN
Buy
274.80
276.40
279.40
271.00
T1 done
09/09/2019
BPCL
Buy
380.30
383.15
388.25
374.65
T1 done
09/09/2019
RELIANCE
Buy
1,232.00
1,239.95
1,255.45
1,216.00
Exited @ 1214.6
09/09/2019
TATASTEEL
Buy
355.50
359.10
366.35
348.15
T1 done
09/09/2019
RELIANCE
Short Sell
1,214.60
1,206.75
1,191.25
1,231.50
Exited @ 1222.4
11/09/2019
BPCL
Buy
384.00
386.65
392.05
378.50
T1 done
11/09/2019
BAJFINANCE
Short Sell
3,427.15
3,414.35
3,389.10
3,456.00
T1 done
11/09/2019
BANKNIFTY
Buy
27,734.10
27,796.50
27,921.00
27,594.40
T1 done
11/09/2019
USDINR
Short Sell
71.87
71.79
71.62
72.04
T1 done
11/09/2019
SBIN
Buy
282.55
284.25
287.75
278.50
T1 done
11/09/2019
NIFTY
Buy
11,069.20
11,090.30
11,132.40
11,026.90
Exited @ 11057.7
11/09/2019
RELIANCE
Buy
1,235.00
1,241.00
1,253.00
1,222.50
Exited @ 1234.5
11/09/2019
TATASTEEL
Buy
364.60
369.05
378.05
355.30
Exited @ 367.95
12/09/2019
BANKNIFTY
Buy
28,088.70
28,200.80
28,425.20
27,855.70
Exited @ 27802
12/09/2019
SBIN
Short Sell
286.25
285.10
282.70
288.65
T1 done
12/09/2019
RELIANCE
Short Sell
1,229.90
1,225.25
1,215.85
1,240.45
T2 done
12/09/2019
NIFTY
Short Sell
11,075.00
11,064.70
11,044.10
11,097.60
T2 done
12/09/2019
BAJFINANCE
Short Sell
3,399.30
3,386.05
3,359.55
3,429.00
T1 done
12/09/2019
TATASTEEL
Short Sell
367.85
362.60
351.80
379.50
Exited @ 366.25
12/09/2019
USDINR
Short Sell
71.38
71.28
71.09
71.60
T1 done
12/09/2019
BPCL
Short Sell
386.40
382.60
374.90
394.35
T1 done
13/09/2019
TATASTEEL
Short Sell
360.40
356.65
348.75
369.15
Exited @ 368.2
13/09/2019
NIFTY
Short Sell
10,968.60
10,938.90
10,879.40
11,034.00
Exited @ 11040.8
13/09/2019
SBIN
Short Sell
282.20
280.10
275.80
286.80
Exited @ 287.6
13/09/2019
BANKNIFTY
Short Sell
27,638.20
27,491.60
27,204.20
27,943.40
Exited @ 27944.6
13/09/2019
BPCL
Short Sell
378.75
374.85
367.10
386.90
Exited @ 387.4
13/09/2019
USDINR
Short Sell
70.97
70.88
70.69
71.16
Exited @ 71.165
13/09/2019
BPCL
Buy
387.40
391.25
399.00
379.15
T1 done
13/09/2019
BAJFINANCE
Buy
3,420.25
3,441.25
3,483.75
3,372.50
Exited @ 3426
13/09/2019
NIFTY
Buy
11,040.80
11,070.20
11,129.70
10,974.50
T1 done
13/09/2019
SBIN
Buy
287.60
289.65
293.95
282.50
T1 done
13/09/2019
USDINR
Buy
71.17
71.26
71.44
70.98
T1 done
13/09/2019
BANKNIFTY
Buy
27,944.60
28,088.30
28,375.70
27,656.00
T1 done
16/09/2019
BANKNIFTY
Buy
28,012.00
28,104.10
28,290.60
27,801.50
Exited @ 27883.8
16/09/2019
RELIANCE
Buy
1,205.85
1,213.55
1,229.05
1,189.00
T1 done
16/09/2019
BAJFINANCE
Buy
3,413.55
3,426.30
3,454.00
3,382.30
T1 done
16/09/2019
NIFTY
Buy
11,056.70
11,080.40
11,131.50
11,001.00
Exited @ 10998
16/09/2019
TATASTEEL
Buy
365.65
368.00
372.75
360.05
Exited @ 359.8
16/09/2019
BPCL
Short Sell
382.50
378.25
369.60
391.45
Exited @ 379.8
16/09/2019
SBIN
Short Sell
286.70
284.90
281.30
290.45
T1 done
16/09/2019
NIFTY
Short Sell
10,998.00
10,973.00
10,921.90
11,052.10
Exited @ 11014
16/09/2019
TATASTEEL
Short Sell
359.80
357.65
352.90
364.80
Exited @ 361.3
17/09/2019
BANKNIFTY
Short Sell
27,737.70
27,673.20
27,549.50
27,878.00
T1 done
17/09/2019
NIFTY
Short Sell
10,966.30
10,945.70
10,908.00
11,005.90
T1 done
17/09/2019
SBIN
Short Sell
283.50
282.10
279.20
286.45
T1 done
17/09/2019
BPCL
Short Sell
371.85
368.05
360.15
379.90
Exited @ 368.25
17/09/2019
BAJFINANCE
Short Sell
3,396.00
3,382.75
3,356.25
3,424.95
Exited @ 3429
17/09/2019
TATASTEEL
Short Sell
360.05
357.40
352.10
365.95
Exited @ 354.6
17/09/2019
BAJFINANCE
Buy
3,429.00
3,443.25
3,469.75
3,398.45
Exited @ 3395.05
17/09/2019
RELIANCE
Short Sell
1,200.25
1,195.10
1,185.30
1,211.00
T1 done
17/09/2019
USDINR
Buy
71.99
72.11
72.34
71.75
Exited @ 71.935
18/09/2019
BAJFINANCE
Buy
3,455.00
3,480.75
3,535.00
3,394.65
Exited @ 3408
18/09/2019
BPCL
Short Sell
376.60
373.65
368.15
382.10
T1 done
18/09/2019
NIFTY
Short Sell
10,845.60
10,821.50
10,772.30
10,896.20
Exited @ 10896.4
18/09/2019
SBIN
Short Sell
274.60
272.90
269.45
278.90
Exited @ 279.45
18/09/2019
TATASTEEL
Short Sell
345.60
342.65
336.65
352.35
Exited @ 353.4
18/09/2019
BANKNIFTY
Short Sell
27,158.00
27,041.10
26,807.30
27,423.00
Exited @ 27460
18/09/2019
TATASTEEL
Buy
353.40
356.20
362.20
346.35
T1 done
18/09/2019
RELIANCE
Short Sell
1,204.70
1,199.00
1,187.65
1,216.30
T1 done
18/09/2019
USDINR
Short Sell
71.49
71.43
71.30
71.64
T2 done
18/09/2019
SBIN
Buy
279.45
281.15
284.65
275.45
T1 done
18/09/2019
BANKNIFTY
Buy
27,460.00
27,565.90
27,799.70
27,189.20
Exited @ 27152.3
18/09/2019
NIFTY
Buy
10,896.40
10,921.20
10,970.50
10,846.90
Exited @ 10849.8
18/09/2019
BPCL
Buy
383.75
386.65
392.20
376.55
T1 done
19/09/2019
BANKNIFTY
Short Sell
26,875.50
26,738.10
26,463.30
27,175.80
T1 done
19/09/2019
BAJFINANCE
Short Sell
3,383.00
3,363.00
3,321.00
3,426.40
T1 done
19/09/2019
SBIN
Short Sell
275.15
273.00
268.85
279.95
Exited @ 273.25
19/09/2019
NIFTY
Short Sell
10,767.00
10,735.00
10,670.40
10,837.00
T1 done
19/09/2019
TATASTEEL
Short Sell
348.35
345.05
338.35
356.00
T1 done
19/09/2019
BPCL
Short Sell
376.10
371.90
363.50
384.90
Exited @ 385.25
19/09/2019
USDINR
Short Sell
71.20
71.10
70.87
71.44
Exited @ 71.3775
19/09/2019
RELIANCE
Short Sell
1,197.95
1,193.65
1,184.95
1,209.70
T2 done
19/09/2019
BPCL
Buy
385.25
389.45
397.85
376.50
Exited @ 379.4
20/09/2019
TATASTEEL
Short Sell
345.25
343.15
339.15
349.50
Exited @ 350.2
20/09/2019
BAJFINANCE
Short Sell
3,345.00
3,327.25
3,289.75
3,392.00
T1 done
20/09/2019
USDINR
Short Sell
71.09
71.01
70.83
71.30
T2 done
20/09/2019
SBIN
Short Sell
268.70
266.45
261.85
274.50
Exited @ 275.6
20/09/2019
TATASTEEL
Buy
350.20
352.30
356.30
345.50
Exited @ 356.85
20/09/2019
BPCL
Buy
377.80
380.90
386.50
372.45
T1 done
20/09/2019
BANKNIFTY
Buy
27,022.00
27,132.60
27,352.00
26,750.60
T2 done
20/09/2019
NIFTY
Buy
10,755.00
10,776.10
10,823.10
10,705.00
T2 done
20/09/2019
SBIN
Buy
275.60
277.85
282.45
269.85
T1 done
20/09/2019
RELIANCE
Buy
1,204.00
1,209.50
1,223.15
1,175.30
T1 done
20/09/2019
BAJFINANCE
Buy
3,408.00
3,420.75
3,458.25
3,354.50
T1 done
23/09/2019
RELIANCE
Short Sell
1,237.35
1,216.65
1,175.75
1,281.00
Exited @ 1243.65
23/09/2019
NIFTY
Buy
11,570.70
11,631.70
11,755.10
11,441.50
T1 done
23/09/2019
BANKNIFTY
Buy
30,239.30
30,555.80
31,185.00
29,591.00
T1 done
23/09/2019
BAJFINANCE
Buy
3,915.15
3,976.25
4,103.35
3,763.90
Exited @ 3957
23/09/2019
USDINR
Short Sell
70.92
70.81
70.59
71.14
Exited @ 70.965
23/09/2019
BPCL
Buy
438.85
452.50
479.50
412.05
Exited @ 446.05
24/09/2019
RELIANCE
Buy
1,284.35
1,304.90
1,346.15
1,242.75
Exited @ 1279
24/09/2019
TATASTEEL
Short Sell
372.65
369.45
362.95
379.30
T1 done
24/09/2019
NIFTY
Short Sell
11,588.00
11,553.50
11,483.00
11,660.00
Exited @ 11608.6
24/09/2019
BANKNIFTY
Short Sell
30,165.00
29,918.50
29,429.60
30,675.00
Exited @ 30214
24/09/2019
SBIN
Short Sell
309.35
306.55
300.85
315.15
T1 done
24/09/2019
USDINR
Buy
70.87
70.92
71.02
70.76
T2 done
24/09/2019
BPCL
Buy
464.75
472.65
488.45
442.00
Exited @ 466.4
25/09/2019
SBIN
Short Sell
292.50
290.10
285.20
297.45
T1 done
25/09/2019
BANKNIFTY
Short Sell
29,716.00
29,547.10
29,219.20
30,080.90
T1 done
25/09/2019
NIFTY
Short Sell
11,511.00
11,471.70
11,392.40
11,596.50
T1 done
25/09/2019
TATASTEEL
Short Sell
361.80
358.85
352.95
367.90
T1 done
25/09/2019
BPCL
Short Sell
452.95
446.70
434.10
466.20
Exited @ 466.85
25/09/2019
RELIANCE
Short Sell
1,280.80
1,273.65
1,259.75
1,295.00
T1 done
25/09/2019
BPCL
Buy
466.85
472.70
485.30
453.60
T1 done
25/09/2019
BAJFINANCE
Short Sell
3,901.85
3,865.65
3,794.75
3,998.90
Exited @ 3936
25/09/2019
USDINR
Buy
71.16
71.21
71.33
71.02
Exited @ 71.0625
26/09/2019
BPCL
Buy
474.40
480.05
491.15
463.30
T1 done
26/09/2019
SBIN
Buy
283.60
286.85
293.35
277.00
T1 done
26/09/2019
BANKNIFTY
Buy
30,102.00
30,295.50
30,672.90
29,676.40
T1 done
26/09/2019
TATASTEEL
Buy
371.50
375.15
382.85
363.35
Exited @ 374.7
26/09/2019
NIFTY
Buy
11,595.00
11,638.40
11,734.60
11,487.40
Exited @ 11570.7
26/09/2019
RELIANCE
Short Sell
1,288.50
1,282.85
1,272.55
1,298.80
Exited @ 1298
26/09/2019
USDINR
Short Sell
70.89
70.82
70.67
71.04
Exited @ 70.775
26/09/2019
BAJFINANCE
Buy
4,006.00
4,031.05
4,082.15
3,945.10
Exited @ 4000.3
27/09/2019
BAJFINANCE
Buy
4,069.75
4,106.25
4,179.25
3,990.00
Exited @ 4057.95
27/09/2019
BPCL
Short Sell
473.50
469.80
462.20
481.80
T1 done
27/09/2019
TATASTEEL
Short Sell
364.50
361.05
353.75
373.00
T1 done
27/09/2019
NIFTY
Short Sell
11,573.90
11,541.30
11,472.70
11,646.40
Exited @ 11575
27/09/2019
USDINR
Short Sell
71.11
71.05
70.94
71.23
T2 done
27/09/2019
BANKNIFTY
Buy
30,286.70
30,482.40
30,879.40
29,883.00
Exited @ 30083.3
30/09/2019
SBIN
Short Sell
273.50
270.20
263.60
281.40
Exited @ 270.5
30/09/2019
USDINR
Buy
70.85
70.98
71.24
70.57
T1 done
30/09/2019
BANKNIFTY
Short Sell
29,385.00
29,113.50
28,566.50
29,951.00
T1 done
30/09/2019
BPCL
Buy
478.00
481.30
488.00
470.55
Exited @ 468.9
30/09/2019
BAJFINANCE
Buy
4,082.00
4,107.15
4,155.85
4,031.35
T1 done
30/09/2019
RELIANCE
Buy
1,324.25
1,331.20
1,345.60
1,305.60
T1 done
30/09/2019
NIFTY
Short Sell
11,458.00
11,421.00
11,343.00
11,555.00
Exited @ 11564
30/09/2019
BPCL
Short Sell
468.90
465.65
458.95
477.25
Exited @ 471.1
30/09/2019
NIFTY
Buy
11,564.00
11,604.00
11,682.00
11,477.00
Exited @ 11535.8
01/10/2019
BPCL
Short Sell
494.80
487.00
471.50
511.55
Exited @ 485.45
01/10/2019
BANKNIFTY
Short Sell
29,245.30
29,036.70
28,613.70
29,724.00
T1 done
01/10/2019
SBIN
Short Sell
270.25
268.30
264.60
275.50
T1 done
01/10/2019
BAJFINANCE
Short Sell
4,061.25
4,049.05
4,024.95
4,089.10
T2 done
01/10/2019
USDINR
Buy
71.03
71.12
71.28
70.85
T2 done
01/10/2019
RELIANCE
Short Sell
1,324.70
1,316.20
1,299.20
1,342.00
T1 done
01/10/2019
TATASTEEL
Short Sell
351.35
344.90
331.90
364.70
Exited @ 345.25
01/10/2019
NIFTY
Short Sell
11,506.20
11,472.50
11,407.50
11,607.50
T1 done
03/10/2019
RELIANCE
Buy
1,307.75
1,318.15
1,338.45
1,281.30
Exited @ 1311
03/10/2019
TATASTEEL
Buy
347.55
351.25
358.25
339.70
Exited @ 339.45
03/10/2019
BPCL
Buy
508.65
514.65
527.05
494.40
Exited @ 516.4
03/10/2019
USDINR
Short Sell
71.32
71.21
71.00
71.53
T1 done
03/10/2019
NIFTY
Buy
11,407.00
11,452.40
11,543.00
11,312.30
Exited @ 11364.5
03/10/2019
BAJFINANCE
Buy
4,004.80
4,030.70
4,091.25
3,931.85
Exited @ 3961.95
03/10/2019
BANKNIFTY
Short Sell
28,409.00
28,168.00
27,681.30
28,919.80
Exited @ 28573.2
04/10/2019
BAJFINANCE
Buy
3,994.90
4,003.90
4,021.90
3,972.00
T1 done
04/10/2019
TATASTEEL
Short Sell
338.05
335.00
328.80
344.80
T1 done
04/10/2019
BPCL
Short Sell
521.55
510.75
488.45
545.00
Exited @ 513.85
04/10/2019
BANKNIFTY
Short Sell
28,650.10
28,545.50
28,352.50
28,860.00
T2 done
04/10/2019
RELIANCE
Buy
1,326.70
1,332.55
1,344.25
1,315.00
Exited @ 1309.2
04/10/2019
SBIN
Buy
259.85
261.30
264.15
256.50
Exited @ 256.1
04/10/2019
NIFTY
Short Sell
11,383.70
11,365.00
11,325.00
11,430.00
T2 done
04/10/2019
SBIN
Short Sell
256.10
254.70
251.85
259.35
T1 done
04/10/2019
BAJFINANCE
Short Sell
3,970.15
3,962.90
3,944.90
3,990.00
T2 done
04/10/2019
USDINR
Buy
71.12
71.21
71.38
70.94
Exited @ 71.07
04/10/2019
RELIANCE
Short Sell
1,309.20
1,303.15
1,291.50
1,326.65
Exited @ 1306.7
07/10/2019
RELIANCE
Buy
1,317.45
1,324.95
1,340.25
1,301.70
Exited @ 1309.55
07/10/2019
TATASTEEL
Buy
337.00
340.85
348.45
329.15
Exited @ 326.2
07/10/2019
BAJFINANCE
Buy
3,896.00
3,936.60
4,014.10
3,819.45
T1 done
07/10/2019
BANKNIFTY
Buy
28,199.80
28,466.80
29,000.70
27,652.20
Exited @ 27880.3
07/10/2019
SBIN
Buy
253.15
256.15
262.25
246.85
Exited @ 249.7
07/10/2019
NIFTY
Buy
11,250.00
11,296.90
11,387.10
11,156.90
Exited @ 11152.3
07/10/2019
USDINR
Short Sell
71.10
71.01
70.84
71.27
Exited @ 71.175
07/10/2019
TATASTEEL
Short Sell
326.20
322.60
314.90
336.80
Exited @ 323.65
09/10/2019
SBIN
Short Sell
246.85
245.20
241.80
250.40
T1 done
09/10/2019
NIFTY
Short Sell
11,132.80
11,112.80
11,074.40
11,173.90
Exited @ 11194.3
09/10/2019
BAJFINANCE
Short Sell
3,884.30
3,866.35
3,830.35
3,920.95
Exited @ 3928.85
09/10/2019
RELIANCE
Short Sell
1,296.60
1,292.85
1,285.40
1,308.70
Exited @ 1311.6
09/10/2019
BANKNIFTY
Short Sell
27,810.00
27,675.80
27,412.30
28,078.80
Exited @ 28158
09/10/2019
BANKNIFTY
Buy
28,158.00
28,287.70
28,551.20
27,815.30
T1 done
09/10/2019
NIFTY
Buy
11,194.30
11,213.00
11,251.40
11,135.50
T2 done
09/10/2019
USDINR
Short Sell
71.23
71.18
71.06
71.36
T1 done
09/10/2019
SBIN
Buy
250.65
252.35
255.75
247.00
T1 done
09/10/2019
BAJFINANCE
Buy
3,928.85
3,944.75
3,980.75
3,885.00
T1 done
09/10/2019
TATASTEEL
Buy
328.30
331.60
338.40
320.65
Exited @ 333.95
09/10/2019
BPCL
Buy
494.20
500.00
511.75
481.65
Exited @ 493.8
09/10/2019
RELIANCE
Buy
1,311.60
1,315.45
1,322.90
1,301.25
T2 done
10/10/2019
BANKNIFTY
Short Sell
28,300.10
28,111.50
27,726.50
28,690.00
T1 done
10/10/2019
BPCL
Buy
492.00
494.90
500.50
485.90
Exited @ 484.3
10/10/2019
USDINR
Buy
71.18
71.23
71.33
71.06
T1 done
10/10/2019
NIFTY
Short Sell
11,253.50
11,235.10
11,198.10
11,312.00
T1 done
10/10/2019
BAJFINANCE
Short Sell
3,965.10
3,945.00
3,900.00
4,015.00
T1 done
10/10/2019
SBIN
Short Sell
253.30
251.20
247.05
258.00
Exited @ 254.45
10/10/2019
TATASTEEL
Buy
333.00
335.35
340.05
328.20
Exited @ 329.95
10/10/2019
BPCL
Short Sell
484.30
481.30
475.70
491.50
Exited @ 489.75
10/10/2019
RELIANCE
Buy
1,364.60
1,383.75
1,422.60
1,325.00
Exited @ 1361.75
11/10/2019
SBIN
Short Sell
255.90
253.40
248.15
261.40
T1 done
11/10/2019
BAJFINANCE
Short Sell
3,960.50
3,937.75
3,890.15
4,015.00
T1 done
11/10/2019
BANKNIFTY
Short Sell
28,223.90
27,983.60
27,516.60
28,723.00
T1 done
11/10/2019
NIFTY
Short Sell
11,263.50
11,211.00
11,111.20
11,385.00
T1 done
11/10/2019
RELIANCE
Short Sell
1,348.45
1,341.85
1,328.80
1,365.55
T1 done
11/10/2019
TATASTEEL
Short Sell
333.15
329.25
321.45
342.45
Exited @ 338.45
11/10/2019
BPCL
Short Sell
485.20
483.15
479.35
491.55
T1 done
11/10/2019
USDINR
Buy
71.11
71.21
71.40
70.91
Exited @ 71.155
14/10/2019
TATASTEEL
Buy
350.85
354.40
361.30
342.95
Exited @ 344.8
14/10/2019
NIFTY
Buy
11,353.50
11,380.90
11,437.80
11,293.10
T1 done
14/10/2019
BAJFINANCE
Short Sell
3,955.70
3,934.45
3,894.95
4,006.30
T1 done
14/10/2019
USDINR
Buy
71.06
71.16
71.36
70.84
T1 done
14/10/2019
RELIANCE
Short Sell
1,351.70
1,345.50
1,333.15
1,364.95
Exited @ 1356.2
15/10/2019
NIFTY
Buy
11,395.00
11,414.80
11,454.80
11,350.00
T2 done
15/10/2019
BANKNIFTY
Buy
28,455.80
28,537.30
28,711.30
28,251.00
T2 done
15/10/2019
TATASTEEL
Short Sell
339.70
336.50
330.40
346.45
Exited @ 347.8
15/10/2019
BAJFINANCE
Short Sell
3,875.50
3,854.60
3,813.80
3,916.00
T1 done
15/10/2019
RELIANCE
Buy
1,366.75
1,372.10
1,382.80
1,354.30
Exited @ 1362.55
15/10/2019
USDINR
Buy
71.44
71.50
71.62
71.31
T1 done
15/10/2019
SBIN
Short Sell
255.45
254.55
252.75
257.40
Exited @ 257.6
15/10/2019
SBIN
Buy
257.60
258.45
260.25
255.60
T1 done
16/10/2019
NIFTY
Short Sell
11,442.40
11,424.50
11,387.70
11,484.90
T1 done
16/10/2019
USDINR
Short Sell
71.62
71.53
71.36
71.80
T1 done
16/10/2019
SBIN
Buy
261.60
263.25
266.70
257.45
Exited @ 257.2
16/10/2019
BPCL
Buy
518.90
527.15
543.30
501.30
Exited @ 510.55
16/10/2019
BANKNIFTY
Short Sell
28,530.80
28,435.90
28,245.90
28,807.00
T1 done
16/10/2019
SBIN
Short Sell
257.20
255.50
252.05
260.90
T1 done
17/10/2019
BPCL
Short Sell
505.95
502.50
495.20
513.95
Exited @ 514.2
17/10/2019
BAJFINANCE
Buy
4,056.05
4,076.10
4,114.80
4,001.00
T1 done
17/10/2019
SBIN
Buy
257.80
258.75
260.65
255.60
T2 done
17/10/2019
NIFTY
Short Sell
11,464.10
11,446.60
11,414.00
11,496.70
T2 done
17/10/2019
BANKNIFTY
Buy
28,765.00
28,874.80
29,094.30
28,530.50
T2 done
17/10/2019
USDINR
Short Sell
71.42
71.36
71.24
71.53
T2 done
17/10/2019
NIFTY
Buy
11,514.00
11,530.90
11,563.50
11,464.10
Exited @ 11595.1
17/10/2019
RELIANCE
Buy
1,388.00
1,395.90
1,411.70
1,372.00
T1 done
17/10/2019
TATASTEEL
Buy
346.50
349.05
354.15
341.15
T1 done
18/10/2019
NIFTY
Buy
11,630.00
11,663.60
11,729.60
11,564.00
T1 done
18/10/2019
TATASTEEL
Buy
359.40
363.10
370.50
351.75
Exited @ 359.25
18/10/2019
SBIN
Buy
269.40
271.95
277.40
263.20
Exited @ 269.4
18/10/2019
RELIANCE
Buy
1,408.70
1,412.75
1,421.40
1,398.70
T2 done
18/10/2019
BPCL
Buy
518.00
523.55
534.75
506.75
T1 done
18/10/2019
USDINR
Short Sell
71.14
71.04
70.83
71.36
Exited @ 71.1975
18/10/2019
BANKNIFTY
Buy
29,223.10
29,384.60
29,699.20
28,903.00
Exited @ 29144.7
22/10/2019
TATASTEEL
Buy
358.95
361.10
365.30
354.75
T1 done
22/10/2019
BPCL
Buy
533.10
537.45
546.15
523.80
Exited @ 523.35
22/10/2019
BAJFINANCE
Short Sell
4,141.00
4,120.25
4,078.75
4,188.40
T1 done
22/10/2019
RELIANCE
Short Sell
1,419.70
1,411.00
1,394.30
1,436.85
T1 done
22/10/2019
USDINR
Buy
71.00
71.04
71.12
70.91
Exited @ 70.9
22/10/2019
SBIN
Buy
273.25
275.50
279.95
268.50
Exited @ 270.15
22/10/2019
BPCL
Short Sell
523.35
518.95
510.25
532.50
Exited @ 536.8
22/10/2019
USDINR
Short Sell
70.90
70.86
70.78
70.99
Exited @ 71.0025
22/10/2019
BANKNIFTY
Buy
29,540.00
29,871.50
30,534.50
28,851.40
Exited @ 29493.8
22/10/2019
NIFTY
Buy
11,700.20
11,726.00
11,777.80
11,641.00
Exited @ 11640
22/10/2019
NIFTY
Short Sell
11,640.00
11,614.00
11,562.40
11,692.70
T1 done
22/10/2019
TATASTEEL
Short Sell
354.20
352.55
348.35
358.95
Exited @ 353.9
23/10/2019
SBIN
Buy
273.50
275.35
279.15
268.65
T1 done
23/10/2019
NIFTY
Buy
11,645.00
11,670.20
11,724.50
11,575.00
T1 done
23/10/2019
BPCL
Buy
533.20
535.65
540.50
526.65
T1 done
23/10/2019
RELIANCE
Buy
1,424.00
1,430.05
1,442.15
1,409.70
Exited @ 353.9
23/10/2019
TATASTEEL
Buy
354.45
356.60
360.85
349.25
T1 done
23/10/2019
BANKNIFTY
Buy
29,515.00
29,706.80
30,092.60
29,122.00
T1 done
23/10/2019
USDINR
Short Sell
70.96
70.91
70.81
71.07
T1 done
23/10/2019
RELIANCE
Short Sell
1,409.30
1,403.30
1,391.20
1,421.80
T2 done
23/10/2019
BPCL
Short Sell
526.60
524.10
519.30
531.50
Exited @ 527.2
24/10/2019
BANKNIFTY
Short Sell
29,538.00
29,469.70
29,336.10
29,742.50
T2 done
24/10/2019
RELIANCE
Short Sell
1,390.55
1,383.90
1,370.30
1,405.00
Exited @ 1406.15
24/10/2019
NIFTY
Short Sell
11,632.00
11,612.50
11,568.70
11,689.00
T2 done
24/10/2019
BAJFINANCE
Short Sell
4,029.00
4,007.20
3,958.70
4,080.00
Exited @ 4025
24/10/2019
SBIN
Short Sell
274.20
272.95
270.35
277.65
T1 done
24/10/2019
USDINR
Buy
70.93
71.00
71.16
70.77
T1 done
24/10/2019
RELIANCE
Buy
1,406.15
1,413.30
1,426.90
1,391.40
T1 done
24/10/2019
TATASTEEL
Buy
359.90
362.60
368.00
353.80
Exited @ 360.35
25/10/2019
TATASTEEL
Buy
363.00
366.20
372.65
356.05
T1 done
25/10/2019
BPCL
Buy
527.80
536.40
554.05
509.75
Exited @ 523.8
25/10/2019
NIFTY
Short Sell
11,575.40
11,543.70
11,482.10
11,639.70
T1 done
25/10/2019
SBIN
Buy
269.75
272.40
277.80
263.55
T1 done
25/10/2019
RELIANCE
Short Sell
1,424.20
1,415.90
1,399.50
1,441.45
T1 done
25/10/2019
BAJFINANCE
Short Sell
4,007.00
3,989.50
3,948.65
4,063.85
T1 done
25/10/2019
USDINR
Short Sell
70.92
70.85
70.71
71.08
Exited @ 70.8925
25/10/2019
BANKNIFTY
Short Sell
29,031.90
28,901.50
28,641.50
29,350.00
Exited @ 29419.3
30/10/2019
BAJFINANCE
Short Sell
4,013.30
3,988.85
3,936.85
4,074.95
T1 done
30/10/2019
SBIN
Buy
284.60
286.90
291.35
279.25
T1 done
30/10/2019
BANKNIFTY
Buy
30,062.50
30,218.20
30,528.30
29,740.00
Exited @ 29974
30/10/2019
USDINR
Buy
71.18
71.26
71.41
71.02
Exited @ 71.09
30/10/2019
NIFTY
Buy
11,853.10
11,887.50
11,954.50
11,785.30
Exited @ 11841
31/10/2019
TATASTEEL
Short Sell
383.20
380.90
376.15
390.00
Exited @ 377.6
31/10/2019
SBIN
Buy
300.45
303.95
311.15
292.75
T1 done
31/10/2019
RELIANCE
Short Sell
1,472.55
1,465.25
1,450.60
1,489.65
T1 done
31/10/2019
USDINR
Short Sell
70.88
70.83
70.72
71.01
Exited @ 71.015
31/10/2019
BAJFINANCE
Buy
4,039.00
4,048.50
4,070.25
4,000.00
T1 done
31/10/2019
BANKNIFTY
Buy
30,245.00
30,327.80
30,501.60
30,066.30
T1 done
31/10/2019
NIFTY
Buy
11,913.30
11,931.00
11,965.90
11,874.00
T1 done
31/10/2019
BPCL
Short Sell
525.95
523.55
519.05
530.85
T1 done
31/10/2019
USDINR
Buy
71.02
71.07
71.18
70.90
T2 done
01/11/2019
BANKNIFTY
Buy
30,270.00
30,359.50
30,540.30
30,063.10
T1 done
01/11/2019
TATASTEEL
Buy
387.60
392.30
401.70
378.00
T1 done
01/11/2019
SBIN
Buy
313.10
314.90
318.70
308.60
T1 done
01/11/2019
NIFTY
Short Sell
11,887.20
11,870.50
11,833.70
11,934.00
Exited @ 11935.7
01/11/2019
RELIANCE
Short Sell
1,451.20
1,445.95
1,435.45
1,461.80
T1 done
01/11/2019
BAJFINANCE
Buy
4,068.10
4,087.20
4,129.00
4,021.00
T1 done
01/11/2019
USDINR
Short Sell
71.06
71.01
70.92
71.17
T1 done
01/11/2019
NIFTY
Buy
11,935.70
11,954.50
11,991.40
11,897.10
Exited @ 11930.5
04/11/2019
BAJFINANCE
Buy
4,169.75
4,211.20
4,294.60
4,076.15
Exited @ 4125.5
04/11/2019
BANKNIFTY
Buy
30,638.30
30,745.60
30,960.70
30,413.20
Exited @ 30362
04/11/2019
TATASTEEL
Buy
419.35
427.40
443.15
403.00
Exited @ 408
04/11/2019
RELIANCE
Short Sell
1,461.80
1,457.35
1,448.55
1,470.95
T2 done
04/11/2019
USDINR
Buy
70.83
70.91
71.07
70.76
04/11/2019
NIFTY
Buy
12,007.00
12,028.00
12,074.30
11,950.30
Exited @ 11945
04/11/2019
SBIN
Short Sell
313.35
310.70
305.30
319.00
Exited @ 314.4
04/11/2019
BANKNIFTY
Short Sell
30,362.00
30,254.50
30,039.30
30,628.30
Exited @ 30400
04/11/2019
NIFTY
Short Sell
11,945.00
11,922.10
11,875.90
11,996.50
Exited @ 11979.8
05/11/2019
RELIANCE
Short Sell
1,457.00
1,451.65
1,441.05
1,468.95
T2 done
05/11/2019
TATASTEEL
Buy
417.05
421.70
431.20
405.50
Exited @ 404.4
05/11/2019
BANKNIFTY
Buy
30,500.00
30,593.50
30,775.70
30,287.80
Exited @ 30212.7
05/11/2019
BPCL
Short Sell
517.40
515.70
512.20
521.95
T1 done
05/11/2019
USDINR
Short Sell
70.83
70.76
70.64
70.96
T1 done
05/11/2019
NIFTY
Short Sell
11,919.00
11,896.20
11,850.50
11,996.80
Exited @ 11956.9
05/11/2019
BANKNIFTY
Short Sell
30,212.70
30,123.90
29,941.70
30,470.00
Exited @ 30300
05/11/2019
BAJFINANCE
Buy
4,216.00
4,249.40
4,314.35
4,145.05
Exited @ 4234
06/11/2019
RELIANCE
Short Sell
1,430.50
1,424.55
1,412.15
1,446.45
Exited @ 1433.75
06/11/2019
SBIN
Short Sell
316.05
315.10
312.85
318.95
T1 done
06/11/2019
USDINR
Buy
70.97
71.02
71.12
70.87
T1 done
06/11/2019
BAJFINANCE
Short Sell
4,206.40
4,170.20
4,099.20
4,280.00
Exited @ 4189.95
06/11/2019
NIFTY
Short Sell
11,891.00
11,864.50
11,813.50
11,943.40
Exited @ 11952.5
06/11/2019
BPCL
Short Sell
517.30
514.95
510.05
522.50
Exited @ 524.25
06/11/2019
TATASTEEL
Buy
406.70
410.30
417.40
399.50
T1 done
07/11/2019
BANKNIFTY
Short Sell
30,659.60
30,565.00
30,384.30
30,842.70
Exited @ 30647.5
07/11/2019
NIFTY
Short Sell
12,010.00
11,996.20
11,967.80
12,043.50
T1 done
07/11/2019
TATASTEEL
Short Sell
391.70
386.25
375.35
404.00
Exited @ 406.7
07/11/2019
BPCL
Short Sell
517.85
513.95
506.25
526.55
T1 done
07/11/2019
USDINR
Short Sell
71.11
71.05
70.93
71.23
T1 done
07/11/2019
RELIANCE
Buy
1,450.50
1,458.75
1,475.55
1,432.20
T1 done
07/11/2019
SBIN
Short Sell
317.55
314.90
309.85
323.30
Exited @ 317.9
07/11/2019
BAJFINANCE
Buy
4,232.00
4,250.65
4,287.95
4,188.20
Exited @ 4228.95
07/11/2019
TATASTEEL
Buy
406.70
412.00
422.90
393.10
Exited @ 406.7
07/11/2019
NIFTY
Buy
12,049.90
12,063.90
12,092.30
12,015.10
Exited @ 12043.5
08/11/2019
BANKNIFTY
Buy
30,706.30
30,791.60
30,963.10
30,493.50
T2 done
08/11/2019
BAJFINANCE
Short Sell
4,192.00
4,179.55
4,153.15
4,220.00
T1 done
08/11/2019
NIFTY
Short Sell
11,981.70
11,965.90
11,940.00
12,011.90
T1 done
08/11/2019
RELIANCE
Short Sell
1,444.70
1,438.95
1,427.25
1,456.85
Exited @ 12012.1
08/11/2019
BPCL
Short Sell
504.00
498.75
488.20
515.00
Exited @ 502.1
08/11/2019
SBIN
Buy
317.40
318.85
321.65
314.50
T1 done
08/11/2019
NIFTY
Buy
12,012.00
12,025.50
12,051.40
11,986.00
T2 done
08/11/2019
RELIANCE
Buy
1,458.05
1,463.90
1,475.60
1,445.15
Exited @ 1458.05
08/11/2019
TATASTEEL
Buy
403.20
407.20
415.10
395.10
Exited @ 397.3
08/11/2019
BAJFINANCE
Buy
4,224.65
4,238.15
4,264.55
4,193.65
T1 done
08/11/2019
USDINR
Short Sell
71.24
71.16
70.99
71.42
Exited @ 71.3625
11/11/2019
BAJFINANCE
Short Sell
4,146.65
4,128.05
4,092.15
4,188.00
Exited @ 4169.2
11/11/2019
BANKNIFTY
Buy
30,903.30
31,037.50
31,302.50
30,610.00
Exited @ 31158
11/11/2019
USDINR
Buy
71.49
71.52
71.60
71.39
T2 done
11/11/2019
RELIANCE
Short Sell
1,434.10
1,429.60
1,420.80
1,443.80
T1 done
11/11/2019
NIFTY
Short Sell
11,875.10
11,850.50
11,800.50
11,932.00
Exited @ 11942.4
11/11/2019
BPCL
Buy
511.50
516.30
525.80
499.00
T1 done
11/11/2019
SBIN
Buy
318.40
320.60
324.90
313.10
Exited @ 318.15
13/11/2019
TATASTEEL
Buy
406.95
410.40
417.20
397.80
T1 done
13/11/2019
SBIN
Short Sell
314.75
313.30
309.90
318.60
Exited @ 309.95
13/11/2019
RELIANCE
Buy
1,455.45
1,466.00
1,487.50
1,430.00
T1 done
13/11/2019
BANKNIFTY
Short Sell
30,925.20
30,809.70
30,581.10
31,167.30
T2 done
13/11/2019
BAJFINANCE
Buy
4,171.95
4,183.80
4,209.70
4,141.00
Exited @ 4136.4
13/11/2019
BPCL
Buy
520.50
524.25
531.85
512.10
Exited @ 512
13/11/2019
NIFTY
Short Sell
11,907.50
11,882.00
11,834.00
11,956.00
T1 done
13/11/2019
USDINR
Buy
71.85
71.90
72.01
71.73
T2 done
13/11/2019
BPCL
Short Sell
512.00
508.00
500.40
519.70
T1 done
13/11/2019
BAJFINANCE
Short Sell
4,136.40
4,123.05
4,097.15
4,166.90
Exited @ 4149.2
14/11/2019
RELIANCE
Short Sell
1,463.00
1,454.50
1,437.90
1,481.60
Exited @ 1464.3
14/11/2019
BANKNIFTY
Buy
30,689.00
30,823.60
31,096.10
30,361.30
T1 done
14/11/2019
NIFTY
Buy
11,879.70
11,906.50
11,960.10
11,825.50
T1 done
14/11/2019
BAJFINANCE
Buy
4,178.95
4,206.35
4,260.85
4,120.40
T1 done
14/11/2019
BPCL
Buy
513.30
516.45
522.70
505.55
T1 done
14/11/2019
SBIN
Buy
307.75
311.40
318.65
299.70
Exited @ 305.9
14/11/2019
USDINR
Short Sell
72.07
71.96
71.74
72.31
T1 done
15/11/2019
BAJFINANCE
Buy
4,242.00
4,253.10
4,275.30
4,215.25
Exited @ 4211.2
15/11/2019
SBIN
Buy
316.50
319.25
324.45
311.00
T1 done
15/11/2019
BANKNIFTY
Buy
31,075.10
31,162.30
31,336.90
30,880.00
T1 done
15/11/2019
NIFTY
Buy
11,994.60
12,015.90
12,061.80
11,913.00
Exited @ 11933.1
15/11/2019
RELIANCE
Buy
1,479.60
1,483.75
1,493.40
1,463.00
T1 done
15/11/2019
BAJFINANCE
Short Sell
4,211.20
4,201.35
4,179.15
4,237.45
T2 done
15/11/2019
BPCL
Short Sell
507.50
504.55
498.60
513.95
T1 done
15/11/2019
USDINR
Short Sell
71.80
71.74
71.64
71.94
T1 done
15/11/2019
TATASTEEL
Buy
400.05
403.00
409.00
392.00
T1 done
18/11/2019
BANKNIFTY
Short Sell
30,982.80
30,922.00
30,765.70
31,182.00
T1 done
18/11/2019
TATASTEEL
Buy
400.30
402.60
406.55
396.00
T1 done
18/11/2019
BAJFINANCE
Short Sell
4,169.00
4,152.90
4,119.45
4,209.55
T1 done
18/11/2019
RELIANCE
Short Sell
1,467.60
1,458.00
1,440.00
1,485.95
T1 done
18/11/2019
NIFTY
Short Sell
11,902.10
11,874.80
11,820.40
11,958.00
Exited @ 11919
18/11/2019
USDINR
Buy
71.79
71.87
72.02
71.64
T1 done
19/11/2019
BAJFINANCE
Short Sell
4,149.00
4,139.55
4,119.60
4,169.95
Exited @ 4173.05
19/11/2019
NIFTY
Short Sell
11,905.30
11,893.50
11,870.00
11,930.30
Exited @ 11935.9
19/11/2019
BAJFINANCE
Buy
4,173.05
4,181.00
4,200.95
4,150.00
T1 done
19/11/2019
BANKNIFTY
Buy
31,110.10
31,175.10
31,299.20
30,966.10
T2 done
19/11/2019
NIFTY
Buy
11,935.90
11,946.80
11,970.30
11,906.80
T2 done
19/11/2019
TATASTEEL
Short Sell
405.50
401.70
394.00
414.80
T1 done
19/11/2019
RELIANCE
Buy
1,485.70
1,495.45
1,515.45
1,465.00
T1 done
19/11/2019
USDINR
Short Sell
71.89
71.81
71.65
72.05
T1 done
19/11/2019
SBIN
Buy
327.35
329.45
333.65
322.35
T1 done
19/11/2019
BPCL
Short Sell
515.30
512.35
506.55
521.90
Exited @ 519.9
20/11/2019
NIFTY
Buy
12,011.90
12,025.00
12,052.00
11,977.30
T2 done
20/11/2019
TATASTEEL
Buy
403.50
406.20
411.80
397.30
Exited @ 397.85
20/11/2019
USDINR
Short Sell
71.76
71.70
71.58
71.89
T1 done
20/11/2019
BANKNIFTY
Buy
31,360.00
31,446.80
31,612.20
31,184.50
Exited @ 31320.2
20/11/2019
BAJFINANCE
Buy
4,170.00
4,187.15
4,220.65
4,130.00
Exited @ 4140.9
20/11/2019
SBIN
Short Sell
327.50
325.65
321.65
332.50
T1 done
20/11/2019
BPCL
Buy
535.50
538.10
545.00
522.05
Exited @ 535
20/11/2019
USDINR
Buy
71.90
71.96
72.08
71.77
Exited @ 71.9
21/11/2019
TATASTEEL
Short Sell
395.50
393.50
390.00
399.00
T1 done
21/11/2019
BAJFINANCE
Buy
4,150.00
4,167.50
4,203.45
4,112.00
Exited @ 4122.85
21/11/2019
RELIANCE
Short Sell
1,533.50
1,522.90
1,501.30
1,555.70
Exited @ 1538.3
21/11/2019
NIFTY
Short Sell
11,990.00
11,970.00
11,931.60
12,030.00
T1 done
21/11/2019
USDINR
Short Sell
71.78
71.73
71.63
71.91
Exited @ 71.77
21/11/2019
BANKNIFTY
Buy
31,392.00
31,462.00
31,602.00
31,240.00
Exited @ 31314.3
21/11/2019
BPCL
Short Sell
525.50
514.55
492.60
549.00
Exited @ 516.75
22/11/2019
BPCL
Short Sell
506.20
502.15
495.15
514.50
Exited @ 506.4
22/11/2019
BAJFINANCE
Short Sell
4,119.30
4,106.20
4,082.10
4,143.80
T2 done
22/11/2019
NIFTY
Short Sell
11,926.30
11,907.90
11,866.00
11,977.40
T1 done
22/11/2019
TATASTEEL
Buy
389.95
392.75
398.25
383.10
T2 done
22/11/2019
BANKNIFTY
Short Sell
31,195.00
31,136.50
31,019.50
31,329.70
T1 done
22/11/2019
SBIN
Short Sell
329.75
327.80
323.85
333.80
Exited @ 329.3
22/11/2019
USDINR
Buy
71.80
71.85
71.94
71.70
T1 done
25/11/2019
BAJFINANCE
Short Sell
4,076.15
4,066.25
4,046.25
4,100.00
T1 done
25/11/2019
TATASTEEL
Buy
412.50
416.90
425.90
403.00
T1 done
25/11/2019
SBIN
Buy
331.30
332.75
335.65
328.35
T2 done
25/11/2019
BPCL
Buy
509.80
512.80
518.80
503.30
T1 done
25/11/2019
BANKNIFTY
Buy
31,256.80
31,358.00
31,559.80
31,053.00
T2 done
25/11/2019
NIFTY
Buy
11,997.40
12,036.20
12,111.00
11,917.60
T2 done
25/11/2019
BAJFINANCE
Buy
4,106.70
4,116.70
4,136.65
4,080.05
T2 done
25/11/2019
USDINR
Buy
71.74
71.80
71.90
71.63
Exited @ 71.74
26/11/2019
TATASTEEL
Short Sell
423.00
420.55
415.60
428.40
T1 done
26/11/2019
BANKNIFTY
Buy
31,777.50
31,861.20
32,028.30
31,597.90
Exited @ 31570.8
26/11/2019
SBIN
Buy
339.80
341.25
344.25
336.70
Exited @ 336.5
26/11/2019
NIFTY
Short Sell
12,102.20
12,092.00
12,068.00
12,131.90
T2 done
26/11/2019
RELIANCE
Short Sell
1,563.00
1,557.35
1,546.05
1,576.35
Exited @ 12068.5
26/11/2019
BPCL
Short Sell
503.75
500.50
494.05
510.40
T1 done
26/11/2019
USDINR
Short Sell
71.58
71.54
71.46
71.69
T1 done
26/11/2019
TATASTEEL
Buy
428.50
430.95
435.90
423.45
Exited @ 423.2
26/11/2019
SBIN
Short Sell
336.50
335.00
332.00
339.70
T1 done
26/11/2019
BAJFINANCE
Short Sell
4,136.20
4,118.70
4,084.10
4,170.90
T1 done
26/11/2019
BANKNIFTY
Short Sell
31,570.80
31,492.00
31,324.80
31,765.00
T1 done
27/11/2019
BPCL
Buy
497.80
501.65
508.95
488.00
T1 done
27/11/2019
SBIN
Buy
337.30
338.60
341.30
334.05
T2 done
27/11/2019
RELIANCE
Buy
1,566.00
1,570.25
1,578.85
1,557.00
T1 done
27/11/2019
USDINR
Short Sell
71.39
71.36
71.28
71.48
T1 done
27/11/2019
TATASTEEL
Short Sell
422.20
419.80
415.20
427.00
T1 done
27/11/2019
NIFTY
Short Sell
12,088.00
12,073.00
12,042.70
12,120.30
T1 done
27/11/2019
BANKNIFTY
Buy
31,844.00
31,896.60
32,008.00
31,722.50
Exited @ 31872.5
28/11/2019
BANKNIFTY
Buy
31,965.70
32,005.50
32,092.10
31,874.30
T2 done
28/11/2019
USDINR
Buy
71.62
71.71
71.90
71.40
T1 done
28/11/2019
SBIN
Buy
347.40
348.60
350.90
344.50
T2 done
28/11/2019
RELIANCE
Buy
1,579.00
1,584.50
1,595.60
1,563.95
Exited @ 1579.8
28/11/2019
TATASTEEL
Buy
430.00
432.95
438.75
422.20
T1 done
28/11/2019
NIFTY
Buy
12,140.10
12,155.90
12,187.70
12,097.20
T1 done
28/11/2019
BAJFINANCE
Buy
4,133.75
4,151.85
4,188.95
4,085.10
Exited @ 4079.2
28/11/2019
BAJFINANCE
Short Sell
4,079.20
4,060.60
4,023.50
4,122.20
Exited @ 4101.95
28/11/2019
BPCL
Buy
508.15
510.00
513.95
502.55
T2 done
29/11/2019
BANKNIFTY
Short Sell
32,005.00
31,955.10
31,848.30
32,117.80
T2 done
29/11/2019
NIFTY
Short Sell
12,125.50
12,103.00
12,056.20
12,174.90
T2 done
29/11/2019
SBIN
Short Sell
345.65
344.35
341.45
348.85
T2 done
29/11/2019
TATASTEEL
Short Sell
423.90
420.95
415.45
429.50
Exited @ 427.25
29/11/2019
RELIANCE
Short Sell
1,564.40
1,555.90
1,539.00
1,581.95
T1 done
29/11/2019
BAJFINANCE
Short Sell
4,084.45
4,059.50
4,010.50
4,135.00
Exited @ 4074.65
29/11/2019
BPCL
Short Sell
509.85
505.75
497.50
518.45
T1 done
29/11/2019
USDINR
Buy
71.92
72.00
72.18
71.74
T1 done
02/12/2019
BAJFINANCE
Short Sell
3,970.85
3,919.00
3,814.40
4,077.00
Exited @ 3951.45
02/12/2019
SBIN
Short Sell
340.85
339.30
336.15
344.35
T1 done
02/12/2019
BANKNIFTY
Short Sell
31,860.50
31,755.50
31,546.30
32,080.00
Exited @ 31914.9
02/12/2019
NIFTY
Short Sell
12,080.50
12,054.70
12,002.70
12,138.00
T1 done
02/12/2019
BPCL
Short Sell
504.30
501.80
496.80
509.50
T1 done
02/12/2019
TATASTEEL
Short Sell
420.90
418.75
414.05
426.00
Exited @ 420.5
03/12/2019
NIFTY
Short Sell
12,060.00
12,046.00
12,016.00
12,097.00
T2 done
03/12/2019
TATASTEEL
Short Sell
409.00
404.50
395.50
418.15
T1 done
03/12/2019
BANKNIFTY
Short Sell
31,798.00
31,728.60
31,589.70
31,949.90
T2 done
03/12/2019
USDINR
Short Sell
71.71
71.66
71.55
71.83
Exited @ 71.87
03/12/2019
RELIANCE
Short Sell
1,577.05
1,569.20
1,553.50
1,594.00
Exited @ 1579.35
03/12/2019
SBIN
Short Sell
337.20
335.75
332.85
342.35
T1 done
03/12/2019
BPCL
Short Sell
494.85
491.15
483.75
502.40
Exited @ 494.65
03/12/2019
USDINR
Buy
71.87
7,192.00
72.03
71.73
T1 done
04/12/2019
BANKNIFTY
Buy
31,840.00
32,011.30
32,340.10
32,340.10
T1 done
04/12/2019
SBIN
Buy
338.80
341.80
347.85
331.85
T1 done
04/12/2019
TATASTEEL
Buy
398.00
402.05
409.65
389.00
Exited @ 404.95
04/12/2019
NIFTY
Buy
12,056.60
12,090.00
12,155.30
11,983.00
T1 done
04/12/2019
RELIANCE
Short Sell
1,560.25
1,552.75
1,537.55
1,577.50
T2 done
04/12/2019
USDINR
Short Sell
71.85
71.80
71.70
71.95
T1 done
04/12/2019
BPCL
Buy
501.30
505.50
514.30
492.20
Exited @ 500.55
04/12/2019
BAJFINANCE
Short Sell
3,946.00
3,921.35
3,872.05
3,996.35
Exited @ 3999
05/12/2019
RELIANCE
Short Sell
1,558.50
1,548.30
1,527.65
1,579.75
T1 done
05/12/2019
SBIN
Short Sell
340.75
338.95
335.35
344.60
T2 done
05/12/2019
USDINR
Short Sell
71.59
71.55
71.48
71.68
Exited @ 71.72
05/12/2019
TATASTEEL
Short Sell
405.00
401.40
394.70
411.85
T1 done
05/12/2019
NIFTY
Buy
12,109.00
12,121.00
12,147.20
12,077.90
Exited @ 12045.6
05/12/2019
BANKNIFTY
Short Sell
31,814.70
31,754.70
31,620.00
32,180.00
T1 done
05/12/2019
NIFTY
Short Sell
12,045.60
12,032.80
12,006.70
12,104.00
T1 done
05/12/2019
USDINR
Buy
71.72
71.76
71.84
71.61
T1 done
05/12/2019
BPCL
Short Sell
494.70
492.25
487.35
499.90
T1 done
05/12/2019
BAJFINANCE
Buy
4,027.50
4,048.85
4,091.45
3,968.00
Exited @ 3988.55
06/12/2019
RELIANCE
Buy
1,567.75
1,575.80
1,592.00
1,551.10
Exited @ 1548.65
06/12/2019
SBIN
Short Sell
331.50
328.70
323.30
337.65
Exited @ 326.8
06/12/2019
BAJFINANCE
Short Sell
3,997.15
3,983.85
3,956.05
4,027.80
T2 done
06/12/2019
NIFTY
Short Sell
12,051.00
12,036.20
12,006.60
12,082.00
T2 done
06/12/2019
BANKNIFTY
Short Sell
31,771.30
31,703.10
31,566.10
31,925.00
T2 done
06/12/2019
TATASTEEL
Short Sell
400.90
397.80
391.90
406.85
T1 done
06/12/2019
RELIANCE
Short Sell
1,548.65
1,540.75
1,524.55
1,567.25
Exited @ 1555
06/12/2019
BPCL
Buy
495.25
498.05
504.35
488.00
Exited @ 487.3
06/12/2019
USDINR
Buy
71.50
71.55
71.67
71.36
Exited @ 71.36
06/12/2019
BPCL
Short Sell
487.30
484.25
477.95
494.30
T1 done
09/12/2019
RELIANCE
Buy
1,562.15
1,568.00
1,580.10
1,547.95
T1 done
09/12/2019
BPCL
Buy
492.60
495.40
500.90
485.85
T1 done
09/12/2019
NIFTY
Buy
11,970.00
12,025.10
12,136.10
11,855.30
Exited @ 11971.6
09/12/2019
BANKNIFTY
Buy
31,500.70
31,645.00
31,929.00
31,201.00
Exited @ 31424.9
09/12/2019
TATASTEEL
Buy
410.50
414.70
422.70
401.95
Exited @ 406.6
09/12/2019
SBIN
Buy
323.20
326.80
333.85
316.05
T1 done
09/12/2019
SBIN
Short Sell
315.70
312.15
305.15
323.10
Exited @ 317.2
10/12/2019
SBIN
Buy
319.40
321.00
324.25
315.65
Exited @ 315.5
10/12/2019
RELIANCE
Short Sell
1,561.10
1,556.40
1,545.90
1,573.40
T1 done
10/12/2019
NIFTY
Short Sell
11,932.90
11,913.90
11,875.90
11,975.00
T1 done
10/12/2019
BPCL
Short Sell
494.15
490.00
481.85
503.70
T1 done
10/12/2019
TATASTEEL
Short Sell
403.60
401.35
396.95
408.35
Exited @ 409.25
10/12/2019
USDINR
Short Sell
71.01
70.93
70.78
71.16
Exited @ 71.16
10/12/2019
SBIN
Short Sell
315.50
313.85
310.60
318.90
Exited @ 321
10/12/2019
BAJFINANCE
Buy
3,973.00
3,984.40
4,007.10
3,948.30
T1 done
10/12/2019
TATASTEEL
Buy
409.25
411.80
416.15
404.00
Exited @ 403.75
10/12/2019
BANKNIFTY
Short Sell
31,274.30
31,192.00
31,026.00
31,444.00
T1 done
11/12/2019
BANKNIFTY
Buy
31,355.90
31,414.50
31,538.00
31,208.30
Exited @ 31204
11/12/2019
SBIN
Buy
313.95
316.70
322.20
308.00
Exited @ 312.9
11/12/2019
BAJFINANCE
Buy
4,052.10
4,078.30
4,127.65
3,995.65
Exited @ 4041.05
11/12/2019
NIFTY
Buy
11,934.00
11,953.80
11,993.40
11,892.90
Exited @ 11888.1
11/12/2019
USDINR
Short Sell
70.90
70.86
70.77
71.02
T1 done
11/12/2019
TATASTEEL
Short Sell
402.10
399.70
394.90
407.20
Exited @ 405.05
11/12/2019
BPCL
Short Sell
484.00
481.10
475.30
490.60
T1 done
11/12/2019
BANKNIFTY
Short Sell
31,204.00
31,142.80
31,019.30
31,331.80
T1 done
11/12/2019
NIFTY
Short Sell
11,888.10
11,870.20
11,830.60
11,932.50
Exited @ 11943.8
12/12/2019
BPCL
Buy
491.00
493.60
498.00
486.00
T2 done
12/12/2019
SBIN
Buy
316.45
318.10
320.80
313.90
T1 done
12/12/2019
TATASTEEL
Buy
414.35
418.05
425.25
406.80
T1 done
12/12/2019
BAJFINANCE
Short Sell
4,039.95
4,029.25
4,007.85
4,062.95
T1 done
12/12/2019
RELIANCE
Short Sell
1,560.80
1,556.65
1,548.55
1,571.70
Exited @ 1568.3
12/12/2019
BANKNIFTY
Buy
31,519.50
31,575.00
31,686.00
31,405.00
T2 done
12/12/2019
NIFTY
Buy
12,018.40
12,041.20
12,086.50
11,966.30
T1 done
12/12/2019
USDINR
Short Sell
70.73
70.66
70.52
70.88
T1 done
13/12/2019
BAJFINANCE
Short Sell
4,048.35
4,034.10
4,008.10
4,076.00
Exited @ 4081.5
13/12/2019
SBIN
Buy
328.10
329.60
332.55
325.00
T2 done
13/12/2019
BANKNIFTY
Buy
31,981.50
32,053.30
32,196.30
31,820.00
T2 done
13/12/2019
NIFTY
Buy
12,093.00
12,110.30
12,143.90
12,055.00
T2 done
13/12/2019
USDINR
Buy
70.75
70.81
70.94
70.61
T1 done
13/12/2019
TATASTEEL
Short Sell
427.40
424.40
418.15
434.60
T1 done
13/12/2019
RELIANCE
Short Sell
1,576.00
1,568.95
1,555.50
1,590.00
Exited @ 1580.5
13/12/2019
BAJFINANCE
Buy
4,081.50
4,094.30
4,120.30
4,050.00
Exited @ 4068.85
13/12/2019
BPCL
Buy
496.40
500.85
508.75
486.20
Exited @ 496.05
16/12/2019
BPCL
Short Sell
493.25
490.05
484.55
498.00
Exited @ 491.75
16/12/2019
BANKNIFTY
Short Sell
31,967.50
31,859.70
31,644.60
32,197.70
Exited @ 32005
16/12/2019
NIFTY
Short Sell
12,103.60
12,077.00
12,027.00
12,152.00
T1 done
16/12/2019
BAJFINANCE
Short Sell
4,047.20
4,026.90
3,986.50
4,087.95
Exited @ 4037.5
17/12/2019
SBIN
Buy
335.15
336.45
339.15
332.25
Exited @ 331.75
17/12/2019
BANKNIFTY
Buy
32,233.90
32,305.70
32,449.30
32,059.20
Exited @ 32196.7
17/12/2019
NIFTY
Buy
12,155.00
12,180.70
12,233.70
12,096.00
T1 done
17/12/2019
TATASTEEL
Buy
430.10
433.25
439.65
423.05
T1 done
17/12/2019
BPCL
Buy
495.50
497.30
501.10
491.10
T2 done
17/12/2019
RELIANCE
Short Sell
1,564.85
1,558.70
1,546.45
1,579.00
T1 done
17/12/2019
USDINR
Short Sell
70.99
70.94
70.84
71.10
T1 done
17/12/2019
BAJFINANCE
Buy
4,065.60
4,074.00
4,091.50
4,046.95
T2 done
17/12/2019
SBIN
Short Sell
331.75
330.55
327.90
334.90
Exited @ 332.85
18/12/2019
BANKNIFTY
Short Sell
32,119.60
32,029.00
31,842.80
32,310.00
Exited @ 32259
18/12/2019
SBIN
Short Sell
330.90
328.65
324.30
335.55
T2 done
18/12/2019
BPCL
Short Sell
492.95
490.50
485.75
498.25
T1 done
18/12/2019
RELIANCE
Buy
1,572.30
1,576.20
1,583.70
1,562.00
T1 done
18/12/2019
BAJFINANCE
Short Sell
4,118.30
4,101.10
4,064.70
4,158.85
T1 done
18/12/2019
NIFTY
Buy
12,210.90
12,222.60
12,247.80
12,183.40
T2 done
18/12/2019
USDINR
Buy
71.19
71.25
71.39
71.05
Exited @ 71.07
18/12/2019
TATASTEEL
Buy
450.25
456.85
469.55
436.05
Exited @ 437.5
19/12/2019
BPCL
Buy
490.95
492.85
496.65
485.55
Exited @ 490.4
19/12/2019
NIFTY
Short Sell
12,210.00
12,200.60
12,181.20
12,230.50
Exited @ 12232
19/12/2019
USDINR
Short Sell
70.99
70.93
70.82
71.09
Exited @ 71.16
19/12/2019
NIFTY
Buy
12,232.00
12,241.30
12,260.70
12,211.10
T2 done
19/12/2019
BANKNIFTY
Buy
32,305.00
32,392.70
32,569.30
32,123.30
Exited @ 32265
19/12/2019
SBIN
Buy
329.15
331.05
334.85
325.00
Exited @ 328.35
19/12/2019
BAJFINANCE
Buy
4,132.70
4,148.55
4,176.95
4,102.00
Exited @ 4094
19/12/2019
RELIANCE
Buy
1,585.60
1,592.40
1,606.00
1,571.80
T2 done
19/12/2019
USDINR
Buy
71.16
71.21
71.31
70.98
T1 done
19/12/2019
BAJFINANCE
Short Sell
4,094.00
4,079.70
4,051.30
4,130.40
Exited @ 4093.05
20/12/2019
SBIN
Buy
336.80
339.60
345.20
330.35
Exited @ 337.85
20/12/2019
TATASTEEL
Buy
449.00
451.85
457.55
443.10
T1 done
20/12/2019
USDINR
Buy
71.22
71.29
71.41
71.10
20/12/2019
BAJFINANCE
Buy
4,128.60
4,146.90
4,148.50
4,081.00
Exited @ 4134.4
20/12/2019
RELIANCE
Short Sell
1,602.85
1,596.35
1,583.80
1,617.55
T1 done
20/12/2019
BPCL
Short Sell
488.10
486.15
482.35
492.40
Exited @ 488
20/12/2019
BANKNIFTY
Buy
32,402.00
32,492.90
32,678.70
32,180.00
Exited @ 32378.1
20/12/2019
NIFTY
Buy
12,290.10
12,308.00
12,339.90
12,258.00
Exited @ 12291.4
23/12/2019
BAJFINANCE
Buy
4,171.10
4,186.10
4,216.10
4,130.00
Exited @ 4161.25
23/12/2019
RELIANCE
Short Sell
1,560.00
1,550.65
1,533.20
1,577.55
Exited @1572.5
23/12/2019
USDINR
Buy
71.23
71.28
71.38
71.13
T1 done
23/12/2019
SBIN
Short Sell
334.80
332.95
329.45
338.60
T1 done
23/12/2019
TATASTEEL
Short Sell
460.00
456.25
448.80
467.50
Exited @ 463.2
23/12/2019
NIFTY
Short Sell
12,252.00
12,237.30
12,205.80
12,291.50
T1 done
23/12/2019
BANKNIFTY
Short Sell
32,255.00
32,186.00
32,049.20
32,408.00
Exited @ 32344.1
24/12/2019
RELIANCE
Short Sell
1,563.20
1,559.30
1,550.95
1,572.05
T2 done
24/12/2019
SBIN
Short Sell
331.05
329.70
326.80
334.20
T1 done
24/12/2019
TATASTEEL
Short Sell
459.90
458.20
454.80
463.90
Exited @ 464.05
24/12/2019
BPCL
Short Sell
490.50
488.70
485.15
494.45
T2 done
24/12/2019
TATASTEEL
Buy
464.05
466.00
469.40
460.50
Exited @ 463
24/12/2019
USDINR
Short Sell
71.23
71.20
71.14
71.29
T1 done
24/12/2019
NIFTY
Short Sell
12,259.00
12,246.70
12,222.10
12,284.60
T1 done
26/12/2019
SBIN
Short Sell
330.70
329.45
327.15
333.45
T1 done
26/12/2019
TATASTEEL
Buy
469.90
473.00
479.40
463.00
Exited @ 467.75
26/12/2019
BANKNIFTY
Short Sell
32,219.30
32,179.50
32,098.30
32,307.80
T2 done
26/12/2019
BAJFINANCE
Buy
4,163.75
4,177.15
4,203.90
4,133.25
T1 done
26/12/2019
RELIANCE
Short Sell
1,534.00
1,525.65
1,508.75
1,552.95
T1 done
26/12/2019
BPCL
Short Sell
474.75
469.90
460.50
484.55
Exited @ 477.75
27/12/2019
SBIN
Buy
336.95
338.85
342.55
333.25
Exited @ 336.95
27/12/2019
BANKNIFTY
Buy
32,403.00
32,475.00
32,616.50
32,246.50
T1 done
27/12/2019
NIFTY
Buy
12,248.00
12,266.50
12,302.50
12,209.00
T1 done
27/12/2019
BAJFINANCE
Buy
4,221.00
4,229.15
4,244.15
4,192.00
T1 done
27/12/2019
TATASTEEL
Short Sell
464.40
460.90
453.85
471.80
Exited @ 464.4
27/12/2019
BPCL
Buy
481.80
484.25
488.70
477.00
T1 done
27/12/2019
USDINR
Short Sell
71.25
71.20
71.15
71.35
Exited @ 71.35
30/12/2019
BANKNIFTY
Buy
32,753.10
32,811.90
32,929.70
32,622.30
Exited @ 32622.3
30/12/2019
BANKNIFTY
Short Sell
32,618.90
32,560.10
32,442.30
32,740.00
T2 done
30/12/2019
NIFTY
Short Sell
12,306.20
12,292.50
12,265.00
12,348.00
T1 done
30/12/2019
BAJFINANCE
Short Sell
4,254.30
4,241.00
4,214.50
4,281.55
T1 done
30/12/2019
BPCL
Short Sell
487.10
484.95
480.65
491.45
T1 done
30/12/2019
BPCL
Buy
492.45
494.60
498.90
487.15
T1 done
30/12/2019
SBIN
Short Sell
334.85
333.65
331.15
337.75
T1 done
30/12/2019
TATASTEEL
Short Sell
466.20
464.00
459.50
471.00
Exited @ 471
30/12/2019
TATASTEEL
Buy
471.25
473.50
477.95
466.55
T1 done
31/12/2019
SBIN
Short Sell
333.20
332.00
329.55
335.80
Exited @ 333.8
31/12/2019
TATASTEEL
Buy
474.35
476.05
479.75
470.45
Exited @ 472.4
31/12/2019
RELIANCE
Short Sell
1,535.60
1,531.75
1,524.05
1,543.70
T2 done
31/12/2019
BANKNIFTY
Short Sell
32,345.10
32,265.10
32,105.10
32,510.00
Exited @ 32365
31/12/2019
BAJFINANCE
Buy
4,250.15
4,261.65
4,284.65
4,224.00
T1 done
31/12/2019
NIFTY
Buy
12,305.80
12,324.50
12,363.40
12,265.10
Exited @ 12253.5
31/12/2019
BPCL
Buy
495.20
498.10
503.85
489.25
Exited @ 487.05
31/12/2019
BPCL
Short Sell
487.05
484.15
478.40
495.00
Exited @ 492.15
31/12/2019
NIFTY
Short Sell
12,253.50
12,232.00
12,193.00
12,304.00
Exited @ 12248.4
01/01/2020
SBIN
Short Sell
333.45
332.40
330.20
335.95
T1 done
01/01/2020
NIFTY
Short Sell
12,241.50
12,227.90
12,200.50
12,269.60
T1 done
01/01/2020
TATASTEEL
Buy
475.60
476.90
479.50
472.85
Exited @ 468.3
01/01/2020
BANKNIFTY
Short Sell
32,301.00
32,222.00
32,063.70
32,495.80
Exited @ 32277.8
01/01/2020
BPCL
Short Sell
491.35
490.45
488.55
493.90
T2 done
01/01/2020
USDINR
Buy
71.53
71.55
71.60
71.47
T1 done
01/01/2020
TATASTEEL
Short Sell
468.30
467.00
464.40
475.45
T1 done
01/01/2020
RELIANCE
Short Sell
1,517.90
1,513.35
1,504.25
1,527.10
T1 done
01/01/2020
BAJFINANCE
Short Sell
4,226.70
4,213.05
4,188.15
4,252.00
Exited @ 4233.5
02/01/2020
BANKNIFTY
Short Sell
32,288.00
32,233.30
32,123.80
32,408.50
Exited @ 32419.9
02/01/2020
BPCL
Short Sell
488.65
487.45
485.05
491.70
T1 done
02/01/2020
BAJFINANCE
Buy
4,258.90
4,268.00
4,287.00
4,235.00
T2 done
02/01/2020
RELIANCE
Buy
1,524.10
1,530.30
1,542.00
1,512.00
T1 done
02/01/2020
TATASTEEL
Buy
478.85
481.70
487.50
472.00
T1 done
02/01/2020
NIFTY
Buy
12,285.20
12,306.00
12,343.20
12,247.60
T2 done
02/01/2020
USDINR
Buy
71.50
71.56
71.68
71.38
Exited @ 71.52
02/01/2020
SBIN
Buy
335.35
336.70
338.90
333.35
T2 done
02/01/2020
BANKNIFTY
Buy
32,419.90
32,471.80
32,581.30
32,299.00
T2 done
03/01/2020
BPCL
Short Sell
474.25
470.15
462.15
484.20
Exited @ 484.55
03/01/2020
USDINR
Buy
71.80
71.92
72.16
71.55
T1 done
03/01/2020
RELIANCE
Buy
1,533.50
1,538.40
1,548.40
1,523.00
T1 done
03/01/2020
TATASTEEL
Buy
484.50
486.15
489.70
479.45
T1 done
03/01/2020
SBIN
Short Sell
336.10
335.15
333.25
337.95
T2 done
03/01/2020
BANKNIFTY
Short Sell
32,221.70
32,108.60
31,874.50
32,473.90
T1 done
03/01/2020
BAJFINANCE
Short Sell
4,198.65
4,181.65
4,149.30
4,234.80
T1 done
03/01/2020
NIFTY
Short Sell
12,252.40
12,229.80
12,185.20
12,299.90
T1 done
03/01/2020
BPCL
Buy
484.55
488.40
496.40
476.20
Exited @ 484.1
06/01/2020
RELIANCE
Buy
1,527.25
1,533.10
1,544.80
1,512.40
Exited @ 1507.2
06/01/2020
BAJFINANCE
Short Sell
4,145.75
4,118.45
4,062.45
4,204.00
T1 done
06/01/2020
BANKNIFTY
Short Sell
31,578.00
31,369.30
30,950.30
32,000.00
T1 done
06/01/2020
SBIN
Short Sell
321.85
317.05
307.45
331.70
Exited @ 319.45
06/01/2020
NIFTY
Short Sell
12,083.40
12,026.00
11,909.20
12,208.20
T1 done
06/01/2020
USDINR
Buy
72.28
72.39
72.60
72.07
Exited @ 72.11
06/01/2020
BPCL
Short Sell
471.65
468.70
462.85
478.05
T1 done
06/01/2020
RELIANCE
Short Sell
1,507.20
1,502.50
1,490.80
1,524.10
T1 done
06/01/2020
TATASTEEL
Short Sell
471.70
468.15
460.65
480.00
Exited @ 473.55
07/01/2020
BPCL
Short Sell
467.15
463.55
456.65
474.75
T1 done
07/01/2020
SBIN
Short Sell
324.00
322.75
320.20
327.00
T2 done
07/01/2020
BAJFINANCE
Short Sell
4,040.75
4,015.50
3,968.60
4,092.00
T1 done
07/01/2020
BANKNIFTY
Short Sell
31,495.00
31,311.80
30,947.20
31,915.80
T1 done
07/01/2020
NIFTY
Short Sell
12,103.00
12,071.50
12,004.30
12,181.90
T1 done
07/01/2020
RELIANCE
Short Sell
1,516.25
1,507.50
1,489.95
1,534.50
Exited @ 1527.65
07/01/2020
TATASTEEL
Short Sell
473.90
469.15
460.05
484.60
Exited @ 476.55
08/01/2020
SBIN
Buy
316.80
319.60
325.20
311.00
T1 done
08/01/2020
TATASTEEL
Short Sell
467.80
464.15
456.90
475.50
Exited @ 476.4
08/01/2020
USDINR
Short Sell
72.10
71.94
71.61
72.44
T1 done
08/01/2020
BAJFINANCE
Buy
4,022.90
4,058.50
4,128.50
3,950.00
Exited @ 4057
09/01/2020
NIFTY
Buy
12,207.50
12,217.80
12,241.30
12,181.60
T2 done
09/01/2020
RELIANCE
Buy
1,543.80
1,548.20
1,558.50
1,531.50
T1 done
09/01/2020
TATASTEEL
Short Sell
482.60
480.95
477.65
486.00
T1 done
09/01/2020
SBIN
Buy
328.20
329.65
332.65
325.00
T1 done
09/01/2020
BANKNIFTY
Buy
31,988.50
32,104.60
32,324.40
31,760.20
Exited @ 32144
09/01/2020
USDINR
Short Sell
71.55
71.33
70.89
72.00
T1 done
09/01/2020
BAJFINANCE
Buy
4,130.00
4,147.50
4,182.50
4,090.00
T1 done
10/01/2020
SBIN
Buy
332.20
333.85
337.15
328.00
T1 done
10/01/2020
TATASTEEL
Buy
487.25
490.40
496.90
480.00
T1 done
10/01/2020
BANKNIFTY
Buy
32,316.60
32,411.20
32,599.00
32,112.20
Exited @ 32055
10/01/2020
NIFTY
Buy
12,317.40
12,342.80
12,393.70
12,266.00
T1 done
10/01/2020
BAJFINANCE
Buy
4,152.90
4,165.00
4,189.00
4,120.00
T1 done
10/01/2020
RELIANCE
Buy
1,555.75
1,562.25
1,575.20
1,542.40
Exited @ 1541.55
10/01/2020
BPCL
Buy
473.95
477.65
485.05
466.40
Exited @ 470.5
10/01/2020
USDINR
Short Sell
71.16
71.06
70.88
71.36
T1 done
10/01/2020
BANKNIFTY
Short Sell
32,055.00
31,965.00
31,777.20
32,300.00
Exited @ 32114
10/01/2020
RELIANCE
Short Sell
1,541.55
1,535.10
1,522.15
1,555.35
Exited @ 1548
10/01/2020
NIFTY
Short Sell
12,260.00
12,234.90
12,184.00
12,316.90
Exited @ 12289.9
13/01/2020
RELIANCE
Buy
1,554.50
1,559.10
1,568.05
1,545.05
Exited @ 1542.25
13/01/2020
BPCL
Buy
474.90
476.45
479.55
470.90
Exited @ 470.8
13/01/2020
SBIN
Short Sell
331.30
330.30
328.70
335.45
T1 done
13/01/2020
USDINR
Short Sell
70.89
70.83
70.71
71.02
Exited @ 71.03
13/01/2020
BANKNIFTY
Short Sell
32,148.00
32,039.80
31,819.60
32,380.00
Exited @ 32236.9
13/01/2020
USDINR
Buy
71.03
71.10
71.22
70.90
Exited @ 70.89
13/01/2020
RELIANCE
Short Sell
1,542.25
1,537.25
1,528.35
1,554.00
Exited @ 1544.6
14/01/2020
BAJFINANCE
Buy
4,173.00
4,184.90
4,206.40
4,150.45
T1 done
14/01/2020
TATASTEEL
Buy
505.80
510.35
519.55
495.75
Exited @ 498.65
14/01/2020
USDINR
Buy
70.99
71.06
71.21
70.82
T1 done
14/01/2020
RELIANCE
Short Sell
1,538.50
1,533.45
1,523.35
1,550.00
T2 done
14/01/2020
BANKNIFTY
Short Sell
32,055.80
31,960.60
31,777.60
32,240.00
Exited @ 32160.5
14/01/2020
SBIN
Short Sell
328.05
326.55
323.15
331.70
T1 done
14/01/2020
NIFTY
Buy
12,373.00
12,394.30
12,434.90
12,332.20
T1 done
15/01/2020
TATASTEEL
Buy
494.25
497.05
502.10
489.15
T1 done
15/01/2020
BANKNIFTY
Short Sell
31,808.00
31,674.80
31,405.80
32,089.00
Exited @ 31950.6
15/01/2020
USDINR
Short Sell
70.98
70.91
70.78
71.11
T1 done
15/01/2020
RELIANCE
Short Sell
1,521.00
1,512.55
1,495.65
1,539.90
Exited @ 1524.15
15/01/2020
NIFTY
Short Sell
12,321.80
12,303.20
12,263.80
12,366.90
Exited @ 12380.8
16/01/2020
RELIANCE
Buy
1,542.80
1,548.50
1,560.50
1,528.00
Exited @ 1538
16/01/2020
BPCL
Short Sell
465.00
463.00
458.75
469.00
T1 done
16/01/2020
TATASTEEL
Short Sell
494.65
490.50
481.70
504.05
Exited @ 494.1
16/01/2020
USDINR
Buy
70.91
70.94
71.01
70.82
T2 done
16/01/2020
SBIN
Short Sell
323.65
322.15
319.25
326.90
Exited @ 323
16/01/2020
BANKNIFTY
Short Sell
31,865.00
31,779.50
31,608.50
32,054.00
T1 done
16/01/2020
NIFTY
Short Sell
12,347.00
12,319.70
12,265.30
12,409.40
Exited @ 12375.5
17/01/2020
SBIN
Buy
319.90
323.75
332.00
310.85
Exited @ 318
17/01/2020
BANKNIFTY
Buy
31,805.10
31,901.60
32,136.80
31,540.00
Exited @ 31716.4
17/01/2020
NIFTY
Buy
12,397.00
12,412.50
12,454.40
12,335.00
T1 done
17/01/2020
BPCL
Buy
463.25
465.15
469.25
458.00
T1 done
17/01/2020
RELIANCE
Buy
1,571.00
1,578.45
1,593.70
1,553.50
T1 done
17/01/2020
BPCL
Short Sell
457.60
455.50
451.40
462.10
Exited @ 453.4
17/01/2020
USDINR
Buy
71.09
71.12
71.20
71.00
T1 done
20/01/2020
BANKNIFTY
Short Sell
31,488.00
31,245.10
30,759.20
31,997.70
T1 done
20/01/2020
NIFTY
Short Sell
12,338.00
12,302.90
12,230.50
12,419.20
T1 done
20/01/2020
TATASTEEL
Short Sell
495.90
493.95
490.15
499.80
T2 done
20/01/2020
RELIANCE
Short Sell
1,566.00
1,544.90
1,502.20
1,609.00
T1 done
20/01/2020
SBIN
Short Sell
317.30
315.35
311.45
321.45
T1 done
20/01/2020
BPCL
Buy
464.35
470.00
481.30
451.60
Exited @ 457.55
20/01/2020
BAJFINANCE
Short Sell
4,224.65
4,210.30
4,182.60
4,252.95
T2 done
20/01/2020
USDINR
Short Sell
71.09
71.04
70.95
71.19
Exited @ 71.19
20/01/2020
USDINR
Buy
71.19
71.23
71.32
71.10
Exited @ 71.16
21/01/2020
BAJFINANCE
Buy
4,181.55
4,212.75
4,273.75
4,117.05
Exited @ 4141.5
21/01/2020
SBIN
Buy
316.70
318.65
322.35
312.80
Exited @ 312.6
21/01/2020
TATASTEEL
Short Sell
482.20
480.15
475.25
487.80
T2 done
21/01/2020
SBIN
Short Sell
312.60
310.75
307.05
316.50
Exited @ 313.7
21/01/2020
USDINR
Buy
71.26
71.30
71.36
71.17
Exited @ 71.26
21/01/2020
BPCL
Buy
461.65
464.80
470.35
455.40
T1 done
21/01/2020
NIFTY
Buy
12,236.00
12,259.80
12,307.40
12,188.30
Exited @ 12188.8
21/01/2020
NIFTY
Short Sell
12,188.80
12,163.70
12,116.10
12,235.90
Exited @ 12203.3
22/01/2020
NIFTY
Short Sell
12,214.30
12,197.10
12,162.50
12,249.80
T2 done
22/01/2020
BANKNIFTY
Short Sell
31,043.00
30,954.00
30,776.00
31,230.00
T2 done
22/01/2020
BAJFINANCE
Short Sell
4,146.00
4,128.95
4,093.95
4,186.50
T1 done
22/01/2020
BPCL
Short Sell
457.65
453.60
445.40
466.40
Exited @ 455.15
22/01/2020
SBIN
Short Sell
314.10
313.25
311.50
317.00
Exited @ 315.95
22/01/2020
RELIANCE
Short Sell
1,536.15
1,531.05
1,520.90
1,546.75
Exited @ 1532.35
22/01/2020
USDINR
Buy
71.27
71.32
71.43
71.16
Exited @ 71.26
22/01/2020
TATASTEEL
Short Sell
475.50
473.40
469.15
479.80
T1 done
23/01/2020
BPCL
Buy
461.80
463.70
467.60
457.05
T2 done
23/01/2020
TATASTEEL
Buy
480.00
483.15
489.55
473.15
Exited @ 480.25
23/01/2020
BAJFINANCE
Short Sell
4,121.25
4,101.60
4,060.70
4,163.85
T1 done
23/01/2020
RELIANCE
Short Sell
1,526.80
1,520.10
1,506.65
1,541.95
Exited @1527.15
23/01/2020
USDINR
Buy
71.24
71.28
71.35
71.18
T2 done
23/01/2020
BANKNIFTY
Buy
31,061.50
31,232.10
31,560.60
30,680.00
Exited @ 31071
23/01/2020
SBIN
Buy
320.00
322.90
328.65
314.00
T1 done
23/01/2020
NIFTY
Buy
12,208.50
12,255.50
12,349.40
12,110.10
Exited @ 12195.3
24/01/2020
BANKNIFTY
Buy
31,220.00
31,349.10
31,617.30
30,924.00
T1 done
24/01/2020
TATASTEEL
Buy
481.55
483.40
487.30
476.45
T1 done
24/01/2020
NIFTY
Buy
12,244.00
12,283.00
12,365.00
12,157.00
T1 done
24/01/2020
SBIN
Buy
326.65
329.30
334.65
321.15
Exited @ 323.6
24/01/2020
BPCL
Short Sell
468.10
466.15
462.15
473.20
T1 done
24/01/2020
RELIANCE
Short Sell
1,525.55
1,521.25
1,512.65
1,534.70
T1 done
24/01/2020
BAJFINANCE
Buy
4,152.00
4,171.50
4,210.50
4,111.00
T1 done
24/01/2020
USDINR
Short Sell
71.24
71.19
71.09
71.36
Exited @ 71.36
24/01/2020
USDINR
Buy
71.36
71.41
71.52
71.25
Exited @ 71.32
27/01/2020
SBIN
Buy
321.90
323.55
327.10
318.20
Exited @ 317.8
27/01/2020
BANKNIFTY
Buy
31,174.30
31,284.30
31,501.30
30,950.30
Exited @ 30934.5
27/01/2020
NIFTY
Buy
12,208.30
12,233.70
12,281.90
12,151.30
Exited @ 12143
27/01/2020
BAJFINANCE
Buy
4,196.00
4,208.30
4,234.95
4,162.55
Exited @ 4162.35
27/01/2020
BPCL
Buy
470.40
473.75
480.45
463.00
Exited @ 469.9
27/01/2020
RELIANCE
Buy
1,521.60
1,529.05
1,544.05
1,506.30
Exited @ 1505.95
27/01/2020
TATASTEEL
Short Sell
465.85
460.10
448.55
477.75
Exited @ 462.4
27/01/2020
NIFTY
Short Sell
12,143.00
12,120.90
12,072.70
12,199.50
Exited @ 12121.5
27/01/2020
BANKNIFTY
Short Sell
30,934.50
30,827.50
30,610.30
31,167.40
Exited @ 30884.8
27/01/2020
SBIN
Short Sell
317.80
316.00
312.45
321.75
T1 done
27/01/2020
BAJFINANCE
Short Sell
4,162.35
4,149.05
4,122.40
4,189.20
Exited @ 4163.5
27/01/2020
RELIANCE
Short Sell
1,505.95
1,498.25
1,483.25
1,521.30
Exited @ 1505.8
28/01/2020
BPCL
Buy
476.90
481.60
490.70
467.60
T1 done
28/01/2020
RELIANCE
Short Sell
1,497.90
1,492.45
1,481.55
1,510.00
T2 done
28/01/2020
TATASTEEL
Short Sell
457.45
455.40
451.40
462.00
T2 done
28/01/2020
USDINR
Short Sell
71.35
71.31
71.21
71.45
T1 done
28/01/2020
SBIN
Short Sell
316.70
315.30
312.85
319.35
Exited @ 319.4
28/01/2020
BAJFINANCE
Buy
4,191.75
4,210.35
4,247.15
4,150.15
T2 done
28/01/2020
BANKNIFTY
Buy
31,048.00
31,184.30
31,456.30
30,775.00
Exited @ 30745
28/01/2020
SBIN
Buy
319.40
320.75
323.20
316.90
Exited @ 316.5
28/01/2020
NIFTY
Short Sell
12,079.90
12,046.90
11,976.70
12,161.80
T1 done
28/01/2020
BANKNIFTY
Short Sell
30,745.00
30,605.00
30,333.00
31,047.00
Exited @ 30803.2
29/01/2020
TATASTEEL
Buy
458.25
461.10
466.80
451.80
Exited @ 451.65
29/01/2020
BPCL
Short Sell
481.30
479.10
474.40
486.90
T1 done
29/01/2020
SBIN
Buy
319.15
320.45
322.85
316.55
Exited @ 316.25
29/01/2020
BANKNIFTY
Buy
31,068.50
31,149.60
31,300.30
30,880.10
Exited @ 30922
29/01/2020
NIFTY
Buy
12,157.80
12,180.60
12,225.60
12,105.00
Exited @ 12103.5
29/01/2020
RELIANCE
Short Sell
1,473.95
1,463.65
1,443.30
1,494.40
Exited @ 1481.55
29/01/2020
TATASTEEL
Short Sell
451.65
448.55
442.85
457.50
Exited @ 452.3
29/01/2020
NIFTY
Short Sell
12,103.50
12,081.80
12,036.80
12,150.00
Exited @ 12179
29/01/2020
BAJFINANCE
Buy
4,322.65
4,351.75
4,412.75
4,231.00
T1 done
29/01/2020
SBIN
Short Sell
316.25
315.10
312.70
318.95
Exited @ 316.45
30/01/2020
BAJFINANCE
Buy
4,478.35
4,511.65
4,578.35
4,397.30
Exited @ 4396
30/01/2020
BANKNIFTY
Short Sell
30,657.50
30,362.40
29,769.20
31,280.00
Exited @ 30650
30/01/2020
BPCL
Short Sell
479.25
477.00
472.55
484.50
T1 done
30/01/2020
NIFTY
Short Sell
12,050.00
12,022.40
11,964.00
12,115.60
T1 done
30/01/2020
SBIN
Short Sell
313.45
311.85
308.60
316.75
T1 done
30/01/2020
USDINR
Buy
71.67
71.78
72.00
71.45
T1 done
30/01/2020
RELIANCE
Short Sell
1,452.45
1,440.25
1,414.55
1,479.70
Exited @ 1441.75
30/01/2020
TATASTEEL
Buy
452.50
457.80
468.30
441.40
Exited @ 448.15
30/01/2020
BAJFINANCE
Short Sell
4,396.00
4,362.65
4,295.95
4,464.00
T1 done
31/01/2020
TATASTEEL
Short Sell
446.75
443.05
435.85
454.25
T1 done
31/01/2020
SBIN
Short Sell
310.45
308.95
305.75
313.90
T1 done
31/01/2020
RELIANCE
Short Sell
1,430.40
1,420.75
1,401.50
1,453.25
T1 done
31/01/2020
NIFTY
Short Sell
12,062.30
12,036.30
11,979.30
12,124.00
T2 done
31/01/2020
BPCL
Short Sell
460.70
455.10
443.50
472.60
Exited @ 457.1
31/01/2020
BANKNIFTY
Short Sell
30,910.30
30,825.00
30,649.00
31,104.00
T1 done
31/01/2020
BAJFINANCE
Short Sell
4,362.95
4,337.85
4,287.75
4,420.10
T1 done
31/01/2020
USDINR
Buy
71.67
71.71
71.78
71.59
Exited @ 71.58
31/01/2020
USDINR
Short Sell
71.58
71.54
71.47
71.67
T2 done
31/01/2020
SBIN
Buy
314.95
316.60
319.80
310.70
T2 done
01/02/2020
SBIN
Short Sell
315.20
312.50
308.10
320.90
T2 done
01/02/2020
BPCL
Short Sell
453.70
448.40
437.80
464.40
T2 done
01/02/2020
NIFTY
Short Sell
11,824.20
11,782.80
11,697.80
11,974.00
T2 done
01/02/2020
BANKNIFTY
Short Sell
30,380.00
30,212.30
29,866.50
30,845.80
T2 done
01/02/2020
BAJFINANCE
Short Sell
4,313.90
4,290.50
4,245.50
4,395.00
T2 done
01/02/2020
RELIANCE
Short Sell
1,385.10
1,371.80
1,345.40
1,421.40
Exited @ 1379.5
03/02/2020
RELIANCE
Buy
1,386.40
1,396.80
1,418.15
1,363.05
T1 done
03/02/2020
BAJFINANCE
Buy
4,330.00
4,362.40
4,429.20
4,250.20
T1 done
03/02/2020
BANKNIFTY
Buy
30,014.20
30,193.00
30,558.50
29,631.00
Exited @ 30022.8
03/02/2020
NIFTY
Buy
11,722.00
11,775.70
11,886.50
11,598.00
Exited @ 11697.3
03/02/2020
BPCL
Buy
455.00
460.25
470.75
442.45
Exited @ 459.8
03/02/2020
USDINR
Short Sell
71.70
71.63
71.49
71.85
T1 done
03/02/2020
EURINR
Short Sell
79.56
79.50
79.30
79.72
T1 done
03/02/2020
SBIN
Short Sell
299.10
295.65
288.15
306.85
T1 done
03/02/2020
TATASTEEL
Buy
430.95
438.00
452.20
416.60
Exited @ 436.05
04/02/2020
SBIN
Short Sell
297.50
295.00
289.80
302.90
Exited @ 303.6
04/02/2020
NIFTY
Buy
11,820.90
11,853.50
11,917.20
11,750.30
T2 done
04/02/2020
TATASTEEL
Buy
443.60
448.35
457.75
433.60
T1 done
04/02/2020
BANKNIFTY
Buy
30,385.00
30,458.90
30,620.90
30,191.00
T2 done
04/02/2020
BAJFINANCE
Buy
4,420.00
4,440.40
4,481.30
4,377.15
T1 done
04/02/2020
RELIANCE
Buy
1,422.30
1,434.05
1,457.20
1,397.80
Exited @ 1422.9
04/02/2020
SBIN
Buy
303.60
306.20
311.40
297.70
T1 done
04/02/2020
USDINR
Short Sell
71.31
71.23
71.08
71.49
Exited @ 71.42
04/02/2020
EURINR
Short Sell
78.99
78.90
78.70
79.21
T1 done
04/02/2020
BPCL
Buy
469.40
472.65
479.05
462.35
T1 done
05/02/2020
BPCL
Buy
492.25
499.15
513.15
478.00
T1 done
05/02/2020
BANKNIFTY
Buy
30,912.20
31,038.00
31,288.00
30,650.00
T1 done
05/02/2020
NIFTY
Buy
12,022.00
12,061.80
12,138.80
11,942.00
T1 done
05/02/2020
SBIN
Buy
309.10
311.20
315.50
304.60
T1 done
05/02/2020
TATASTEEL
Buy
456.80
460.65
468.40
448.00
T1 done
05/02/2020
EURINR
Buy
78.95
79.00
79.15
78.81
Exited @ 78.81
05/02/2020
RELIANCE
Buy
1,449.85
1,459.10
1,477.75
1,430.30
Exited @ 1448
05/02/2020
USDINR
Short Sell
71.30
71.23
71.10
71.45
Exited @ 71.3
05/02/2020
EURINR
Short Sell
78.81
78.75
78.60
78.95
T2 done
06/02/2020
USDINR
Short Sell
71.33
71.30
71.23
71.41
Exited @ 71.33
06/02/2020
RELIANCE
Short Sell
1,447.10
1,441.25
1,429.55
1,459.70
T1 done
06/02/2020
EURINR
Short Sell
78.55
78.50
78.35
78.70
Exited @ 78.55
06/02/2020
BANKNIFTY
Short Sell
30,999.30
30,897.70
30,697.70
31,200.00
Exited @ 31226.9
06/02/2020
NIFTY
Short Sell
12,091.00
12,067.70
12,021.10
12,138.00
Exited @ 12149.5
06/02/2020
BANKNIFTY
Buy
31,226.90
31,330.00
31,530.00
31,000.00
T2 done
06/02/2020
BAJFINANCE
Buy
4,596.45
4,626.00
4,686.00
4,525.00
T1 done
06/02/2020
NIFTY
Buy
12,149.50
12,171.60
12,218.20
12,091.40
Exited @ 12149.5
06/02/2020
SBIN
Buy
314.50
316.50
320.30
310.10
T1 done
06/02/2020
BPCL
Short Sell
498.25
493.75
484.55
510.00
T1 done
06/02/2020
TATASTEEL
Buy
485.20
491.40
504.00
471.60
Exited @ 485.2
06/02/2020
RELIANCE
Buy
1,460.10
1,465.75
1,477.45
1,448.00
T1 done
07/02/2020
BAJFINANCE
Short Sell
4,629.00
4,603.05
4,551.15
4,686.90
Exited @ 4652
07/02/2020
RELIANCE
Short Sell
1,442.00
1,437.30
1,428.00
1,452.35
T1 done
07/02/2020
BANKNIFTY
Short Sell
31,127.20
31,024.80
30,820.00
31,339.90
Exited @ 31233
07/02/2020
SBIN
Buy
324.60
327.60
333.55
318.40
Exited @ 320.25
07/02/2020
NIFTY
Short Sell
12,080.50
12,057.10
12,008.70
12,132.40
Exited @ 12093.1
07/02/2020
BPCL
Short Sell
486.75
482.40
474.30
494.80
Exited @ 491.1
07/02/2020
EURINR
Short Sell
78.41
78.35
78.20
78.53
Exited @ 78.57
07/02/2020
USDINR
Buy
71.39
71.44
71.53
71.30
T2 done
07/02/2020
EURINR
Buy
78.57
78.65
78.75
78.41
Exited @ 78.39
10/02/2020
NIFTY
Short Sell
12,018.90
11,987.00
11,924.00
12,083.90
T1 done
10/02/2020
RELIANCE
Short Sell
1,417.75
1,411.60
1,400.00
1,432.15
T1 done
10/02/2020
BANKNIFTY
Short Sell
31,020.00
30,935.10
30,764.80
31,215.30
Exited @ 31020
10/02/2020
SBIN
Short Sell
317.50
315.05
310.05
322.80
Exited @ 317.5
10/02/2020
BPCL
Short Sell
488.50
485.10
478.30
495.50
T1 done
10/02/2020
USDINR
Short Sell
71.39
71.35
71.26
71.50
Exited @ 71.51
10/02/2020
EURINR
Short Sell
78.32
78.00
77.30
79.00
Exited @ 78.32
10/02/2020
BAJFINANCE
Buy
4,690.85
4,713.35
4,756.65
4,673.05
T1 done
10/02/2020
TATASTEEL
Short Sell
442.25
433.85
417.35
462.15
Exited @ 442.25
10/02/2020
USDINR
Buy
71.51
71.56
71.65
71.41
Exited @ 71.42
11/02/2020
RELIANCE
Buy
1,460.75
1,467.55
1,482.00
1,445.05
Exited @ 1453.15
11/02/2020
BAJFINANCE
Buy
4,772.55
4,791.65
4,828.25
4,736.00
Exited @ 4744.5
11/02/2020
BPCL
Buy
491.30
493.05
496.35
487.50
T1 done
11/02/2020
TATASTEEL
Buy
456.20
460.35
468.45
448.00
Exited @ 447.65
11/02/2020
USDINR
Short Sell
71.29
71.24
71.14
71.40
Exited @ 71.40
11/02/2020
BPCL
Short Sell
487.30
485.65
482.35
490.80
T2 done
11/02/2020
TATASTEEL
Short Sell
447.65
443.70
435.60
456.20
T1 done
12/02/2020
NIFTY
Buy
12,217.50
12,245.40
12,300.00
12,160.00
T1 done
12/02/2020
BPCL
Short Sell
480.90
479.25
475.80
485.70
T2 done
12/02/2020
TATASTEEL
Short Sell
447.50
444.50
438.25
454.50
T1 done
12/02/2020
BANKNIFTY
Buy
31,593.00
31,653.30
31,773.90
31,458.40
Exited @ 31562
12/02/2020
SBIN
Short Sell
325.65
323.80
320.20
329.90
T1 done
12/02/2020
BAJFINANCE
Short Sell
4,755.05
4,743.20
4,719.60
4,782.20
T1 done
12/02/2020
USDINR
Buy
71.34
71.36
71.41
71.29
T2 done
13/02/2020
BANKNIFTY
Short Sell
31,375.00
31,259.00
31,027.00
31,626.70
T1 done
13/02/2020
TATASTEEL
Short Sell
445.20
441.95
435.85
451.70
T1 done
13/02/2020
NIFTY
Short Sell
12,160.10
12,139.70
12,094.80
12,219.90
Exited @ 12177.9
13/02/2020
USDINR
Buy
71.50
71.54
71.62
71.42
T1 done
13/02/2020
SBIN
Buy
330.30
334.15
341.75
322.00
Exited @ 327.85
13/02/2020
BPCL
Short Sell
471.65
468.50
462.25
478.50
T1 done
13/02/2020
RELIANCE
Short Sell
1,464.70
1,459.15
1,447.75
1,477.75
Exited @ 1477.3
13/02/2020
BAJFINANCE
Short Sell
4,739.00
4,725.50
4,699.50
4,766.00
Exited @ 4770.75
13/02/2020
BAJFINANCE
Buy
4,770.75
4,783.00
4,809.00
4,740.00
T1 done
13/02/2020
USDINR
Short Sell
71.39
71.35
71.27
71.50
Exited @ 71.39
13/02/2020
EURINR
Short Sell
77.65
77.55
77.30
77.92
T2 done
14/02/2020
RELIANCE
Short Sell
1,465.75
1,460.75
1,450.35
1,481.95
T1 done
14/02/2020
BAJFINANCE
Short Sell
4,798.45
4,788.50
4,771.50
4,815.00
T2 done
14/02/2020
BPCL
Buy
479.70
482.90
490.20
470.60
T1 done
14/02/2020
USDINR
Buy
71.39
71.42
71.46
71.34
T2 done
14/02/2020
BANKNIFTY
Short Sell
31,261.00
31,161.00
30,957.70
31,470.80
T2 done
14/02/2020
NIFTY
Short Sell
12,191.00
12,162.60
12,098.80
12,260.40
T1 done
14/02/2020
SBIN
Short Sell
326.20
324.50
320.25
331.90
T1 done
14/02/2020
EURINR
Buy
77.47
77.50
77.60
77.38
T1 done
14/02/2020
TATASTEEL
Short Sell
440.15
438.25
434.45
444.80
T2 done
14/02/2020
RELIANCE
Buy
1,483.25
1,488.60
1,499.05
1,471.50
T2 done
17/02/2020
TATASTEEL
Buy
438.25
440.65
445.40
433.00
T1 done
17/02/2020
BPCL
Short Sell
466.20
460.05
448.10
478.45
Exited @ 460.8
17/02/2020
RELIANCE
Short Sell
1,485.15
1,478.00
1,463.45
1,503.55
T1 done
17/02/2020
SBIN
Short Sell
313.35
309.85
302.45
321.15
Exited @ 314.4
17/02/2020
NIFTY
Short Sell
12,070.00
12,027.20
11,939.90
12,158.60
Exited @ 12076
17/02/2020
USDINR
Short Sell
71.43
71.39
71.30
71.53
T1 done
18/02/2020
TATASTEEL
Short Sell
426.45
422.05
413.35
435.15
T1 done
18/02/2020
USDINR
Short Sell
71.41
71.38
71.32
71.47
Exited @ 71.48
18/02/2020
BANKNIFTY
Short Sell
30,468.30
30,380.90
30,200.70
30,661.20
T1 done
18/02/2020
NIFTY
Short Sell
11,961.10
11,926.70
11,857.90
12,032.80
T1 done
18/02/2020
BPCL
Buy
464.75
468.30
475.30
456.00
T2 done
18/02/2020
SBIN
Short Sell
311.25
308.90
304.15
316.15
Exited @ 317.85
18/02/2020
USDINR
Buy
71.48
71.50
71.56
71.41
T2 done
18/02/2020
RELIANCE
Short Sell
1,459.50
1,452.00
1,437.20
1,475.90
Exited @ 1459.5
19/02/2020
TATASTEEL
Short Sell
432.40
429.25
423.20
438.50
T1 done
19/02/2020
NIFTY
Short Sell
12,060.30
12,030.90
11,974.50
12,128.00
Exited @ 12129.8
19/02/2020
SBIN
Short Sell
318.55
316.00
310.75
324.00
Exited @ 320.4
19/02/2020
BPCL
Short Sell
470.35
467.05
460.10
477.80
Exited @ 480.4
19/02/2020
RELIANCE
Buy
1,496.05
1,504.85
1,522.45
1,478.20
T1 done
19/02/2020
BPCL
Buy
480.40
484.10
491.00
470.85
Exited @ 475.1
19/02/2020
NIFTY
Buy
12,129.80
12,158.00
12,214.40
12,071.60
Exited @ 12141.4
20/02/2020
BAJFINANCE
Buy
4,893.30
4,913.10
4,952.35
4,853.75
T1 done
20/02/2020
USDINR
Short Sell
71.69
71.63
71.50
71.84
T1 done
20/02/2020
BANKNIFTY
Buy
30,969.00
31,095.30
31,348.80
30,698.60
T1 done
20/02/2020
SBIN
Buy
324.60
327.05
332.25
318.75
T1 done
20/02/2020
TATASTEEL
Buy
436.50
439.95
447.55
428.00
T2 done
20/02/2020
NIFTY
Buy
12,134.00
12,150.80
12,184.60
12,100.00
T1 done
20/02/2020
RELIANCE
Short Sell
1,490.80
1,483.10
1,467.60
1,508.00
Exited @ 1484.25
20/02/2020
NIFTY
Short Sell
12,088.70
12,071.80
12,038.00
12,133.80
T1 done
24/02/2020
BAJFINANCE
Buy
4,861.20
4,901.50
4,982.75
4,768.10
Exited @ 4801.7
24/02/2020
RELIANCE
Buy
1,470.10
1,473.95
1,481.70
1,462.00
T1 done
24/02/2020
USDINR
Short Sell
71.82
71.76
71.63
71.97
Exited @ 71.97
24/02/2020
BPCL
Buy
473.45
476.75
484.00
464.50
Exited @ 464.15
24/02/2020
TATASTEEL
Short Sell
423.20
417.90
407.00
434.85
T1 done
24/02/2020
NIFTY
Short Sell
11,900.00
11,865.20
11,797.00
11,969.80
T1 done
24/02/2020
RELIANCE
Short Sell
1,458.45
1,454.55
1,446.80
1,469.75
T2 done
24/02/2020
BANKNIFTY
Short Sell
30,440.00
30,324.30
30,092.90
30,674.40
Exited @ 30424.5
25/02/2020
SBIN
Short Sell
322.40
320.40
316.15
326.95
Exited @ 327.1
25/02/2020
NIFTY
Short Sell
11,818.90
11,788.00
11,731.80
11,878.60
Exited @ 11881.8
25/02/2020
BPCL
Short Sell
462.20
458.25
450.50
470.55
T1 done
25/02/2020
BANKNIFTY
Buy
30,529.50
30,607.20
30,763.70
30,365.00
T1 done
25/02/2020
RELIANCE
Short Sell
1,437.10
1,430.40
1,417.05
1,451.40
T1 done
25/02/2020
TATASTEEL
Buy
423.55
427.20
434.60
415.40
Exited @ 421.95
25/02/2020
NIFTY
Buy
11,881.80
11,910.00
11,966.30
11,822.30
Exited @ 11818.5
25/02/2020
USDINR
Short Sell
71.80
71.75
71.66
71.91
Exited @ 71.89
26/02/2020
BPCL
Short Sell
455.00
452.95
448.75
459.55
T1 done
26/02/2020
NIFTY
Short Sell
11,717.70
11,700.40
11,665.00
11,754.30
Exited @ 11759.8
26/02/2020
BAJFINANCE
Buy
4,828.30
4,844.55
4,873.85
4,795.70
Exited @ 4789.1
26/02/2020
BANKNIFTY
Short Sell
30,225.00
30,164.90
30,040.90
30,364.00
Exited @ 30371
26/02/2020
TATASTEEL
Buy
417.20
419.95
425.45
411.50
Exited @ 417.4
26/02/2020
NIFTY
Buy
11,759.80
11,777.00
11,812.40
11,719.00
T1 done
26/02/2020
BANKNIFTY
Buy
30,371.00
30,432.00
30,556.00
30,240.00
T1 done
26/02/2020
SBIN
Buy
328.40
330.30
334.30
324.20
Exited @ 328.55
26/02/2020
BAJFINANCE
Short Sell
4,789.10
4,775.35
4,746.05
4,825.00
T1 done
27/02/2020
BAJFINANCE
Short Sell
4,746.60
4,721.90
4,672.40
4,815.00
T1 done
27/02/2020
NIFTY
Short Sell
11,593.50
11,559.90
11,492.50
11,665.40
T1 done
27/02/2020
TATASTEEL
Short Sell
412.00
410.05
406.15
415.90
T1 done
27/02/2020
SBIN
Short Sell
324.65
322.45
318.15
330.00
T1 done
27/02/2020
BANKNIFTY
Short Sell
30,024.80
29,919.50
29,708.90
30,265.00
Exited @ 200024.8
27/02/2020
BPCL
Short Sell
442.85
439.65
433.35
449.65
T1 done
28/02/2020
SBIN
Short Sell
309.10
306.70
301.70
314.65
T2 done
28/02/2020
TATASTEEL
Short Sell
381.05
372.85
357.15
398.70
Exited @ 377.2
28/02/2020
BAJFINANCE
Short Sell
4,519.65
4,464.70
4,353.70
4,640.00
T1 done
28/02/2020
BPCL
Short Sell
427.20
421.75
411.15
438.90
Exited @ 425.45
28/02/2020
USDINR
Buy
72.19
72.26
72.42
72.03
T2 done
28/02/2020
RELIANCE
Short Sell
1,334.05
1,324.00
1,303.65
1,354.90
Exited @ 1329.15
02/03/2020
NIFTY
Buy
11,349.00
11,394.40
11,480.90
11,258.00
T1 done
02/03/2020
RELIANCE
Short Sell
1,352.70
1,346.00
1,332.10
1,369.00
T1 done
02/03/2020
BPCL
Short Sell
429.05
422.70
410.10
441.85
T1 done
02/03/2020
BAJFINANCE
Short Sell
4,457.35
4,386.30
4,240.70
4,617.95
Exited @ 4373.7
02/03/2020
USDINR
Buy
72.51
72.62
72.86
72.25
T2 done
02/03/2020
SBIN
Short Sell
305.05
302.10
296.05
311.75
T1 done
02/03/2020
TATASTEEL
Short Sell
381.60
375.70
364.40
393.70
Exited @ 376.5
03/03/2020
SBIN
Short Sell
289.85
287.95
283.75
294.40
T1 done
03/03/2020
USDINR
Buy
72.92
73.04
73.29
72.66
T2 done
03/03/2020
BANKNIFTY
Short Sell
28,984.00
28,828.40
28,528.20
29,328.20
T1 done
03/03/2020
BAJFINANCE
Short Sell
4,390.00
4,356.75
4,291.95
4,468.75
T2 done
03/03/2020
NIFTY
Short Sell
11,166.50
11,109.00
10,996.50
11,300.00
Exited @11323.2
03/03/2020
BPCL
Buy
421.10
423.90
429.75
414.50
T1 done
03/03/2020
TATASTEEL
Buy
378.85
382.35
389.05
371.35
T1 done
03/03/2020
RELIANCE
Short Sell
1,323.50
1,308.95
1,280.75
1,353.30
Exited @ 1345.1
04/03/2020
BPCL
Buy
427.40
430.00
435.50
421.40
Exited @ 420.85
04/03/2020
TATASTEEL
Short Sell
377.40
372.05
360.75
389.90
Exited @ 372.75
04/03/2020
SBIN
Short Sell
286.85
283.90
277.95
293.00
T1 done
04/03/2020
BANKNIFTY
Short Sell
28,944.00
28,772.40
28,437.20
29,299.90
T1 done
04/03/2020
USDINR
Buy
73.59
73.79
74.20
73.13
T1 done
04/03/2020
RELIANCE
Short Sell
1,333.95
1,324.50
1,306.00
1,353.80
T1 done
04/03/2020
NIFTY
Short Sell
11,216.40
11,175.30
11,087.80
11,322.90
T1 done
04/03/2020
BPCL
Short Sell
420.85
418.20
412.70
426.90
T1 done
05/03/2020
BAJFINANCE
Short Sell
4,302.25
4,267.55
4,273.85
4,367.55
T1 done
05/03/2020
NIFTY
Short Sell
11,247.30
11,210.70
11,140.00
11,323.60
Exited @ 11345
05/03/2020
SBIN
Short Sell
287.00
284.85
280.50
291.55
T2 done
05/03/2020
RELIANCE
Short Sell
1,328.80
1,314.15
1,285.15
1,357.95
T1 done
05/03/2020
BANKNIFTY
Short Sell
28,628.10
28,454.90
28,102.90
28,988.00
Exited @ 29055.3
05/03/2020
TATASTEEL
Short Sell
378.20
374.00
365.40
387.80
Exited @ 375.6
05/03/2020
BANKNIFTY
Buy
29,055.30
29,220.20
29,572.20
28,636.00
Exited @ 28835.5
05/03/2020
NIFTY
Buy
11,345.00
11,377.20
11,447.90
11,252.90
T1 done
05/03/2020
USDINR
Short Sell
73.47
73.34
73.07
73.78
T1 done
05/03/2020
BPCL
Buy
423.35
425.75
430.55
417.80
T1 done
05/03/2020
SBIN
Buy
291.95
293.90
298.25
287.20
T1 done
06/03/2020
BANKNIFTY
Buy
27,760.00
27,976.50
28,427.00
27,280.00
T1 done
06/03/2020
USDINR
Short Sell
73.96
73.81
73.53
74.28
T1 done
06/03/2020
BAJFINANCE
Short Sell
4,070.10
4,018.45
3,915.35
4,187.00
Exited @ 4200
06/03/2020
BPCL
Short Sell
399.85
395.85
387.85
408.00
Exited @ 403.05
06/03/2020
SBIN
Buy
273.20
282.40
301.00
253.95
Exited @ 269.25
06/03/2020
BAJFINANCE
Buy
4,200.00
4,250.00
4,353.10
4,083.90
Exited @ 4226.6
06/03/2020
NIFTY
Buy
10,982.00
11,038.80
11,148.50
10,840.00
Exited @ 10938
09/03/2020
BPCL
Buy
433.50
447.10
474.20
405.80
T2 done
09/03/2020
BAJFINANCE
Short Sell
4,065.65
4,044.45
3,992.30
4,127.50
T2 done
09/03/2020
RELIANCE
Short Sell
1,169.35
1,134.50
1,065.45
1,240.05
T2 done
09/03/2020
NIFTY
Short Sell
10,543.90
10,481.60
10,354.60
10,685.00
T2 done
09/03/2020
BANKNIFTY
Short Sell
26,666.00
26,401.70
25,866.30
27,221.10
T2 done
09/03/2020
TATASTEEL
Short Sell
324.55
318.45
306.40
337.70
T1 done
09/03/2020
USDINR
Buy
74.42
74.55
74.82
74.11
Exited @ 74.31
09/03/2020
SBIN
Short Sell
252.60
248.45
240.25
262.75
Exited @ 252.75
11/03/2020
BPCL
Short Sell
408.50
402.40
390.30
423.35
T2 done
11/03/2020
TATASTEEL
Short Sell
314.10
308.10
296.15
326.05
Exited @ 314.1
11/03/2020
SBIN
Short Sell
250.40
246.60
239.10
258.50
T2 done
11/03/2020
BANKNIFTY
Short Sell
26,260.20
26,011.80
25,511.80
26,800.00
Exited @ 26459.9
11/03/2020
NIFTY
Short Sell
10,350.00
10,272.70
10,118.00
10,504.80
Exited @ 10448.7
11/03/2020
USDINR
Buy
74.25
74.36
74.59
74.02
Exited @ 73.97
11/03/2020
USDINR
Short Sell
73.97
73.85
73.63
74.24
T1 done
12/03/2020
NIFTY
Short Sell
9,911.75
9,875.75
9,797.90
9,993.85
T2 done
12/03/2020
TATASTEEL
Short Sell
269.45
266.15
259.90
276.00
Exited @ 281.75
12/03/2020
BANKNIFTY
Short Sell
24,893.10
24,673.50
24,229.50
25,344.00
T2 done
12/03/2020
USDINR
Short Sell
74.30
74.17
73.94
74.53
Exited @ 74.43
12/03/2020
BPCL
Short Sell
367.35
356.15
333.60
391.30
T2 done
12/03/2020
BAJFINANCE
Short Sell
3,722.65
3,667.75
3,556.75
3,860.95
T2 done
12/03/2020
SBIN
Short Sell
220.60
215.85
206.25
231.90
T2 done
12/03/2020
TATASTEEL
Buy
281.75
284.85
291.10
269.75
T2 done
13/03/2020
USDINR
Short Sell
74.48
74.38
74.21
74.74
T2 done
13/03/2020
BAJFINANCE
Buy
3,551.00
3,666.70
3,895.70
3,281.05
T2 done
13/03/2020
SBIN
Buy
202.65
210.85
226.95
184.65
T1 done
13/03/2020
RELIANCE
Buy
1,015.35
1,044.05
1,099.65
942.40
T1 done
13/03/2020
TATASTEEL
Buy
279.40
289.45
309.15
255.35
T2 done
13/03/2020
NIFTY
Buy
9,408.95
9,877.80
10,831.30
8,402.00
Exited @ 9578.6
13/03/2020
BPCL
Buy
275.45
371.20
433.55
275.45
Exited @ 344.7
13/03/2020
BANKNIFTY
Buy
23,860.00
24,913.00
27,013.00
21,000.00
T1 done
16/03/2020
TATASTEEL
Buy
314.10
319.30
329.90
300.00
Exited @ 316.3
16/03/2020
BPCL
Buy
380.05
394.15
422.35
349.85
Exited @ 384.5
16/03/2020
RELIANCE
Buy
1,075.00
1,091.15
1,124.05
1,035.00
Exited @ 1026.35
16/03/2020
USDINR
Buy
74.46
74.69
75.16
73.95
Exited @ 74.46
16/03/2020
TATASTEEL
Short Sell
299.75
294.45
283.85
310.60
T1 done
16/03/2020
BANKNIFTY
Short Sell
23,167.00
22,554.40
21,338.60
24,434.00
T1 done
16/03/2020
NIFTY
Short Sell
9,254.00
9,096.95
8,800.85
9,550.80
T1 done
16/03/2020
SBIN
Short Sell
221.40
217.05
208.35
231.40
Exited @ 223.9
16/03/2020
RELIANCE
Short Sell
1,026.35
1,008.55
975.65
1,067.90
Exited @ 1016.5
17/03/2020
NIFTY
Buy
9,304.55
9,449.30
9,747.05
8,962.20
Exited @ 8890
17/03/2020
BPCL
Buy
381.90
390.80
408.40
361.05
Exited @356.85
17/03/2020
BANKNIFTY
Buy
23,406.60
23,881.30
24,870.30
22,380.00
T1 done
17/03/2020
TATASTEEL
Short Sell
294.70
288.55
276.15
307.65
T1 done
17/03/2020
BAJFINANCE
Short Sell
3,534.00
3,444.40
3,265.35
3,732.70
Exited @ 3500.35
17/03/2020
SBIN
Short Sell
220.30
215.85
207.00
229.35
Exited @ 214.75
18/03/2020
BANKNIFTY
Short Sell
21,658.30
21,320.40
20,649.00
22,351.00
T1 done
18/03/2020
BPCL
Short Sell
345.45
335.90
317.10
366.05
Exited @ 342.45
18/03/2020
NIFTY
Short Sell
8,862.50
8,762.80
8,560.95
9,070.90
T2 done
18/03/2020
BAJFINANCE
Short Sell
3,288.00
3,198.05
2,978.05
3,530.00
Exited @ 3251.1
18/03/2020
SBIN
Short Sell
210.00
205.10
194.05
223.15
Exited @ 208.8
18/03/2020
USDINR
Buy
74.27
74.36
74.53
74.06
T1 done
18/03/2020
RELIANCE
Short Sell
992.50
972.10
931.20
1,035.90
T1 done
18/03/2020
TATASTEEL
Short Sell
277.60
270.60
256.55
293.15
Exited @ 280.75
19/03/2020
BAJFINANCE
Short Sell
2,591.60
2,493.50
2,296.50
2,800.00
Exited @2517.4
19/03/2020
SBIN
Short Sell
198.95
195.85
189.25
206.75
19/03/2020
BAJFINANCE
Buy
2,837.05
2,938.50
3,135.50
2,603.00
T1 done
19/03/2020
TATASTEEL
Buy
273.95
280.10
292.55
260.50
T1 done
19/03/2020
BANKNIFTY
Buy
19,630.50
19,978.30
20,689.70
18,787.70
Exited @ 19630.5
20/03/2020
USDINR
Buy
75.03
75.15
75.37
74.80
Exited @ 75.03
23/03/2020
BANKNIFTY
Short Sell
17,722.30
17,191.00
15,874.90
19,200.00
T1 done
23/03/2020
NIFTY
Short Sell
7,815.00
7,670.85
7,332.65
8,189.00
T1 done
23/03/2020
RELIANCE
Short Sell
900.90
876.60
828.10
950.00
T1 done
23/03/2020
TATASTEEL
Short Sell
266.85
261.90
251.90
278.00
T1 done
23/03/2020
BAJFINANCE
Short Sell
2,509.15
2,414.75
2,226.00
2,700.00
T1 done
23/03/2020
BPCL
Short Sell
271.25
263.90
249.20
288.00
Exited @ 289.7
23/03/2020
BPCL
Buy
289.70
297.00
311.70
273.30
T1 done
23/03/2020
SBIN
Short Sell
180.65
171.85
154.35
199.50
Exited @ 182
24/03/2020
SBIN
Short Sell
179.45
174.35
163.75
191.95
T1 done
24/03/2020
BANKNIFTY
Short Sell
16,480.90
15,807.40
14,472.20
17,926.90
T1 done
24/03/2020
BAJFINANCE
Short Sell
2,226.30
2,121.35
1,910.35
2,472.00
T1 done
24/03/2020
NIFTY
Short Sell
7,595.20
7,414.60
7,050.00
7,976.85
Exited @ 7982.75
24/03/2020
BPCL
Short Sell
252.95
239.55
212.75
283.00
Exited @ 264.7
24/03/2020
USDINR
Buy
76.38
76.52
76.83
76.05
Exited @ 76.18
24/03/2020
BAJFINANCE
Buy
2,492.75
2,598.25
2,809.25
2,261.00
T1 done
24/03/2020
NIFTY
Buy
7,982.75
8,164.25
8,528.80
7,612.30
Exited @ 7880.9
25/03/2020
BPCL
Buy
266.60
273.25
285.95
253.90
T1 done
25/03/2020
BANKNIFTY
Buy
17,339.60
17,692.00
18,405.80
16,600.30
T1 done
25/03/2020
NIFTY
Buy
8,037.55
8,183.90
8,476.40
7,681.35
T1 done
25/03/2020
TATASTEEL
Buy
279.00
284.90
296.80
267.05
T1 done
25/03/2020
RELIANCE
Buy
1,034.80
1,068.65
1,136.35
996.40
T1 done
25/03/2020
SBIN
Buy
186.85
191.05
199.95
176.45
T1 done
26/03/2020
BPCL
Buy
278.05
282.60
291.90
268.50
T1 done
26/03/2020
RELIANCE
Buy
1,113.50
1,124.50
1,148.70
1,075.05
Exited @ 1070.8
26/03/2020
BANKNIFTY
Buy
19,125.00
19,483.60
20,208.60
18,335.50
T1 done
26/03/2020
NIFTY
Buy
8,551.80
8,649.15
8,850.30
8,293.50
T1 done
26/03/2020
BAJFINANCE
Buy
2,762.75
2,847.85
3,020.95
2,565.05
T1 done
26/03/2020
USDINR
Short Sell
75.36
74.94
74.11
76.25
Exited @ 75.36
26/03/2020
SBIN
Buy
193.95
198.35
207.00
185.10
T1 done
26/03/2020
RELIANCE
Short Sell
1,070.80
1,059.25
1,035.05
1,099.25
T1 done
27/03/2020
NIFTY
Short Sell
8,827.45
8,755.45
8,608.25
9,038.00
T1 done
27/03/2020
BANKNIFTY
Short Sell
20,447.10
20,182.30
19,624.50
21,097.80
T1 done
27/03/2020
TATASTEEL
Short Sell
285.35
281.20
273.10
295.25
T1 done
27/03/2020
RELIANCE
Short Sell
1,074.85
1,059.80
1,029.65
1,107.30
T1 done
27/03/2020
USDINR
Short Sell
74.49
74.36
74.10
74.80
T1 done
27/03/2020
BAJFINANCE
Short Sell
2,910.00
2,852.55
2,737.65
3,040.00
T1 done
27/03/2020
SBIN
Short Sell
201.60
197.05
187.80
211.25
T1 done
27/03/2020
BPCL
Short Sell
282.00
271.60
250.60
304.00
T1 done
30/03/2020
BPCL
Buy
277.55
281.75
289.50
269.65
T1 done
30/03/2020
NIFTY
Buy
8,574.40
8,664.00
8,843.00
8,395.00
T1 done
30/03/2020
RELIANCE
Buy
1,051.50
1,065.25
1,092.75
1,020.00
T1 done
30/03/2020
SBIN
Buy
194.00
196.90
202.90
187.40
Exited @ 187.4
30/03/2020
BANKNIFTY
Buy
19,740.50
20,110.00
20,829.80
19,020.00
Exited @ 18951.5
30/03/2020
TATASTEEL
Short Sell
262.00
257.57
249.25
270.75
T1 done
30/03/2020
BAJFINANCE
Short Sell
2,281.50
2,219.45
2,095.05
2,414.40
Exited @ 2414.4
31/03/2020
RELIANCE
Buy
1,077.35
1,090.05
1,116.00
1,048.00
T1 done
31/03/2020
USDINR
Buy
76.01
76.12
76.36
75.76
Exited @ 75.73
31/03/2020
USDINR
Short Sell
75.73
75.60
75.36
76.00
T1 done
31/03/2020
SBIN
Buy
192.85
194.85
198.80
188.05
T1 done
31/03/2020
BANKNIFTY
Buy
19,310.20
19,534.10
19,982.00
18,851.10
Exited @ 19030.7
31/03/2020
BPCL
Buy
288.20
292.20
300.10
280.00
T1 done
31/03/2020
NIFTY
Buy
8,505.95
8,581.80
8,729.80
8,357.00
T1 done
31/03/2020
TATASTEEL
Buy
268.50
271.70
278.65
259.70
T1 done
01/04/2020
NIFTY
Short Sell
8,371.95
8,281.30
8,100.05
8,567.95
T1 done
01/04/2020
SBIN
Short Sell
188.30
185.70
180.50
194.25
T1 done
01/04/2020
TATASTEEL
Short Sell
261.70
259.45
254.55
267.50
T1 done
01/04/2020
RELIANCE
Short Sell
1,073.10
1,052.40
1,011.25
1,122.25
T1 done
01/04/2020
BPCL
Short Sell
303.00
297.00
285.50
315.90
T1 done
01/04/2020
BAJFINANCE
Buy
2,228.45
2,270.30
2,351.65
2,132.65
T1 done
01/04/2020
BANKNIFTY
Short Sell
18,363.80
18,107.10
17,562.30
18,996.00
T1 done
03/04/2020
TATASTEEL
Short Sell
255.00
248.55
235.00
268.90
T1 done
03/04/2020
SBIN
Short Sell
179.20
174.65
165.65
188.20
03/04/2020
NIFTY
Short Sell
8,102.40
7,987.40
7,762.15
8,330.00
Exited @ 8093.75
03/04/2020
BANKNIFTY
Short Sell
17,428.10
17,054.00
16,277.90
18,226.10
T1 done
03/04/2020
RELIANCE
Short Sell
1,059.60
1,025.30
958.25
1,134.45
Exited @ 1077.95
03/04/2020
BPCL
Buy
306.50
313.05
326.90
287.15
T1 done
03/04/2020
USDINR
Buy
76.68
76.91
77.35
76.23
Exited @ 76.70
07/04/2020
RELIANCE
Buy
1,130.20
1,144.85
1,174.35
1,100.00
T1 done
07/04/2020
SBIN
Short Sell
179.65
177.55
173.30
184.40
Exited @ 184.9
07/04/2020
BPCL
Buy
330.00
335.20
345.60
319.50
T1 done
07/04/2020
BANKNIFTY
Short Sell
17,969.80
17,785.40
17,422.20
18,373.40
Exited @ 18424.8
07/04/2020
TATASTEEL
Buy
268.95
272.10
278.10
261.20
T1 done
07/04/2020
USDINR
Short Sell
76.26
76.17
75.98
76.51
T2 done
07/04/2020
NIFTY
Buy
8,498.00
8,554.25
8,672.25
8,372.00
T2 done
07/04/2020
BANKNIFTY
Buy
18,424.80
18,606.40
18,969.60
18,010.20
T2 done
07/04/2020
SBIN
Buy
184.90
187.00
191.25
180.00
T1 done
08/04/2020
BAJFINANCE
Buy
2,273.15
2,334.60
2,457.80
2,146.60
T1 done
08/04/2020
BANKNIFTY
Buy
19,459.00
19,860.50
20,710.50
18,495.00
T1 done
08/04/2020
SBIN
Buy
189.40
193.25
201.25
180.75
T1 done
08/04/2020
RELIANCE
Buy
1,224.70
1,252.05
1,308.40
1,161.65
Exited @ 1196.9
08/04/2020
NIFTY
Buy
8,987.90
9,112.95
9,369.95
8,712.20
T1 done
08/04/2020
TATASTEEL
Buy
288.70
298.25
317.65
267.15
T1 done
08/04/2020
USDINR
Short Sell
76.18
76.04
75.76
76.49
Exited @ 76.52
08/04/2020
BPCL
Buy
359.20
367.65
384.95
341.50
Exited @341.35
08/04/2020
USDINR
Buy
76.52
76.64
76.88
76.25
T1 done
08/04/2020
NIFTY
Short Sell
8,695.60
8,566.55
8,309.55
8,969.20
Exited @ 8762.1
09/04/2020
SBIN
Short Sell
186.55
184.95
181.65
190.00
T1 done
09/04/2020
RELIANCE
Short Sell
1,197.50
1,186.40
1,165.70
1,221.05
Exited @ 1225.7
09/04/2020
BAJFINANCE
Buy
2,472.50
2,514.90
2,603.30
2,367.10
T1 done
09/04/2020
BPCL
Buy
353.90
358.10
366.40
345.15
Exited @ 342.45
09/04/2020
USDINR
Buy
76.53
76.64
76.84
76.33
T1 done
09/04/2020
BANKNIFTY
Short Sell
19,270.10
19,030.50
18,531.50
19,800.00
Exited @ 19818.8
09/04/2020
TATASTEEL
Short Sell
279.80
275.05
265.45
289.60
Exited @ 284.9
09/04/2020
RELIANCE
Buy
1,225.70
1,236.65
1,257.35
1,200.35
Exited @ 1218.05
09/04/2020
NIFTY
Buy
9,036.30
9,101.20
9,230.80
8,905.40
T1 done
09/04/2020
BPCL
Short Sell
342.45
338.20
329.90
353.50
Exited @ 345
13/04/2020
SBIN
Short Sell
184.15
182.10
177.80
188.70
T1 done
13/04/2020
RELIANCE
Short Sell
1,180.90
1,164.35
1,132.05
1,215.00
Exited @ 1188.2
13/04/2020
NIFTY
Short Sell
8,908.00
8,813.95
8,628.65
9,097.25
Exited @ 9012.15
13/04/2020
BANKNIFTY
Short Sell
19,204.80
18,950.60
18,443.60
19,758.00
Exited @ 19493.5
13/04/2020
BAJFINANCE
Short Sell
2,308.95
2,205.80
2,002.80
2,520.00
T1 done
15/04/2020
BANKNIFTY
Buy
20,002.30
20,144.40
20,419.40
19,711.00
Exited @ 19632.3
15/04/2020
RELIANCE
Buy
1,230.65
1,246.00
1,276.60
1,199.40
Exited @ 1198
15/04/2020
NIFTY
Buy
9,235.70
9,280.85
9,369.85
9,131.00
T1 done
15/04/2020
SBIN
Buy
190.70
193.05
197.60
186.10
Exited @ 185.65
15/04/2020
BPCL
Buy
362.60
367.60
378.00
351.70
T1 done
15/04/2020
TATASTEEL
Buy
289.45
292.90
300.15
281.90
T1 done
15/04/2020
BAJFINANCE
Buy
2,356.65
2,399.15
2,484.15
2,270.00
Exited @ 2263.95
15/04/2020
USDINR
Buy
76.32
76.40
76.56
76.10
T2 done
15/04/2020
BANKNIFTY
Short Sell
19,632.30
19,492.80
19,217.80
19,986.00
T1 done
15/04/2020
SBIN
Short Sell
185.65
183.45
178.90
190.65
T1 done
15/04/2020
NIFTY
Short Sell
9,101.55
9,059.50
8,970.50
9,220.00
T2 done
15/04/2020
BAJFINANCE
Short Sell
2,263.95
2,223.40
2,138.40
2,355.00
T1 done
15/04/2020
RELIANCE
Short Sell
1,198.00
1,182.80
1,152.20
1,230.00
T1 done
16/04/2020
TATASTEEL
Buy
286.45
290.55
299.05
276.25
T1 done
16/04/2020
SBIN
Buy
184.75
186.85
191.10
180.25
T1 done
16/04/2020
BANKNIFTY
Buy
19,165.80
19,434.10
19,967.50
18,601.00
T1 done
16/04/2020
NIFTY
Buy
9,007.95
9,077.40
9,222.25
8,835.15
T1 done
16/04/2020
BAJFINANCE
Buy
2,243.30
2,298.40
2,405.40
2,122.00
Exited @ 2225.05
16/04/2020
USDINR
Buy
76.96
77.07
77.28
76.72
T1 done
17/04/2020
BANKNIFTY
Short Sell
20,235.00
20,143.80
19,941.40
20,452.40
T2 done
17/04/2020
TATASTEEL
Short Sell
292.80
289.85
283.75
299.70
T1 done
17/04/2020
SBIN
Short Sell
194.00
192.00
188.10
198.00
T1 done
17/04/2020
NIFTY
Short Sell
9,258.00
9,216.20
9,132.70
9,350.00
T2 done
17/04/2020
USDINR
Short Sell
76.61
76.52
76.35
76.81
T1 done
17/04/2020
BAJFINANCE
Short Sell
2,299.75
2,272.25
2,216.35
2,375.90
T1 done
17/04/2020
BPCL
Short Sell
355.70
351.75
343.85
366.00
Exited @ 359.9
17/04/2020
RELIANCE
Short Sell
1,195.00
1,184.45
1,163.55
1,216.00
Exited @ 1220
17/04/2020
RELIANCE
Buy
1,220.00
1,229.45
1,250.35
1,195.10
T1 done
20/04/2020
BPCL
Buy
368.15
371.80
378.80
361.20
T1 done
20/04/2020
SBIN
Buy
195.70
197.60
201.60
190.15
Exited @ 192.55
20/04/2020
USDINR
Buy
76.68
76.77
76.96
76.47
Exited @ 76.64
20/04/2020
BANKNIFTY
Short Sell
20,586.90
20,341.00
19,851.20
21,099.80
Exited @ 20524.8
20/04/2020
NIFTY
Short Sell
9,234.70
9,165.40
9,025.75
9,384.75
Exited @ 9269
20/04/2020
TATASTEEL
Short Sell
287.35
284.40
278.25
294.80
Exited @ 286.1
20/04/2020
RELIANCE
Buy
1,236.70
1,248.85
1,273.30
1,202.00
T1 done
21/04/2020
BANKNIFTY
Short Sell
19,585.20
19,436.70
19,144.70
19,880.00
T1 done
21/04/2020
BPCL
Short Sell
358.75
353.15
342.40
369.45
T1 done
21/04/2020
USDINR
Short Sell
76.70
76.62
76.45
76.88
Exited @ 76.90
21/04/2020
RELIANCE
Short Sell
1,184.10
1,172.95
1,150.40
1,212.55
T1 done
21/04/2020
SBIN
Short Sell
185.20
183.85
181.05
188.20
T1 done
21/04/2020
NIFTY
Short Sell
8,976.65
8,941.50
8,873.35
9,058.20
T1 done
21/04/2020
BAJFINANCE
Short Sell
2,117.50
2,073.20
1,983.60
2,210.00
Exited @ 2099.65
21/04/2020
USDINR
Buy
76.90
76.98
77.15
76.71
T1 done
22/04/2020
SBIN
Short Sell
181.95
180.20
176.70
185.50
Exited @ 185.5
22/04/2020
BPCL
Short Sell
341.95
333.55
316.15
360.00
Exited @ 356.45
22/04/2020
USDINR
Short Sell
76.85
76.76
76.59
77.06
T2 done
22/04/2020
BAJFINANCE
Buy
2,091.90
2,124.00
2,186.60
2,022.35
T1 done
22/04/2020
NIFTY
Buy
9,027.05
9,065.50
9,145.70
8,933.25
T2 done
22/04/2020
BANKNIFTY
Buy
19,419.00
19,559.60
19,851.30
19,025.00
T1 done
22/04/2020
SBIN
Buy
185.50
187.35
190.85
182.00
T2 done
22/04/2020
RELIANCE
Buy
1,342.30
1,361.85
1,401.55
1,300.00
T1 done
22/04/2020
TATASTEEL
Buy
267.90
272.00
280.10
259.20
Exited @ 267.9
23/04/2020
NIFTY
Buy
9,234.85
9,269.95
9,340.55
9,158.45
T1 done
23/04/2020
BANKNIFTY
Buy
19,878.80
20,029.60
20,338.00
19,539.90
T1 done
23/04/2020
SBIN
Buy
188.70
190.35
193.55
185.50
Exited @ 186.1
23/04/2020
TATASTEEL
Buy
278.25
281.70
288.80
270.60
Exited @ 270.4
23/04/2020
USDINR
Short Sell
76.22
76.11
75.89
76.49
T1 done
23/04/2020
BAJFINANCE
Buy
2,165.50
2,193.50
2,246.40
2,112.00
T1 done
23/04/2020
RELIANCE
Buy
1,378.50
1,389.45
1,411.40
1,356.05
Exited @1372.3
24/04/2020
RELIANCE
Buy
1,375.05
1,389.30
1,416.90
1,347.20
T1 done
24/04/2020
NIFTY
Buy
9,193.00
9,224.35
9,289.10
9,125.00
T1 done
24/04/2020
BPCL
Buy
354.70
357.85
363.75
348.55
Exited @ 348.5
24/04/2020
TATASTEEL
Buy
271.60
275.10
282.10
264.45
Exited @ 267.4
24/04/2020
USDINR
Buy
76.33
76.49
76.81
76.01
T1 done
24/04/2020
BAJFINANCE
Short Sell
2,038.00
2,004.65
1,936.65
2,113.50
T1 done
24/04/2020
BANKNIFTY
Buy
19,769.80
19,922.50
20,223.30
19,433.90
Exited @ 19421.1
24/04/2020
SBIN
Short Sell
180.20
178.70
175.85
184.00
Exited @ 180.1
24/04/2020
BPCL
Short Sell
348.50
345.55
339.65
354.45
Exited @ 350.25
24/04/2020
BANKNIFTY
Short Sell
19,421.10
19,278.10
18,977.20
19,734.80
Exited @ 19535
27/04/2020
BAJFINANCE
Short Sell
1,931.00
1,892.95
1,814.95
2,020.00
Exited @ 2041.35
27/04/2020
TATASTEEL
Buy
275.40
276.65
279.35
271.80
T1 done
27/04/2020
BANKNIFTY
Buy
20,079.50
20,197.10
20,429.60
19,790.50
T1 done
27/04/2020
NIFTY
Buy
9,348.95
9,398.75
9,500.25
9,237.50
Exited @ 9290.75
27/04/2020
USDINR
Short Sell
76.07
75.94
75.68
76.33
Exited @ 76.21
27/04/2020
BAJFINANCE
Buy
2,041.35
2,081.25
2,159.25
1,942.00
T1 done
27/04/2020
BPCL
Buy
358.25
360.95
366.35
352.30
T2 done
27/04/2020
SBIN
Short Sell
180.90
179.70
177.30
183.50
Exited @ 181.15
27/04/2020
RELIANCE
Short Sell
1,426.45
1,404.20
1,359.20
1,475.00
Exited @ 1429.1
27/04/2020
TATASTEEL
Short Sell
271.10
269.80
267.10
274.50
Exited @ 271.85
28/04/2020
TATASTEEL
Short Sell
270.90
268.90
264.80
275.40
Exited @ 273.8
28/04/2020
BANKNIFTY
Short Sell
20,296.00
20,209.70
20,024.90
20,490.80
Exited @ 20509
28/04/2020
BPCL
Buy
361.85
365.85
370.65
354.20
T1 done
28/04/2020
USDINR
Buy
76.37
76.50
76.74
76.11
Exited @ 76.105
28/04/2020
NIFTY
Short Sell
9,268.75
9,215.10
9,106.65
9,379.00
Exited @ 9383.95
28/04/2020
BAJFINANCE
Buy
2,120.40
2,155.00
2,266.40
2,041.05
T1 done
28/04/2020
BANKNIFTY
Buy
20,509.00
20,601.40
20,786.20
20,306.00
T1 done
28/04/2020
SBIN
Buy
184.75
186.05
188.75
181.50
Exited @ 184
28/04/2020
NIFTY
Buy
9,383.95
9,436.60
9,545.10
9,270.55
Exited @ 9390.85
29/04/2020
BAJFINANCE
Buy
2,320.65
2,374.50
2,482.15
2,210.35
T1 done
29/04/2020
TATASTEEL
Buy
279.90
284.05
292.45
271.25
T1 done
29/04/2020
USDINR
Short Sell
76.11
76.03
75.85
76.30
T2 done
29/04/2020
NIFTY
Buy
9,460.00
9,484.00
9,532.00
9,406.95
T2 done
29/04/2020
SBIN
Buy
187.35
189.05
192.45
183.50
T2 done
29/04/2020
BANKNIFTY
Buy
20,748.80
20,912.80
21,244.30
20,401.00
T2 done
30/04/2020
SBIN
Buy
195.00
196.55
199.65
191.55
Exited @ 191.5
30/04/2020
TATASTEEL
Buy
297.95
301.90
310.00
288.70
T1 done
30/04/2020
NIFTY
Buy
9,816.05
9,867.05
9,968.40
9,693.65
T1 done
30/04/2020
BANKNIFTY
Buy
21,870.70
22,032.30
22,347.30
21,510.00
Exited @ 21480
30/04/2020
USDINR
Short Sell
75.26
75.11
74.82
75.55
T1 done
30/04/2020
RELIANCE
Buy
1,472.35
1,479.95
1,495.85
1,438.05
T1 done
30/04/2020
BAJFINANCE
Short Sell
2,351.00
2,320.45
2,259.30
2,418.95
T1 done
30/04/2020
BANKNIFTY
Short Sell
21,480.00
21,322.50
21,007.50
21,825.00
Exited @ 21535.1
30/04/2020
SBIN
Short Sell
191.50
189.95
186.85
194.65
Exited @ 190.35
30/04/2020
BPCL
Buy
367.20
371.15
379.05
371.15
T1 done
04/05/2020
SBIN
Short Sell
180.15
178.70
175.80
183.50
T1 done
04/05/2020
BPCL
Short Sell
351.80
346.50
336.55
362.00
T1 done
04/05/2020
USDINR
Buy
75.97
76.06
76.25
75.75
Exited @ 75.84
04/05/2020
BAJFINANCE
Short Sell
2,091.40
2,042.25
1,943.95
2,200.00
T1 done
05/05/2020
BAJFINANCE
Short Sell
2,058.00
2,029.35
1,969.85
2,135.00
T1 done
05/05/2020
TATASTEEL
Short Sell
274.65
272.60
268.40
279.90
Exited @ 280.15
05/05/2020
SBIN
Short Sell
178.75
177.85
176.10
181.20
T1 done
05/05/2020
BANKNIFTY
Short Sell
19,834.20
19,723.80
19,491.80
20,098.00
T1 done
05/05/2020
NIFTY
Short Sell
9,338.00
9,303.50
9,234.50
9,420.00
T2 done
05/05/2020
RELIANCE
Buy
1,467.50
1,473.35
1,485.85
1,447.20
T1 done
05/05/2020
BPCL
Buy
362.60
368.70
380.60
349.00
Exited @ 348.55
05/05/2020
USDINR
Buy
75.84
75.93
76.11
75.65
T1 done
05/05/2020
TATASTEEL
Buy
280.15
282.35
286.65
275.60
T1 done
05/05/2020
BPCL
Short Sell
348.55
342.65
330.75
360.85
Exited @ 346.6
06/05/2020
BAJFINANCE
Buy
2,023.95
2,057.75
2,125.35
1,952.35
T1 done
06/05/2020
TATASTEEL
Buy
277.90
279.60
283.65
272.05
T1 done
06/05/2020
BANKNIFTY
Buy
19,364.30
19,561.30
19,933.30
18,900.00
T1 done
06/05/2020
NIFTY
Buy
9,232.10
9,285.55
9,390.55
9,125.00
T1 done
06/05/2020
SBIN
Buy
171.60
174.10
178.95
166.55
Exited @ 171.4
06/05/2020
BPCL
Buy
335.25
345.10
364.70
312.35
T1 done
06/05/2020
USDINR
Short Sell
75.86
75.79
75.66
75.99
T1 done
06/05/2020
RELIANCE
Short Sell
1,453.05
1,442.15
1,420.15
1,482.00
Exited @ 1463.3
06/05/2020
USDINR
Buy
76.00
76.07
76.20
75.86
T1 done
07/05/2020
BPCL
Short Sell
330.70
325.85
315.95
342.00
Exited @ 330.6
08/05/2020
BPCL
Short Sell
327.70
323.70
315.65
336.30
T1 done
08/05/2020
TATASTEEL
Short Sell
280.50
278.85
275.60
284.00
T2 done
08/05/2020
NIFTY
Short Sell
9,305.15
9,274.50
9,213.15
9,369.00
T1 done
08/05/2020
SBIN
Short Sell
171.95
171.05
169.25
173.80
T2 done
08/05/2020
USDINR
Short Sell
75.52
75.36
75.06
75.83
Exited @ 75.73
08/05/2020
RELIANCE
Buy
1,553.00
1,559.05
1,571.05
1,538.00
T2 done
08/05/2020
BANKNIFTY
Short Sell
19,690.50
19,591.00
19,392.00
19,950.00
T1 done
08/05/2020
BAJFINANCE
Short Sell
2,078.85
2,056.55
2,011.90
2,130.00
T1 done
11/05/2020
BPCL
Short Sell
322.90
320.05
314.35
330.35
T1 done
11/05/2020
SBIN
Short Sell
166.40
165.45
163.60
168.60
T1 done
11/05/2020
BANKNIFTY
Short Sell
19,400.00
19,298.60
19,088.40
19,700.00
T2 done
11/05/2020
USDINR
Buy
75.78
75.86
76.03
75.61
T1 done
11/05/2020
BAJFINANCE
Short Sell
2,020.00
1,986.90
1,920.90
2,092.70
Exited @ 2025
11/05/2020
TATASTEEL
Buy
281.70
284.50
289.75
275.55
Exited @ 276.65
11/05/2020
NIFTY
Short Sell
9,328.10
9,271.95
9,159.95
9,442.70
T1 done
11/05/2020
RELIANCE
Short Sell
1,578.55
1,561.00
1,526.00
1,615.00
Exited @ 1577.95
12/05/2020
BANKNIFTY
Short Sell
18,344.80
18,187.50
17,871.60
18,696.00
Exited @ 18700
12/05/2020
TATASTEEL
Short Sell
265.20
261.40
253.40
273.45
Exited @ 273.35
12/05/2020
NIFTY
Short Sell
9,059.55
9,020.85
8,946.10
9,150.00
Exited @ 9209.7
12/05/2020
RELIANCE
Short Sell
1,548.25
1,539.35
1,522.10
1,568.35
T2 done
12/05/2020
BAJFINANCE
Buy
2,022.90
2,039.25
2,074.05
1,977.10
T1 done
12/05/2020
SBIN
Short Sell
161.35
160.10
157.55
165.25
Exited @ 164.8
12/05/2020
USDINR
Short Sell
75.92
75.85
75.72
76.09
T2 done
12/05/2020
NIFTY
Buy
9,172.30
9,209.70
9,284.45
9,075.25
T1 done
12/05/2020
BANKNIFTY
Buy
18,700.00
18,859.20
19,175.10
18,380.10
T1 done
12/05/2020
SBIN
Buy
164.80
166.10
168.60
161.70
T2 done
12/05/2020
TATASTEEL
Buy
273.35
277.50
285.50
265.45
Exited @ 275.6
13/05/2020
USDINR
Buy
75.47
75.62
75.92
75.16
Exited @ 75.40
13/05/2020
TATASTEEL
Short Sell
279.75
275.50
267.30
287.90
T1 done
14/05/2020
SBIN
Short Sell
169.75
168.85
167.00
171.75
T2 done
14/05/2020
NIFTY
Short Sell
9,216.65
9,187.45
9,128.55
9,282.55
T2 done
14/05/2020
BPCL
Short Sell
310.50
308.85
304.85
315.45
T1 done
14/05/2020
RELIANCE
Short Sell
1,467.90
1,454.75
1,428.15
1,494.90
T1 done
14/05/2020
TATASTEEL
Short Sell
270.00
267.45
262.35
275.20
T1 done
14/05/2020
USDINR
Short Sell
75.45
75.35
75.15
75.69
Exited @ 75.63
14/05/2020
BANKNIFTY
Short Sell
19,097.10
18,981.20
18,747.60
19,340.50
T1 done
15/05/2020
SBIN
Short Sell
165.60
164.40
162.10
168.25
Exited @ 166.3
15/05/2020
BANKNIFTY
Short Sell
18,731.80
18,563.70
18,238.80
19,079.60
Exited @ 18731.8
15/05/2020
USDINR
Buy
75.60
75.66
75.77
75.47
T2 done
15/05/2020
BPCL
Buy
318.20
321.10
327.20
311.10
T1 done
15/05/2020
NIFTY
Short Sell
9,070.55
9,027.65
8,938.65
9,165.05
Exited @ 9132.5
15/05/2020
BAJFINANCE
Short Sell
2,069.70
2,037.50
1,972.90
2,136.60
Exited @ 2093.85
15/05/2020
RELIANCE
Short Sell
1,421.80
1,409.50
1,386.60
1,444.00
Exited @ 1457.8
18/05/2020
BAJFINANCE
Short Sell
1,952.70
1,905.40
1,806.30
2,092.95
Exited @ 1952.7
18/05/2020
USDINR
Buy
75.95
76.04
76.24
75.75
T1 done
18/05/2020
BPCL
Short Sell
306.85
299.90
285.90
321.50
T1 done
18/05/2020
BANKNIFTY
Short Sell
17,633.60
17,152.40
16,201.80
18,711.10
T1 done
18/05/2020
SBIN
Short Sell
157.25
153.10
144.70
166.40
T1 done
18/05/2020
NIFTY
Short Sell
8,861.10
8,739.35
8,495.55
9,121.25
Exited @ 8824.75
18/05/2020
TATASTEEL
Short Sell
264.45
259.00
247.80
276.20
Exited @ 265.8
19/05/2020
NIFTY
Buy
8,976.25
9,030.15
9,141.15
8,860.00
T1 done
19/05/2020
TATASTEEL
Buy
274.20
276.75
282.75
267.50
T1 done
19/05/2020
BPCL
Short Sell
296.25
292.50
285.10
304.40
T1 done
19/05/2020
BANKNIFTY
Buy
17,999.30
18,263.90
18,792.30
17,465.00
Exited @ 17347
19/05/2020
USDINR
Short Sell
75.72
75.66
75.53
75.86
T1 done
19/05/2020
BAJFINANCE
Buy
2,000.15
2,032.95
2,098.75
1,922.20
Exited @ 1967.25
19/05/2020
RELIANCE
Short Sell
1,428.45
1,414.80
1,388.80
1,459.35
T1 done
19/05/2020
BANKNIFTY
Short Sell
17,347.00
17,085.10
16,556.70
17,993.40
Exited @ 17455
20/05/2020
TATASTEEL
Buy
280.70
285.60
295.40
270.10
Exited @ 283.5
20/05/2020
RELIANCE
Buy
1,440.45
1,463.85
1,509.65
1,393.00
Exited @ 1435.75
20/05/2020
NIFTY
Buy
8,992.75
9,046.55
9,157.30
8,879.00
T1 done
20/05/2020
USDINR
Buy
75.73
75.79
75.92
75.58
T1 done
20/05/2020
BPCL
Buy
304.00
309.50
320.45
292.05
T1 done
20/05/2020
SBIN
Buy
153.95
155.35
158.10
151.15
Exited @ 153.15
20/05/2020
BANKNIFTY
Buy
17,915.00
18,117.00
18,495.30
17,351.70
Exited @ 17850.8
20/05/2020
BAJFINANCE
Buy
2,019.20
2,059.75
2,142.75
1,935.00
Exited @ 2052.75
21/05/2020
TATASTEEL
Short Sell
279.80
277.15
171.40
286.25
Exited @ 283.7
21/05/2020
BPCL
Short Sell
302.15
298.35
290.65
310.00
Exited @ 310.5
21/05/2020
SBIN
Buy
155.25
156.25
158.15
153.10
Exited @ 152.7
21/05/2020
BANKNIFTY
Buy
18,140.00
18,293.60
18,602.70
17,802.90
Exited @17732.9
21/05/2020
BPCL
Buy
310.50
314.05
321.65
302.35
T1 done
21/05/2020
NIFTY
Buy
9,125.95
9,160.80
9,232.55
9,048.10
T1 done
21/05/2020
RELIANCE
Buy
1,448.55
1,458.35
1,478.10
1,425.25
T1 done
21/05/2020
USDINR
Buy
75.78
75.88
76.05
75.61
Exited @ 75.6
21/05/2020
BAJFINANCE
Short Sell
2,020.55
1,994.25
1,941.70
2,077.55
T1 done
21/05/2020
USDINR
Short Sell
75.60
75.51
75.33
75.78
T1 done
21/05/2020
BANKNIFTY
Short Sell
17,732.90
17,577.70
17,268.60
18,112.00
T1 done
21/05/2020
SBIN
Short Sell
152.70
151.80
149.90
155.00
T1 done
22/05/2020
NIFTY
Buy
9,109.10
9,159.40
9,259.00
8,998.40
Exited @ 8986.55
22/05/2020
USDINR
Buy
75.81
75.89
76.04
75.61
Exited @ 75.90
22/05/2020
RELIANCE
Short Sell
1,442.00
1,435.70
1,423.15
1,458.00
T1 done
22/05/2020
BANKNIFTY
Short Sell
17,256.50
16,996.30
16,462.50
17,893.80
T1 done
22/05/2020
BAJFINANCE
Short Sell
1,942.55
1,921.15
1,876.15
1,996.00
T2 done
22/05/2020
NIFTY
Short Sell
8,986.55
8,938.05
8,838.45
9,098.00
Exited @ 9049
22/05/2020
SBIN
Short Sell
150.15
148.15
144.25
155.00
Exited @ 151.15
22/05/2020
TATASTEEL
Short Sell
274.95
272.15
266.75
280.25
Exited @ 273.9
22/05/2020
BPCL
Buy
315.40
318.85
325.65
307.25
T1 done
26/05/2020
RELIANCE
Short Sell
1,431.00
1,423.25
1,407.65
1,449.70
T1 done
26/05/2020
SBIN
Short Sell
151.10
150.55
149.45
152.50
Exited @ 152.9
26/05/2020
BAJFINANCE
Short Sell
1,875.85
1,847.15
1,791.45
1,933.75
T1 done
26/05/2020
BPCL
Buy
319.10
321.35
325.45
314.20
Exited @ 313.25
26/05/2020
TATASTEEL
Buy
283.65
286.70
292.90
277.40
Exited @ 279.85
26/05/2020
SBIN
Buy
152.90
153.50
154.65
151.35
Exited @ 150.95
26/05/2020
NIFTY
Short Sell
9,095.75
9,070.70
9,018.20
9,162.55
T2 done
26/05/2020
USDINR
Short Sell
75.63
75.56
75.40
75.80
Exited @ 75.84
26/05/2020
BANKNIFTY
Short Sell
17,426.00
17,328.10
17,134.10
17,645.00
T1 done
27/05/2020
BPCL
Buy
317.15
319.05
323.15
312.75
T2 done
27/05/2020
RELIANCE
Short Sell
1,418.85
1,413.60
1,403.15
1,431.45
T1 done
27/05/2020
BAJFINANCE
Buy
1,841.75
1,872.50
1,931.50
1,783.00
T1 done
27/05/2020
BANKNIFTY
Buy
17,632.20
17,705.70
17,850.10
17,484.60
T2 done
27/05/2020
NIFTY
Buy
9,097.60
9,143.45
9,234.45
8,988.00
T2 done
27/05/2020
SBIN
Buy
152.60
153.45
155.05
150.80
T2 done
27/05/2020
RELIANCE
Buy
1,433.50
1,438.55
1,449.00
1,421.00
T2 done
28/05/2020
BPCL
Short Sell
325.20
320.70
311.90
334.35
T1 done
28/05/2020
NIFTY
Buy
9,405.40
9,446.05
9,528.45
9,320.50
T1 done
28/05/2020
RELIANCE
Buy
1,465.50
1,472.90
1,488.55
1,449.00
T1 done
28/05/2020
BAJFINANCE
Buy
1,981.70
2,002.20
2,043.80
1,934.40
Exited @ 1931.5
28/05/2020
USDINR
Short Sell
75.96
75.90
75.76
76.10
Exited @ 76.1
28/05/2020
BANKNIFTY
Buy
19,328.50
19,591.10
20,117.30
18,748.50
Exited @ 19170.1
28/05/2020
SBIN
Buy
161.65
163.45
167.05
157.65
Exited @ 157.35
28/05/2020
TATASTEEL
Short Sell
290.25
287.30
281.40
296.40
Exited @ 297.6
28/05/2020
SBIN
Short Sell
157.35
155.55
151.95
161.25
Exited @ 158.35
28/05/2020
BAJFINANCE
Short Sell
1,931.50
1,909.50
1,867.90
1,976.00
Exited @ 1950.35
28/05/2020
TATASTEEL
Buy
297.60
300.60
306.50
290.50
Exited @ 295.5
29/05/2020
BPCL
Buy
331.65
334.15
339.15
326.00
T2 done
29/05/2020
BAJFINANCE
Buy
1,939.00
1,957.05
1,995.75
1,891.00
T1 done
29/05/2020
SBIN
Buy
157.50
158.60
160.85
155.20
T2 done
29/05/2020
USDINR
Short Sell
75.85
75.81
75.74
75.95
T2 done
29/05/2020
BANKNIFTY
Buy
19,048.00
19,207.10
19,531.30
18,655.80
Exited @ 19080.4
29/05/2020
NIFTY
Buy
9,444.30
9,481.30
9,554.00
9,361.10
T1 done
29/05/2020
TATASTEEL
Buy
292.25
294.40
298.65
287.85
T1 done
01/06/2020
RELIANCE
Buy
1,499.45
1,509.80
1,531.20
1,476.20
T1 done
01/06/2020
BANKNIFTY
Buy
20,032.20
20,283.30
20,801.30
19,492.00
Exited @ 19878
01/06/2020
NIFTY
Buy
9,795.70
9,862.50
9,995.80
9,656.70
T1 done
01/06/2020
TATASTEEL
Buy
315.30
321.70
334.60
302.25
Exited @ 314.3
01/06/2020
BPCL
Buy
350.80
356.15
366.55
340.10
T1 done
01/06/2020
BAJFINANCE
Buy
2,115.90
2,166.45
2,267.35
1,998.10
T1 done
01/06/2020
USDINR
Buy
75.62
75.71
75.87
75.46
T1 done
01/06/2020
SBIN
Buy
168.45
171.05
176.05
163.35
T1 done
02/06/2020
BANKNIFTY
Buy
20,233.50
20,431.50
20,836.50
19,750.00
T1 done
02/06/2020
NIFTY
Buy
9,905.00
9,959.25
10,065.30
9,780.00
T1 done
02/06/2020
USDINR
Short Sell
75.68
75.60
75.46
75.83
T2 done
02/06/2020
TATASTEEL
Short Sell
314.85
311.65
305.45
322.65
Exited @ 322.6
02/06/2020
RELIANCE
Buy
1,537.55
1,544.80
1,559.25
1,522.35
Exited @ 1535.7
02/06/2020
BPCL
Short Sell
340.75
337.60
331.05
348.00
T1 done
02/06/2020
TATASTEEL
Buy
322.60
325.85
332.05
316.45
Exited @ 318.85
02/06/2020
BAJFINANCE
Buy
2,232.55
2,263.15
2,329.50
2,160.85
T1 done
02/06/2020
SBIN
Short Sell
167.55
165.80
162.40
171.00
Exited @ 170.25
03/06/2020
RELIANCE
Short Sell
1,539.00
1,529.55
1,509.80
1,560.00
Exited @ 315.9
03/06/2020
BPCL
Short Sell
340.40
338.10
333.70
345.90
Exited @ 346
03/06/2020
TATASTEEL
Short Sell
321.50
319.25
314.70
326.30
T1 done
03/06/2020
BPCL
Buy
346.00
348.15
352.55
341.50
T2 done
03/06/2020
SBIN
Buy
175.60
177.00
179.90
172.10
T1 done
03/06/2020
USDINR
Buy
75.37
75.45
75.62
75.18
T2 done
03/06/2020
BANKNIFTY
Buy
21,169.00
21,324.00
21,639.00
20,810.00
T1 done
03/06/2020
NIFTY
Buy
10,122.80
10,162.30
10,240.20
10,045.00
T1 done
04/06/2020
TATASTEEL
Buy
321.80
325.10
331.60
315.20
Exited @ 315.1
04/06/2020
RELIANCE
Buy
1,559.90
1,567.20
1,582.80
1,541.00
T2 done
04/06/2020
BPCL
Buy
353.90
360.70
374.70
339.00
Exited @ 339
04/06/2020
USDINR
Short Sell
75.59
75.51
75.34
75.77
Exited @ 75.79
04/06/2020
BANKNIFTY
Short Sell
20,624.00
20,423.80
20,023.80
21,080.00
T1 done
04/06/2020
BAJFINANCE
Short Sell
2,346.90
2,300.75
2,207.25
2,453.65
Exited @ 2316
04/06/2020
NIFTY
Short Sell
10,009.00
9,960.50
9,867.50
10,110.00
T1 done
04/06/2020
SBIN
Short Sell
171.90
169.40
164.50
177.65
Exited @ 174.05
04/06/2020
TATASTEEL
Short Sell
315.10
311.85
305.35
321.70
Exited @ 10018.8
04/06/2020
USDINR
Buy
75.79
75.87
76.04
75.60
Exited @ 75.73
05/06/2020
TATASTEEL
Buy
334.95
339.80
349.45
325.05
T1 done
05/06/2020
RELIANCE
Short Sell
1,594.40
1,582.40
1,560.00
1,618.00
T1 done
05/06/2020
BAJFINANCE
Short Sell
2,303.00
2,275.90
2,221.00
2,365.00
T1 done
05/06/2020
BANKNIFTY
Short Sell
20,450.00
20,280.90
19,938.70
20,817.00
Exited @ 20828.1
05/06/2020
NIFTY
Short Sell
10,046.10
10,008.50
9,933.45
10,137.40
Exited @ 10145
05/06/2020
BPCL
Buy
364.15
369.50
379.95
352.20
T1 done
05/06/2020
USDINR
Buy
75.62
75.68
75.81
75.48
T1 done
05/06/2020
SBIN
Buy
180.95
183.40
188.30
176.00
T2 done
05/06/2020
BAJFINANCE
Buy
2,367.95
2,394.35
2,449.25
2,310.10
T1 done
05/06/2020
BANKNIFTY
Buy
20,828.10
21,005.90
21,348.10
20,474.80
T1 done
05/06/2020
NIFTY
Buy
10,145.00
10,181.00
10,256.00
10,062.30
Exited @ 10139.3
08/06/2020
NIFTY
Short Sell
10,260.40
10,236.80
10,192.00
10,310.00
T2 done
08/06/2020
BPCL
Buy
387.60
392.85
403.55
376.60
T1 done
08/06/2020
SBIN
Short Sell
192.30
190.50
186.50
197.50
T1 done
08/06/2020
BANKNIFTY
Short Sell
21,476.00
21,338.00
21,064.00
21,775.00
T2 done
08/06/2020
USDINR
Short Sell
75.68
75.62
75.49
75.81
T1 done
08/06/2020
BAJFINANCE
Buy
2,529.10
2,553.60
2,604.05
2,475.55
Exited @ 2510.7
08/06/2020
RELIANCE
Short Sell
1,596.00
1,583.95
1,561.40
1,618.40
T2 done
08/06/2020
TATASTEEL
Short Sell
341.60
337.40
328.90
350.80
T1 done
09/06/2020
NIFTY
Buy
10,234.40
10,272.20
10,346.70
10,130.40
T1 done
09/06/2020
RELIANCE
Buy
1,573.70
1,585.50
1,608.35
1,551.00
Exited @ 1550.3
09/06/2020
BANKNIFTY
Buy
21,397.00
21,591.80
21,988.80
20,960.00
Exited @ 20859.8
09/06/2020
SBIN
Buy
188.70
190.65
194.25
184.20
T1 done
09/06/2020
USDINR
Short Sell
75.58
75.17
74.35
76.41
Exited @ 75.75
09/06/2020
TATASTEEL
Buy
341.60
344.35
349.95
334.70
Exited @ 334.15
09/06/2020
RELIANCE
Short Sell
1,550.30
1,538.60
1,515.20
1,574.40
T1 done
09/06/2020
BPCL
Short Sell
383.60
374.60
356.55
402.05
Exited @ 380.95
09/06/2020
NIFTY
Short Sell
10,121.80
10,082.90
10,008.50
10,204.90
T1 done
09/06/2020
TATASTEEL
Short Sell
334.15
331.10
325.20
340.45
T1 done
09/06/2020
BAJFINANCE
Short Sell
2,463.35
2,430.40
2,361.85
2,535.00
T1 done
09/06/2020
BANKNIFTY
Short Sell
20,859.80
20,662.70
20,268.10
21,357.00
T1 done
09/06/2020
USDINR
Buy
75.75
75.83
75.99
75.59
Exited @ 75.75
10/06/2020
BPCL
Short Sell
375.05
370.50
361.50
384.35
Exited @ 379.2
10/06/2020
BAJFINANCE
Short Sell
2,414.60
2,387.10
2,332.10
2,470.00
Exited @ 2442
10/06/2020
NIFTY
Buy
10,128.60
10,166.40
10,242.00
10,042.30
Exited @ 10127.8
10/06/2020
BANKNIFTY
Buy
21,004.80
21,156.60
21,475.80
20,640.00
T1 done
10/06/2020
RELIANCE
Buy
1,558.00
1,565.45
1,581.40
1,540.05
T1 done
10/06/2020
USDINR
Short Sell
75.54
75.48
75.36
75.67
Exited @ 75.67
10/06/2020
USDINR
Buy
75.67
75.73
75.85
75.55
Exited @ 75.64
11/06/2020
RELIANCE
Short Sell
1,552.70
1,544.95
1,530.00
1,567.95
T1 done
11/06/2020
BAJFINANCE
Buy
2,445.00
2,463.25
2,500.25
2,400.00
Exited @ 2385.1
11/06/2020
BPCL
Buy
383.45
386.70
393.10
377.00
Exited @ 376.85
11/06/2020
TATASTEEL
Short Sell
319.30
317.30
313.20
323.50
T2 done
11/06/2020
NIFTY
Short Sell
10,033.00
10,004.30
9,945.30
10,099.00
T1 done
11/06/2020
BANKNIFTY
Short Sell
20,861.70
20,679.10
20,324.60
21,239.70
T1 done
11/06/2020
USDINR
Buy
75.93
76.03
76.24
75.71
Exited @ 75.71
11/06/2020
SBIN
Short Sell
186.45
184.45
180.55
190.40
T1 done
11/06/2020
BAJFINANCE
Short Sell
2,385.10
2,368.85
2,331.85
2,437.00
T1 done
11/06/2020
BPCL
Short Sell
376.85
373.70
367.30
383.40
T1 done
12/06/2020
BPCL
Buy
371.65
378.45
392.15
355.25
Exited @ 370.8
12/06/2020
BAJFINANCE
Buy
2,289.00
2,330.65
2,415.95
2,199.00
T1 done
12/06/2020
USDINR
Short Sell
76.09
76.03
75.90
76.25
T2 done
12/06/2020
RELIANCE
Buy
1,532.50
1,547.30
1,576.05
1,497.00
T1 done
12/06/2020
NIFTY
Buy
9,718.00
9,778.60
9,900.95
9,581.95
T1 done
12/06/2020
BANKNIFTY
Buy
19,925.70
20,110.40
20,474.20
19,555.00
T1 done
12/06/2020
SBIN
Buy
173.50
175.15
178.35
169.80
T1 done
12/06/2020
TATASTEEL
Buy
307.15
310.45
316.95
300.00
T1 done
15/06/2020
BANKNIFTY
Short Sell
20,066.70
19,878.30
19,514.80
20,430.20
T1 done
15/06/2020
NIFTY
Short Sell
9,810.00
9,768.05
9,684.20
9,904.95
T2 done
15/06/2020
SBIN
Short Sell
174.70
173.30
170.55
177.85
T1 done
15/06/2020
BAJFINANCE
Short Sell
2,367.50
2,337.50
2,278.60
2,429.95
T1 done
15/06/2020
BPCL
Short Sell
368.10
365.25
359.50
373.95
T1 done
15/06/2020
USDINR
Buy
76.12
76.20
76.35
75.94
T1 done
15/06/2020
TATASTEEL
Short Sell
304.40
299.25
288.85
315.00
Exited @ 306.6
15/06/2020
RELIANCE
Buy
1,610.10
1,631.95
1,674.90
1,565.00
Exited @ 1614
16/06/2020
NIFTY
Short Sell
9,971.00
9,935.85
9,866.25
10,044.70
T2 done
16/06/2020
BAJFINANCE
Short Sell
2,407.35
2,387.55
2,347.95
2,452.75
T1 done
16/06/2020
BANKNIFTY
Short Sell
20,367.00
20,254.50
20,021.50
20,635.00
T1 done
16/06/2020
SBIN
Short Sell
175.95
174.70
172.25
178.85
T2 done
16/06/2020
BPCL
Buy
370.65
374.50
382.00
362.30
Exited @ 361.55
16/06/2020
RELIANCE
Short Sell
1,621.40
1,609.30
1,583.90
1,648.55
T1 done
16/06/2020
TATASTEEL
Short Sell
314.90
311.30
303.85
322.55
T1 done
16/06/2020
USDINR
Buy
76.16
76.21
76.31
75.90
T2 done
16/06/2020
BPCL
Short Sell
361.55
357.65
350.15
369.80
T1 done
17/06/2020
BANKNIFTY
Buy
20,380.90
20,569.30
20,937.30
19,917.00
T1 done
17/06/2020
BAJFINANCE
Buy
2,398.10
2,432.25
2,498.50
2,332.05
Exited @ 2398.55
17/06/2020
SBIN
Buy
172.65
174.00
176.50
169.25
T1 done
17/06/2020
NIFTY
Buy
9,939.50
9,999.25
10,119.80
9,810.05
Exited @ 9846.35
17/06/2020
USDINR
Short Sell
76.25
76.16
75.98
76.45
Exited @ 76.26
17/06/2020
RELIANCE
Buy
1,625.00
1,634.25
1,653.00
1,602.80
T1 done
18/06/2020
BAJFINANCE
Buy
2,421.90
2,443.00
2,486.40
2,375.00
T1 done
18/06/2020
BPCL
Buy
365.45
367.90
372.80
359.75
T2 done
18/06/2020
RELIANCE
Buy
1,628.60
1,639.20
1,660.00
1,606.20
T1 done
18/06/2020
NIFTY
Buy
9,880.45
9,901.45
9,947.45
9,825.00
T2 done
18/06/2020
SBIN
Buy
174.45
175.60
178.00
171.70
T1 done
18/06/2020
BANKNIFTY
Buy
20,186.50
20,266.00
20,432.00
19,982.00
T2 done
18/06/2020
TATASTEEL
Buy
312.10
314.25
318.55
307.40
T1 done
18/06/2020
USDINR
Short Sell
76.14
76.08
75.95
76.28
Exited @ 76.28
19/06/2020
BPCL
Buy
378.30
380.90
386.25
371.00
T1 done
19/06/2020
RELIANCE
Buy
1,685.30
1,696.50
1,719.15
1,662.00
T2 done
19/06/2020
BAJFINANCE
Buy
2,648.00
2,683.75
2,757.35
2,560.05
T1 done
19/06/2020
TATASTEEL
Short Sell
318.80
316.40
311.55
324.55
Exited @ 324.7
19/06/2020
USDINR
Short Sell
76.26
76.19
76.06
76.40
Exited @ 76.23
19/06/2020
BANKNIFTY
Buy
21,170.80
21,342.30
21,679.30
20,826.00
T1 done
19/06/2020
SBIN
Buy
183.40
185.10
188.40
179.50
Exited @ 184.45
19/06/2020
NIFTY
Buy
10,146.00
10,188.60
10,277.60
10,051.00
T1 done
19/06/2020
TATASTEEL
Buy
324.70
327.15
331.95
319.70
Exited @ 319.45
22/06/2020
BPCL
Buy
386.90
390.25
397.15
379.70
Exited @ 385.9
22/06/2020
USDINR
Short Sell
76.18
76.13
76.05
76.28
T2 done
22/06/2020
SBIN
Buy
188.05
189.55
192.70
184.60
T1 done
22/06/2020
BANKNIFTY
Buy
21,801.20
21,990.70
22,360.70
21,400.00
T1 done
22/06/2020
TATASTEEL
Buy
323.70
326.40
331.40
318.50
T1 done
22/06/2020
NIFTY
Buy
10,357.00
10,406.60
10,505.60
10,248.00
Exited @ 10293.7
22/06/2020
BAJFINANCE
Buy
2,853.10
2,913.25
3,034.50
2,728.15
Exited @ 2845.85
23/06/2020
NIFTY
Short Sell
10,294.00
10,270.50
10,227.00
10,345.00
Exited @ 10358.7
23/06/2020
BANKNIFTY
Short Sell
21,642.80
21,546.20
21,331.60
21,915.00
Exited @ 21927.7
23/06/2020
BAJFINANCE
Short Sell
2,842.00
2,806.95
2,737.95
2,947.00
Exited @ 2949
23/06/2020
SBIN
Short Sell
188.05
187.00
184.80
191.00
Exited @ 191.15
23/06/2020
TATASTEEL
Short Sell
326.75
324.70
320.90
330.95
Exited @ 331.3
23/06/2020
BPCL
Short Sell
382.75
379.55
373.15
389.95
Exited @ 391.1
23/06/2020
SBIN
Buy
191.15
192.30
194.50
188.80
T1 done
23/06/2020
NIFTY
Buy
10,358.70
10,378.90
10,422.40
10,301.50
T2 done
23/06/2020
RELIANCE
Short Sell
1,730.00
1,713.90
1,681.70
1,763.75
Exited @ 1719.55
23/06/2020
USDINR
Short Sell
75.82
75.77
75.66
75.94
T2 done
23/06/2020
TATASTEEL
Buy
331.30
333.35
337.15
327.10
T1 done
23/06/2020
BPCL
Buy
391.10
394.30
400.65
383.60
Exited @ 391
23/06/2020
BANKNIFTY
Buy
21,927.70
22,027.60
22,242.20
21,700.40
T2 done
23/06/2020
BAJFINANCE
Buy
2,949.00
2,982.30
3,051.30
2,878.00
T1 done
24/06/2020
NIFTY
Buy
10,528.40
10,548.40
10,586.60
10,478.80
Exited @ 10462.2
24/06/2020
RELIANCE
Short Sell
1,723.00
1,713.15
1,692.75
1,744.90
T1 done
24/06/2020
USDINR
Buy
75.69
75.75
75.87
75.56
T1 done
24/06/2020
BANKNIFTY
Short Sell
22,205.80
22,064.50
21,785.00
22,494.80
T1 done
24/06/2020
BAJFINANCE
Short Sell
3,047.20
3,010.50
2,935.50
3,125.00
T1 done
24/06/2020
TATASTEEL
Short Sell
331.25
328.00
321.45
338.15
T1 done
24/06/2020
SBIN
Short Sell
191.60
190.35
188.00
194.80
T1 done
24/06/2020
BPCL
Short Sell
387.75
384.50
378.00
394.40
T1 done
24/06/2020
NIFTY
Short Sell
10,462.20
10,443.10
10,404.90
10,517.00
T2 done
24/06/2020
RELIANCE
Buy
1,748.60
1,758.30
1,778.70
1,724.50
T1 done
25/06/2020
BANKNIFTY
Buy
21,314.30
21,500.80
21,876.40
20,906.40
T1 done
25/06/2020
SBIN
Buy
184.80
186.55
190.30
180.40
T1 done
25/06/2020
NIFTY
Buy
10,278.00
10,326.30
10,419.30
10,181.00
T1 done
25/06/2020
BAJFINANCE
Buy
2,963.00
3,006.25
3,092.85
2,851.00
T1 done
25/06/2020
USDINR
Short Sell
75.69
75.65
75.56
75.79
T2 done
25/06/2020
BPCL
Short Sell
373.55
368.40
358.20
384.30
T1 done
26/06/2020
BPCL
Buy
383.70
388.70
398.60
373.00
T1 done
26/06/2020
BAJFINANCE
Short Sell
2,973.60
2,936.75
2,864.15
3,058.80
T1 done
26/06/2020
SBIN
Short Sell
186.45
185.30
183.20
188.60
T1 done
26/06/2020
RELIANCE
Short Sell
1,723.00
1,712.25
1,690.45
1,746.80
Exited @ 1747
26/06/2020
TATASTEEL
Short Sell
325.00
323.50
320.50
328.65
Exited @ 329.15
26/06/2020
USDINR
Short Sell
75.48
75.42
75.31
75.60
Exited @ 75.6
26/06/2020
TATASTEEL
Buy
329.15
330.60
333.60
325.65
Exited @ 325.1
29/06/2020
TATASTEEL
Short Sell
316.55
311.95
302.75
326.00
Exited @ 323.45
29/06/2020
BPCL
Short Sell
385.40
380.10
370.10
395.60
T1 done
29/06/2020
BANKNIFTY
Short Sell
20,944.10
20,796.80
20,505.80
21,251.00
Exited @ 21268.7
29/06/2020
SBIN
Short Sell
180.35
179.20
176.80
183.00
T1 done
29/06/2020
NIFTY
Short Sell
10,191.00
10,157.80
10,088.20
10,265.40
T1 done
29/06/2020
USDINR
Short Sell
75.80
75.77
75.69
75.88
T1 done
29/06/2020
RELIANCE
Short Sell
1,720.35
1,710.50
1,691.45
1,739.75
Exited @ 1726.35
30/06/2020
TATASTEEL
Buy
336.65
343.05
355.95
323.10
Exited @ 323.1
30/06/2020
BPCL
Short Sell
382.80
380.05
374.55
389.05
T1 done
30/06/2020
BAJFINANCE
Short Sell
2,877.00
2,846.00
2,787.60
2,936.65
T1 done
30/06/2020
USDINR
Short Sell
75.64
75.60
75.53
75.72
Exited @ 75.73
30/06/2020
BANKNIFTY
Short Sell
21,383.00
21,325.00
21,200.00
21,525.00
T2 done
30/06/2020
NIFTY
Short Sell
10,297.50
10,285.70
10,257.00
10,334.40
T2 done
30/06/2020
SBIN
Short Sell
180.90
180.00
178.25
182.85
T2 done
30/06/2020
RELIANCE
Short Sell
1,729.25
1,724.35
1,714.55
1,740.00
T2 done
30/06/2020
USDINR
Buy
75.73
75.76
75.83
75.65
T1 done
01/07/2020
BANKNIFTY
Buy
21,475.30
21,614.40
21,891.40
21,168.00
T1 done
01/07/2020
NIFTY
Buy
10,306.70
10,337.00
10,395.00
10,244.10
T2 done
01/07/2020
SBIN
Buy
181.40
182.60
184.90
178.60
T1 done
01/07/2020
BAJFINANCE
Buy
2,884.00
2,917.40
2,986.10
2,806.00
T1 done
01/07/2020
BPCL
Short Sell
375.75
372.45
365.85
382.60
Exited @ 383.15
01/07/2020
USDINR
Buy
75.75
75.79
75.86
75.68
T1 done
01/07/2020
RELIANCE
Short Sell
1,711.55
1,703.55
1,687.55
1,727.95
Exited @ 1729.55
01/07/2020
RELIANCE
Buy
1,729.55
1,737.00
1,753.00
1,711.95
T1 done
01/07/2020
BPCL
Buy
383.15
386.50
393.10
376.00
Exited @ 379.7
02/07/2020
RELIANCE
Short Sell
1,736.20
1,731.95
1,722.95
1,747.00
Exited @ 1750.9
02/07/2020
BAJFINANCE
Short Sell
2,962.65
2,938.60
2,888.90
3,014.95
T1 done
02/07/2020
BANKNIFTY
Short Sell
22,017.00
21,915.60
21,706.70
22,289.70
T1 done
02/07/2020
TATASTEEL
Short Sell
325.15
323.45
320.35
328.60
Exited @ 334.65
02/07/2020
BPCL
Short Sell
380.55
378.05
373.15
385.75
Exited @ 387.15
02/07/2020
SBIN
Short Sell
185.20
184.00
181.65
188.00
Exited @ 185.4
02/07/2020
RELIANCE
Buy
1,750.90
1,755.75
1,764.75
1,738.00
T2 done
02/07/2020
BPCL
Buy
387.15
389.45
394.35
380.85
T1 done
02/07/2020
NIFTY
Buy
10,510.00
10,540.00
10,600.00
10,448.00
T1 done
02/07/2020
USDINR
Short Sell
75.61
75.57
75.49
75.70
T2 done
02/07/2020
TATASTEEL
Buy
329.20
330.95
334.15
325.45
T2 done
03/07/2020
BANKNIFTY
Short Sell
21,795.80
21,625.00
21,290.00
22,149.00
Exited @ 21860
03/07/2020
USDINR
Buy
74.97
75.08
75.30
74.72
T1 done
03/07/2020
BPCL
Short Sell
384.95
382.25
377.00
390.55
Exited @ 385.75
03/07/2020
BAJFINANCE
Buy
2,985.00
3,007.00
3,050.90
2,940.00
Exited @ 2939
03/07/2020
SBIN
Short Sell
183.90
182.45
179.60
186.85
Exited @ 185
03/07/2020
RELIANCE
Buy
1,787.75
1,796.50
1,813.50
1,768.00
Exited @ 1788.75
03/07/2020
BAJFINANCE
Short Sell
2,939.00
2,917.90
2,874.00
2,983.95
Exited @ 1936.2
03/07/2020
TATASTEEL
Short Sell
330.00
326.40
319.45
337.00
Exited @ 330
06/07/2020
RELIANCE
Buy
1,821.75
1,835.50
1,863.10
1,792.10
T1 done
06/07/2020
TATASTEEL
Buy
334.90
336.90
341.20
330.30
T1 done
06/07/2020
NIFTY
Buy
10,703.00
10,721.00
10,760.00
10,661.50
T1 done
06/07/2020
USDINR
Buy
74.81
74.91
75.12
74.60
T1 done
06/07/2020
BPCL
Buy
393.30
396.60
403.55
385.40
T1 done
06/07/2020
BANKNIFTY
Short Sell
22,155.00
22,021.30
21,746.80
22,444.00
Exited @ 22228.3
06/07/2020
BAJFINANCE
Buy
3,030.00
3,053.35
3,102.10
2,966.25
T1 done
07/07/2020
BPCL
Short Sell
379.20
373.85
363.10
391.25
Exited @ 379.5
07/07/2020
BAJFINANCE
Buy
3,223.15
3,267.85
3,357.30
3,125.30
T1 done
07/07/2020
RELIANCE
Short Sell
1,840.75
1,830.00
1,807.85
1,864.35
T2 done
07/07/2020
TATASTEEL
Short Sell
332.40
329.35
323.25
338.80
T1 done
07/07/2020
USDINR
Buy
74.93
75.01
75.16
74.76
T1 done
07/07/2020
NIFTY
Short Sell
10,705.00
10,680.00
10,630.20
10,764.80
T1 done
07/07/2020
SBIN
Short Sell
184.75
183.40
180.70
187.75
Exited @ 188.3
07/07/2020
BANKNIFTY
Buy
22,302.10
22,399.80
22,626.80
22,010.30
T1 done
07/07/2020
SBIN
Buy
188.30
189.60
192.30
185.05
Exited @ 188.85
08/07/2020
USDINR
Buy
75.12
75.18
75.30
74.97
T1 done
08/07/2020
RELIANCE
Short Sell
1,816.50
1,807.90
1,790.00
1,834.95
T1 done
08/07/2020
NIFTY
Short Sell
10,766.50
10,742.10
10,692.30
10,817.00
T1 done
08/07/2020
BPCL
Short Sell
379.60
377.55
372.90
384.85
Eixited @ 385.2
08/07/2020
SBIN
Buy
194.75
197.65
203.45
188.40
Exited @ 191.15
08/07/2020
BANKNIFTY
Buy
22,844.00
22,929.00
23,107.80
22,615.00
T1 done
08/07/2020
BAJFINANCE
Short Sell
3,281.20
3,229.70
3,121.90
3,408.80
Exited @ 3249.6
08/07/2020
TATASTEEL
Buy
343.15
347.00
354.50
332.45
T1 done
08/07/2020
BPCL
Buy
385.20
387.35
391.95
380.20
T1 done
08/07/2020
NIFTY
Buy
10,819.00
10,842.90
10,892.70
10,767.20
Exited @ 10758.8
09/07/2020
BANKNIFTY
Buy
22,830.00
22,898.70
23,053.30
22,665.40
T1 done
09/07/2020
TATASTEEL
Buy
345.55
350.25
359.25
336.50
Exited @ 344.9
09/07/2020
NIFTY
Buy
10,749.00
10,767.00
10,803.20
10,712.80
T2 done
09/07/2020
BAJFINANCE
Buy
3,294.60
3,331.75
3,405.30
3,195.10
T1 done
09/07/2020
RELIANCE
Buy
1,811.65
1,823.35
1,846.10
1,786.25
Exited @ 1826.25
09/07/2020
BPCL
Short Sell
378.55
377.35
374.55
381.80
T1 done
09/07/2020
USDINR
Buy
75.13
75.18
75.29
75.02
T1 done
09/07/2020
SBIN
Buy
195.90
197.25
200.00
192.70
T2 done
10/07/2020
BAJFINANCE
Buy
3,361.00
3,402.80
3,486.30
3,275.00
10/07/2020
BANKNIFTY
Buy
22,790.00
22,847.30
22,960.30
22,675.00
Exited @ 22672.1
10/07/2020
NIFTY
Buy
10,798.00
10,813.30
10,843.80
10,765.00
Exited @ 10763
10/07/2020
USDINR
Buy
75.35
74.45
75.66
75.13
T1 done
10/07/2020
TATASTEEL
Short Sell
338.80
336.65
331.95
344.30
T1 done
10/07/2020
BANKNIFTY
Short Sell
22,672.10
22,614.90
22,501.90
22,788.00
T2 done
10/07/2020
NIFTY
Short Sell
10,763.00
10,746.80
10,716.30
10,795.50
T2 done
10/07/2020
BPCL
Short Sell
372.55
369.65
363.25
380.50
Exited @ 376.4
10/07/2020
SBIN
Short Sell
196.90
194.35
189.25
202.50
Exited @ 195.5
10/07/2020
RELIANCE
Buy
1,855.70
1,868.85
1,894.60
1,824.25
T1 done
13/07/2020
BANKNIFTY
Short Sell
22,495.40
22,415.80
22,256.50
22,664.40
T2 done
13/07/2020
SBIN
Short Sell
196.10
194.35
190.75
199.80
T1 done
13/07/2020
BAJFINANCE
Short Sell
3,329.25
3,305.25
3,257.25
3,378.00
T1 dine
13/07/2020
BPCL
Buy
382.05
385.40
391.40
385.40
Exited @ 380.25
13/07/2020
RELIANCE
Buy
1,943.50
1,962.30
2,001.00
1,900.30
Exited @ 1933
13/07/2020
USDINR
Short Sell
75.25
75.20
75.10
75.34
Exited @ 75.29
13/07/2020
NIFTY
Buy
10,868.60
10,888.40
10,929.00
100,822.40
Exited @ 10821.8
13/07/2020
TATASTEEL
Short Sell
341.35
338.85
333.95
347.00
T1 done
13/07/2020
NIFTY
Short Sell
10,821.80
10,800.90
10,760.30
10,863.00
T2 done
14/07/2020
SBIN
Short Sell
188.80
187.10
183.80
192.30
T1 done
14/07/2020
RELIANCE
Buy
1,939.40
1,948.35
1,966.65
1,916.00
Exited @ 1913.55
14/07/2020
BANKNIFTY
Short Sell
21,652.00
21,531.90
21,276.10
21,944.00
T1 done
14/07/2020
BAJFINANCE
Short Sell
3,143.55
3,111.50
3,041.70
3,219.80
Exited @ 3192.6
14/07/2020
NIFTY
Short Sell
10,678.70
10,644.00
10,569.00
10,761.90
T2 done
14/07/2020
TATASTEEL
Short Sell
335.20
333.50
330.00
339.00
T1 done
14/07/2020
USDINR
Buy
75.53
75.60
75.75
75.34
T1 done
14/07/2020
RELIANCE
Short Sell
1,913.55
1,903.90
1,885.60
1,935.00
T1 done
14/07/2020
BPCL
Short Sell
375.95
370.95
361.05
385.90
Exited @ 375
15/07/2020
NIFTY
Buy
10,724.00
10,752.30
10,810.80
10,663.60
T2 done
15/07/2020
SBIN
Buy
189.60
190.85
193.25
186.70
Exited @ 186.4
15/07/2020
BANKNIFTY
Buy
21,825.30
21,969.30
22,263.30
21,472.00
Exited @ 21338.1
15/07/2020
USDINR
Short Sell
75.38
75.35
75.28
75.47
T2 done
15/07/2020
BAJFINANCE
Buy
3,278.00
3,301.45
3,348.35
3,228.10
Exited @ 3216.3
15/07/2020
RELIANCE
Buy
1,949.00
1,956.25
1,969.60
1,935.00
T2 done
15/07/2020
SBIN
Short Sell
186.40
185.25
182.75
189.15
T2 done
15/07/2020
BPCL
Short Sell
372.10
367.35
357.80
382.05
Exited @ 369.85
15/07/2020
BAJFINANCE
Short Sell
3,216.30
3,192.75
3,145.85
3,275.00
T1 done
15/07/2020
TATASTEEL
Short Sell
339.45
336.40
330.25
346.50
Exited @ 339.45
15/07/2020
RELIANCE
Short Sell
1,898.25
1,891.75
1,878.40
1,948.35
Exited @ 1901.4
15/07/2020
BANKNIFTY
Short Sell
21,338.10
21,188.70
20,894.70
21,766.00
Exited @ 21328.5
16/07/2020
BAJFINANCE
Buy
3,184.30
3,223.20
3,300.90
3,102.30
Exited @ 3208.2
16/07/2020
NIFTY
Buy
10,679.00
10,725.40
10,818.50
10,580.90
T1 done
16/07/2020
BPCL
Short Sell
361.45
356.15
345.15
372.75
Exited @ 373.4
16/07/2020
USDINR
Buy
75.38
75.46
75.60
75.23
Exited @ 75.33
16/07/2020
BPCL
Buy
373.40
378.90
389.85
361.80
T1 done
16/07/2020
TATASTEEL
Buy
342.50
345.40
351.85
331.55
T1 done
16/07/2020
BANKNIFTY
Buy
21,413.00
21,601.50
21,976.50
21,025.00
T1 done
16/07/2020
SBIN
Buy
186.15
188.25
192.50
181.65
Exited @ 186.1
17/07/2020
TATASTEEL
Buy
355.90
360.70
370.40
345.15
Exited @ 350.9
17/07/2020
BAJFINANCE
Buy
3,268.55
3,297.60
3,353.85
3,210.00
T1 done
17/07/2020
BANKNIFTY
Buy
21,810.00
21,979.80
22,319.30
21,459.50
T1 done
17/07/2020
USDINR
Short Sell
75.23
75.19
75.11
75.34
T2 done
17/07/2020
SBIN
Buy
187.80
188.75
190.55
186.00
Exited @ 185.85
17/07/2020
BPCL
Buy
409.70
416.15
430.00
392.00
T1 done
17/07/2020
NIFTY
Buy
10,798.90
10,828.30
10,889.30
10,736.00
T2 done
17/07/2020
SBIN
Short Sell
185.85
184.95
183.15
187.80
Exited @ 187.9
17/07/2020
RELIANCE
Buy
1,863.00
1,871.15
1,888.15
1,845.00
T2 done
20/07/2020
BAJFINANCE
Buy
3,363.00
3,384.30
3,427.80
3,316.50
T2 done
20/07/2020
TATASTEEL
Short Sell
348.50
346.15
341.85
354.70
Exited @ 352.75
20/07/2020
USDINR
Buy
75.09
75.16
75.31
74.91
Exited @ 74.90
20/07/2020
NIFTY
Buy
10,986.00
11,013.80
11,067.20
10,931.00
Exited @ 10930.2
20/07/2020
NIFTY
Short Sell
10,930.20
10,901.80
10,848.40
10,984.40
Exited @ 10994.6
20/07/2020
BPCL
Short Sell
437.50
432.10
421.80
448.00
Exited @ 436.75
20/07/2020
USDINR
Short Sell
74.90
74.83
74.68
75.05
T1 done
21/07/2020
BPCL
Buy
449.95
455.50
467.10
435.40
T1 done
21/07/2020
BAJFINANCE
Short Sell
3,457.05
3,431.90
3,380.80
3,513.55
T2 done
21/07/2020
RELIANCE
Buy
1,960.40
1,971.80
1,994.65
1,936.50
T1 done
21/07/2020
TATASTEEL
Short Sell
350.30
346.85
340.05
357.40
Exited @ 358.15
21/07/2020
USDINR
Buy
74.88
74.94
75.07
74.74
Exited @ 74.72
21/07/2020
SBIN
Buy
193.80
194.55
196.05
192.10
T2 done
21/07/2020
BANKNIFTY
Buy
22,702.30
22,796.30
22,984.20
22,512.00
T1 done
21/07/2020
NIFTY
Buy
11,138.40
11,157.80
11,196.00
11,097.10
T1 done
21/07/2020
USDINR
Short Sell
74.72
74.66
74.53
74.86
Exited @ 74.70
22/07/2020
SBIN
Short Sell
190.30
187.60
182.30
195.70
Exited @ 196.05
22/07/2020
USDINR
Buy
74.69
74.75
74.87
74.55
T2 done
22/07/2020
TATASTEEL
Buy
362.00
366.30
374.65
353.40
Exited @ 352.9
22/07/2020
RELIANCE
Buy
2,004.00
2,022.00
2,059.20
1,960.70
Exited @ 2006.3
22/07/2020
SBIN
Buy
196.05
198.65
204.00
190.35
Exited @ 192
22/07/2020
TATASTEEL
Short Sell
352.90
348.85
340.45
361.75
T1 done
22/07/2020
BANKNIFTY
Short Sell
22,605.00
22,356.40
21,836.40
23,145.00
Exited @ 22854.5
22/07/2020
BPCL
Short Sell
452.05
446.65
435.65
464.95
Exited @ 351.6
23/07/2020
BPCL
Buy
474.00
489.45
520.05
443.03
Exited @ 456.35
23/07/2020
SBIN
Buy
191.35
194.15
198.45
191.15
T1 done
23/07/2020
USDINR
Short Sell
74.62
74.57
74.46
74.73
Exited @ 74.75
23/07/2020
RELIANCE
Buy
2,021.00
2,034.75
2,963.25
1,991.55
T1 done
23/07/2020
NIFTY
Buy
11,156.00
11,182.00
11,236.20
11,098.80
T1 done
23/07/2020
BANKNIFTY
Buy
22,909.00
22,999.30
23,191.80
22,706.50
T1 done
23/07/2020
BAJFINANCE
Buy
3,295.00
3,327.50
3,392.90
3,220.85
Exited @ 3293
23/07/2020
USDINR
Buy
74.75
74.80
74.91
74.63
T1 done
23/07/2020
TATASTEEL
Buy
352.80
355.10
359.80
347.80
Exited @ 351.9
24/07/2020
TATASTEEL
Buy
349.30
351.30
355.30
345.00
Exited @ 344.5
24/07/2020
BAJFINANCE
Buy
3,279.80
3,301.30
3,343.95
3,325.25
Exited @ 3228.05
24/07/2020
RELIANCE
Buy
2,144.60
2,186.35
2,268.35
2,058.00
Exited @ 2138.8
24/07/2020
BANKNIFTY
Short Sell
22,586.90
22,488.70
22,260.00
22,851.00
T1 done
24/07/2020
SBIN
Short Sell
193.60
192.65
190.65
195.70
T2 done
24/07/2020
NIFTY
Short Sell
11,087.00
11,068.20
11,027.30
11,134.80
T1 done
24/07/2020
TATASTEEL
Short Sell
344.50
342.50
338.50
349.00
Exited @ 346
24/07/2020
BPCL
Short Sell
450.25
444.10
431.70
463.50
Exited @ 447.5
24/07/2020
BAJFINANCE
Short Sell
3,228.05
3,206.70
3,164.04
3,277.90
Exited @ 3253.45
24/07/2020
USDINR
Short Sell
74.85
74.79
74.68
74.98
Exited @ 74.98
24/07/2020
NIFTY
Buy
11,140.00
11,158.90
11,199.80
11,093.90
T1 done
27/07/2020
BPCL
Buy
455.00
463.30
475.20
444.00
T1 done
27/07/2020
BAJFINANCE
Short Sell
3,194.05
3,155.40
3,075.40
3,280.00
T1 done
27/07/2020
BANKNIFTY
Short Sell
22,047.50
21,763.00
21,194.40
22,620.20
Exited @ 21862.6
27/07/2020
USDINR
Buy
74.73
74.80
74.92
74.60
T1 done
27/07/2020
TATASTEEL
Buy
352.65
356.35
363.85
344.25
Exited @ 352.85
27/07/2020
SBIN
Short Sell
187.15
184.20
178.30
193.20
Exited @ 187.5
28/07/2020
SBIN
Short Sell
187.25
186.00
183.70
189.75
T1 done
28/07/2020
BANKNIFTY
Short Sell
21,843.80
21,712.30
21,460.70
22,090.00
T1 done
28/07/2020
USDINR
Short Sell
74.72
74.65
74.50
74.88
Exited @ 74.9
28/07/2020
NIFTY
Buy
11,207.10
11,244.30
11,320.80
11,128.50
T2 done
28/07/2020
RELIANCE
Buy
2,182.70
2,197.25
2,226.35
2,150.65
Exited @ 2180.75
28/07/2020
BAJFINANCE
Buy
3,236.90
3,266.85
3,326.80
3,175.00
Exited @ 3237.95
28/07/2020
USDINR
Buy
74.90
74.97
75.11
74.74
Exited @ 74.74
28/07/2020
BPCL
Short Sell
460.25
453.60
440.35
473.70
Exited @ 460.75
28/07/2020
BANKNIFTY
Buy
22,100.80
22,226.80
22,478.60
21,838.30
T1 done
28/07/2020
SBIN
Buy
189.95
191.05
193.35
187.45
Exited @ 189.55
29/07/2020
TATASTEEL
Buy
368.00
373.85
385.45
356.15
T1 done
29/07/2020
USDINR
Short Sell
74.81
74.78
74.71
74.88
T1 done
29/07/2020
SBIN
Buy
191.75
194.10
198.70
187.00
T1 done
29/07/2020
BAJFINANCE
Buy
3,284.45
3,305.35
3,344.70
3,239.60
T1 done
29/07/2020
BANKNIFTY
Buy
22,373.80
22,536.30
22,859.50
22,043.80
Exited @ 21999.5
29/07/2020
RELIANCE
Short Sell
2,134.45
2,112.25
2,067.25
2,182.25
T1 done
29/07/2020
NIFTY
Short Sell
11,242.90
11,203.00
11,122.50
11,343.40
T1 done
29/07/2020
BPCL
Short Sell
451.80
444.10
428.70
467.65
Exited @ 454.1
29/07/2020
BANKNIFTY
Short Sell
21,999.50
21,833.40
21,510.20
22,367.00
Exited @ 22170
30/07/2020
NIFTY
Buy
11,270.00
11,314.90
11,404.70
11,180.00
Exited @ 11178.3
30/07/2020
BAJFINANCE
Short Sell
3,288.55
3,275.05
3,246.45
3,324.00
T2 done
30/07/2020
SBIN
Short Sell
191.60
190.85
189.45
193.50
T2 done
30/07/2020
RELIANCE
Buy
2,125.00
2,147.50
2,192.75
2,072.00
Exited @ 2109.55
30/07/2020
TATASTEEL
Short Sell
370.90
367.70
361.35
377.80
T1 done
30/07/2020
BANKNIFTY
Short Sell
22,080.00
21,995.10
21,825.30
22,259.80
T2 done
30/07/2020
BPCL
Short Sell
428.60
424.10
414.60
439.90
Exited @ 420.6
30/07/2020
NIFTY
Short Sell
11,178.30
11,133.40
11,043.60
11,269.80
T1 done
30/07/2020
USDINR
Buy
75.09
75.13
75.21
74.99
Exited @ 75.10
31/07/2020
BPCL
Short Sell
416.95
412.15
402.50
428.00
T1 done
31/07/2020
TATASTEEL
Buy
368.35
372.00
379.60
360.40
Exited @ 365
31/07/2020
RELIANCE
Short Sell
2,067.00
2,038.40
1,979.45
2,129.00
Exited @ 2068
31/07/2020
USDINR
Short Sell
74.87
74.82
74.70
75.01
Exited @ 75.03
31/07/2020
BAJFINANCE
Buy
3,244.00
3,274.00
3,335.10
3,181.25
Exited @ 3248.15
31/07/2020
GBPINR
Buy
98.52
98.80
99.30
97.99
Exited @ 97.99
31/07/2020
SBIN
Buy
191.70
194.15
199.05
186.70
T1 done
31/07/2020
USDINR
Buy
75.03
75.08
75.20
74.89
Exited @ 75.01
31/07/2020
NIFTY
Short Sell
11,047.00
10,996.50
10,900.90
11,150.00
Exited @ 11094.7
03/08/2020
BAJFINANCE
Short Sell
3,196.85
3,176.10
3,133.50
3,244.00
T1 done
03/08/2020
TATASTEEL
Buy
372.35
376.25
383.70
362.40
T1 done
03/08/2020
RELIANCE
Short Sell
2,028.95
2,018.95
1,998.85
2,052.40
T1 done
03/08/2020
NIFTY
Short Sell
10,959.40
10,927.40
10,863.40
11,025.40
T1 done
03/08/2020
SBIN
Buy
194.10
195.65
198.95
190.65
Exited @ 192.1
03/08/2020
GBPINR
Short Sell
98.17
98.10
97.90
98.37
Exited @ 98.37
03/08/2020
USDINR
Buy
75.17
75.21
75.30
75.06
T2 done
03/08/2020
BANKNIFTY
Short Sell
21,240.00
21,094.60
20,796.30
21,548.50
T1 done
04/08/2020
RELIANCE
Buy
2,053.80
2,077.20
2,123.95
2,000.25
T1 done
04/08/2020
TATASTEEL
Short Sell
369.90
366.20
358.90
378.00
Exited @ 371.5
04/08/2020
BANKNIFTY
Buy
21,340.90
21,450.50
21,651.50
21,107.00
T1 done
04/08/2020
NIFTY
Buy
10,975.30
11,005.00
11,060.00
10,912.50
T2 done
04/08/2020
SBIN
Short Sell
191.85
191.10
189.55
193.80
T1 done
04/08/2020
BPCL
Buy
422.00
425.40
432.30
413.35
Exited @ 412.7
04/08/2020
BAJFINANCE
Buy
3,211.25
3,243.95
3,309.85
3,142.85
T1 done
04/08/2020
USDINR
Short Sell
75.27
75.23
75.14
75.39
T1 done
04/08/2020
GBPINR
Short Sell
98.43
98.35
98.20
98.58
T2 done
04/08/2020
BPCL
Short Sell
412.70
409.45
402.65
420.20
T2 done
05/08/2020
BANKNIFTY
Buy
21,956.30
22,083.30
22,339.80
21,657.50
Exited @ 21538.2
05/08/2020
NIFTY
Buy
11,210.90
11,250.00
11,328.00
11,131.90
Exited @ 11127.4
05/08/2020
TATASTEEL
Buy
382.00
386.10
394.55
373.05
T1 done
05/08/2020
GBPINR
Short Sell
98.21
98.10
97.90
98.42
T1 done
05/08/2020
BPCL
Buy
414.50
419.00
427.40
405.10
Exited @ 410.35
05/08/2020
RELIANCE
Short Sell
2,144.00
2,122.20
2,078.55
2,196.00
T1 done
05/08/2020
NIFTY
Short Sell
11,127.40
11,088.30
11,010.20
11,210.00
T1 done
05/08/2020
SBIN
Short Sell
192.10
190.25
186.50
196.30
Exited @ 191.55
05/08/2020
BANKNIFTY
Short Sell
21,538.20
21,409.80
21,153.30
21,914.00
Exited @ 21587.6
06/08/2020
NIFTY
Buy
11,183.60
11,210.50
11,263.40
11,120.10
T2 done
06/08/2020
TATASTEEL
Buy
393.30
396.75
403.95
385.50
T1 done
06/08/2020
BANKNIFTY
Short Sell
21,527.80
21,453.90
21,300.10
21,685.00
T1 done
06/08/2020
SBIN
Short Sell
191.70
190.60
188.70
193.50
T1 done
06/08/2020
GBPINR
Buy
98.55
98.60
98.75
98.37
T2 done
06/08/2020
BAJFINANCE
Buy
3,305.00
3,329.75
3,377.75
3,255.00
T1 done
06/08/2020
BANKNIFTY
Buy
21,759.30
21,824.90
21,978.70
21,531.20
T1 done
06/08/2020
SBIN
Buy
193.85
194.80
196.70
191.60
Exited @ 191.2
06/08/2020
RELIANCE
Buy
2,162.45
2,187.35
2,236.55
2,107.80
Exited @ 2137.95
06/08/2020
USDINR
Buy
75.05
75.11
75.23
74.93
T1 done
06/08/2020
BPCL
Short Sell
409.20
402.15
388.15
423.50
Exited @ 409.15
07/08/2020
TATASTEEL
Buy
405.50
410.85
421.55
393.10
Exited @ 403.45
07/08/2020
BAJFINANCE
Buy
3,371.55
3,401.15
3,460.15
3,310.00
T1 done
07/08/2020
BPCL
Buy
417.15
420.20
426.15
411.05
T1 done
07/08/2020
GBPINR
Short Sell
98.47
98.40
98.25
98.61
Exited @ 98.62
07/08/2020
GBPINR
Buy
98.62
98.70
98.85
98.47
Exited @ 98.45
07/08/2020
BANKNIFTY
Buy
21,722.40
21,841.80
22,081.80
21,435.50
Exited @ 21773.3
07/08/2020
NIFTY
Buy
11,217.80
11,249.50
11,317.40
11,142.00
T1 done
10/08/2020
USDINR
Short Sell
75.05
74.99
74.86
75.20
Exited @ 75.06
10/08/2020
TATASTEEL
Short Sell
400.05
397.60
392.40
405.75
Exited @ 406.95
10/08/2020
RELIANCE
Short Sell
2,147.95
2,140.40
2,125.40
2,165.00
T2 done
10/08/2020
BAJFINANCE
Short Sell
3,483.70
3,447.70
3,377.10
3,556.85
T1 done
10/08/2020
TATASTEEL
Buy
406.95
409.35
414.55
400.55
T1 done
10/08/2020
BPCL
Short Sell
415.50
411.40
403.70
423.00
Exited @ 415.05
11/08/2020
BAJFINANCE
Short Sell
3,430.90
3,407.10
3,361.35
3,488.75
T1 done
11/08/2020
SBIN
Short Sell
194.95
194.00
192.20
196.80
T1 done
11/08/2020
RELIANCE
Short Sell
2,114.50
2,100.60
2,073.60
2,142.00
T1 done
11/08/2020
NIFTY
Short Sell
11,337.10
11,318.30
11,282.00
11,376.80
T1 done
11/08/2020
USDINR
Short Sell
74.94
74.90
74.83
75.02
T2 done
11/08/2020
RELIANCE
Buy
2,147.50
2,161.15
2,188.15
2,115.00
Exited @ 2131
11/08/2020
BPCL
Buy
427.10
432.50
443.40
415.60
T1 done
11/08/2020
BANKNIFTY
Buy
22,289.00
22,458.80
22,808.80
21,900.00
Exited @ 22296.8
12/08/2020
RELIANCE
Buy
2,138.35
2,149.50
2,172.60
2,106.80
Exited @ 2128.1
12/08/2020
BPCL
Short Sell
425.10
420.65
411.75
434.10
T1 done
12/08/2020
TATASTEEL
Short Sell
408.00
405.15
399.55
414.90
Exited @ 416.25
12/08/2020
USDINR
Buy
74.96
75.01
75.11
74.81
T1 done
12/08/2020
NIFTY
Buy
11,295.00
11,308.10
11,348.30
11,236.80
T1 done
12/08/2020
BANKNIFTY
Buy
22,232.30
22,337.80
22,553.40
22,000.60
T1 done
12/08/2020
BAJFINANCE
Buy
3,425.00
3,456.65
3,519.15
3,362.00
Exited @ 3408.3
12/08/2020
SBIN
Buy
203.45
208.00
216.75
194.60
Exited @ 202.9
12/08/2020
TATASTEEL
Buy
416.25
418.85
424.45
409.30
Exited @ 414.3
13/08/2020
BAJFINANCE
Buy
3,469.80
3,491.20
3,534.80
3,423.00
Exited @ 3416
13/08/2020
SBIN
Short Sell
204.40
203.05
200.40
207.30
T1 done
13/08/2020
TATASTEEL
Short Sell
415.10
412.60
407.50
421.70
T1 done
13/08/2020
USDINR
Buy
74.95
74.99
75.07
74.86
Exited @ 74.92
13/08/2020
BPCL
Short Sell
417.95
415.15
408.95
426.20
Exited @ 422
13/08/2020
BANKNIFTY
Short Sell
22,343.00
22,308.50
22,224.50
22,444.00
T2 done
13/08/2020
NIFTY
Short Sell
11,305.00
11,287.40
11,252.20
11,363.60
T1 done
13/08/2020
RELIANCE
Short Sell
2,119.00
2,110.15
2,091.25
2,138.90
T1 done
13/08/2020
BAJFINANCE
Short Sell
3,416.00
3,394.85
3,351.25
3,466.60
Exited @ 3420.55
14/08/2020
NIFTY
Buy
11,367.90
11,385.30
11,420.00
11,330.00
T1 done
14/08/2020
SBIN
Short Sell
199.20
197.50
194.00
204.00
T1 done
14/08/2020
RELIANCE
Short Sell
2,119.00
2,102.90
2,069.90
2,154.20
Exited @ 2118
14/08/2020
USDINR
Buy
74.99
75.03
75.11
74.91
T1 done
17/08/2020
USDINR
Short Sell
74.88
74.85
74.79
74.96
Exited @ 74.96
17/08/2020
SBIN
Short Sell
192.80
189.85
184.00
198.65
Exited @ 193.4
17/08/2020
USDINR
Buy
74.96
74.99
75.05
74.90
Exited @ 74.93
17/08/2020
BANKNIFTY
Short Sell
21,470.80
21,273.20
20,872.20
21,900.00
Exited @ 21775.9
18/08/2020
SBIN
Short Sell
192.35
191.50
189.75
194.20
Exited @ 194.3
18/08/2020
TATASTEEL
Buy
426.50
429.35
435.15
419.70
T1 done
18/08/2020
NIFTY
Buy
11,322.50
11,349.50
11,405.40
11,261.80
T2 done
18/08/2020
BANKNIFTY
Buy
21,833.00
21,916.50
22,089.50
21,640.00
T2 done
18/08/2020
BAJFINANCE
Short Sell
3,378.00
3,360.70
3,324.10
3,418.00
Exited @ 3418.5
18/08/2020
USDINR
Buy
74.89
74.94
75.03
74.80
T1 done
18/08/2020
BPCL
Short Sell
403.20
399.70
392.70
410.50
Exited @ 402.65
18/08/2020
BAJFINANCE
Buy
3,418.50
3,436.80
3,473.40
3,381.40
T1 done
18/08/2020
SBIN
Buy
194.30
195.10
196.85
192.45
T1 done
18/08/2020
USDINR
Short Sell
74.79
74.74
74.65
74.89
T1 done
19/08/2020
BPCL
Buy
405.55
409.35
416.60
397.65
T1 done
19/08/2020
RELIANCE
Short Sell
2,128.00
2,115.85
2,092.35
2,151.50
Exited @ 2153.4
19/08/2020
BANKNIFTY
Buy
22,388.90
22,444.10
22,562.30
22,261.80
T1 done
19/08/2020
TATASTEEL
Short Sell
430.90
428.60
424.20
435.55
Exited @ 432.65
19/08/2020
BAJFINANCE
Buy
3,456.55
3,472.05
3,503.05
3,423.40
Exited @ 3422
19/08/2020
SBIN
Buy
199.90
201.90
205.80
195.90
Exited @ 197.15
19/08/2020
NIFTY
Short Sell
11,422.50
11,408.30
11,379.80
11,452.00
T1 done
19/08/2020
USDINR
Buy
74.89
74.98
75.17
74.69
Exited @ 74.91
19/08/2020
RELIANCE
Buy
2,153.40
2,165.70
2,189.20
2,128.00
Exited @ 2127.45
19/08/2020
BAJFINANCE
Short Sell
3,422.00
3,405.50
3,374.50
3,454.40
T1 done
20/08/2020
TATASTEEL
Buy
429.50
432.30
438.15
423.05
T1 done
20/08/2020
USDINR
Short Sell
74.99
74.95
74.88
75.06
Exited @ 75.08
20/08/2020
SBIN
Buy
196.15
196.90
198.60
194.00
Exited @ 193.7
20/08/2020
NIFTY
Buy
11,338.00
11,355.90
11,393.70
11,292.00
Exited @ 11286.3
20/08/2020
BAJFINANCE
Buy
3,393.60
3,408.25
3,440.15
3,353.05
T1 done
20/08/2020
BPCL
Buy
407.25
410.90
418.00
400.10
T1 done
20/08/2020
USDINR
Buy
75.08
75.11
75.18
74.99
T1 done
20/08/2020
BANKNIFTY
Short Sell
21,901.00
21,829.10
21,687.30
22,065.30
Exited @ 21950.3
20/08/2020
SBIN
Short Sell
193.70
192.85
191.15
195.70
Exited @ 194.9
20/08/2020
RELIANCE
Short Sell
2,109.10
2,102.10
2,088.20
2,123.90
T1 done
20/08/2020
NIFTY
Short Sell
11,286.30
11,267.90
11,230.10
11,329.80
Exited @ 11334.7
21/08/2020
BPCL
Short Sell
415.15
413.10
409.20
419.00
T2 done
21/08/2020
USDINR
Short Sell
74.97
74.93
74.86
75.05
T1 done
21/08/2020
BAJFINANCE
Short Sell
3,411.00
3,397.00
3,369.10
3,440.00
T1 done
21/08/2020
TATASTEEL
Short Sell
435.60
432.65
426.60
441.80
T1 done
24/08/2020
BAJFINANCE
Buy
3,429.40
3,442.00
3,465.90
3,401.05
T2 done
24/08/2020
BANKNIFTY
Buy
22,625.00
22,764.50
23,044.20
22,327.30
T1 done
24/08/2020
USDINR
Short Sell
74.91
74.88
74.81
74.98
T2 done
24/08/2020
TATASTEEL
Short Sell
431.10
428.20
422.10
437.75
T1 done
24/08/2020
RELIANCE
Short Sell
2,081.80
2,071.85
2,051.85
2,102.00
T1 done
24/08/2020
SBIN
Short Sell
199.00
198.00
195.85
201.25
Exited @ 201.35
24/08/2020
BPCL
Short Sell
409.95
406.45
399.90
416.30
Exited @ 409.4
24/08/2020
NIFTY
Buy
11,442.00
11,456.40
11,485.40
11,410.00
T2 done
24/08/2020
RELIANCE
Buy
2,102.90
2,113.45
2,133.45
2,081.00
Exited @ 2095.5
24/08/2020
SBIN
Buy
201.35
202.45
204.60
199.10
T1 done
25/08/2020
BANKNIFTY
Buy
23,105.00
23,203.90
23,401.70
22,900.20
Exited @ 22898
25/08/2020
RELIANCE
Short Sell
2,092.45
2,083.80
2,066.50
2,111.30
T1 done
25/08/2020
USDINR
Buy
74.26
74.34
74.51
74.07
T2 done
25/08/2020
BPCL
Buy
413.85
415.85
419.85
408.35
T2 done
25/08/2020
NIFTY
Short Sell
11,474.90
11,458.20
11,422.00
11,519.00
T2 done
25/08/2020
BANKNIFTY
Short Sell
22,898.00
22,798.10
22,600.30
23,098.00
Exited @ 23112.1
25/08/2020
TATASTEEL
Short Sell
427.20
425.00
420.45
432.65
T1 done
25/08/2020
BAJFINANCE
Buy
3,568.00
3,595.75
3,649.25
3,510.00
T1 done
25/08/2020
SBIN
Buy
206.70
208.75
212.65
202.70
T1 done
26/08/2020
RELIANCE
Short Sell
2,059.70
2,046.60
2,021.00
2,087.00
Exited @ 2090.45
26/08/2020
NIFTY
Short Sell
11,465.20
11,451.80
11,425.30
11,495.00
Exited @ 11498.2
26/08/2020
SBIN
Short Sell
206.75
205.10
202.00
209.90
Exited @ 210.05
26/08/2020
BANKNIFTY
Buy
23,277.30
23,375.30
23,568.30
23,070.00
T1 done
26/08/2020
USDINR
Buy
74.39
74.45
74.58
74.22
T1 done
26/08/2020
RELIANCE
Buy
2,090.45
2,103.20
2,128.85
2,061.35
T1 done
26/08/2020
BPCL
Short Sell
411.30
409.70
406.40
415.40
T1 done
26/08/2020
BAJFINANCE
Short Sell
3,655.60
3,631.75
3,581.75
3,707.00
T1 done
26/08/2020
SBIN
Buy
210.05
211.55
214.70
206.75
Exited @ 209.85
26/08/2020
NIFTY
Buy
11,498.20
11,510.30
11,536.80
11,468.50
T2 done
27/08/2020
TATASTEEL
Short Sell
424.50
422.00
417.00
430.20
Exited @ 427.7
27/08/2020
BPCL
Short Sell
410.55
409.05
406.10
413.95
Exited @ 414.5
27/08/2020
RELIANCE
Short Sell
2,123.00
2,110.85
2,086.10
2,150.00
T1 done
27/08/2020
SBIN
Buy
212.95
214.05
216.45
210.50
T1 done
27/08/2020
BAJFINANCE
Short Sell
3,607.00
3,581.35
3,531.45
3,656.95
Exited @ 3665.35
27/08/2020
BPCL
Buy
414.50
416.00
418.95
411.00
T1 done
27/08/2020
BANKNIFTY
Buy
23,650.70
23,738.30
23,913.70
23,473.50
Exited @ 23605
27/08/2020
USDINR
Short Sell
74.17
74.12
74.02
74.36
Exited @ 74.36
27/08/2020
BAJFINANCE
Buy
3,665.35
3,687.60
3,737.50
3,607.00
Exited @ 3607
27/08/2020
NIFTY
Short Sell
11,572.00
11,553.90
11,521.70
11,604.30
T1 done
28/08/2020
SBIN
Buy
219.15
220.35
222.65
216.80
T2 done
28/08/2020
TATASTEEL
Buy
437.10
441.30
450.00
428.20
Exited @ 427.95
28/08/2020
NIFTY
Short Sell
11,609.90
11,594.30
11,564.30
11,639.50
Exited @ 11642.7
28/08/2020
USDINR
Short Sell
73.86
73.76
73.61
74.08
T2 done
28/08/2020
BANKNIFTY
Buy
23,963.40
24,127.80
24,455.30
23,601.50
T1 done
28/08/2020
NIFTY
Buy
11,642.70
11,658.20
11,687.60
11,610.10
T2 done
28/08/2020
BAJFINANCE
Short Sell
3,637.60
3,621.05
3,587.90
3,673.15
T1 done
28/08/2020
TATASTEEL
Short Sell
427.95
423.45
414.75
436.90
Exited @ 423.9
28/08/2020
BPCL
Short Sell
414.30
410.35
402.80
422.00
Exited @ 415.85
31/08/2020
BANKNIFTY
Short Sell
24,678.00
24,428.00
23,910.00
25,270.00
T2 done
31/08/2020
BPCL
Buy
424.00
427.95
435.90
415.60
Exited @ 413.5
31/08/2020
SBIN
Short Sell
224.25
221.00
214.40
231.55
T1 done
31/08/2020
USDINR
Buy
73.52
73.66
73.94
73.22
T1 done
31/08/2020
NIFTY
Short Sell
11,745.40
11,724.50
11,680.00
11,794.50
T2 done
31/08/2020
BAJFINANCE
Short Sell
3,698.05
3,675.80
3,631.30
3,749.85
T1 done
31/08/2020
TATASTEEL
Short Sell
423.75
421.70
417.30
429.20
T1 done
31/08/2020
RELIANCE
Short Sell
2,128.85
2,109.20
2,068.80
2,174.00
T1 done
31/08/2020
BPCL
Short Sell
413.50
409.65
401.75
423.55
T1 done
01/09/2020
RELIANCE
Short Sell
2,068.60
2,055.55
2,026.90
2,100.00
Exited @ 2111.7
01/09/2020
USDINR
Short Sell
73.29
73.19
73.00
73.50
T2 done
01/09/2020
BPCL
Short Sell
402.70
398.90
391.30
411.75
Exited @ 408.75
01/09/2020
SBIN
Short Sell
212.20
209.75
204.60
217.75
Exited @ 217.85
01/09/2020
RELIANCE
Buy
2,111.70
2,126.10
2,154.75
2,071.35
Exited @ 2090.1
01/09/2020
BAJFINANCE
Buy
3,597.90
3,638.45
3,721.70
3,501.15
T1 done
01/09/2020
NIFTY
Buy
11,531.60
11,600.80
11,743.60
11,375.00
Exited @ 11523
01/09/2020
SBIN
Buy
217.85
220.35
225.50
212.60
Exited @ 218.15
01/09/2020
TATASTEEL
Buy
426.00
432.40
445.80
412.00
Exited @ 429.7
02/09/2020
BPCL
Buy
412.65
414.50
418.60
406.40
T1 done
02/09/2020
SBIN
Short Sell
213.65
211.05
205.85
219.00
Exited @ 216.4
02/09/2020
BANKNIFTY
Short Sell
23,640.00
23,518.40
23,273.20
23,897.50
T1 done
02/09/2020
NIFTY
Short Sell
11,457.80
11,425.30
11,359.80
11,528.10
Exited @ 11559.1
02/09/2020
BAJFINANCE
Short Sell
3,610.00
3,581.95
3,525.60
3,669.00
T1 done
02/09/2020
USDINR
Short Sell
73.16
73.07
72.89
73.36
Exited @ 73.37
02/09/2020
RELIANCE
Buy
2,116.00
2,127.05
2,151.75
2,085.00
Exited @ 2130.3
02/09/2020
TATASTEEL
Short Sell
429.65
426.85
421.15
435.70
Exited @ 439
02/09/2020
NIFTY
Buy
11,559.10
11,591.50
11,657.00
11,462.60
Exited @ 11563
02/09/2020
BANKNIFTY
Buy
23,918.00
24,026.70
24,271.90
23,652.30
Exited @ 23920.8
03/09/2020
BANKNIFTY
Short Sell
23,802.80
23,670.80
23,405.80
24,079.80
T1 done
03/09/2020
BPCL
Short Sell
414.15
411.80
407.40
418.60
T1 done
03/09/2020
RELIANCE
Short Sell
2,109.35
2,096.00
2,068.25
2,138.75
Exited @ 2113.5
03/09/2020
USDINR
Buy
73.45
73.51
73.64
73.32
T2 done
03/09/2020
SBIN
Short Sell
214.05
212.10
208.35
218.05
Exited @ 212.8
03/09/2020
NIFTY
Short Sell
11,539.00
11,512.90
11,460.70
11,594.70
T1 done
04/09/2020
NIFTY
Buy
11,411.30
11,439.90
11,492.90
11,355.00
T1 done
04/09/2020
BAJFINANCE
Buy
3,598.95
3,633.00
3,701.25
3,520.75
T1 done
04/09/2020
USDINR
Short Sell
73.47
73.36
73.15
73.72
T1 done
04/09/2020
SBIN
Buy
210.25
212.40
216.50
205.90
Exited @ 206.6
04/09/2020
BANKNIFTY
Buy
23,319.70
23,523.20
23,941.60
22,881.60
Exited @ 23073.8
04/09/2020
BPCL
Short Sell
407.10
404.90
401.10
411.00
T2 done
04/09/2020
TATASTEEL
Short Sell
425.20
421.35
413.95
433.45
T1 done
04/09/2020
NIFTY
Short Sell
11,345.00
11,318.50
11,265.50
11,408.00
T1 done
07/09/2020
BANKNIFTY
Buy
23,086.80
23,253.90
23,577.70
22,758.00
Exited @ 23027.5
07/09/2020
BAJFINANCE
Short Sell
3,540.60
3,499.45
3,415.25
3,629.00
T1 done
07/09/2020
USDINR
Short Sell
73.22
73.17
73.06
73.34
Exited @ 73.36
07/09/2020
BPCL
Short Sell
403.00
398.85
390.85
411.00
T1 done
07/09/2020
USDINR
Buy
73.36
73.41
73.52
73.24
T2 done
07/09/2020
TATASTEEL
Short Sell
420.80
416.90
409.35
428.40
Exited @ 422.75
08/09/2020
BPCL
Buy
410.40
415.40
425.25
399.50
T1 done
08/09/2020
NIFTY
Buy
11,380.60
11,401.50
11,446.50
11,332.00
T2 done
08/09/2020
BAJFINANCE
Buy
3,540.00
3,564.40
3,611.30
3,490.00
T1 done
08/09/2020
RELIANCE
Buy
2,108.00
2,122.05
2,149.35
2,080.50
Exited @ 2106.15
08/09/2020
BANKNIFTY
Buy
22,993.00
23,067.50
23,218.50
22,824.00
T1 done
08/09/2020
TATASTEEL
Short Sell
420.05
417.50
412.50
425.75
T1 done
08/09/2020
USDINR
Short Sell
73.60
73.51
73.32
73.81
Exited @ 73.83
08/09/2020
SBIN
Short Sell
206.00
205.15
203.45
208.20
T1 done
08/09/2020
USDINR
Buy
73.83
73.92
74.11
73.63
T1 done
08/09/2020
BANKNIFTY
Short Sell
22,800.30
22,727.10
22,576.10
22,975.00
T1 done
09/09/2020
SBIN
Short Sell
197.10
195.30
191.65
201.25
T1 done
09/09/2020
BANKNIFTY
Short Sell
22,402.00
22,328.50
22,176.00
22,575.00
T2 done
09/09/2020
BAJFINANCE
Short Sell
3,430.00
3,400.05
3,341.75
3,493.45
T1 done
09/09/2020
TATASTEEL
Buy
401.00
408.15
422.20
386.50
T1 done
09/09/2020
USDINR
Short Sell
73.75
73.65
73.45
73.98
T1 done
09/09/2020
BPCL
Short Sell
402.90
399.75
393.30
409.50
T1 done
09/09/2020
NIFTY
Short Sell
11,227.50
11,201.70
11,151.10
11,282.50
Exited @ 11286.9
09/09/2020
RELIANCE
Buy
2,145.00
2,173.60
2,230.90
2,081.45
Exited @ 2163.45
09/09/2020
NIFTY
Buy
11,286.90
11,309.90
11,360.50
11,231.90
T1 done
10/09/2020
BPCL
Buy
416.30
421.55
432.05
405.50
T1 done
10/09/2020
RELIANCE
Buy
2,213.00
2,231.90
2,268.10
2,175.35
T1 done
10/09/2020
TATASTEEL
Short Sell
418.30
414.55
407.05
425.90
T1 done
10/09/2020
BANKNIFTY
Short Sell
22,410.00
22,357.50
22,242.80
22,539.00
Exited @ 22552.8
10/09/2020
BAJFINANCE
Buy
3,495.75
3,517.20
3,560.05
3,447.15
Exited @ 3446.9
10/09/2020
NIFTY
Buy
11,370.80
11,388.20
11,422.90
11,331.40
T2 done
10/09/2020
USDINR
Short Sell
73.49
73.43
73.32
73.62
T2 done
10/09/2020
BANKNIFTY
Buy
22,552.80
22,607.30
22,722.10
22,424.30
T2 done
10/09/2020
SBIN
Buy
200.20
201.50
204.10
197.00
Exited @ 196.65
10/09/2020
BAJFINANCE
Short Sell
3,446.90
3,425.45
3,382.60
3,490.00
T1 done
10/09/2020
SBIN
Short Sell
196.65
195.25
192.65
199.60
T1 done
11/09/2020
BANKNIFTY
Short Sell
22,396.50
22,270.10
22,009.10
22,676.00
T1 done
11/09/2020
BAJFINANCE
Buy
3,513.70
3,540.00
3,594.00
3,456.75
Exited @ 3545.05
11/09/2020
BPCL
Short Sell
425.75
421.30
412.40
436.00
Exited 430
11/09/2020
USDINR
Short Sell
73.53
73.47
73.36
73.66
Exited @ 73.69
11/09/2020
RELIANCE
Buy
2,333.70
2,357.25
2,403.00
2,287.10
Exited @ 2318.85
11/09/2020
TATASTEEL
Short Sell
404.95
401.20
393.65
412.65
Exited @ 407.8
11/09/2020
USDINR
Buy
73.69
73.75
73.86
73.55
Exited @ 73.65
11/09/2020
BANKNIFTY
Short Sell
22,396.50
22,270.10
22,009.10
22,676.00
T1 done
14/09/2020
USDINR
Short Sell
73.45
73.08
72.36
74.18
Exited @ 74.18
14/09/2020
BPCL
Short Sell
422.00
419.00
413.10
429.50
T1 done
14/09/2020
BAJFINANCE
Short Sell
3,493.85
3,459.60
3,389.50
3,575.05
T1 done
14/09/2020
TATASTEEL
Short Sell
407.65
404.65
398.75
414.10
T1 done
14/09/2020
NIFTY
Buy
11,552.50
11,568.50
11,601.50
11,518.50
T1 done
14/09/2020
RELIANCE
Short Sell
2,316.95
2,299.50
2,263.50
2,360.00
T1 done
14/09/2020
SBIN
Short Sell
203.20
202.00
199.40
206.20
T1 done
14/09/2020
BANKNIFTY
Short Sell
22,602.30
22,515.10
22,321.60
22,820.50
T2 done
14/09/2020
NIFTY
Short Sell
11,484.00
11,467.90
11,434.90
11,551.50
T2 done
15/09/2020
BPCL
Short Sell
417.00
413.05
405.15
425.00
T1 done
15/09/2020
SBIN
Short Sell
198.40
197.35
195.25
200.75
T1 done
15/09/2020
TATASTEEL
Buy
409.00
410.70
414.40
404.65
Exited @ 404.15
15/09/2020
RELIANCE
Short Sell
2,296.10
2,285.25
2,262.65
2,325.60
Exited @ 2318.5
15/09/2020
BAJFINANCE
Buy
3,510.95
3,535.30
3,584.80
3,455.00
Exited @ 3505.95
15/09/2020
USDINR
Buy
73.56
73.62
73.76
73.40
T2 done
15/09/2020
TATASTEEL
Short Sell
404.15
402.40
398.75
408.30
Exited @ 405.25
15/09/2020
NIFTY
Buy
11,520.00
11,546.20
11,597.70
11,455.00
Exited @ 11528
16/09/2020
BAJFINANCE
Buy
3,547.00
3,582.10
3,648.70
3,481.65
Exited @ 3523.5
16/09/2020
RELIANCE
Buy
2,334.00
2,340.60
2,353.75
2,312.00
T1 done
16/09/2020
NIFTY
Buy
11,544.90
11,561.80
11,595.60
11,511.00
T2 done
16/09/2020
SBIN
Short Sell
198.05
197.20
195.40
200.05
T1 done
16/09/2020
BPCL
Short Sell
414.10
411.05
405.15
420.50
Exited @ 412.75
16/09/2020
USDINR
Buy
73.81
73.89
74.04
73.65
Exited @ 73.62
16/09/2020
TATASTEEL
Buy
409.70
411.50
415.30
405.20
Exited @ 404.35
16/09/2020
BANKNIFTY
Short Sell
22,390.00
22,318.40
22,169.20
22,580.40
T1 done
16/09/2020
TATASTEEL
Short Sell
404.35
402.45
398.65
409.00
Exited @ 405
16/09/2020
USDINR
Short Sell
73.62
73.55
73.40
73.80
Exited @ 73.62
16/09/2020
BANKNIFTY
Buy
22,644.00
22,716.60
22,865.80
22,431.20
T1 done
17/09/2020
BPCL
Buy
417.65
420.15
425.40
411.60
Exited @ 415.85
17/09/2020
BANKNIFTY
Buy
22,492.00
22,562.00
22,702.00
22,340.00
Exited @ 22409.5
17/09/2020
USDINR
Buy
73.84
73.91
74.04
73.70
Exited @ 73.69
17/09/2020
NIFTY
Buy
11,570.80
11,594.85
11,644.55
11,517.30
Exited @ 11508
17/09/2020
TATASTEEL
Short Sell
397.85
393.35
384.55
407.45
T1 done
17/09/2020
RELIANCE
Short Sell
2,307.25
2,295.35
2,270.95
2,333.60
T1 done
17/09/2020
BAJFINANCE
Short Sell
3,468.00
3,452.30
3,418.90
3,510.00
Exited @ 3478.55
17/09/2020
NIFTY
Short Sell
11,508.00
11,483.15
11,433.45
11,567.00
T1 done
17/09/2020
SBIN
Short Sell
195.50
194.55
192.55
197.70
Exited @ 195.7
17/09/2020
USDINR
Short Sell
73.69
73.63
73.49
73.84
Exited @ 73.69
18/09/2020
BPCL
Buy
420.75
422.65
426.55
416.25
T1 done
18/09/2020
NIFTY
Buy
11,578.00
11,594.60
11,626.60
11,543.60
Exited @ 11503.5
18/09/2020
BAJFINANCE
Short Sell
3,473.50
3,461.35
3,438.05
3,503.30
T2 done
18/09/2020
USDINR
Short Sell
73.47
73.41
73.28
73.61
T2 done
18/09/2020
TATASTEEL
Short Sell
401.20
399.15
395.05
405.50
T1 done
18/09/2020
SBIN
Short Sell
195.50
194.60
193.00
197.20
T2 done
18/09/2020
RELIANCE
Short Sell
2,300.60
2,292.35
2,275.10
2,319.00
T1 done
18/09/2020
BANKNIFTY
Short Sell
22,347.60
22,283.60
22,154.30
22,501.30
T2 done
18/09/2020
BPCL
Short Sell
414.50
412.90
409.15
420.00
T1 done
18/09/2020
NIFTY
Short Sell
11,503.50
11,483.10
11,437.50
11,575.60
T1 done
21/09/2020
TATASTEEL
Short Sell
392.90
390.05
384.05
399.20
T1 done
21/09/2020
BAJFINANCE
Short Sell
3,416.50
3,394.70
3,353.70
3,467.00
T1 done
21/09/2020
USDINR
Short Sell
73.41
73.35
73.23
73.54
T1 done
21/09/2020
RELIANCE
Buy
2,306.75
2,317.20
2,338.00
2,284.05
T1 done
21/09/2020
SBIN
Short Sell
191.10
189.80
187.40
193.50
T1 done
21/09/2020
BANKNIFTY
Buy
22,095.00
22,201.10
22,405.30
21,888.10
Exited @ 21874
21/09/2020
BPCL
Short Sell
408.80
406.65
401.90
414.95
T1 done
21/09/2020
NIFTY
Short Sell
11,482.00
11,463.80
11,428.90
11,518.40
T2 done
21/09/2020
BANKNIFTY
Short Sell
21,874.00
21,773.10
21,568.90
22,092.30
T2 done
21/09/2020
USDINR
Buy
73.55
73.61
73.73
73.42
T1 done
21/09/2020
RELIANCE
Short Sell
2,279.40
2,269.35
2,248.55
2,304.85
T1 done
22/09/2020
USDINR
Short Sell
73.48
73.43
73.33
73.58
T1 done
22/09/2020
BANKNIFTY
Buy
21,472.20
21,612.90
21,888.90
21,190.00
Exited @ 21175
22/09/2020
SBIN
Buy
187.65
190.35
195.95
181.45
Exited @ 186.25
22/09/2020
USDINR
Buy
73.59
73.63
73.73
73.48
T1 done
22/09/2020
TATASTEEL
Buy
377.50
387.05
406.15
358.20
Exited @ 374.55
22/09/2020
BANKNIFTY
Short Sell
21,175.00
21,037.00
20,761.00
21,466.00
T1 done
23/09/2020
USDINR
Short Sell
73.54
73.49
73.39
73.64
Exited @ 73.65
23/09/2020
BPCL
Short Sell
389.00
385.10
377.20
397.20
T1 done
23/09/2020
NIFTY
Short Sell
11,165.30
11,140.00
11,090.50
11,242.50
T2 done
23/09/2020
SBIN
Short Sell
184.15
182.05
177.75
188.95
T1 done
23/09/2020
TATASTEEL
Short Sell
360.20
351.85
335.45
378.00
Exited @ 378
23/09/2020
RELIANCE
Short Sell
2,237.50
2,220.75
2,186.25
2,276.75
T1 done
23/09/2020
BANKNIFTY
Short Sell
21,150.00
21,051.70
20,855.10
21,359.80
T2 done
23/09/2020
BAJFINANCE
Short Sell
3,260.00
3,218.65
3,135.95
3,344.00
T1 done
24/09/2020
BAJFINANCE
Short Sell
3,125.60
3,099.70
3,045.05
3,194.65
T1 done
24/09/2020
TATASTEEL
Short Sell
350.90
348.00
342.00
357.25
T1 done
24/09/2020
USDINR
Buy
73.85
73.94
74.12
73.67
T1 done
24/09/2020
SBIN
Short Sell
179.15
178.15
176.15
181.20
T1 done
24/09/2020
NIFTY
Short Sell
10,955.00
10,925.20
10,866.70
11,018.50
T2 done
24/09/2020
BANKNIFTY
Short Sell
20,800.00
20,717.00
20,547.80
20,974.90
T2 done
24/09/2020
RELIANCE
Buy
2,222.20
2,238.40
2,270.20
2,190.50
Exited @ 2185.6
24/09/2020
RELIANCE
Short Sell
2,185.60
2,169.85
2,138.05
2,222.30
Exited @ 2179.2
25/09/2020
TATASTEEL
Buy
350.20
352.65
357.00
345.65
Exited @ 345.05
25/09/2020
BANKNIFTY
Short Sell
20,521.00
20,424.50
20,228.80
20,723.70
Exited @ 20805
25/09/2020
RELIANCE
Short Sell
2,185.85
2,175.25
2,155.55
2,208.70
T1 done
25/09/2020
NIFTY
Short Sell
10,880.00
10,850.20
10,790.40
10,941.30
Exited @ 10959.4
25/09/2020
BPCL
Short Sell
375.55
373.25
368.25
381.50
T1 done
25/09/2020
TATASTEEL
Short Sell
345.05
343.05
338.65
350.00
Exited @ 351
25/09/2020
SBIN
Short Sell
176.65
175.45
173.05
179.00
Exited @ 179.05
25/09/2020
BAJFINANCE
Short Sell
3,037.85
3,005.45
2,942.20
3,104.25
Exited @ 3111.2
25/09/2020
USDINR
Short Sell
73.67
73.63
73.55
73.78
T1 done
25/09/2020
NIFTY
Buy
10,959.40
10,988.90
11,048.70
10,881.50
T1 done
25/09/2020
SBIN
Buy
179.05
180.30
182.65
176.65
T1 done
25/09/2020
BANKNIFTY
Buy
20,805.00
20,908.70
21,104.30
20,528.00
T1 done
28/09/2020
BAJFINANCE
Buy
3,274.95
3,324.75
3,424.25
3,164.90
Exited @ 3314.4
28/09/2020
USDINR
Short Sell
73.61
73.58
73.51
73.70
T1 done
28/09/2020
BPCL
Buy
383.95
387.75
395.40
376.05
T1 done
28/09/2020
RELIANCE
Buy
2,235.65
2,245.35
2,264.75
2,207.55
Exited @ 2215.55
28/09/2020
TATASTEEL
Short Sell
356.10
353.30
347.60
362.10
Exited @ 362.3
28/09/2020
NIFTY
Buy
11,182.30
11,224.70
11,310.70
11,090.00
T1 done
28/09/2020
BANKNIFTY
Buy
21,468.00
21,664.50
22,057.50
21,050.00
T1 done
28/09/2020
SBIN
Buy
186.40
187.75
190.30
183.60
T1 done
28/09/2020
TATASTEEL
Buy
362.30
365.40
371.10
356.40
Exited @ 360.9
29/09/2020
BPCL
Short Sell
383.80
378.90
369.15
394.00
T1 done
29/09/2020
BAJFINANCE
Short Sell
3,301.00
3,266.10
3,196.20
3,372.00
T1 done
29/09/2020
SBIN
Short Sell
184.85
182.95
179.05
188.95
Exited @ 185.2
29/09/2020
BANKNIFTY
Short Sell
21,507.30
21,351.50
21,036.00
21,839.80
T1 done
29/09/2020
RELIANCE
Buy
2,232.65
2,239.70
2,253.80
2,216.30
T2 done
29/09/2020
USDINR
Buy
74.03
74.08
74.20
73.90
T1 done
29/09/2020
TATASTEEL
Buy
369.00
371.60
376.70
362.75
T1 done
29/09/2020
NIFTY
Short Sell
11,219.30
11,189.80
11,133.80
11,298.00
T1 done
30/09/2020
BPCL
Short Sell
379.20
372.80
360.40
394.50
T1 done
30/09/2020
NIFTY
Short Sell
11,201.10
11,179.50
11,132.50
11,250.00
Exited @ 11257.5
30/09/2020
BANKNIFTY
Short Sell
21,158.50
21,026.80
20,756.00
21,438.50
Exited @ 21496.3
30/09/2020
TATASTEEL
Short Sell
366.30
364.25
360.25
371.30
T1 done
30/09/2020
BAJFINANCE
Buy
3,324.95
3,351.60
3,404.50
3,261.00
Exited @ 3266.35
30/09/2020
NIFTY
Buy
11,257.50
11,279.40
11,326.30
11,203.10
T1 done
30/09/2020
BANKNIFTY
Buy
21,496.30
21,624.20
21,895.10
21,167.60
Exited @ 21475
30/09/2020
SBIN
Buy
185.55
186.70
189.10
182.65
T1 done
30/09/2020
USDINR
Short Sell
73.89
73.82
73.67
74.04
Exited @ 73.94
30/09/2020
RELIANCE
Short Sell
2,245.55
2,235.15
2,214.35
2,267.00
T1 done
01/10/2020
TATASTEEL
Buy
369.40
371.30
375.40
363.15
Exited @ 364.85
01/10/2020
NIFTY
Buy
11,397.60
11,413.40
11,444.20
11,347.70
T2 done
01/10/2020
BANKNIFTY
Buy
21,983.50
22,123.20
22,406.00
21,676.00
T1 done
01/10/2020
BAJFINANCE
Buy
3,409.00
3,453.50
3,541.40
3,315.05
Exited @ 3447.35
01/10/2020
BPCL
Short Sell
352.60
348.90
341.35
361.55
T1 done
01/10/2020
USDINR
Short Sell
73.65
73.61
73.52
73.79
T2 done
01/10/2020
RELIANCE
Short Sell
2,238.35
2,228.15
2,206.35
2,263.80
T1 done
01/10/2020
SBIN
Buy
190.80
192.50
196.00
186.90
Exited @ 190.1
05/10/2020
BPCL
Buy
355.90
358.35
363.05
351.00
T1 done
05/10/2020
BAJFINANCE
Short Sell
3,451.00
3,420.95
3,361.35
3,519.00
T1 done
05/10/2020
USDINR
Buy
73.38
73.46
73.62
73.20
T1 done
05/10/2020
NIFTY
Buy
11,567.80
11,615.00
11,709.00
11,460.00
Exited @ 11515.6
05/10/2020
RELIANCE
Short Sell
2,223.55
2,211.70
2,187.95
2,249.15
T1 done
05/10/2020
SBIN
Short Sell
191.00
189.80
187.40
193.65
T1 done
05/10/2020
BANKNIFTY
Short Sell
22,297.60
22,048.80
21,550.60
22,817.80
Exited @ 22429.3
06/10/2020
SBIN
Short Sell
189.55
188.35
186.05
191.95
Exited @ 191.7
06/10/2020
BPCL
Buy
358.95
360.55
363.85
354.20
Exited @ 353.65
06/10/2020
USDINR
Buy
73.36
73.41
73.51
73.25
T2 done
06/10/2020
NIFTY
Buy
11,605.40
11,624.90
11,662.50
11,566.30
T2 done
06/10/2020
RELIANCE
Short Sell
2,209.05
2,197.10
2,173.20
2,233.90
Exited @ 2211.65
06/10/2020
TATASTEEL
Short Sell
379.35
375.55
387.25
387.25
T1 done
06/10/2020
BPCL
Short Sell
353.65
352.15
348.85
357.50
T1 done
06/10/2020
BAJFINANCE
Buy
3,464.05
3,497.10
3,565.90
3,391.20
Exited @ 3474.65
06/10/2020
BANKNIFTY
Buy
22,900.00
23,046.80
23,342.70
22,542.80
Exited @ 2211.65
07/10/2020
NIFTY
Buy
11,716.50
11,753.00
11,826.80
11,638.30
T1 done
07/10/2020
BANKNIFTY
Buy
22,956.30
23,072.10
23,305.20
22,656.90
T1 done
07/10/2020
SBIN
Buy
192.50
193.85
196.35
190.05
Exited @ 189.9
07/10/2020
TATASTEEL
Buy
377.80
379.80
383.90
373.50
Exited @ 373.65
07/10/2020
USDINR
Short Sell
73.59
73.52
73.37
73.76
T1 done
07/10/2020
RELIANCE
Buy
2,303.30
2,341.90
2,418.00
2,220.00
Exited @ 2259.1
07/10/2020
TATASTEEL
Short Sell
373.65
371.35
367.25
377.60
T1 done
07/10/2020
BPCL
Short Sell
344.80
340.60
332.20
353.70
Exited @ 342.4
07/10/2020
SBIN
Short Sell
189.90
188.75
186.25
192.55
Exited @ 190.75
08/10/2020
BPCL
Short Sell
340.70
338.65
334.50
345.00
T1 done
08/10/2020
SBIN
Buy
194.80
196.50
199.85
191.25
Exited @ 191.3
08/10/2020
BAJFINANCE
Buy
3,376.85
3,396.35
3,436.60
3,332.70
Exited @ 3324.4
08/10/2020
RELIANCE
Short Sell
2,239.20
2,226.90
2,202.00
2,268.00
T1 done
08/10/2020
NIFTY
Buy
11,882.00
11,909.70
11,965.00
11,819.30
T1 done
08/10/2020
BAJFINANCE
Short Sell
3,324.40
3,304.25
3,264.00
3,372.95
T1 done
08/10/2020
USDINR
Short Sell
73.34
73.26
73.12
73.50
Exited @ 73.5
08/10/2020
TATASTEEL
Short Sell
372.35
368.35
359.95
382.40
Exited @ 373.75
08/10/2020
SBIN
Short Sell
191.30
189.50
186.15
194.60
Exited @ 191.6
08/10/2020
NIFTY
Short Sell
11,812.50
11,784.90
11,729.50
11,874.60
Exited @ 11835
08/10/2020
BANKNIFTY
Short Sell
23,109.90
23,015.80
22,816.60
23,320.00
Exited @ 23189.1
09/10/2020
RELIANCE
Buy
2,247.35
2,258.25
2,280.40
2,217.10
Exited @ 2234.6
09/10/2020
BPCL
Buy
343.45
345.35
349.10
339.60
T1 done
09/10/2020
SBIN
Buy
194.50
195.75
198.25
190.55
T1 done
09/10/2020
BAJFINANCE
Buy
3,389.55
3,410.35
3,457.45
3,324.90
T1 done
09/10/2020
NIFTY
Buy
11,886.90
11,918.40
11,981.20
11,815.80
T1 done
09/10/2020
TATASTEEL
Short Sell
374.85
369.55
358.65
386.95
Exited @ 368.25
09/10/2020
BAJFINANCE
Short Sell
3,319.00
3,296.45
3,249.35
3,372.00
Exited @ 3319.75
12/10/2020
TATASTEEL
Short Sell
367.55
363.55
355.35
377.15
Exited @ 363.05
12/10/2020
BAJFINANCE
Short Sell
3,321.00
3,296.90
3,245.00
3,379.40
Exited @ 3328.8
12/10/2020
BPCL
Short Sell
345.70
344.00
340.40
349.60
T1 done
12/10/2020
BANKNIFTY
Short Sell
23,932.30
23,789.20
23,507.60
24,217.00
T1 done
12/10/2020
NIFTY
Short Sell
11,945.00
11,911.40
11,847.00
12,014.30
T1 done
12/10/2020
SBIN
Short Sell
199.45
196.25
189.75
205.95
Exited @ 199.1
12/10/2020
USDINR
Buy
73.26
73.32
73.43
73.14
T2 done
12/10/2020
RELIANCE
Short Sell
2,230.80
2,218.35
2,193.95
2,255.75
Exited @ 2237.85
13/10/2020
RELIANCE
Buy
2,250.90
2,261.65
2,284.35
2,225.85
T2 done
13/10/2020
NIFTY
Buy
11,973.50
12,015.30
12,098.90
11,884.40
Exited @ 23580
13/10/2020
BAJFINANCE
Short Sell
3,299.00
3,278.30
3,239.30
3,340.00
T1 done
13/10/2020
BANKNIFTY
Buy
23,714.30
23,843.10
24,093.10
23,450.00
Exited @ 23580
13/10/2020
USDINR
Short Sell
73.42
73.37
73.28
73.52
Exited @ 73.52
13/10/2020
SBIN
Buy
199.65
200.95
203.60
196.00
Exited @ 195.95
13/10/2020
BPCL
Short Sell
339.45
337.70
334.15
343.05
Exited @ 339.2
13/10/2020
TATASTEEL
Short Sell
369.65
366.10
359.50
376.25
Exited @ 368.55
13/10/2020
SBIN
Short Sell
195.95
194.60
192.00
198.65
Exited @ 196.1
14/10/2020
BAJFINANCE
Buy
3,278.80
3,291.35
3,326.65
3,232.70
T2 done
14/10/2020
SBIN
Buy
195.00
196.15
198.25
193.05
T2 done
14/10/2020
RELIANCE
Short Sell
2,272.70
2,257.35
2,226.75
2,304.00
Exited @ 2289.4
14/10/2020
NIFTY
Short Sell
11,828.50
11,792.70
11,718.10
11,915.00
Exited @ 11921.8
14/10/2020
USDINR
Buy
73.49
73.53
73.61
73.41
T1 done
14/10/2020
BPCL
Short Sell
330.00
325.55
316.65
338.90
Exited @ 333.3
14/10/2020
USDINR
Short Sell
73.38
73.34
73.26
73.49
T1 done
14/10/2020
BANKNIFTY
Buy
23,480.20
23,564.20
23,748.80
23,230.00
T2 done
14/10/2020
NIFTY
Buy
11,921.80
11,960.30
12,034.90
11,840.40
T1 done
14/10/2020
TATASTEEL
Buy
374.70
377.15
382.10
369.55
Exited @ 376.15
15/10/2020
TATASTEEL
Short Sell
378.80
375.35
368.95
385.95
Exited @ 387.2
15/10/2020
RELIANCE
Short Sell
2,269.80
2,260.70
2,242.50
2,290.00
T2 done
15/10/2020
NIFTY
Short Sell
11,890.80
11,851.50
11,851.50
11,991.80
T2 done
15/10/2020
BAJFINANCE
Short Sell
3,309.00
3,283.90
3,229.00
3,369.95
T1 done
15/10/2020
USDINR
Buy
73.41
73.43
73.48
73.35
T2 done
15/10/2020
TATASTEEL
Buy
387.20
389.95
396.35
379.55
Exxited @ 376.7
15/10/2020
SBIN
Short Sell
197.50
195.35
190.95
202.50
T1 done
15/10/2020
BANKNIFTY
Short Sell
23,657.50
23,444.50
23,034.20
24,094.00
T1 done
15/10/2020
BPCL
Short Sell
332.00
328.50
321.80
338.70
T1 done
16/10/2020
NIFTY
Short Sell
11,689.40
11,654.40
11,587.20
11,777.30
Exited @ 11788.7
16/10/2020
BAJFINANCE
Short Sell
3,218.00
3,199.00
3,160.90
3,269.45
T1 done
16/10/2020
RELIANCE
Short Sell
2,206.00
2,195.25
2,173.75
2,232.50
T2 done
16/10/2020
SBIN
Short Sell
192.35
191.15
188.65
195.20
Exited @ 195.4
16/10/2020
USDINR
Short Sell
73.44
73.41
73.35
73.51
T2 done
16/10/2020
TATASTEEL
Buy
382.45
385.80
392.40
375.20
T1 done
16/10/2020
BANKNIFTY
Buy
23,527.40
23,659.40
23,928.20
23,201.20
T1 done
16/10/2020
SBIN
Buy
195.40
196.60
199.10
192.70
T1 done
16/10/2020
BPCL
Buy
340.85
347.00
359.40
327.50
Exited @ 339.95
19/10/2020
BANKNIFTY
Buy
24,089.50
24,211.30
24,465.80
23,786.00
T1 done
19/10/2020
NIFTY
Buy
11,871.90
11,890.70
11,932.20
11,818.50
T1 done
19/10/2020
TATASTEEL
Short Sell
393.05
389.60
382.80
400.00
Exited @ 396
19/10/2020
RELIANCE
Buy
2,209.15
2,235.90
2,287.00
2,155.15
Exited @ 2175
19/10/2020
SBIN
Buy
199.75
201.35
204.60
196.20
T1 done
19/10/2020
BAJFINANCE
Short Sell
3,227.00
3,207.55
3,168.95
3,269.65
T1 done
19/10/2020
BPCL
Buy
345.60
348.10
352.70
341.05
Exited @ 347
19/10/2020
USDINR
Buy
73.46
73.50
73.56
73.40
Exited @ 73.39
19/10/2020
BAJFINANCE
Buy
3,276.80
3,293.30
3,331.95
3,231.00
T1 done
19/10/2020
USDINR
Short Sell
73.39
73.36
73.30
73.46
T1 done
20/10/2020
RELIANCE
Short Sell
2,172.25
2,162.70
2,144.05
2,193.00
T1 done
20/10/2020
USDINR
Short Sell
73.38
73.35
73.30
73.43
Exited @ 73.43
20/10/2020
BANKNIFTY
Buy
24,312.90
24,425.80
24,648.30
24,086.30
T1 done
20/10/2020
SBIN
Buy
203.40
204.65
207.05
200.70
Exited @ 202.95
20/10/2020
NIFTY
Buy
11,920.00
11,963.40
12,050.40
11,831.00
Exited @ 11893
20/10/2020
USDINR
Buy
73.43
73.45
73.50
73.38
Exited @ 73.37
20/10/2020
BAJFINANCE
Buy
3,281.00
3,305.35
3,357.55
3,226.80
Exited @ 3255.25
20/10/2020
BPCL
Short Sell
342.20
338.65
331.65
349.75
Exited @ 343.6
21/10/2020
BPCL
Short Sell
349.75
343.75
331.70
363.05
T1 done
21/10/2020
TATASTEEL
Buy
404.25
409.50
419.55
394.35
Exited @ 405
21/10/2020
BANKNIFTY
Buy
24,817.00
24,987.20
25,326.70
24,470.50
Exited @ 24433.5
21/10/2020
RELIANCE
Short Sell
2,165.00
2,151.65
2,124.95
2,192.00
T2 done
21/10/2020
NIFTY
Buy
12,007.70
12,037.70
12,098.10
11,946.10
Exited @ 11945.2
21/10/2020
USDINR
Buy
73.54
73.58
73.68
73.39
T2 done
21/10/2020
BAJFINANCE
Short Sell
3,235.35
3,221.15
3,186.15
3,290.00
T2 done
21/10/2020
NIFTY
Short Sell
11,945.20
11,914.80
11,854.40
12,006.50
T2 done
21/10/2020
SBIN
Short Sell
202.70
201.00
197.35
207.30
T1 done
21/10/2020
BANKNIFTY
Short Sell
24,433.50
24,285.50
23,946.00
24,810.00
T1 done
22/10/2020
BPCL
Short Sell
345.75
343.50
338.75
350.80
Exited @ 349.45
22/10/2020
USDINR
Short Sell
73.68
73.62
73.50
73.82
T1 done
22/10/2020
SBIN
Buy
204.40
205.80
208.60
201.10
Exited @ 203.4
22/10/2020
TATASTEEL
Buy
406.35
408.90
413.90
400.70
T2 done
22/10/2020
NIFTY
Short Sell
11,842.30
11,802.90
11,722.70
11,925.50
Exited @ 11903.9
22/10/2020
BAJFINANCE
Buy
3,322.10
3,394.75
3,542.10
3,160.00
Exited @ 3311
22/10/2020
BANKNIFTY
Short Sell
24,347.50
24,180.20
23,841.80
24,721.60
Exited @ 24564.9
23/10/2020
RELIANCE
Buy
2,131.10
2,146.70
2,177.20
2,097.30
Exited @ 2112.5
23/10/2020
SBIN
Short Sell
203.35
202.25
200.05
205.60
T1 done
23/10/2020
USDINR
Short Sell
73.61
73.58
73.52
73.69
T2 done
23/10/2020
BANKNIFTY
Short Sell
24,507.40
24,432.50
24,223.50
24,789.00
T1 done
23/10/2020
BPCL
Buy
354.70
357.15
361.90
349.50
Exited @ 351.35
23/10/2020
NIFTY
Short Sell
11,922.00
11,899.90
11,855.70
11,969.60
Exited @ 11929.6
23/10/2020
TATASTEEL
Buy
421.30
425.95
434.75
412.20
T1 done
26/10/2020
SBIN
Buy
203.10
204.55
207.15
200.15
Exited @ 199.75
26/10/2020
BPCL
Buy
352.60
354.80
359.10
348.30
Exited @ 346.55
26/10/2020
TATASTEEL
Short Sell
413.75
409.50
400.60
423.35
T1 done
26/10/2020
BAJFINANCE
Short Sell
3,273.30
3,246.10
3,191.10
3,330.00
T1 done
26/10/2020
NIFTY
Short Sell
11,853.80
11,821.00
11,760.20
11,933.00
T2 done
26/10/2020
BANKNIFTY
Short Sell
24,270.00
24,176.50
23,986.50
24,550.00
T2 done
26/10/2020
BPCL
Short Sell
346.55
344.40
340.10
352.60
T1 done
26/10/2020
RELIANCE
Short Sell
2,063.25
2,044.70
2,007.75
2,101.95
T1 done
26/10/2020
SBIN
Short Sell
199.75
198.50
195.90
202.75
T2 done
26/10/2020
USDINR
Buy
73.82
73.88
73.97
73.72
T1 done
27/10/2020
BAJFINANCE
Buy
3,343.80
3,374.00
3,436.00
3,278.00
T1 done
27/10/2020
USDINR
Short Sell
73.89
73.83
73.72
74.02
T1 done
27/10/2020
TATASTEEL
Buy
412.55
416.50
424.50
403.40
T1 done
27/10/2020
BANKNIFTY
Buy
24,393.00
24,626.00
25,089.50
23,894.80
T1 done
27/10/2020
NIFTY
Buy
11,815.00
11,859.00
11,946.90
11,723.00
T1 done
27/10/2020
BPCL
Buy
348.10
350.90
356.65
342.05
Exited @ 348.6
27/10/2020
RELIANCE
Buy
2,042.35
2,057.20
2,087.10
2,005.00
T1 done
28/10/2020
TATASTEEL
Buy
412.50
415.65
421.50
406.55
T1 done
28/10/2020
SBIN
Short Sell
192.95
191.95
189.95
195.00
T2 done
28/10/2020
RELIANCE
Short Sell
2,032.20
2,021.55
1,999.85
2,057.70
T1 done
28/10/2020
NIFTY
Short Sell
11,837.20
11,803.30
11,735.30
11,917.60
T2 done
28/10/2020
BAJFINANCE
Short Sell
3,412.70
3,375.00
3,300.10
3,489.90
T1 done
28/10/2020
BPCL
Short Sell
345.90
344.10
340.40
349.60
T1 done
28/10/2020
TATASTEEL
Short Sell
406.00
403.30
397.40
412.40
T1 done
29/10/2020
NIFTY
Buy
11,671.00
11,703.70
11,768.00
11,605.50
T1 done
29/10/2020
RELIANCE
Buy
2,016.95
2,028.00
2,050.10
1,991.00
T1 done
29/10/2020
SBIN
Buy
189.35
190.40
192.40
187.35
T1 done
29/10/2020
BAJFINANCE
Buy
3,380.80
3,402.85
3,444.55
3,333.75
T1 done
29/10/2020
BPCL
Short Sell
343.20
341.70
338.50
347.20
T1 done
29/10/2020
USDINR
Short Sell
74.14
74.08
73.97
74.27
Exited @ 74.28
29/10/2020
BANKNIFTY
Buy
24,250.00
24,418.50
24,763.90
23,850.90
Exited @ 23827.6
29/10/2020
SBIN
Short Sell
187.15
186.10
184.10
189.35
T1 done
29/10/2020
USDINR
Buy
74.28
74.34
74.45
74.16
T2 done
30/10/2020
BPCL
Buy
352.40
355.60
362.10
343.50
T1 done
30/10/2020
NIFTY
Buy
11,730.10
11,783.10
11,881.90
11,632.10
Exited @ 11628.4
30/10/2020
BANKNIFTY
Buy
24,233.80
24,375.00
24,665.00
23,929.00
Exited @ 23877.5
30/10/2020
TATASTEEL
Buy
406.35
407.90
411.45
401.90
Exited @ 400.15
30/10/2020
BAJFINANCE
Short Sell
3,329.90
3,299.40
3,238.40
3,391.00
T1 done
30/10/2020
SBIN
Buy
191.75
193.10
195.80
188.90
Exited @ 188.6
30/10/2020
RELIANCE
Short Sell
2,029.25
2,019.55
2,000.75
2,049.95
Exited @ 2050.5
30/10/2020
TATASTEEL
Short Sell
400.15
398.40
394.90
405.45
T1 done
30/10/2020
NIFTY
Short Sell
11,628.40
11,580.60
11,481.80
11,730.90
T1 done
30/10/2020
BANKNIFTY
Short Sell
23,877.50
23,741.60
23,451.60
24,219.00
T1 done
30/10/2020
SBIN
Short Sell
188.60
187.35
184.65
191.60
T1 done
02/11/2020
BAJFINANCE
Short Sell
3,292.80
3,266.40
3,214.20
3,344.80
Exited @ 3344
02/11/2020
SBIN
Buy
192.70
193.85
196.10
190.05
T2 done
02/11/2020
RELIANCE
Short Sell
1,947.80
1,910.45
1,835.65
2,027.00
Exited @ 1902.8
02/11/2020
BANKNIFTY
Buy
24,374.20
24,503.70
24,764.00
24,100.50
T1 done
02/11/2020
BAJFINANCE
Buy
3,344.00
3,371.00
3,423.20
3,292.60
T1 done
02/11/2020
USDINR
Short Sell
74.44
74.35
74.18
74.66
Exited @ 74.59
02/11/2020
TATASTEEL
Short Sell
404.55
401.80
395.80
412.50
T1 done
02/11/2020
BPCL
Short Sell
346.85
343.00
335.40
354.65
Exited @ 346.25
02/11/2020
NIFTY
Buy
11,702.00
11,758.00
11,875.70
11,566.00
Exited @ 11660.5
03/11/2020
USDINR
Short Sell
74.40
74.32
74.15
74.59
Exited @ 74.51
03/11/2020
NIFTY
Buy
11,805.00
11,836.50
11,899.50
11,736.00
T1 done
03/11/2020
BAJFINANCE
Short Sell
3,420.00
3,394.00
3,340.00
3,483.95
Exited @ 3482.25
03/11/2020
RELIANCE
Buy
1,903.30
1,927.75
1,979.85
1,843.85
Exited @ 1849
03/11/2020
BANKNIFTY
Buy
25,515.00
25,711.20
26,101.10
25,110.00
Exited @ 25699.8
03/11/2020
TATASTEEL
Short Sell
406.70
404.20
399.00
412.20
Exited @ 406.9
03/11/2020
SBIN
Buy
202.90
205.30
210.10
197.70
Exited @ 205.35
03/11/2020
BAJFINANCE
Buy
3,482.25
3,511.75
3,565.75
3,430.00
T1 done
04/11/2020
TATASTEEL
Short Sell
406.10
402.20
394.40
415.05
T1 done
04/11/2020
BPCL
Short Sell
347.50
344.90
339.70
352.95
T1 done
04/11/2020
USDINR
Short Sell
74.82
74.74
74.58
75.00
Exited @ 74.78
04/11/2020
BANKNIFTY
Short Sell
25,391.80
25,215.40
24,850.20
25,788.30
T1 done
04/11/2020
RELIANCE
Buy
1,886.75
1,907.20
1,949.75
1,837.00
T1 done
04/11/2020
BAJFINANCE
Buy
3,539.25
3,574.35
3,645.35
3,462.95
Exited @ 3566.95
04/11/2020
NIFTY
Short Sell
11,801.30
11,752.90
11,652.70
11,919.90
T1 done
04/11/2020
SBIN
Short Sell
202.75
201.10
197.70
206.40
T1 done
04/11/2020
NIFTY
Buy
11,923.00
11,972.20
12,072.40
11,819.70
Exited @ 11922.8
04/11/2020
SBIN
Buy
206.85
208.50
212.00
202.95
T1 done
04/11/2020
BANKNIFTY
Buy
25,808.00
25,990.60
26,355.80
25,423.10
Exited @ 25782.1
05/11/2020
BPCL
Buy
358.20
361.90
369.15
350.70
T1 done
05/11/2020
TATASTEEL
Buy
416.75
418.80
422.90
409.45
T2 done
05/11/2020
BAJFINANCE
Buy
3,649.00
3,674.60
3,726.00
3,587.65
T1 done
05/11/2020
NIFTY
Buy
12,102.00
12,127.40
12,185.60
12,031.40
T1 done
05/11/2020
BANKNIFTY
Short Sell
26,070.80
25,980.00
25,807.80
26,254.10
Exited @ 26260
05/11/2020
RELIANCE
Buy
1,959.85
1,971.20
1,994.15
1,932.00
Exited @ 1953.55
05/11/2020
BANKNIFTY
Buy
26,260.00
26,343.30
26,515.50
26,082.00
T1 done
05/11/2020
USDINR
Buy
74.48
74.56
74.72
74.32
Exited @ 74.31
05/11/2020
USDINR
Short Sell
74.31
74.23
74.07
74.48
T1 done
06/11/2020
USDINR
Short Sell
74.06
74.01
73.91
74.16
T2 done
06/11/2020
BPCL
Short Sell
363.90
361.10
355.25
370.05
Exited @ 362.5
06/11/2020
SBIN
Short Sell
217.90
215.95
212.10
221.85
Exited @ 219.3
06/11/2020
RELIANCE
Buy
2,015.45
2,033.30
2,068.70
1,978.15
T1 done
06/11/2020
BAJFINANCE
Buy
3,774.85
3,805.25
3,867.70
3,704.10
T1 done
09/11/2020
BAJFINANCE
Buy
3,868.00
3,907.10
3,985.30
3,786.05
Exited @ 3867.95
09/11/2020
RELIANCE
Short Sell
2,044.35
2,032.05
2,008.05
2,069.00
Exited @ 2052
09/11/2020
SBIN
Short Sell
219.75
218.60
216.25
222.65
T1 done
09/11/2020
TATASTEEL
Buy
434.55
437.90
444.65
427.40
T1 done
09/11/2020
USDINR
Short Sell
73.97
73.91
73.80
74.09
T1 done
09/11/2020
USDINR
Buy
74.09
74.15
74.26
73.98
Exited @ 74.22
09/11/2020
BPCL
Buy
378.60
384.95
387.45
365.50
Exited @ 375.1
09/11/2020
BANKNIFTY
Buy
27,477.00
27,681.40
28,096.60
27,021.60
Exited @ 27517.8
09/11/2020
NIFTY
Buy
12,455.20
12,491.20
12,563.40
12,381.10
Exited @ 12468
10/11/2020
BAJFINANCE
Buy
4,029.70
4,100.00
4,240.75
3,882.80
Exited @ 4089.15
10/11/2020
TATASTEEL
Buy
446.45
449.90
457.55
435.55
T1 done
10/11/2020
BPCL
Buy
382.30
386.45
395.05
372.15
Exited @ 382.75
10/11/2020
BANKNIFTY
Buy
28,231.40
28,396.20
28,733.80
27,832.30
T1 done
10/11/2020
SBIN
Buy
227.40
229.40
233.40
223.00
T1 done
10/11/2020
USDINR
Buy
74.20
74.26
74.37
74.08
T2 done
10/11/2020
RELIANCE
Buy
2,083.75
2,100.90
2,136.70
2,041.20
Exited @ 2087.95
10/11/2020
NIFTY
Buy
12,591.80
12,640.80
12,740.80
12,482.60
T1 done
11/11/2020
RELIANCE
Short Sell
2,074.50
2,066.40
2,048.00
2,095.00
T2 done
11/11/2020
BPCL
Buy
389.10
392.55
399.45
381.60
T1 done
11/11/2020
SBIN
Buy
238.20
241.10
247.30
231.20
Exited @ 230.7
11/11/2020
BANKNIFTY
Buy
28,940.60
29,120.50
29,481.50
28,564.00
Exited @ 28561
11/11/2020
NIFTY
Short Sell
12,649.00
12,598.60
12,499.60
12,764.00
Exited @ 12767.5
11/11/2020
BAJFINANCE
Short Sell
4,152.30
4,040.80
3,818.70
4,424.15
T1 done
11/11/2020
TATASTEEL
Short Sell
441.15
436.90
428.95
449.85
Exited @ 450.45
11/11/2020
BANKNIFTY
Short Sell
28,561.00
2,379.50
28,018.50
28,925.00
T1 done
11/11/2020
TATASTEEL
Buy
450.45
454.45
462.40
441.90
T1 done
11/11/2020
USDINR
Buy
74.38
74.44
74.55
74.26
T1 done
11/11/2020
SBIN
Short Sell
230.70
227.65
221.45
237.40
Exited @ 234.6
11/11/2020
NIFTY
Buy
12,767.50
12,817.00
12,916.00
12,665.00
Exited @ 12760.6
12/11/2020
SBIN
Short Sell
229.70
227.95
224.65
233.35
T2 done
12/11/2020
BAJFINANCE
Buy
4,272.00
4,301.05
4,359.00
4,201.90
T1 done
12/11/2020
NIFTY
Short Sell
12,684.20
12,655.90
12,599.10
12,748.30
T1 done
12/11/2020
USDINR
Buy
74.59
74.66
74.79
74.44
T2 done
12/11/2020
BANKNIFTY
Short Sell
28,279.00
28,092.20
27,719.80
28,661.30
T1 done
12/11/2020
RELIANCE
Short Sell
1,968.80
1,949.70
1,914.15
2,005.55
Exited @ 1984.95
13/11/2020
NIFTY
Buy
12,690.50
12,691.40
12,728.40
12,618.00
T2 done
13/11/2020
BANKNIFTY
Buy
28,256.30
28,449.40
28,864.80
27,712.40
T1 done
13/11/2020
TATASTEEL
Buy
472.75
477.05
484.95
465.00
T1 done
13/11/2020
TATASTEEL
Buy
474.50
477.95
485.85
465.00
T1 done
13/11/2020
BPCL
Buy
394.00
396.45
402.35
387.55
Exited @ 394
13/11/2020
NIFTY
Buy
12,673.50
12,691.40
12,728.40
12,618.00
T2 done
13/11/2020
USDINR
Short Sell
74.62
74.57
74.46
74.77
T1 done
13/11/2020
SBIN
Buy
225.10
227.50
232.40
220.10
T1 done
17/11/2020
BANKNIFTY
Buy
29,074.00
29,185.50
29,480.30
28,730.10
Exited @ 28720.5
17/11/2020
SBIN
Buy
236.90
239.50
245.00
231.25
T1 done
17/11/2020
TATASTEEL
Buy
522.95
533.25
553.60
501.70
Exited @ 530.4
17/11/2020
NIFTY
Short Sell
12,831.50
12,797.20
12,731.90
12,906.80
Exited @ 12880
17/11/2020
USDINR
Buy
74.52
74.57
74.67
74.42
T2 done
17/11/2020
RELIANCE
Short Sell
2,006.00
1,969.10
1,893.30
2,085.00
Exited @ 1993.95
17/11/2020
BANKNIFTY
Short Sell
28,720.50
28,582.60
28,287.70
29,025.00
Exited @ 29040.1
17/11/2020
BAJFINANCE
Buy
4,423.65
4,460.00
4,531.10
4,345.00
T1 done
19/11/2020
TATASTEELL
Buy
529.10
538.55
557.25
510.00
Exited @ 522.95
19/11/2020
BAJFINANCE
Buy
4,766.30
4,847.60
5,010.70
4,595.00
Exited @ 4579.85
19/11/2020
NIFTY
Buy
12,955.50
12,999.00
13,086.30
12,857.70
Exited @ 12815
19/11/2020
USDINR
Short Sell
74.28
74.24
74.15
74.38
T1 done
19/11/2020
BPCL
Buy
394.80
400.35
411.05
383.05
Exited @ 382.8
19/11/2020
SBIN
Short Sell
246.50
243.90
238.70
251.80
T1 done
19/11/2020
RELIANCE
Short Sell
1,976.00
1,959.70
1,927.25
2,010.45
Exited @ 1971.5
19/11/2020
BANKNIFTY
Short Sell
29,317.80
29,181.60
28,900.80
29,608.00
T2 done
19/11/2020
NIFTY
Short Sell
12,815.00
12,771.50
12,684.20
12,945.00
T1 done
19/11/2020
BAJFINANCE
Short Sell
4,579.85
4,496.15
4,333.00
4,758.15
Exited @ 4540.1
20/11/2020
BPCL
Short Sell
381.70
379.25
374.25
388.00
Exited @ 378.85
20/11/2020
RELIANCE
Short Sell
1,928.85
1,905.95
1,859.25
1,982.95
Exited @ 1902
20/11/2020
USDINR
Short Sell
74.12
74.09
74.04
74.20
Exited @ 74.215
20/11/2020
BAJFINANCE
Short Sell
4,554.75
4,513.50
4,431.35
4,643.20
Exited @ 4657.4
20/11/2020
BANKNIFTY
Short Sell
28,685.00
28,491.50
28,104.50
29,090.00
Exited @ 29164.2
20/11/2020
USDINR
Short Sell
74.22
74.24
74.30
74.14
Exited @ 74.1375
20/11/2020
NIFTY
Short Sell
12,763.00
12,732.50
12,666.50
12,844.00
Exited @ 12855.5
20/11/2020
TATASTEEL
Short Sell
524.90
516.85
501.15
541.70
Exited @ 533.75
20/11/2020
BAJFINANCE
Buy
4,657.40
4,697.10
4,779.25
4,561.05
Exited @ 4716.9
20/11/2020
BANKNIFTY
Buy
29,164.20
29,361.50
29,748.50
28,709.00
T1 done
20/11/2020
NIFTY
Buy
12,855.50
12,890.40
12,956.40
12,778.00
T1 done
23/11/2020
SBIN
Short Sell
240.10
237.20
232.85
246.15
Exited @ 238.9
23/11/2020
BPCL
Buy
388.05
390.85
395.95
383.05
Exited @ 388.05
23/11/2020
BANKNIFTY
Short Sell
29,090.00
28,949.00
28,657.00
29,479.00
T1 done
23/11/2020
NIFTY
Short Sell
12,887.70
12,853.20
12,785.40
12,955.90
T1 done
23/11/2020
USDINR
Buy
74.23
74.29
74.42
74.07
Exited @ 74.08
23/11/2020
BPCL
Buy
386.75
388.80
392.60
383.00
T1 done
23/11/2020
BAJFINANCE
Short Sell
4,751.55
4,696.90
4,589.95
4,861.95
Exited @ 4806
23/11/2020
NIFTY
Buy
12,955.80
12,990.90
13,058.00
12,888.00
Exited @ 12955.8
23/11/2020
TATASTEEL
Buy
545.30
549.40
558.05
536.35
Exited @ 542.8
24/11/2020
BANKNIFTY
Buy
29,443.00
29,561.50
29,806.50
29,180.00
T1 done
24/11/2020
NIFTY
Buy
13,032.00
13,059.60
13,119.80
12,964.80
T1 done
24/11/2020
USDINR
Short Sell
74.07
74.02
73.92
74.20
T2 done
24/11/2020
SBIN
Buy
242.35
243.50
245.85
239.55
T1 done
24/11/2020
BPCL
Short Sell
394.10
391.50
386.50
399.50
T1 done
25/11/2020
TATASTEEL
Buy
557.10
560.20
566.20
551.00
Exited @ 548.75
25/11/2020
BAJFINANCE
Short Sell
4,762.45
4,733.95
4,676.95
4,822.00
T1 done
25/11/2020
NIFTY
Short Sell
13,110.70
13,099.10
13,075.90
13,137.80
T2 done
25/11/2020
BPCL
Short Sell
387.80
385.40
380.60
393.40
T1 done
25/11/2020
SBIN
Short Sell
245.10
243.10
239.10
249.30
T1 done
25/11/2020
BANKNIFTY
Short Sell
29,947.10
29,831.20
29,603.50
30,180.00
T1 done
25/11/2020
RELIANCE
Short Sell
1,967.50
1,955.10
1,930.40
1,992.95
T1 done
25/11/2020
TATASTEEL
Short Sell
548.75
545.80
539.80
557.00
T2 done
26/11/2020
NIFTY
Short Sell
12,815.00
12,759.80
12,649.30
12,927.00
Exited @ 12945
26/11/2020
BAJFINANCE
Buy
4,728.75
4,768.65
4,845.10
4,640.00
T1 done
26/11/2020
BPCL
Short Sell
376.20
372.15
363.95
384.80
Exited @ 378.1
26/11/2020
BANKNIFTY
Short Sell
28,990.00
28,814.80
28,474.60
29,367.00
Exited @ 29382
26/11/2020
USDINR
Short Sell
73.98
73.94
73.86
74.07
Exited @ 74.08
26/11/2020
BANKNIFTY
Buy
29,382.00
29,554.70
29,895.00
29,026.70
T1 done
26/11/2020
TATASTEEL
Buy
548.65
551.95
558.95
541.50
T1 done
26/11/2020
NIFTY
Buy
12,945.00
12,996.90
13,107.40
12,816.50
T1 done
26/11/2020
SBIN
Buy
244.90
246.90
250.90
240.50
Exited @ 245.45
26/11/2020
USDINR
Buy
74.09
74.13
74.21
73.99
Exited @ 74.09
27/11/2020
TATASTEEL
Buy
572.45
576.95
585.85
563.05
T1 done
27/11/2020
BPCL
Buy
383.70
386.40
391.80
378.00
Exited @ 377.2
27/11/2020
USDINR
Short Sell
73.97
73.93
73.84
74.06
Exited @ 74.085
27/11/2020
SBIN
Short Sell
242.90
241.30
238.30
245.85
Exited @ 244.2
27/11/2020
NIFTY
Buy
13,079.00
13,112.70
13,184.90
12,992.40
Exited @ 13204.9
27/11/2020
BANKNIFTY
Buy
29,769.00
29,920.60
30,241.10
29,400.00
Exited @ 29666
27/11/2020
RELIANCE
Buy
1,953.65
1,962.35
1,979.30
1,933.00
Exited @ 1929.95
27/11/2020
USDINR
Buy
74.09
74.12
74.21
73.98
T2 done
27/11/2020
BPCL
Short Sell
377.20
374.45
369.05
383.40
T1 done
27/11/2020
BAJFINANCE
Short Sell
4,806.55
4,771.80
4,702.30
4,894.50
Exited @ 4911.95
01/12/2020
NIFTY
Buy
13,059.60
13,088.30
13,145.40
12,992.90
T2 done
01/12/2020
BPCL
Buy
376.65
379.35
384.55
371.00
T1 done
01/12/2020
USDINR
Short Sell
74.08
74.03
73.94
74.20
T2 done
01/12/2020
SBIN
Buy
247.00
248.00
250.00
244.25
T1 done
01/12/2020
BANKNIFTY
Buy
29,788.90
29,919.30
30,178.00
29,526.00
T1 done
01/12/2020
RELIANCE
Buy
1,947.85
1,955.60
1,971.85
1,930.05
T1 done
01/12/2020
BAJFINANCE
Short Sell
4,866.40
4,828.00
4,748.00
4,951.20
T1 done
02/12/2020
BPCL
Buy
388.60
393.65
403.85
377.85
02/12/2020
NIFTY
Short Sell
13,108.90
13,084.50
13,035.70
13,161.00
T2 done
02/12/2020
TATASTEEL
Buy
596.85
603.35
616.25
584.05
T1 done
02/12/2020
BAJFINANCE
Short Sell
4,810.20
4,785.75
4,733.75
4,864.00
Exited @ 4868.05
02/12/2020
BANKNIFTY
Short Sell
29,695.00
29,595.00
29,389.00
29,912.00
T2 done
02/12/2020
USDINR
Buy
73.81
73.88
74.03
73.61
T2 done
02/12/2020
BAJFINANCE
Buy
4,868.05
4,895.70
4,947.65
4,812.05
T1 done
02/12/2020
SBIN
Buy
250.50
252.50
256.50
246.30
Exited @ 246.2
02/12/2020
SBIN
Short Sell
246.20
244.20
240.20
250.30
T1 done
03/12/2020
TATASTEEL
Buy
619.30
624.25
634.15
608.00
T1 done
03/12/2020
SBIN
Buy
250.55
251.55
253.55
248.00
T2 done
03/12/2020
BANKNIFTY
Buy
29,771.50
29,874.80
30,075.80
29,543.00
T1 done
03/12/2020
BAJFINANCE
Buy
4,873.00
4,891.45
4,939.45
4,817.00
Exited @ 4872.7
03/12/2020
NIFTY
Buy
13,218.70
13,241.60
13,287.00
13,171.00
Exited @ 13189.1
03/12/2020
USDINR
Short Sell
73.91
73.80
73.60
74.11
Exited @ 74.135
03/12/2020
BPCL
Buy
392.50
397.00
406.25
382.65
T1 done
03/12/2020
RELIANCE
Buy
1,978.95
1,986.00
2,002.40
1,962.00
Exited @ 1962.65
03/12/2020
BANKNIFTY
Short Sell
29,531.20
29,429.10
29,228.00
29,744.00
Exited @ 29524.3
03/12/2020
NIFTY
Short Sell
13,159.30
13,137.30
13,091.50
13,216.80
Exited @ 13189.1
03/12/2020
USDINR
Buy
74.14
74.24
74.44
73.91
Exited @ 74.095
04/12/2020
BANKNIFTY
Buy
29,735.00
29,923.60
30,300.80
29,350.00
T1 done
04/12/2020
BPCL
Short Sell
392.20
389.20
383.20
398.80
T1 done
04/12/2020
TATASTEEL
Buy
628.80
631.25
636.75
622.50
T1 done
04/12/2020
BAJFINANCE
Buy
4,915.00
4,934.90
4,976.50
4,864.90
T1 done
04/12/2020
NIFTY
Buy
13,266.00
13,291.80
13,343.40
13,202.40
T1 done
04/12/2020
SBIN
Buy
258.90
260.55
263.90
255.05
Exited @ 255
04/12/2020
RELIANCE
Short Sell
1,947.05
1,938.75
1,921.75
1,969.00
Exited @ 1947.1
04/12/2020
USDINR
Short Sell
73.92
73.87
73.77
74.04
Exited @ 73.8875
04/12/2020
BAJFINANCE
Short Sell
4,862.20
4,841.35
4,799.75
4,096.00
T1 done
04/12/2020
TATASTEEL
Short Sell
622.15
619.55
614.05
628.00
T1 done
04/12/2020
SBIN
Short Sell
255.00
253.15
249.70
258.45
Exited @ 258.85
05/12/2020
BAJFINANCE
Short Sell
4,845.85
4,819.70
4,767.40
4,898.20
Exited @ 4907
05/12/2020
RELIANCE
Buy
1,962.00
1,971.05
1,990.05
1,940.60
Exited @ 1957.95
05/12/2020
USDINR
Short Sell
73.87
73.82
73.72
73.98
Exited @ 74.0575
05/12/2020
TATASTEEL
Short Sell
620.85
617.40
610.55
628.85
T1 done
05/12/2020
BAJFINANCE
Buy
4,907.00
4,935.85
4,988.15
4,845.90
Exited @ 4842.2
05/12/2020
NIFTY
Buy
13,362.90
13,401.70
13,480.00
13,268.20
Exited @ 13385
05/12/2020
SBIN
Buy
267.15
268.80
272.10
263.00
T1 done
05/12/2020
BANKNIFTY
Buy
30,320.00
30,412.50
30,623.30
30,034.00
T1 done
05/12/2020
USDINR
Buy
73.99
74.04
74.15
73.88
T1 done
07/12/2020
BAJFINANCE
Short Sell
4,845.85
4,819.70
4,767.40
4,898.20
Exited @ 4907
07/12/2020
RELIANCE
Buy
1,962.00
1,971.05
1,990.05
1,940.60
Exited @ 1957.95
07/12/2020
USDINR
Short Sell
73.87
73.82
73.72
73.98
Exited @ 73.9875
07/12/2020
TATASTEEL
Short Sell
620.85
617.40
610.55
628.85
T1 done
07/12/2020
BAJFINANCE
Buy
4,907.00
4,935.85
4,988.15
4,845.90
Exited @ 4842.2
07/12/2020
NIFTY
Buy
13,362.90
13,401.70
13,480.10
13,268.20
Exited @ 13385
07/12/2020
SBIN
Buy
264.15
268.80
272.10
263.00
T1 done
07/12/2020
BANKNIFTY
Buy
30,320.00
30,412.50
30,623.30
30,034.00
T1 done
07/12/2020
USDINR
Buy
73.99
7,404.00
74.15
73.88
T1 done
08/12/2020
RELIANCE
Buy
2,006.00
2,027.25
2,070.25
1,950.00
Exited @ 1994.6
08/12/2020
NIFTY
Buy
13,452.30
13,485.70
13,551.10
13,381.00
Exited @ 13366
08/12/2020
BAJFINANCE
Short Sell
4,819.00
4,801.05
4,765.15
4,856.90
Exited @ 4819
08/12/2020
TATASTEEL
Short Sell
611.70
607.30
599.00
621.00
Exited @ 611.7
08/12/2020
BPCL
Short Sell
394.25
392.05
387.55
399.00
T1 done
08/12/2020
USDINR
Short Sell
73.95
73.90
73.80
74.04
T2 done
08/12/2020
SBIN
Short Sell
266.55
264.45
260.35
271.20
Exited @ 271.95
08/12/2020
BANKNIFTY
Short Sell
30,138.30
30,038.00
29,838.00
30,370.00
Exited @ 30394.9
08/12/2020
NIFTY
Short Sell
13,366.00
13,333.50
13,268.10
13,446.40
Exited @ 30394.9
08/12/2020
SBIN
Buy
271.95
274.05
278.15
267.10
Exited @ 271.85
08/12/2020
BANKNIFTY
Buy
30,394.90
30,483.80
30,683.80
30,170.00
Exited @ 30303.7
09/12/2020
SBIN
Buy
274.50
276.60
280.55
270.50
Exited @ 269.95
09/12/2020
USDINR
Short Sell
73.70
73.64
73.53
73.82
Exited @ 73.7175
09/12/2020
TATASTEEL
Short Sell
613.85
610.85
605.35
620.55
T1 done
09/12/2020
NIFTY
Buy
13,500.00
13,518.70
13,556.00
13,457.70
T2 done
09/12/2020
RELIANCE
Buy
2,024.00
2,032.05
3,048.20
1,999.80
T1 done
09/12/2020
BANKNIFTY
Buy
30,502.00
30,572.10
30,707.10
30,355.00
T2 done
09/12/2020
BPCL
Buy
396.10
398.50
403.25
391.00
T1 done
09/12/2020
SBIN
Short Sell
269.95
267.75
263.45
274.45
Exited @ 270.4
09/12/2020
BAJFINANCE
Buy
4,838.05
4,858.60
4,900.60
4,795.00
Exited @ 4847.7
10/12/2020
USDINR
Short Sell
73.78
73.73
73.64
73.89
Exited @ 73.895
10/12/2020
SBIN
Short Sell
266.60
264.90
261.50
270.20
Exited @ 269.95
10/12/2020
BANKNIFTY
Short Sell
30,434.50
30,325.60
30,108.80
30,673.30
T1 done
10/12/2020
TATASTEEL
Buy
607.25
613.30
625.30
594.45
Exited @ 610.15
10/12/2020
BAJFINANCE
Buy
4,851.00
4,879.00
4,933.55
4,795.45
Exited @ 4786
10/12/2020
NIFTY
Short Sell
13,448.40
13,412.50
13,341.70
13,519.80
Exited @ 13537.9
10/12/2020
BAJFINANCE
Short Sell
4,786.00
4,758.75
4,704.20
4,850.00
Exited @ 4786
10/12/2020
NIFTY
Buy
13,537.90
13,574.00
13,645.00
13,448.90
Exited @ 13530.9
10/12/2020
BPCL
Buy
395.70
399.55
407.15
388.00
Exited @ 398.95
10/12/2020
USDINR
Short Sell
73.78
73.73
73.64
73.89
Exited @ 73.895
11/12/2020
RELIANCE
Buy
2,025.00
2,031.40
2,044.25
2,012.05
T1 done
11/12/2020
NIFTY
Buy
13,581.90
13,611.50
13,670.70
13,520.50
Exited @ 13518.8
11/12/2020
TATASTEEL
Buy
621.45
624.50
630.40
614.90
T1 done
11/12/2020
USDINR
Short Sell
73.73
73.69
73.62
73.82
T1 done
11/12/2020
BAJFINANCE
Buy
4,873.90
4,901.60
4,964.60
4,805.00
Exited @ 4840.2
11/12/2020
BANKNIFTY
Short Sell
30,497.60
30,356.50
30,071.50
30,865.00
T1 done
11/12/2020
NIFTY
Short Sell
13,518.80
13,489.40
13,430.20
13,579.70
T2 done
11/12/2020
BPCL
Short Sell
395.10
391.95
384.85
407.40
Exited @ 397.9
11/12/2020
RELIANCE
Short Sell
2,009.25
2,002.90
1,990.05
2,024.90
T2 done
14/12/2020
USDINR
Short Sell
73.71
73.64
73.52
73.84
T1 done
14/12/2020
BPCL
Buy
404.00
406.65
411.55
398.60
Exited @ 274.15
14/12/2020
NIFTY
Short Sell
13,540.40
13,509.50
13,446.50
13,613.00
T1 done
14/12/2020
SBIN
Short Sell
273.00
271.95
269.45
276.00
Exited @ 274.15
14/12/2020
BANKNIFTY
Short Sell
30,685.00
30,593.20
30,405.50
30,890.00
Exited @ 30786.1
14/12/2020
BAJFINANCE
Buy
4,887.05
4,904.10
4,938.10
4,848.00
T1 done
15/12/2020
SBIN
Short Sell
270.40
268.90
265.65
274.05
T1 done
15/12/2020
BANKNIFTY
Short Sell
30,474.80
30,392.70
30,148.30
30,769.20
T1 done
15/12/2020
RELIANCE
Short Sell
1,965.80
1,954.25
1,930.75
1,989.70
Exited @ 1974.25
15/12/2020
NIFTY
Short Sell
13,480.00
13,454.60
13,402.80
13,536.90
T1 done
15/12/2020
BPCL
Short Sell
397.50
391.90
380.70
409.25
Exited @ 398.15
15/12/2020
BAJFINANCE
Buy
4,939.95
4,972.35
5,038.95
4,868.85
T1 done
15/12/2020
NIFTY
Buy
13,540.00
13,564.50
13,616.30
13,485.10
T1 done
15/12/2020
TATASTEEL
Buy
628.70
633.85
644.15
617.80
T1 done
16/12/2020
SBIN
Short Sell
270.60
269.75
267.75
273.65
T1 done
16/12/2020
BANKNIFTY
Short Sell
30,782.30
30,728.70
30,612.10
30,925.00
T2 done
16/12/2020
BAJFINANCE
Short Sell
5,140.15
5,103.95
5,036.15
5,225.00
Exited @ 5140.75
16/12/2020
RELIANCE
Short Sell
1,975.70
1,966.45
1,948.70
1,994.95
T1 done
16/12/2020
USDINR
Buy
73.63
73.66
73.73
73.55
T1 done
16/12/2020
NIFTY
Buy
13,662.50
13,671.60
13,693.80
13,636.90
T1 done
16/12/2020
BPCL
Short Sell
399.90
397.05
391.15
405.95
Exited @ 399.6
16/12/2020
NIFTY
Short Sell
13,631.80
13,618.70
13,596.50
13,659.10
Exited @ 13660
17/12/2020
NIFTY
Buy
13,730.50
13,751.20
13,793.30
13,686.90
T2 done
17/12/2020
BPCL
Short Sell
398.95
397.45
394.45
402.55
T1 done
17/12/2020
SBIN
Short Sell
267.60
266.35
264.05
270.05
Exited @ 270.05
17/12/2020
USDINR
Short Sell
73.58
73.54
73.47
73.65
T2 done
17/12/2020
TATASTEEL
Short Sell
640.40
637.40
631.75
646.00
T1 done
17/12/2020
SBIN
Buy
270.05
271.25
273.55
267.75
T1 done
17/12/2020
BANKNIFTY
Buy
30,931.00
30,977.20
31,166.70
30,652.30
T1 done
17/12/2020
USDINR
Buy
73.67
73.70
73.77
73.58
Exited @ 73.665
18/12/2020
BAJFINANCE
Short Sell
5,186.50
5,138.75
5,046.30
5,284.95
Exited @ 5252.50
18/12/2020
NIFTY
Short Sell
13,691.40
13,658.50
13,593.70
13,762.10
Exited @ 13763
18/12/2020
SBIN
Short Sell
265.90
264.80
262.70
268.25
Exited @ 268.45
18/12/2020
RELIANCE
Short Sell
1,967.20
1,958.20
1,940.20
1,988.00
Exited @ 1991.55
18/12/2020
BANKNIFTY
Short Sell
30,463.00
30,298.80
29,973.80
30,835.00
T1 done
18/12/2020
USDINR
Short Sell
73.61
73.58
73.54
73.66
T1 done
18/12/2020
NIFTY
Buy
13,763.00
13,794.90
13,859.80
13,697.20
T1 done
18/12/2020
SBIN
Buy
268.45
269.45
271.55
366.15
T1 done
21/12/2020
NIFTY
Buy
13,758.00
13,788.40
13,849.00
13,689.30
Exited @ 13676.1
21/12/2020
RELIANCE
Short Sell
1,999.35
1,991.55
1,975.35
2,022.00
T2 done
21/12/2020
BPCL
Short Sell
385.55
382.15
374.95
393.00
T1 done
21/12/2020
SBIN
Short Sell
264.75
263.25
260.25
269.00
T1 done
21/12/2020
BANKNIFTY
Short Sell
30,262.00
30,118.00
29,820.40
30,578.90
T1 done
21/12/2020
BAJFINANCE
Short Sell
5,154.70
5,115.75
5,043.20
5,228.00
T1 done
21/12/2020
NIFTY
Short Sell
13,676.10
13,649.70
13,589.00
13,750.00
T2 done
21/12/2020
TATASTEEL
Short Sell
614.75
608.70
596.70
627.25
T1 done
21/12/2020
USDINR
Buy
73.86
73.97
74.17
73.64
T2 done
22/12/2020
BANKNIFTY
Short Sell
29,113.80
28,829.90
28,277.30
29,685.80
Exited @ 29760
22/12/2020
TATASTEEL
Short Sell
588.90
578.40
558.00
610.45
Exited @ 602.2
22/12/2020
USDINR
Short Sell
73.94
74.05
73.89
74.05
Exited @ 73.9375
22/12/2020
NIFTY
Buy
13,456.60
13,564.30
13,782.90
13,231.40
Exited @ 13495.3
22/12/2020
BPCL
Buy
372.00
379.25
393.80
357.00
Exited @ 373.75
22/12/2020
BANKNIFTY
Buy
29,760.00
30,026.30
30,578.90
29,133.20
Exited @ 29673.4
22/12/2020
SBIN
Buy
258.55
263.65
273.75
248.25
Exited @ 257.6
23/12/2020
TATASTEEL
Buy
606.05
610.60
619.95
596.50
T1 done
23/12/2020
BANKNIFTY
Buy
29,715.00
29,819.90
30,029.70
29,480.00
T1 done
23/12/2020
SBIN
Buy
259.55
261.00
264.00
255.65
T1 done
23/12/2020
BAJFINANCE
Buy
5,095.05
5,152.50
5,263.00
4,971.00
T1 done
23/12/2020
USDINR
Short Sell
73.91
73.87
73.80
74.01
T2 done
23/12/2020
NIFTY
Buy
13,542.80
13,588.80
13,680.70
13,448.10
T1 done
23/12/2020
RELIANCE
Buy
1,936.80
1,945.30
1,961.50
1,920.80
T1 done
23/12/2020
BPCL
Buy
376.40
379.15
384.70
370.05
Exited @ 376.4
24/12/2020
NIFTY
Buy
13,738.40
13,766.00
13,839.00
13,651.00
T1 done
24/12/2020
SBIN
Buy
267.35
268.10
270.15
364.65
T1 done
24/12/2020
USDINR
Short Sell
73.65
73.60
73.49
73.76
T1 done
24/12/2020
TATASTEEL
Short Sell
623.35
619.00
610.60
632.00
Exited @ 622
24/12/2020
RELIANCE
Buy
1,971.50
1,983.60
2,007.70
1,945.90
T1 done
24/12/2020
BAJFINANCE
Buy
5,191.85
5,225.90
5,293.70
5,106.00
Exited @ 5177
28/12/2020
RELIANCE
Short Sell
2,000.10
1,992.35
1,976.90
2,018.00
Exited @ 2002.55
28/12/2020
BAJFINANCE
Buy
5,233.60
5,262.60
5,318.55
5,175.00
Exited @ 5201.1
28/12/2020
USDINR
Buy
73.58
73.62
73.70
73.49
T1 done
28/12/2020
BPCL
Buy
382.45
384.25
387.75
378.50
T1 done
28/12/2020
BANKNIFTY
Buy
30,860.00
31,003.40
31,286.40
30,552.00
Exited @ 30904.8
28/12/2020
TATASTEEL
Short Sell
627.80
324.15
616.90
635.35
Exited @ 632.8
28/12/2020
NIFTY
Buy
13,876.00
13,911.50
13,982.70
13,802.10
Exited @ 13887.4
28/12/2020
SBIN
Buy
272.00
273.55
276.65
268.55
T1 done
29/12/2020
BAJFINANCE
Buy
5,237.10
5,252.40
5,279.90
5,210.00
Exited @ 5206.35
29/12/2020
NIFTY
Buy
13,964.50
13,982.80
14,019.40
13,926.10
Exited @ 13905
29/12/2020
TATASTEEL
Short Sell
630.60
626.25
617.60
639.65
T1 done
29/12/2020
RELIANCE
Short Sell
1,988.60
1,977.90
1,955.75
2,012.30
Exited @ 1990.85
29/12/2020
SBIN
Buy
279.40
280.70
283.44
276.30
Exited @ 275.8
29/12/2020
BAJFINANCE
Short Sell
5,206.35
5,192.40
5,164.90
5,237.50
T1 done
29/12/2020
BPCL
Short Sell
381.35
379.20
375.40
385.60
T1 done
29/12/2020
NIFTY
Short Sell
13,905.00
13,887.80
13,851.20
13,962.70
T1 done
29/12/2020
SBIN
Short Sell
275.80
274.55
271.85
279.00
Exited @ 277.8
29/12/2020
USDINR
Short Sell
73.43
73.35
73.20
73.58
T1 done
29/12/2020
BANKNIFTY
Buy
31,355.00
31,513.80
31,829.60
31,030.00
Exited @ 31345
30/12/2020
BAJFINANCE
Buy
5,246.85
5,277.05
5,341.15
5,174.00
T1 done
30/12/2020
BPCL
Buy
382.80
384.45
387.65
378.80
Exited @ 382.3
30/12/2020
RELIANCE
Buy
2,002.35
2,011.60
2,030.10
1,976.75
Exited @ 1996.55
30/12/2020
TATASTEEL
Buy
633.70
638.35
647.25
624.05
T1 done
30/12/2020
BANKNIFTY
Short Sell
31,084.00
30,887.00
30,487.50
31,549.50
Exited @ 31291.8
30/12/2020
NIFTY
Short Sell
13,893.10
13,848.80
13,758.40
13,985.00
Exited @ 13976.9
31/12/2020
SBIN
Buy
276.60
278.50
282.30
272.60
Exited @ 274.9
31/12/2020
BPCL
Short Sell
380.65
378.90
375.15
384.55
Exited @ 381.2
31/12/2020
USDINR
Short Sell
73.31
73.27
73.20
73.38
T1 done
31/12/2020
NIFTY
Buy
13,989.60
14,018.00
14,074.70
13,931.00
T1 done
31/12/2020
BAJFINANCE
Short Sell
5,307.00
5,279.10
5,219.20
5,372.50
T1 done
31/12/2020
RELIANCE
Short Sell
1,986.95
1,977.40
1,957.80
2,011.90
Exited @ 1982.15
31/12/2020
TATASTEEL
Buy
649.25
654.45
664.85
636.55
Exited @ 643.3
31/12/2020
BANKNIFTY
Buy
31,410.00
31,557.80
31,853.30
31,079.00
Exited @ 31266
01/01/2021
TATASTEEL
Short Sell
640.65
638.55
634.35
647.20
Exited @ 642.55
01/01/2021
USDINR
Buy
73.34
73.43
73.60
73.15
Exited @ 773.2925
01/01/2021
NIFTY
Buy
14,051.00
14,074.00
14,119.90
14,002.00
T1 done
01/01/2021
RELIANCE
Buy
1,994.00
200.15
2,011.65
1,982.00
Exited @ 1987.55
01/01/2021
TATASTEEL
Buy
647.40
649.85
654.05
643.00
Exited @ 647.4
01/01/2021
BAJFINANCE
Short Sell
5,297.45
5,279.25
5,241.35
5,338.00
Exited @ 5281.15
01/01/2021
SBIN
Buy
278.80
280.85
284.95
274.40
Exited @ 279.55
01/01/2021
BPCL
Buy
383.70
385.00
387.45
381.10
Exited @ 381.9
04/01/2021
TATASTEEL
Buy
663.00
669.55
682.55
646.95
T1 done
04/01/2021
BPCL
Buy
390.15
392.45
397.40
384.90
T1 done
04/01/2021
BAJFINANCE
Short Sell
5,270.00
5,244.85
5,193.15
5,324.00
T1 done
04/01/2021
BANKNIFTY
Short Sell
31,378.60
31,293.50
31,124.50
31,599.00
T2 done
04/01/2021
NIFTY
Short Sell
14,098.00
14,077.30
14,035.90
14,141.40
T2 done
04/01/2021
SBIN
Short Sell
280.70
279.50
277.25
283.55
T1 done
04/01/2021
RELIANCE
Short Sell
1,971.00
1,961.75
1,941.90
1,995.10
Exited @ 1989.95
04/01/2021
NIFTY
Buy
14,143.80
14,164.50
14,205.90
14,100.00
Exited @ 14143.8
05/01/2021
BAJFINANCE
Short Sell
5,139.70
5,102.85
5,028.65
5,224.20
T1 done
05/01/2021
NIFTY
Short Sell
14,080.20
14,055.20
14,003.40
14,135.00
Exited @ 14142.5
05/01/2021
TATASTEEL
Short Sell
680.45
675.40
665.40
692.00
T1 done
05/01/2021
BPCL
Short Sell
389.15
386.40
380.85
394.75
Exited @ 392.55
05/01/2021
BANKNIFTY
Buy
31,261.50
31,376.60
31,615.50
31,011.10
T2 done
05/01/2021
RELIANCE
Short Sell
1,968.15
1,961.00
1,946.40
1,983.60
T1 done
05/01/2021
NIFTY
Buy
14,142.50
14,168.90
14,220.70
14,083.20
T2 done
05/01/2021
SBIN
Buy
280.00
281.15
283.55
277.40
T1 done
05/01/2021
USDINR
Buy
73.39
73.49
73.68
73.18
Exited @ 73.395
06/01/2021
RELIANCE
Short Sell
1,945.00
1,935.05
1,915.15
1,965.90
T1 done
06/01/2021
BAJFINANCE
Short Sell
5,076.90
5,037.70
4,956.40
5,168.35
T1 done
06/01/2021
BPCL
Short Sell
391.00
388.20
382.70
396.95
T1 done
06/01/2021
USDINR
Short Sell
73.31
73.28
73.21
73.39
T1 done
06/01/2021
TATASTEEL
Short Sell
680.40
675.25
664.95
690.90
Exited @ 691.5
06/01/2021
BANKNIFTY
Buy
31,994.00
32,073.30
32,239.80
31,798.30
Exited @ 31775
06/01/2021
TATASTEEL
Buy
691.50
697.00
707.30
680.60
Exited @ 679.9
06/01/2021
NIFTY
Short Sell
14,190.00
14,160.40
14,104.90
14,252.50
T2 done
06/01/2021
BANKNIFTY
Short Sell
31,775.00
31,694.80
31,528.30
31,964.80
T1 done
07/01/2021
TATASTEEL
Buy
715.70
727.55
750.80
691.70
Exited @ 727.15
07/01/2021
RELIANCE
Buy
1,941.35
1,950.70
1,970.00
1,920.50
Exited @ 1919.55
07/01/2021
USDINR
Short Sell
73.24
73.21
73.15
73.30
T1 done
07/01/2021
BAJFINANCE
Short Sell
5,033.00
4,997.75
4,925.20
5,114.55
Exited @ 5125
07/01/2021
RELIANCE
Short Sell
1,919.55
1,910.10
1,890.80
1,939.80
T1 done
07/01/2021
BANKNIFTY
Buy
32,238.70
32,314.50
32,469.30
32,075.10
Exited @ 32238.7
07/01/2021
BPCL
Buy
394.05
395.55
398.60
390.15
Exited @ 394.05
07/01/2021
USDINR
Buy
73.31
73.34
73.40
73.24
T2 done
08/01/2021
SBIN
Buy
290.80
291.75
293.75
288.70
Exited @ 288.35
08/01/2021
NIFTY
Buy
14,289.80
14,306.10
14,340.30
14,249.00
T2 done
08/01/2021
USDINR
Short Sell
73.49
73.46
73.39
73.56
T1 done
08/01/2021
BPCL
Buy
404.50
409.55
419.65
394.25
Exited @ 400.95
08/01/2021
SBIN
Short Sell
288.35
287.40
285.40
290.70
T2 done
08/01/2021
USDINR
Buy
73.56
73.60
73.66
73.49
T1 done
08/01/2021
BANKNIFTY
Short Sell
32,118.70
32,026.50
31,819.50
32,388.00
Exited @ 32150.5
08/01/2021
TATASTEEL
Short Sell
714.50
708.95
697.30
727.25
T1 done
11/01/2021
NIFTY
Buy
14,486.40
14,521.00
14,590.70
14,408.30
Exited @ 14486.4
11/01/2021
SBIN
Short Sell
283.45
281.30
277.00
288.00
T1 done
11/01/2021
BAJFINANCE
Short Sell
5,014.00
4,970.00
4,885.50
5,110.00
T1 done
11/01/2021
TATASTEEL
Short Sell
694.70
686.25
669.35
712.00
Exited @ 695
11/01/2021
BPCL
Short Sell
397.75
394.65
388.45
404.50
Exited @ 401.6
11/01/2021
BANKNIFTY
Short Sell
31,963.40
31,749.30
31,324.70
32,480.00
Exited @ 32078
11/01/2021
USDINR
Buy
73.64
73.68
73.77
73.54
Exited @ 73.5325
11/01/2021
RELIANCE
Short Sell
1,919.05
1,909.40
1,890.05
1,938.80
T1 done
11/01/2021
USDINR
Short Sell
73.53
73.49
73.40
73.63
Exited @ 73.5325
13/01/2021
NIFTY
Buy
14,507.00
14,528.80
14,572.30
14,455.50
T1 done
13/01/2021
RELIANCE
Buy
1,929.95
1,941.00
1,964.00
1,899.90
T1 done
13/01/2021
USDINR
Short Sell
73.50
73.43
73.30
73.65
Exited @ 73.3225
13/01/2021
SBIN
Buy
285.30
288.75
295.65
277.90
T1 done
13/01/2021
BANKNIFTY
Buy
32,040.20
32,144.50
32,353.50
31,810.00
T2 done
13/01/2021
USDINR
Short Sell
73.24
73.20
73.13
73.32
Exited @ 73.3225
13/01/2021
NIFTY
Short Sell
14,606.60
14,587.30
14,546.10
14,660.00
T2 done
13/01/2021
BANKNIFTY
Short Sell
32,456.00
32,313.30
32,018.90
32,758.20
T1 done
13/01/2021
TATASTEEL
Short Sell
697.90
690.00
674.45
714.55
Exited @ 708.1
13/01/2021
USDINR
Buy
73.32
73.36
73.44
73.25
Exited @ 73.3175
13/01/2021
SBIN
Buy
303.90
307.05
313.45
395.60
Exited @ 303.9
14/01/2021
BAJFINANCE
Buy
4,919.90
4,952.00
5,020.75
4,838.20
T1 done
14/01/2021
USDINR
Short Sell
73.26
73.23
73.17
73.33
T2 done
14/01/2021
RELIANCE
Buy
1,961.90
1,970.75
1,988.25
1,939.05
Exited @ 1961.25
14/01/2021
BANKNIFTY
Short Sell
32,601.90
32,488.30
32,261.50
32,861.40
Exited @ 32643.9
14/01/2021
NIFTY
Buy
14,599.00
14,641.80
14,728.80
14,505.00
T1 done
14/01/2021
BPCL
Buy
418.50
422.15
429.40
411.00
T1 done
15/01/2021
BANKNIFTY
Short Sell
32,238.50
32,070.00
31,730.00
32,610.00
Exited @ 32340
15/01/2021
BPCL
Short Sell
419.20
414.05
403.90
429.40
T1 done
15/01/2021
NIFTY
Short Sell
14,487.40
14,422.40
14,292.40
14,623.50
T1 done
15/01/2021
TATASTEEL
Short Sell
709.45
703.60
692.00
721.50
T1 done
15/01/2021
USDINR
Buy
73.24
73.28
73.37
73.11
Exited @ 73.16
15/01/2021
RELIANCE
Short Sell
1,950.95
1,940.00
1,918.45
1,973.80
T1 done
15/01/2021
BAJFINANCE
Short Sell
4,856.95
4,832.95
4,786.45
4,903.00
Exited @ 4886.95
18/01/2021
BAJFINANCE
Short Sell
4,778.25
4,731.20
4,633.60
4,879.60
T1 done
18/01/2021
NIFTY
Short Sell
14,333.80
14,271.70
14,151.50
14,458.50
Exited @ 14291.5
18/01/2021
TATASTEEL
Short Sell
672.80
657.70
626.70
708.00
Exited @ 663.65
18/01/2021
BPCL
Short Sell
406.25
401.50
392.00
416.90
Exited @ 407.55
18/01/2021
RELIANCE
Short Sell
1,927.00
1,917.40
1,898.75
1,949.10
Exited @ 1962
18/01/2021
SBIN
Short Sell
299.75
295.65
287.15
308.65
Exited @ 294.85
18/01/2021
USDINR
Buy
73.34
73.39
73.49
73.24
T1 done
18/01/2021
RELIANCE
Buy
1,962.00
1,970.50
1,989.10
1,930.45
T1 done
18/01/2021
BANKNIFTY
Short Sell
32,133.80
31,972.20
31,659.50
32,467.80
T1 done
19/01/2021
TATASTEEL
Buy
674.00
686.85
712.60
647.00
Exited @ 683.05
19/01/2021
NIFTY
Buy
14,432.30
14,465.70
145,265.00
14,365.20
T2 done
19/01/2021
SBIN
Buy
301.15
302.80
305.85
297.55
Exited @ 297.1
19/01/2021
BANKNIFTY
Buy
32,142.60
32,245.40
32,454.20
31,919.80
T2 done
19/01/2021
RELIANCE
Buy
2,025.00
2,039.45
2,068.75
1,994.65
Exited @ 2015.8
19/01/2021
BAJFINANCE
Buy
4,820.10
4,851.25
4,913.80
4,752.40
T1 done
19/01/2021
BPCL
Buy
415.60
418.80
425.40
408.40
Exited @ 413.25
19/01/2021
USDINR
Buy
73.27
73.32
73.42
73.17
T1 done
19/01/2021
SBIN
Short Sell
297.10
295.60
292.50
300.60
Exited @ 298.6
20/01/2021
TATASTEEL
Short Sell
687.40
681.55
671.05
699.50
Exited @ 689.65
20/01/2021
BPCL
Short Sell
409.50
406.25
399.75
416.50
Exited @ 413.35
20/01/2021
USDINR
Short Sell
73.15
73.10
73.02
73.24
T1 done
20/01/2021
NIFTY
Buy
14,595.00
14,627.80
14,695.70
14,524.10
T1 done
20/01/2021
BANKNIFTY
Buy
32,567.50
32,651.80
32,825.60
32,354.30
T1 done
20/01/2021
SBIN
Short Sell
297.95
296.30
292.90
302.00
Exited @ 303
20/01/2021
RELIANCE
Buy
2,034.00
2,049.25
2,079.80
2,001.40
T1 done
20/01/2021
BAJFINANCE
Buy
5,015.80
5,065.15
5,162.15
4,901.00
Exited @ 4982.85
20/01/2021
SBIN
Buy
303.00
304.85
308.25
298.60
Exited @ 302.05
21/01/2021
BPCL
Short Sell
412.05
410.15
406.40
416.00
Exited @ 422.25
21/01/2021
TATASTEEL
Short Sell
684.05
679.15
669.40
694.75
T1 done
21/01/2021
BPCL
Buy
416.55
418.40
422.15
412.25
T2 done
21/01/2021
USDINR
Buy
73.04
73.08
73.18
72.93
Exited @ 73.0375
21/01/2021
SBIN
Short Sell
302.20
300.90
298.25
305.15
T2 done
21/01/2021
NIFTY
Buy
14,741.10
14,764.90
14,812.40
14,692.50
T1 done
21/01/2021
RELIANCE
Buy
2,114.00
2,131.75
2,167.15
2,075.55
Exited @ 2110.9
21/01/2021
BAJFINANCE
Buy
5,173.20
5,262.65
6,440.65
4,990.00
Exited @ 5123
21/01/2021
BANKNIFTY
Buy
32,825.00
32,875.60
32,986.80
32,673.80
T1 done
21/01/2021
BANKNIFTY
Short Sell
32,601.40
32,785.00
32,539.40
32,785.00
T2 done
21/01/2021
NIFTY
Short Sell
14,688.00
14,666.30
14,618.80
14,740.00
T2 done
22/01/2021
RELIANCE
Short Sell
2,088.50
2,078.35
2,058.05
2,115.35
T1 done
22/01/2021
BANKNIFTY
Short Sell
31,790.00
31,619.40
31,279.20
32,200.20
T1 done
22/01/2021
TATASTEEL
Short Sell
663.50
657.60
645.80
675.80
T1 done
22/01/2021
NIFTY
Short Sell
14,504.30
14,458.70
14,369.00
14,611.10
T2 done
22/01/2021
SBIN
Short Sell
291.50
288.50
282.50
298.00
T1 done
22/01/2021
BPCL
Short Sell
405.35
402.95
397.45
412.95
T1 done
22/01/2021
BAJFINANCE
Short Sell
5,028.90
4,983.05
4,889.05
5,137.00
T1 done
22/01/2021
USDINR
Short Sell
73.02
72.94
72.78
73.19
Exited @ 72.9625
25/01/2021
USDINR
Short Sell
72.95
72.92
72.86
73.01
T1 done
25/01/2021
BANKNIFTY
Buy
31,668.00
31,970.00
32,578.50
30,989.90
Exited @ 31180
25/01/2021
BAJFINANCE
Short Sell
4,993.95
4,914.45
4,757.35
5,163.00
Exited @ 4930
25/01/2021
BPCL
Short Sell
386.70
379.80
365.90
402.15
Exited @ 388.1
25/01/2021
TATASTEEL
Buy
659.85
673.85
701.85
631.00
Exited @ 652.1
25/01/2021
RELIANCE
Short Sell
1,950.10
1,908.85
1,826.45
2,034.95
Exited @ 1940.9
27/01/2021
SBIN
Buy
282.25
283.90
287.45
278.25
T1 done
27/01/2021
BAJFINANCE
Short Sell
4,818.00
4,757.70
4,671.10
4,945.60
Exited @ 4846.75
27/01/2021
BPCL
Short Sell
382.50
379.05
372.15
389.90
Exited @ 380.55
27/01/2021
NIFTY
Short Sell
14,123.90
14,087.40
14,012.00
14,200.90
T2 done
27/01/2021
USDINR
Short Sell
72.84
72.77
72.64
73.00
Exited @ 72.8425
27/01/2021
BANKNIFTY
Short Sell
30,810.00
30,597.70
30,173.10
31,249.90
T1 done
27/01/2021
TATASTEEL
Short Sell
633.55
625.20
609.05
651.15
Exited @ 625.35
27/01/2021
SBIN
Short Sell
276.35
274.70
271.15
281.80
T1 done
28/01/2021
BAJFINANCE
Buy
4,892.30
4,943.50
5,052.40
4,765.00
Exited @ 4754
28/01/2021
TATASTEEL
Buy
627.80
635.15
649.85
612.60
Exited @ 624.8
28/01/2021
SBIN
Buy
274.25
276.45
280.95
269.50
T1 done
28/01/2021
BANKNIFTY
Buy
30,087.50
30,274.50
30,637.50
29,686.00
T1 done
28/01/2021
BPCL
Buy
386.65
391.35
400.85
377.00
Exited @ 384.4
28/01/2021
NIFTY
Short Sell
13,770.00
13,723.00
13,629.20
13,896.90
T1 done
28/01/2021
BAJFINANCE
Short Sell
4,754.00
4,700.95
4,592.05
4,873.90
Exited @ 4811.95
28/01/2021
RELIANCE
Short Sell
1,876.90
1,854.70
1,810.10
1,923.30
Exited @ 1876.5
28/01/2021
USDINR
Buy
73.41
73.48
73.63
73.26
Exited @ 73.27
29/01/2021
TATASTEEL
Short Sell
623.10
618.20
608.45
133.80
Exited @ 614.8
29/01/2021
BPCL
Short Sell
389.50
386.15
379.55
396.55
T1 done
29/01/2021
BAJFINANCE
Buy
4,943.00
4,984.55
5,068.65
4,852.85
Exited @ 4848
29/01/2021
SBIN
Short Sell
281.20
279.25
275.15
285.60
T1 done
29/01/2021
USDINR
Short Sell
73.17
73.13
73.05
73.26
Exited @ 73.185
29/01/2021
BAJFINANCE
Short Sell
4,848.00
4,804.95
4,720.85
4,937.00
T1 done
29/01/2021
SBIN
Buy
286.30
287.95
292.05
281.50
T1 done
29/01/2021
RELIANCE
Short Sell
1,873.25
1,857.80
1,822.70
1,913.10
Exited @ 4751.3
01/02/2021
TATASTEEL
Buy
609.90
616.05
628.10
597.45
T1 done
01/02/2021
BPCL
Buy
391.25
393.70
398.60
385.70
T1 done
01/02/2021
RELIANCE
Buy
1,864.15
1,872.10
1,888.10
1,848.00
T2 done
01/02/2021
BANKNIFTY
Buy
31,186.20
31,307.00
31,548.50
30,942.50
T2 done
01/02/2021
NIFTY
Buy
13,809.00
13,860.80
13,964.30
13,696.50
T1 done
01/02/2021
USDINR
Short Sell
73.08
73.04
72.95
73.17
Exited @ 73.175
01/02/2021
SBIN
Buy
287.20
289.50
293.95
282.75
T1 done
01/02/2021
USDINR
Buy
73.18
73.22
73.30
73.09
T2 done
01/02/2021
BAJFINANCE
Buy
4,861.30
4,934.25
5,082.20
4,666.50
Exited @ 4942.85
01/02/2021
BPCL
Short Sell
388.95
381.45
376.55
390.60
T1 done
02/02/2021
NIFTY
Buy
14,757.30
14,879.80
15,124.80
14,480.00
Exited @ 14691.3
02/02/2021
RELIANCE
Short Sell
1,884.30
1,871.45
1,843.85
1,917.10
T1 done
02/02/2021
TATASTEEL
Short Sell
637.85
633.15
624.25
646.90
T1 done
02/02/2021
BPCL
Buy
406.40
412.30
424.50
393.25
Exited @ 407.25
02/02/2021
USDINR
Short Sell
73.20
73.16
73.08
73.30
T1 done
02/02/2021
SBIN
Buy
329.60
336.10
349.10
315.00
Exited @ 333.3
03/02/2021
NIFTY
Buy
14,779.00
14,857.00
15,016.00
14,611.00
T1 done
03/02/2021
TATASTEEL
Buy
655.15
660.05
670.25
637.25
Exited @ 660.8
03/02/2021
BANKNIFTY
Buy
34,680.00
34,968.80
35,546.30
34,097.50
T1 done
03/02/2021
BAJFINANCE
Buy
5,247.00
5,296.95
5,396.95
5,140.00
Exited @ 5250
03/02/2021
BPCL
Buy
414.10
17.90
425.60
402.35
Exited @ 416
03/02/2021
RELIANCE
Buy
1,945.30
1,964.25
2,002.85
1,900.00
Exited @ 1930.6
03/02/2021
SBIN
Buy
335.40
339.85
348.95
325.80
T1 done
03/02/2021
USDINR
Short Sell
73.13
73.10
73.03
73.20
Exited @ 73.15265
04/02/2021
BANKNIFTY
Short Sell
34,387.40
34,259.10
33,994.10
34,690.00
Exited @ 34770.9
04/02/2021
BAJFINANCE
Buy
5,320.85
5,375.30
5,483.15
5,206.05
T1 done
04/02/2021
TATASTEEL
Buy
654.50
661.85
677.05
638.85
T1 done
04/02/2021
NIFTY
Short Sell
14,747.90
14,709.20
14,634.40
14,822.90
Exited @ 14841
04/02/2021
BPCL
Buy
420.80
425.30
434.30
410.55
Exited @ 419
04/02/2021
BANKNIFTY
Buy
34,770.90
34,908.50
35,173.50
34,425.00
T2 done
04/02/2021
NIFTY
Buy
14,841.00
14,879.20
14,954.00
14,748.10
T1 done
04/02/2021
SBIN
Buy
338.55
341.40
347.30
332.30
T1 done
04/02/2021
RELIANCE
Short Sell
1,910.30
1,896.10
1,869.15
1,939.60
Exited @ 1926.5
04/02/2021
USDINR
Buy
73.14
73.19
73.30
73.02
Exited @ 73.1475
05/02/2021
BANKNIFTY
Buy
36,569.80
37,050.20
38,010.40
35,575.90
Exited @ 35712.1
05/02/2021
BPCL
Short Sell
417.35
415.00
410.30
422.25
T1 done
05/02/2021
USDINR
Short Sell
73.09
73.06
72.99
73.18
T2 done
05/02/2021
NIFTY
Short Sell
14,926.70
14,892.50
14,824.50
15,008.00
T1 done
05/02/2021
RELIANCE
Buy
1,940.80
1,950.30
1,968.60
1,920.00
Exited @ 1924.15
05/02/2021
TATASTEEL
Buy
675.20
680.10
695.20
652.05
Exited @ 675.2
08/02/2021
NIFTY
Buy
15,115.00
15,158.40
15,241.40
15,031.00
T1 done
08/02/2021
BPCL
Short Sell
416.60
413.05
405.90
424.40
Exited @ 420.7
08/02/2021
RELIANCE
Buy
1,958.00
1,971.85
1,999.60
1,929.05
Exited @ 1950.7
08/02/2021
SBIN
Short Sell
396.30
390.85
380.05
407.80
Exited @ 396.05
08/02/2021
BANKNIFTY
Short Sell
35,926.70
35,699.10
35,237.30
36,480.00
Exited @ 36010
08/02/2021
TATASTEEL
Buy
702.05
710.50
727.60
682.70
Exited @ 704.2
08/02/2021
USDINR
Buy
73.11
73.18
73.32
72.95
Exited @ 73.105
09/02/2021
TATASTEEL
Buy
710.10
715.20
725.35
699.70
T1 done
09/02/2021
BPCL
Short Sell
426.60
421.60
411.55
438.05
T1 done
09/02/2021
SBIN
Buy
398.95
402.65
410.40
389.00
T1 done
09/02/2021
NIFTY
Buy
15,189.50
15,214.70
15,265.90
15,136.80
T2 done
09/02/2021
USDINR
Buy
73.07
73.13
73.26
72.92
Exited @ 73.03
09/02/2021
BAJFINANCE
Short Sell
5,422.40
5,368.00
5,259.00
5,539.00
Exited @ 5404
09/02/2021
RELIANCE
Short Sell
1,957.90
1,943.15
1,913.75
1,989.60
Exited @ 1955.8
09/02/2021
NIFTY
Short Sell
15,127.20
15,099.40
15,048.20
15,188.00
T1 done
10/02/2021
BPCL
Short Sell
417.85
414.80
408.70
425.95
T1 done
10/02/2021
NIFTY
Short Sell
15,071.50
15,024.80
14,929.80
15,170.00
T1 done
10/02/2021
TATASTEEL
Short Sell
696.40
685.00
662.00
724.50
Exited @ 684.7
10/02/2021
SBIN
Short Sell
392.35
389.55
384.05
397.90
T1 done
10/02/2021
BANKNIFTY
Short Sell
35,842.10
35,634.80
35,231.90
36,253.00
T1 done
10/02/2021
RELIANCE
Short Sell
1,950.80
1,936.60
1,909.55
1,978.00
T1 done
10/02/2021
USDINR
Short Sell
72.96
72.93
72.87
73.03
T1 done
11/02/2021
USDINR
Short Sell
72.90
72.87
72.83
72.95
T2 done
11/02/2021
BAJFINANCE
Buy
5,569.20
5,617.65
5,716.90
5,455.75
Exited @ 5570
11/02/2021
SBIN
Short Sell
390.25
386.90
380.30
396.95
Exited @ 390.35
11/02/2021
BANKNIFTY
Short Sell
35,649.00
35,502.80
35,175.70
36,045.80
Exited @ 35824.3
11/02/2021
BPCL
Buy
419.95
422.75
428.30
414.30
Exited @ 421.9
11/02/2021
NIFTY
Buy
15,192.00
15,225.30
15,314.50
15,075.00
Exited @ 15184
12/02/2021
BAJFINANCE
Short Sell
5,542.55
5,507.90
5,434.95
5,618.00
Exited @ 72.935
12/02/2021
USDINR
Short Sell
72.89
72.87
72.84
72.93
T1 done
12/02/2021
BANKNIFTY
Buy
35,928.70
36,033.00
36,240.80
35,720.20
T2 done
12/02/2021
NIFTY
Buy
15,225.40
15,253.30
15,313.10
15,155.20
Exited @ 151506
12/02/2021
BPCL
Short Sell
420.00
416.70
410.65
425.85
T1 done
12/02/2021
TATASTEEL
Buy
697.20
702.30
712.30
685.00
Exited @ 684.3
12/02/2021
SBIN
Buy
393.60
397.05
403.75
385.60
T1 done
12/02/2021
RELIANCE
Short Sell
2,042.30
2,023.50
1,988.15
2,078.00
T1 done
12/02/2021
TATASTEEL
Short Sell
684.30
679.30
669.30
695.00
Exited @ 680.95
12/02/2021
NIFTY
Short Sell
15,150.60
15,120.10
15,060.30
15,215.00
T1 done
12/02/2021
USDINR
Buy
72.94
72.95
72.98
72.89
Exited @ 72.875
15/02/2021
BAJFINANCE
Buy
5,675.00
5,704.00
5,772.30
5,600.00
T1 done
15/02/2021
NIFTY
Buy
15,314.20
15,347.60
15,414.60
15,245.00
Exited @ 15327
15/02/2021
BPCL
Buy
423.25
425.95
431.85
417.00
Exited @ 419.25
15/02/2021
BANKNIFTY
Buy
36,935.00
37,161.80
37,161.40
36,423.40
T1 done
15/02/2021
SBIN
Buy
402.25
404.90
410.70
395.70
T1 done
15/02/2021
TATASTEEL
Short Sell
673.10
666.55
653.25
687.45
Exited @ 671.75
15/02/2021
USDINR
Buy
72.73
72.79
72.91
72.62
Exited @ 72.7225
16/02/2021
RELIANCE
Buy
2,058.00
2,065.50
2,080.60
2,037.55
T1 done
16/02/2021
SBIN
Short Sell
407.35
404.50
399.00
415.75
T1 done
16/02/2021
BANKNIFTY
Short Sell
37,331.20
37,218.80
36,998.80
37,770.00
T2 done
16/02/2021
USDINR
Buy
72.75
72.79
72.86
72.67
T2 done
16/02/2021
TATASTEEL
Buy
704.90
720.95
753.30
671.90
Exited @ 699.5
16/02/2021
NIFTY
Short Sell
15,354.00
15,321.60
15,257.60
15,430.00
T2 done
16/02/2021
BPCL
Short Sell
417.00
414.10
408.50
422.60
Exited @ 417.9
16/02/2021
BAJFINANCE
Short Sell
5,698.00
5,637.05
5,517.15
5,822.00
Exited @ 5758.65
17/02/2021
SBIN
Buy
409.80
413.95
422.40
400.15
T1 done
17/02/2021
USDINR
Short Sell
72.91
72.89
72.80
73.00
T2 done
17/02/2021
RELIANCE
Short Sell
2,053.25
2,044.20
2,026.15
2,076.00
Exited @ 2076.25
17/02/2021
BANKNIFTY
Buy
37,199.30
37,343.30
37,644.10
36,858.20
T1 done
17/02/2021
NIFTY
Buy
15,292.60
15,329.30
15,402.40
15,212.30
Exited @ 15196.8
17/02/2021
TATASTEEL
Buy
699.45
704.90
715.90
687.50
Exited @ 697.1
17/02/2021
RELIANCE
Buy
2,076.25
2,085.90
2,104.00
2,057.95
T1 done
17/02/2021
BPCL
Buy
409.40
413.05
4,420.10
401.55
Exited @ 411.75
17/02/2021
NIFTY
Short Sell
15,196.80
15,162.30
15,089.20
15,285.40
Exited @ 15209.9
17/02/2021
BAJFINANCE
Short Sell
5,705.25
5,665.75
5,586.75
5,799.00
Exited @ 5706
18/02/2021
USDINR
Short Sell
72.79
72.76
72.70
72.85
T2 done
18/02/2021
NIFTY
Buy
15,242.90
15,264.00
153,103.00
15,192.30
Exited @ 15190
18/02/2021
BPCL
Buy
420.75
425.25
434.05
410.70
Exited @ 428.4
18/02/2021
BAJFINANCE
Short Sell
5,615.00
5,568.75
5,474.00
5,714.75
Exited @ 5529.5
18/02/2021
NIFTY
Short Sell
15,190.00
15,166.90
15,120.50
15,238.60
T2 done
18/02/2021
RELIANCE
Short Sell
2,083.35
2,072.30
2,048.90
2,108.40
T1 done
18/02/2021
SBIN
Short Sell
417.05
413.10
405.30
425.75
Exited @ 414.7
18/02/2021
BANKNIFTY
Short Sell
36,586.80
36,393.80
36,006.40
37,087.30
T1 done
19/02/2021
NIFTY
Buy
15,095.30
15,131.00
15,200.20
15,017.90
T1 done
19/02/2021
BAJFINANCE
Buy
5,577.00
5,612.70
5,687.70
5,485.00
T1 done
19/02/2021
BANKNIFTY
Buy
36,544.30
36,670.60
36,952.40
36,120.20
T1 done
19/02/2021
RELIANCE
Buy
2,099.00
2,119.75
2,161.35
2,053.30
Exited @ 2083.95
19/02/2021
SBIN
Short Sell
408.00
404.35
397.45
415.00
T1 done
19/02/2021
BPCL
Buy
438.10
442.85
452.50
428.30
T1 done
19/02/2021
TATASTEEL
Short Sell
673.55
663.05
642.05
696.00
Exited @ 658.4
19/02/2021
BANKNIFTY
Short Sell
36,109.40
35,964.10
35,682.30
36,402.00
T2 done
19/02/2021
BPCL
Short Sell
426.25
421.65
411.95
437.95
Exited @ 429.9
19/02/2021
NIFTY
Short Sell
14,988.00
14,951.50
14,883.40
15,086.00
T1 done
19/02/2021
BAJFINANCE
Short Sell
5,459.60
5,424.40
5,349.40
5,560.00
Exited @ 5505
22/02/2021
RELIANCE
Short Sell
2,059.80
2,049.10
2,027.25
2,089.90
T1 done
22/02/2021
BAJFINANCE
Short Sell
5,436.20
5,385.40
5,287.10
5,538.70
T1 done
22/02/2021
BPCL
Short Sell
428.55
425.45
418.95
435.25
T1 done
22/02/2021
TATASTEEL
Buy
639.75
704.60
726.80
670.85
Exited @ 683.35
22/02/2021
NIFTY
Short Sell
14,896.00
14,854.70
14,773.90
15,002.90
T2 done
22/02/2021
USDINR
Short Sell
72.54
72.50
72.43
72.63
T2 done
22/02/2021
SBIN
Short Sell
392.30
388.40
380.70
401.00
T1 done
22/02/2021
BANKNIFTY
Short Sell
35,611.40
35,366.05
34,872.35
36,116.00
T1 done
23/02/2021
BPCL
Buy
436.00
440.55
449.65
425.80
T1 done