In this post, I will discuss how to increase adsense pay per click in the quickest way. Adsense pay per click is also known as CPC. CPC or cost per click is the total revenue earned once a visitor clicks on your google adsense ads on your site. So unless and until the CPC is high you will not be able to make a sizable income from google adsense.
First and foremost what we can do we can block the ads with low CPC from our site. Here I have given a list of low CPC ad sites which I got from one Pakistani blogger's video. You may copy the sites from below:
Now how to block these low CPC sites to increase adsense pay per click. Simply log into your google adsense account. Now there is a tab called "Allow and block ads". Click on that. It will open a window similar to the image shown below. You may simply paste the site addresses to block from your sites and click on Block URLs button.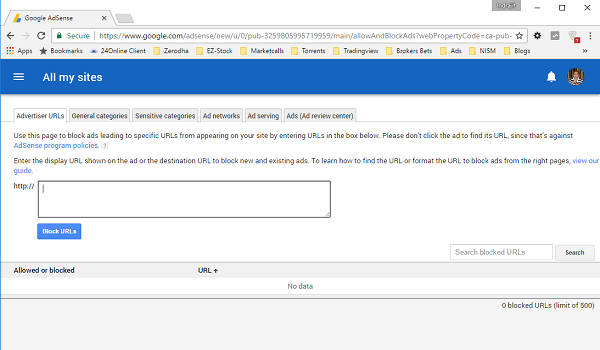 This will block the low CPC URLs from your adsense account. So this will immediately start showing only the high CPC ads on your website.
Now there is another way to increase CPC using tags. Login to a site called KeyWordSpy. Now suppose you write your desired keyword, say GOOGLE ADSENSE. So,, this shows the result of the keyword GOOGLE ADSENSE. Now before the search, I was thinking to keep my focus keyword as ADSENSE CPC. But the keyword research has shown that that keyword only has a CPC of $0.05, which is very low. Instead, the keyword PAY PER CLICK is offering a CPC of as high as $9. So I decided to change my focus keyword and tags from CPC to PAY PER CLICK. I am sure this post will fetch me at least a $10 adsense cash every day.