Fiem Industries is a company from the automotive sector. They manufacture automotive lighting and signalling equipment as well as rare view mirrors. The core business of the company is auto components. The company has a current market cap of 12.31 billion. But it has a potential to grow as a multibagger over the years. Edelweiss Research has included this stock in their Hexagon Portfolio brochure. Let this post be the Fiem Industries Research Report 2017, rather a year-end report for our readers.
Fiem Industries Research Report 2017
Fiem Industries' 60%-70% of revenue comes from the 2 wheelers, but now the company is diversifying into LED indoor and outdoor lighting. They are now dealing also with railways and buses. They have 9 plants in all over India. Out of them, 3 are in Tamil Nadu, 2 are in Haryana, 1 is in Karnataka, 1 is in Himachal Pradesh, 1 is in Rajasthan and one is coming in Gujarat. So that is the presence of the company.
Financial Data
Here, are the details of the financial data of the company.
The CAGR for the last 9 years: Net Sales is around 21.4%, Adjusted EPS is around 17.9% and Book Value per share is 15.8.
In the last 4 years, the EBITDA has grown by around 29%.
In the last 4 years, the net profit has grown by around a compounded annual growth rate of 40%.
The net sales have grown steadily over the last 10 years (see the image below).

So the financial data has shown a clear growth in the net revenue as well as in the net earnings. If you compare with the peers, while for Fiem, in the last one year, the EBITDA margin has grown by 12.3% the same has grown by 8.2% for Minda Industries and 7.5% for Lumax.
Technical Analysis: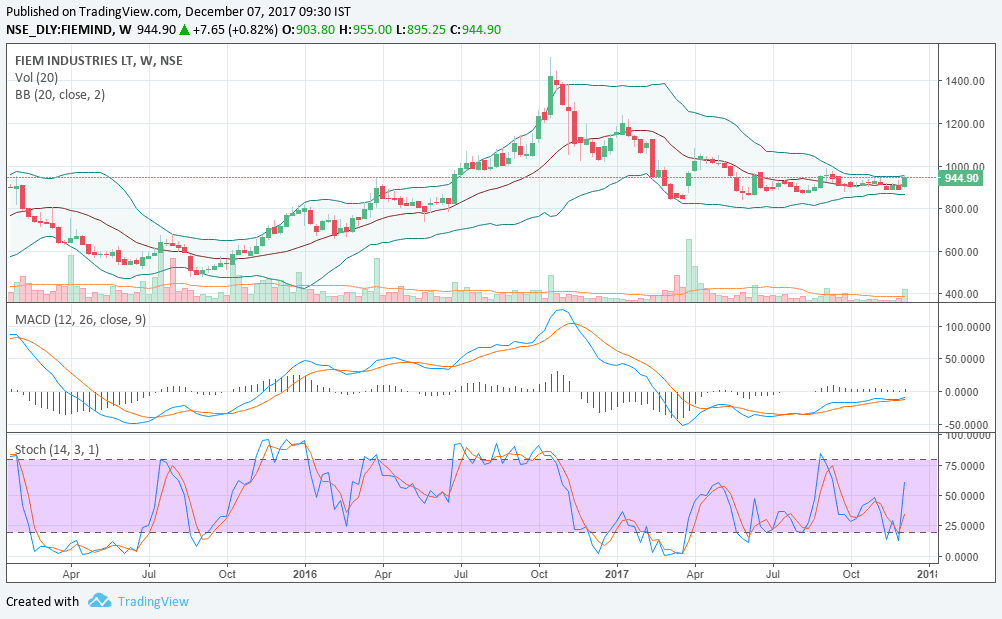 The stock has closed at Rs. 937.25 on 6th December 2017. The weekly technical chart shows that the stock is in a consolidation mode after making an all-time high of 1510. The current consolidation range is 975-845. Range players may accumulate slowly within the range. Our Fiem industries research report 2017 believes, once the accumulation is over the stock can once again target 1200 and 1500 in the medium term.