Dynamic Support And Resistance – Download FREE Amibroker AFL Code
Understanding dynamic support and resistance levels can lead to a successful and profitable trading strategy.
The equity, commodity or forex markets are driven by extreme demand when the price appreciate or extreme supply when the price depreciate. Where these two extreme forces of supply and demand clash we have support and resistance points. In a market that is oversold we use words like bears, sell and bearish. In a market that is overbought we use words like bulls, buy and bullish. If a market does not move up or down but moves sideways then supply and demand is equal.
Support and Resistance:
The level at which it is considered that demand will be strong enough to stop the price of a equity, commodity or forex falling further is called the support level. The logic behind this is that as a price declines and the equity, commodity or forex gets cheaper there are less sellers and also the price becomes more attractive to the buyers. Once enough buyers have entered the market the price stops falling and bounces up generating a support level. When eventually the support level is broken it very often becomes a new resistance level as investors use this level to place their stop losses.
Effective intraday trading also requires a means of identifying support and resistance which can more easily adapt and more accurately represent price activity under rapidly changing market conditions.
Rule of trading using dynamic support and resistances:
1. When price is above dynamic zone (trend is bullish ) – we will buy when price dips to dynamic zone and test its support;
2. When price is below dynamic zone (trend is bearish ) – we will sell when price pops up to dynamic zone and test its resistance ;
We are sharing a nice dynamic support and resistance indicator for Amibroker. The indicator is derived and coded for Amibroker on the basis on The Rumpled One's or TRO's code in Metatrader. Check the image below for more details. Click on the image for a larger view.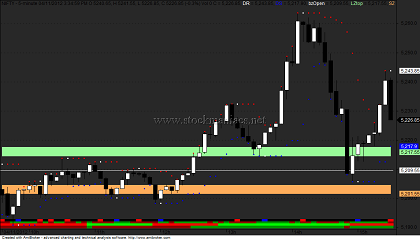 You can freely download and use the dynamic support and resistance indicator formula by liking this page in Facebook below. You need an account in Facebook to download this file.
And now you will instantly see dynamic support and resistance levels appear in the charts time in Amibroker. You may distribute this afl to your friends, but do not forget them to refer them to our site. Remember even all StockManiacs.net freebies are copyrighted for 164 countries, so if anyone tries to modify or sell these freebies we will be compelled to take strict legal actions against them.
Suggested reading: Support & Resistance Simplified
. If you like the post share it with the world using the social share icons below.